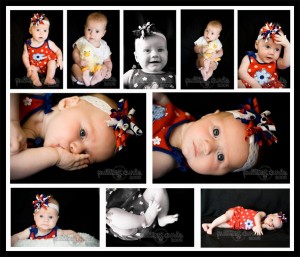 Ah
… my most favorite month of them all. I tell everyone that four months is my absolute favorite. And boy is it! The smiles, the giggles, the ability to
hold
one head and self upright, the immobility, the cute clothes, the sleeping. Really, does it get better than this?
P sleeps from about 8:30 pm til' 7:30 am — really, she just lays in there and sucks her thumb til' we get her. This is the only time that she's a huge thumb fan, not so much after naps, but in the AM it's her best friend. She also naps from about 9 am to noon and 2 pm til' around 4 (this afternoon nap is still being adjusted due to pick-up, etc.). Every now and then she has her screaming moments, but for the most part, the girl's a sleeper. She still likes to be swaddled, but we leave her arms out, because she'll get them out anyway. She's a huge fan of her crib. She has a hard time sleeping in her car seat (unless we're driving) or in our arms.
She's so mobile in her crib. From day one she could some how inch herself to the top so she could bang her head against the headboard of her crib. Now we find her in various positions when we come to get her up. She can't roll but she is starting to be able to get where she wants.
She's starting to love the toys. Just within the last week she's made the jump to be able to touch the toys on her bouncer. If I dangle a toy over her she'll grab at it. So fun to see them make these "leaps" Her most favorite places are under her baby gym (which I constructed from fabulous toys from Kid to Kid), or under her mobile. Oh, or in her dad's arms. She ADORES her dad. They've both had a hard separation now that he's back to work. She's definitely the woman of his dreams. Feet and hands are slowly also becoming toys.
She is obsessed with trying to sit up. If I have her in the swing she holds onto the little toys on the bar and pulls herself up. If she's in the boppy she's doing crunches the whole time. She probably has a nice little six-pack goin' on…
I've been taking her into school in the
bjorn
and she seems to enjoy being up where she can see people and faces. I don't hear much complaining (unless I stay too long to chat).
We've been trying to read her some books and she finds those enjoyable, unless she's sleepy — and then all bets are off.
Still
workin
' on the reflux. Lately she does up to 7 oz of a bottle. I usually start them on solids around 5 months (what do you guys do — I waited til' 6 with C, and by then I think he was so in love with his bottle it was hard to feed them, so I did 5 months with S). We see the Dr. on Monday — I'll ask her if I should take her off the
Zantac
and see what happens. Seems like most babies have that cleared-up by now.
The boys love her to death. S is a little more into the loving to death type thing, if you catch my drift. I have to remind her she's not a drum, she doesn't like her eyes touched, she doesn't liked to be scared by scary monsters… I think you see the picture there. Conner's getting really good at helping to take care of her. He's done a couple of bottles and he enjoys
holding
her and playing.
We just barely switched to size 2 diapers. I think we probably could've switched a couple of weeks ago but I still ahd some and she wasn't leaking, so I used them up. It'll be interesting to see what she weighs on Monday (ahh, shots — the one time she hasn't been a dream is the week of her 2 mo. shots, I hope this time is a little better).
My friend who babysat this week wondered where I got such a dream of a baby, and she really is. I've thought a lot about what my life would've been like if we hadn't had her. This week would've been about 9
ba
-zillion times harder if I hadn't had her pink-clad tiny face to come home with me each day. Love you P. You bless our home in ways you can't imagine.
Look how we're growing-up in our monthly picture: