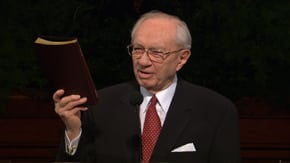 This morning I was reading Morni 7:45 " And
charity
suffereth long, and is
kind
, and
envieth
not, and is not puffed up, seeketh not her own, is not easily
provoked
, thinketh no evil, and rejoiceth not in iniquity but rejoiceth in the truth, beareth all things, believeth all things, hopeth all things, endureth all things. "
I thought these very same things about President Hinckley — and to church members worldwide we have seen someone in President Hinckley to emulate oure lives after. He was all these things that charity is.
He embodied charity
.
Tonight our FHE is supposed to be on the 1st Article of Faith (review of last year, we're trying to do that once a month). At first I was bugged because I wanted to do a lesson about President Hinckley (and you are welcome to speak to my lack of tolerance to change on your own time, thanks so much) — but then I realized this was the perfect opportunity. We DO NOT worship Presidnt Hinckely. At first, when I heard of his death, I went through all the phases of grief fairly quickly, but I kind of halted on the fact that I feel like a gospel orphan right now. For so long I have looked to him for guidance, to help me guide my life. But, I wasn't looking to him, I was looking to HIM — Heavenly Father was always behind him, as he will be the next prophet. I am so grateful for that, and
that's
what our FHE will be on tonight.
Last night I read President Hinckley's final Genereal Conference talk — on the Prophet Joseph Smith. I am so thankful I was able to give a lesson about Him this past time I taught in Relief Society.
BTW, I didn't see a single thing about him on our news this AM. I watched the entire first hour of the Today Show. Completely their loss.
My email tot the Today Show (my regular Morning program):
I was very disappointed this AM to not see a single piece of coverage on the prophet of the Church of Jesus Christ of Latter Day Saints leader dying. The LDS religion is the 4th largest religion in the United States and he has been at the helm of it for a very long time.
Consistently we see things on the news of bad people, who have done bad things for extended periods of time. And yet, a many who bestowed every good virtue we could hope for died in a respectable manner and you weren't able to devote a second to him (although I only watched your first hour).
He wouldn't have wanted his death on your program.
But you should be ashamed that it wasn't.