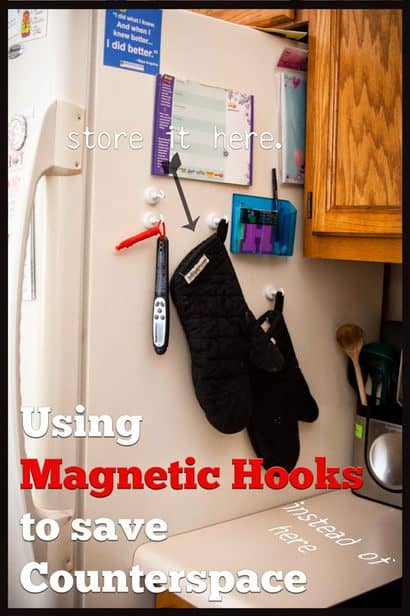 I am a bit of a countertop Nazi. Living in our tiny kitchen in California made me REALLY consider the things that were on our countertops. How can you save counter space, or use your countertop space effectively? One of the best ways I have found is using magnetic hooks — this is part of my organized home series.
We aren't fancy people, and we certainly don't have a built-in fridge. our fridge's sides are fully available for your viewing pleasure… which got me to thinking. I HATED using an entire drawer for oven mitts, when they were almost always on the counter, and I hated even MORE that they were on my counter all the time. And then I saw this side of fridge just STARING at me.
In walks amazon. "Well, hello handsome stranger, Amazon. Do you have any wares to tempt my organizing fancy? Oooo, I guess you do. I needed some fairly high quality hooks that wouldn't come apart, wouldn't slide down my fridge from the weight of a few simple kitchen tools and would blend in when not in use. These are perfect!
I have 4 of them. 2 of them for oven mits, one for my thermometer, and the other one sometimes holds my timer or anything else that catches my fancy.
I also use some locker-type accessories to hold some pens, and notepads on the side of the fridge also. Look for them cheap near the end of the summer.
So, there's a tip from me — I hope it's helpful for you!" If you have other ways you've found to save kitchen counter space — comment below!