Nothing is too tiny that it can't be celebrated. I think sometimes we wait to use the good bottle of wine (or the good bottle of Dr Pepper — in our house), or a favorite restaurant's gift certificate until it's too late. Sometimes you just need to find the good in the situation, and celebrate that.

This particular evening we were celebrating a new journey for our family. My husband has resigned from his job (effective at the end of the school year) and we are moving onward and upward. Suffice it to say, we have one very fine band director out there lookin' for a job. He even has a Masters now, so if anyone knows of anything, please let us know! I don't have a blog just to be sarcastic and funny, I also use it to network. Network — work for me. 🙂
Here's 50 things to celebrate:
Potty Training (or even small potty accomplishments)
Grades
Birthdays (I tend to want to ignore mine, but it's important to say HEY — the word is lucky to have me!)
Cleaning the house
An event you were in charge of being DONE!
Better naps for kids 🙂
School is starting
School is ending
New Job — coming soon!
Paying all your bills on time
Selling a car
Selling something on Craigslist
Installing new A/V equipment (hate that)
Cleaning your windows
Cleaning your car
Clean grout
Good neighbors (a favorite of mine)
Good friends
Church accomplishments
Boy Scout accomplisments
X number of pageviews on your blog!
A new volunteer position
Making a decision that you didn't want to make
Filing your taxes
Tax return!
Final student loan payments
Final credit card payment
Finishing a workout program
Cleaning the microwave (yuck)
Moving (possibly coming soon!)
A raise
A job promotion (with or without a raise)
Finishing the semester of school
The end of a volunteer job
New furniture
A success at work, no matter how small
New cell phone plan (painful decisions)
A good bill of health
New insurance!
Your last accident coming off your "record"
New grandbabies
Graduation
Random weird holidays — like pi day
Getting a cast off
Having good friends
Getting pregnant
Finding a coupon!
Finishing organizing something
Publishing a book
Finishing a big school assignment
I could go on and on…. 🙂
Now, I'm not saying the celebration needs to cost a lot, but sometimes DO open the good bottle of wine, or head out to a favorite restaurant, go on a hike together, or buy balloons! There isn't enough good in the world — we need to find it and CELEBRATE it!
For us, it was a trip to Red Lobster. Cheddar bay rolls, watch out!
Drew got Lobster Lover's Dream® which has rock lobster tail and a sweet split Maine lobster tail, roasted and served with lobster-and-shrimp linguine Alfredo. With choice of sides
I got Dueling Lobster tails — it has a Maine lobster tail topped with tender shrimp in a creamy garlic sauce pairedwith a Main lobster tail with crab and seafood stuffing. It is also served with choice of sides.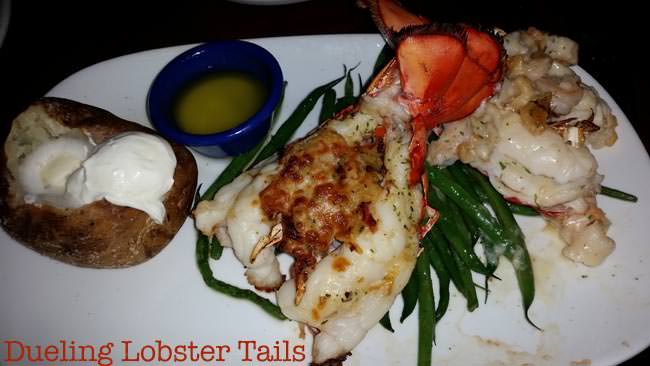 I hadn't had lobster in so long! Everything was so tasty! Red Lobster is the world's largest seafood restaurant. They offer lobster on almost every page of their menu! They get their lobsters from Maine and Canada, as well as 20 other countries, worldwide. Lobsterfest is going on now and for a limited time. So, think of what special occasion you have that's "#lobsterworthy" and head on down to make whatever your special occasion is, REALLY special.
I was selected for this opportunity as a member of Clever Girls and the content and opinions expressed here are all my own.
If you're interested in more of our job loss journey — check these posts out!
[pt_view id="5181c916c7″]