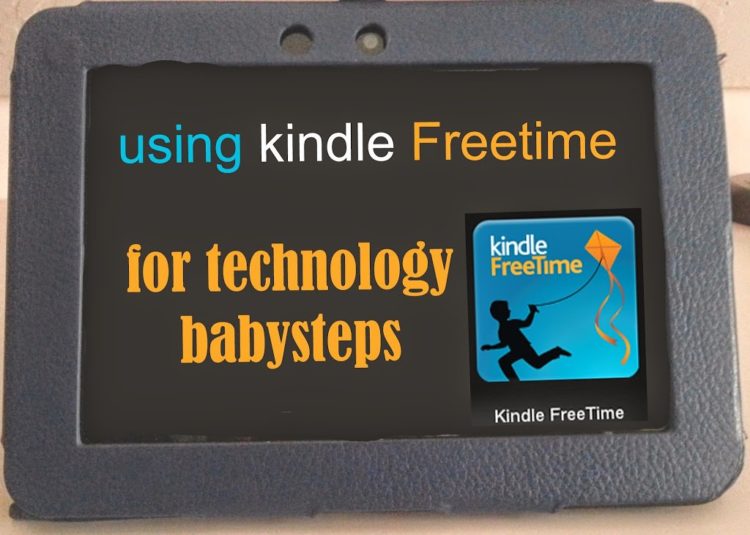 *This post contains Affiliate links, you can read my disclosure
here.

Conner got a Kindle Fire
for Christmas. It was beyond his wildest imaginations to get a tablet (he got last year's smaller tablet).

He was on it 24 hours a day 7 days a week ignoring all else. He couldn't put it down. He admitted he was addicted to it (I just bought bag so could carry my tablet with me when needed, so I am not one to talk). He was unable to stay off it before school (when getting his jobs done), it was like a super-magnet for him.
I had heard about Kindle Free time. It seemed like it was for little kids, but it also helps you keep an ounce of control. Conner actually says that he likes the interface better than the regular Kindle interface.
The Kindle Fire (as we are using it) is just putting time limits on the device. He is allowed on it after 8:30 am (he conveniently leaves for school at about 8:25) and until 8:30 pm (all of the times are adjustable). It has settings to allow him up to an hour's worth of app useage, and another allotment for reading, and watching videos. We have a fair number of amazon movies so he is pleased as punch that he can watch them on there. You can also set goals that they read a certain amount before they are allowed apps. You can also vary their time from weekdays to weekends. That is nice, since I allow unlimited reading on the weekends, and more time on apps and videos also.
I'm not particularly worried about WHAT he is doing (I have had to approve all apps before he downloads). He hates that he isn't able to get on the internet via FreeTime — and we may adjust that once he's able to be non-magnetically attracted to the thing. There is no way to add that. I wish I could and I'm hoping to find a parental control option that will allow it. I may have to upgrade him to an android to do that though.
For now, I hope it's teaching him some boundaries. I am sure a laptop is in his future at some point. It's all about learning along your baby steps — right?
So, does your child have a tablet or a laptop? How do you keep them from not being attached to it all the time? Have you found any good parental control software? Share below!