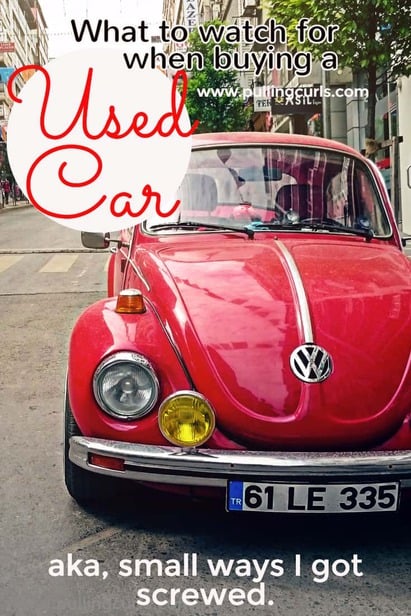 In this Post: When buying a used car there are a few extra things to watch out for besides kicking the tires. We found out a few ones the hard way.
My dear, sweet 1998 Subaru Forrester has seen some good times. We got it with just over 20k miles on it, and it has served us long and hard. We are just the type of family that drives a car into the ground. We thought we'd just keep fixing the small problems for a few more years. Until it had broken head gasket, which is just about 2k to fix. And our dear, sweet car — is only worth about that.
And now it's DNR.
It still drives about 10 miles away before it starts to overheat. A great emergency car, but not one that can drive myself or my husband to work.
Which put us on the prowl for a new car.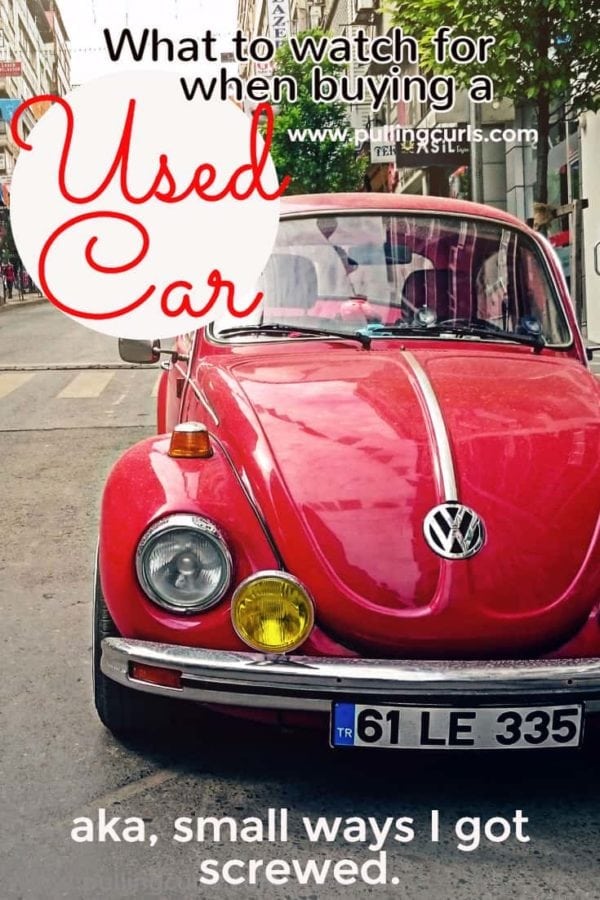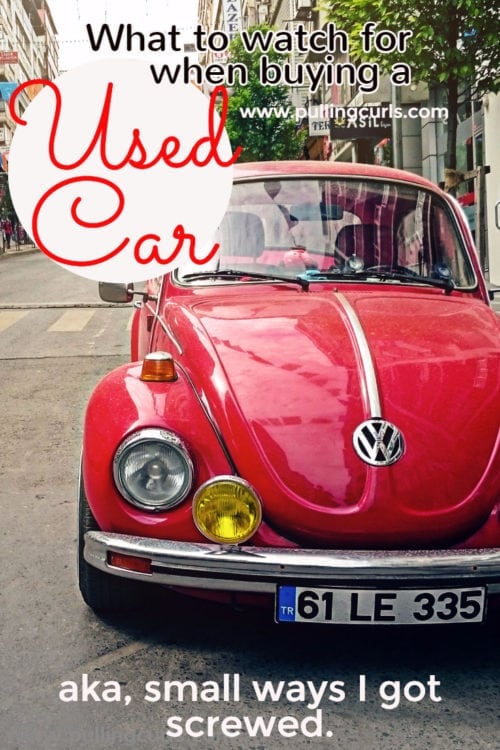 We had a little time to make our choice. We really wanted to think it through and decide what we wanted. After test driving another Subaru, and the Camry, we decided we really liked the features of the Honda Accord.
We had some good visits to car dealerships where they didn't apply a great deal of pressure.
And then there was Gaston. His price just wasn't awesome, we decided not to buy. He tried to explain how, if we were financially savvy, we'd lease. Clearly, he and I were on different pages.
After that, we took a couple of months off (one of which was to go on our epic road trip).
Once school had started (and my husband got a job) we realized we really needed to get something.
After a few dealership visits, we realized that maybe our budget and buying Honda Certified just weren't in the same zone. We weren't going to be able to get a dealer to go low enough to be in our price range.
We could either wait a couple of months until we saved up more, or we should consider something else.
---
A quick note on why we bought with cash:
We had the cash
I just hate to be in debt. I know that I could invest the money and make SO MUCH MORE than I could if I had a loan, but the stress of paying it monthly and just having it hang over my head wasn't worth it.
It felt good.
**I don't think that buying a car with cash is a necessity, and we did consider funding a little through a loan but we ultimately decided to pay in cash. We do have an available home equity line of credit that we can use if things get ugly.
---
Dejected we turned to our phones for comfort. In looking on Craig's list, we found a local Chevy dealer that had a used one (in blue — which was our color of choice) for near our price range.
In calling about it, it was still available and we headed over.
The Carfax was clean, the car looked amazing. One tiny dent (likely caused from another car door, no accidents). Otherwise in great condition. Engine ran well, and it was just over 3 years old with a good # of miles on it.
The test ride was nice. We had one of the greenest salesmen there was. But, he was nice, and not super pushy. We were interested.
Things consider when buying a used car:
We had a mechanic in our back pocket if we felt like the car needed a going over. Probably more important when you buy an older car or on Craig's list. My husband is fairly car-savvy so he did take a once over the engine.
Are you tied to a specific brand or are you just looking for a particular type? We thought about changing to a Hyundai, or a Toyota to save money a couple of times, but ultimately decided that we REALLY wanted the reliability of the Accord.
Do you need to buy the car as certified, from a dealer or are you comfortable buying from a private party (in retrospect, I'm not very sure that buying from a dealer offers any benefits vs a private party — but my husband preferred buying from a dealer)?
---
A quick note on why we gave up on Honda Certified:
We had wanted to go this way, just because of the added warranty, but after looking into it, we decided it wasn't worth it. People buy the Accord because it is a workhorse of a car, it's crazy reliable.
Honda certified adds a few thousand onto the cost of the car, and it is truly unclear as to if they REALLY do the 600-point (or whatever it is) inspection or if it just sits there. Also, every time we've had a warranty, the company has wiggled out of it or it somehow had a deductible for that type of repair.
ALSO, if you truly want a warranty, you can get one from the dealership you purchase it at, it is possible to get it otherwise!
---
We sat at his desk. I was firm on my set price, but in the end we did budge it up a bit. Mostly just grateful to have it over with. I hate shopping for cars. I still have a fear of Gaston and his pushy leasing program. I really liked reading Clark's Condensed post about buying a used car.
In the end, I felt like we got a pretty good deal, but they certainly screwed us a few ways:
They promised we had two key fobs, but it turned out to only be one. We had to buy the 2nd one which ended up costing me a bucketload of time and close to $150 because I bought on ebay, took it to one place to get it ground and to another place to get the fob programmed). If I had just gotten the car at the dealership I think it would have been closer to $200, possibly more. When we said they sold it to us with 2 they just said "sorry." Lesson learned. We had been unable to test out the fobs separately until they split them apart after purchase. We've had a similar problem every time we've bought a car the past few times. Super frustrating.
The financing guy pushed the warranty on us so hard, we did end up purchasing it. At the time of writing this I am working to cancel it. He said I could cancel it up to 30 days with a full credit, I sure hope so. They sure do push the warranty hard. Not saying it's always a bad choice but we knew we didn't want it. He was relentless about how stupid we would be if we didn't purchsae it.
---
We absolutely love the car now. My husband, especially. This one has new hub caps and a way to remotely start it. He's just thrilled.
There is a good feeling to know you can purchase something you want with cash. It's all yours. Hubcaps and all.
You might like some of my other money saving posts:
[pt_view id="8f416360d5″]