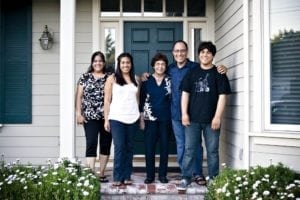 So many good times with them at their house
I don't want to write this.  I've started it like 14 times, but I know I'll want it printed in the blog book one of these days.
We met Roddy when he was a band booster for Drew's band.  Drew seemed to really like him and his wife, and they were exceptionally helpful and sweet to our whole family.  Drew, in particular found a deep kinship with Roddy through the years.
And why on earth wouldn't he?  Roddy was sweet and kind, he was always there to give of his time and energy.  He made whatever was important to you, important to him.  And, when things were important to him, he went after them with amazing enthusiasm.  He was there to help out in Jazz Band (even when his kids weren't in jazz band), he was there to help out at games or concerts.  Often making personal relationships with kids that weren't his own. 
Roddy was an amazing father, but he also helped so many kids by his positive attitude and the way he made them feel about themselves. Honestly, I can't imagine anyone being more "there" for their kids.  He was at EVERY event, often before and after, giving them tips (wanted or unwanted), taking pictures (and a LOT of pictures) and making sure they were on task.  He was so proud of those two kids.  As well he should be…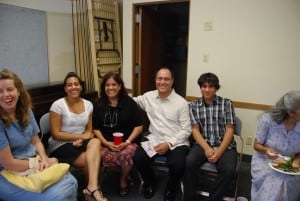 At Conner's Baptism
Our friendship grew into going out to dinner once a month together.  I always appreciated feeling like were on "equal" ground with them, and learning from them and how they coped with their "older" kids.  It still gave me hope that my kids would turn out alright if I stayed involved and loved them.  Our dinners were so fun.  Lots of visits to Yumi Yogurt and finding new restaurants together.
When Princess P was born, their family just couldn't get enough of her.  They watched our kids while I had kidney stones or was in labor.  It was nice to know our kids have a "place" that was a safe zone for them when I wasn't able to be with them.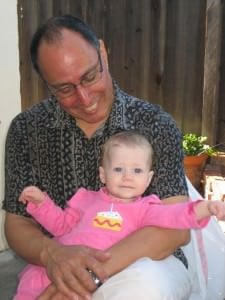 Soon after P was born Roddy was diagnosed with advanced lung cancer.  Already in the throws of postpartum depression I spent an evening looking at his odds.  I was overwhelmed by how bad they were and the threat of this cancer weighed heavy on my heart.
But Princess P grew, and so did our friendship.  Roddy was adamant that things weren't going to change.  I remember going out to dinner with them like a week after the diagnosis and he didn't bring it up once.  He lived his life around cancer, not as a cancer patient.  He'd get up early for treatments and then head into work.  Someone could have easily wallowed, but Roddy didn't.  He even became the band booster president, was still at events and helping out.  I wish we could bottle the "hutspa" it took to be at all those events even though the chemo was fighting him.  It was inspiring.
Drew and Roddy had a special relationship.  I can't stay awake through a movie to save my life, and Drew loves movies, so he and Roddy had many late night movie stops.  They also went skiing together and generalized tom foolery.  They loved Fry's (the electronic store, although they also loved fries, the deep fried kind — mostly at In and Out), spending time together and sharing music.  Drew doesn't have a brother, but I think he quickly found that relationship with Roddy.  A safe place to talk about how life was going and to enjoy each other's company.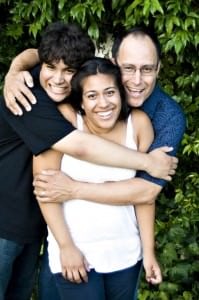 Our family loved Roddy.  P loved to cuddle with him, and my boys loved to be teased by him and see what crazy piece of electronics he'd buy next.  They were at birthday parties and baptisms, we spent holidays at their house and we knew they were our family.  I will add how grateful we were for that.  Being "alone" around the holidays can be hard, but we started new traditions with their family, and I am so grateful they invited us in.
We left California with heavy hearts in 2011.  I remember thinking that might be the last time we saw him, but I pushed it aside knowing what  fighter Roddy was and that we'd back soon.  We kept in touch and had hoped to see each other a few months ago when they had a layover in Phoenix on the way to his father's funeral.  Drew was thrilled, but Roddy was having a hard time breathing so we weren't able to hook up.
He and Drew talked a few times since we moved and Drew missed him so much.  I think for men, especially, it's hard to find that relationship for yourself.  I know Drew has had a really hard time with all this.  My heart hurts for him.
One of my very favorite things about Roddy is that while we may not have always agreed (let's remember, we're crazy Mormons) he never seemed to let that be a sticking point.  He'd get past that and move onto things that we did agree about.  What a great example of not letting little things get in the way of big things.  I hope I always remember that.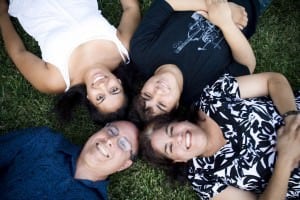 In true Roddy fashion, he apparently gave all his enthusiasm to dying.  He was up early in the morning fixing the family's wi-fi, and was registered into hospice by the afternoon and gone before the day was through.  His family has found the blessing in that as they've gone through this.  They were grateful he didn't have to suffer and was surrounded by those who love him.
Sadly, we weren't there.  I feel horrible.  I hate that we aren't there.  I hate that our live goes on as "normal" because no one here knows him and life truly is the same.  Luckily, distance doesn't always separate the hearts, and we are excited to go see them soon.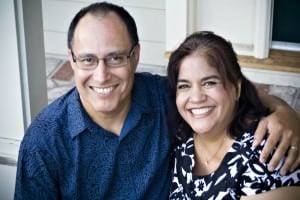 My mind can't wrap itself around Rowena without Roddy.  They were such a perfect pairing and I know our marriage was strengthened by watching how they filled each others gaps.  Roddy was in no way perfect and his wife seemed to have the perfect match to him. 
 The beauty is that relationship will continue and there will be a big Rod-Row licence plate on their Cadillac in the sky.  I can't imagine what Roddy's doing right now but I know he's taking pictures to show Rowena when she meets him up there (which better not be any time soon).
We miss you Roddy, I know we'll see you again.  Until then, I'll miss your woo-hoo's, the hugs and the many times I heard your shutter click.  Peace be with you, and with the many people who adored you.  We love you.