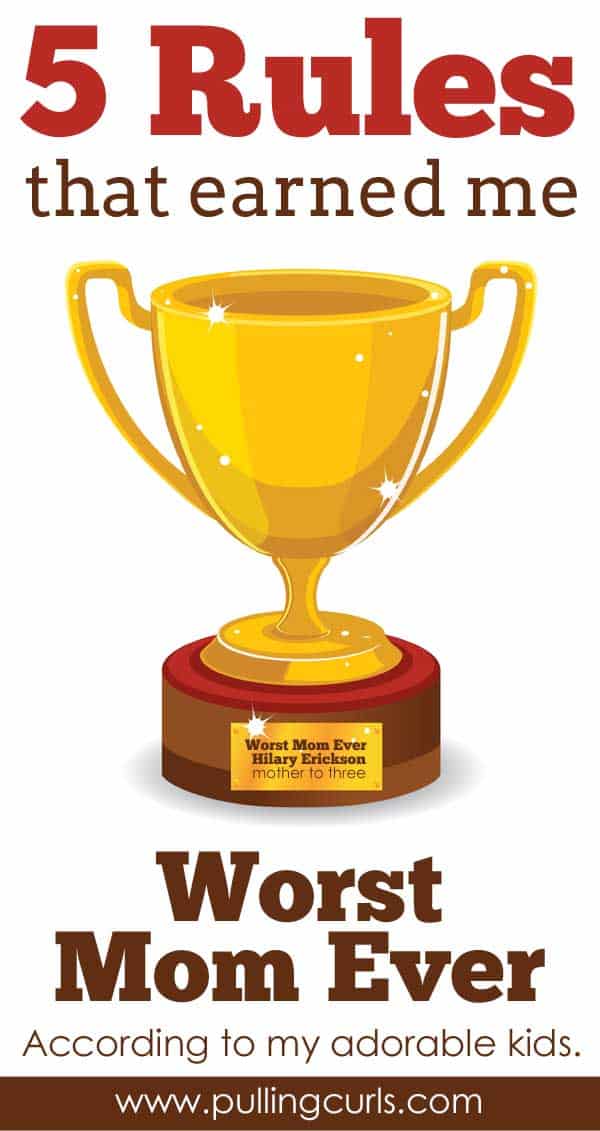 Mom, you are the WORST. People can't even BELIEVE how strict you are. I get made fun of for your rules, you are just the absolutely WORST mom.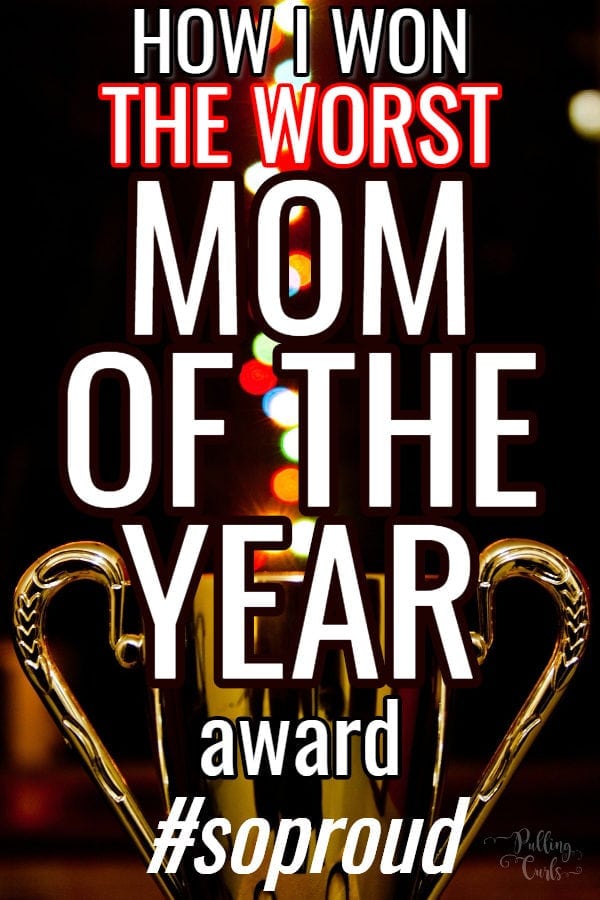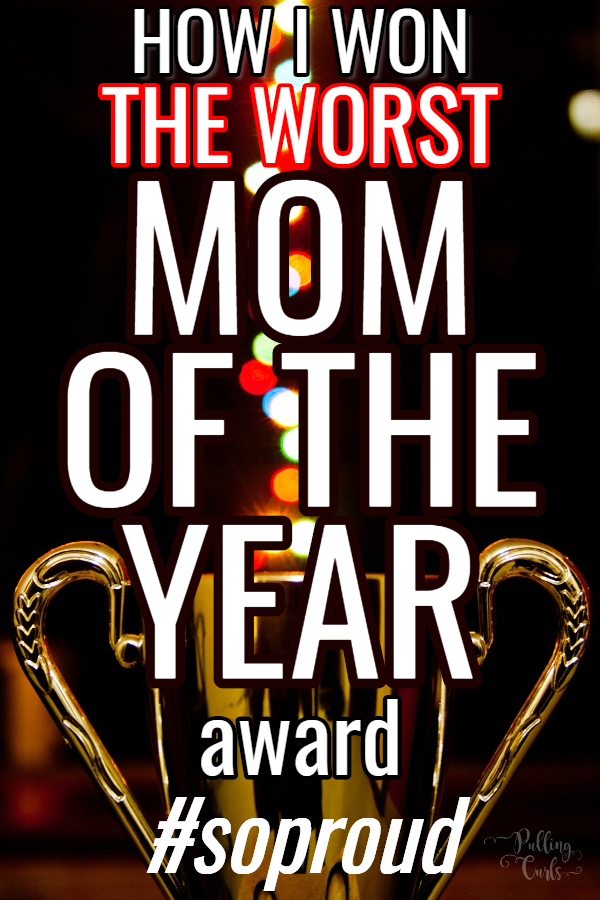 Of course, I reply that I actually run a mom blog — I must be a pretty decent one. At least according to other moms.
And a large part of me feels like success in parenting comes in being one of the worst moms. I truly don't want my kids to hate me or not understand our rules though. But, we have some hard and fast rules that we follow that put us in the "worst" parents category. Maybe I'll knit us sweaters…
No sleepovers. I didn't put a lot of thought into sleepovers when my kids were little, but the more I read as they got older I just decided they were a no for us. They do go to scout camp, they do sometimes sleep at the cousins house (on very rare occasions) and we do allow "late" overs where we pick them up late at night. We don't actually have a set curfew, just depends on the activity. Makes more sense to let them stay a bit late if we stick to the sleepover rule for us.
No forever-long parties. My son sometimes wants to stay at a party from 2pm to 12 pm — and I just find that to be excessive and unnecessary. They're going to hang out in the pool for 10 hours — that is likely to break down into the issue that we're avoiding sleepovers for. If they actually had an activity, it would be different. But he can go late or leave early, his choice.
No parties unless we have an invitation below high school. This rule is mainly to save my sanity. I hear about SO many parties that are "going to happen" on Friday. I just tell them we can plan on it when I see an invitation (either in my email or on paper). This rule has sort of had to die for high school. Plus, he can get himself home.
No phones at the table (mainly the dinner table). Yup, I don't even want it sitting in another chair. Put it in the charger to rest. It's been busy (this rule goes for me as well).
No unlimited electronics useage. We use a few applications that monitor their phone use and shut it down after a certain period of time. Right now we use Funamo, our Netgear Genie and I have a Circle coming. This one gets the most tears. Turns out I pay for the internet kids. I hate the internet, I hate wifi and I hate my kids electronics. I just have to deal with them. Just super frustrated by them. A good percentage of the time they're home. Makes me want to go camping.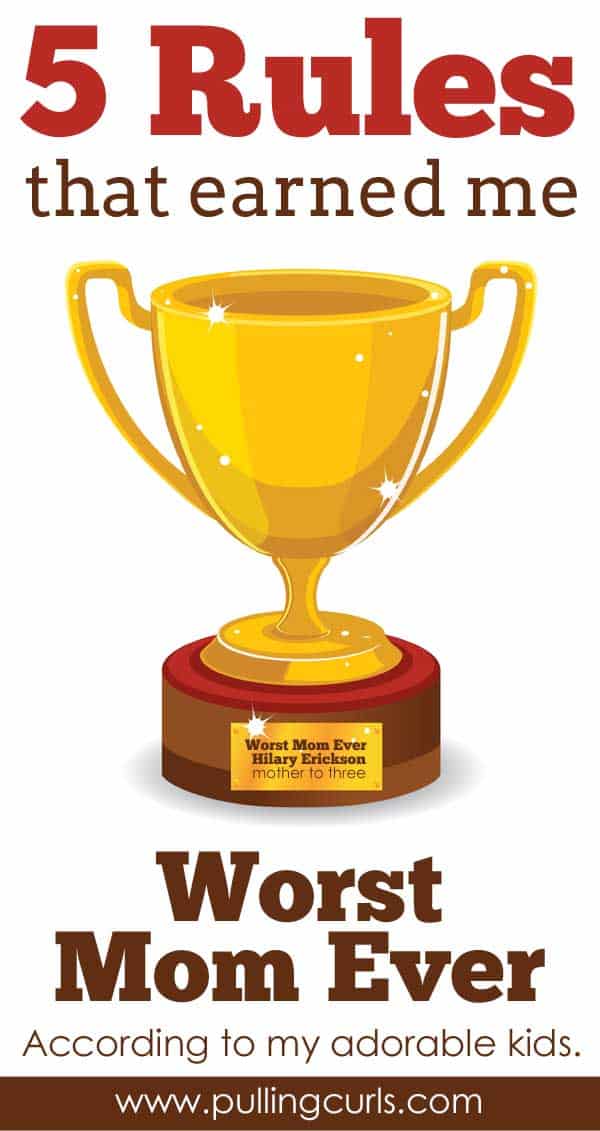 Anyway, those are 5 of the things that make me the absolute WORST parent. I prefer if they gave me an engraved award. I'm willing to put it on a shelf. 🙂
What about you? Tell me in the comments what rules you have that your kids just think are HORRIBLE.
I'm sure I could come up with more — stay tuned for round two one of these days. 🙂
Would you like to hear more from the worst mom ever — sign up for my MomHacker newsletter, and check out all my other Parenting posts below that!

[pt_view id="a38f28df64″]