But I don't WANT to do my homework — I'm SO tired mom (as they lay their body on the table and whimper). You think the same thing about dinner. You just don't WANT to make dinner. You'd much rather plop down in front of some Netflix and call it a day.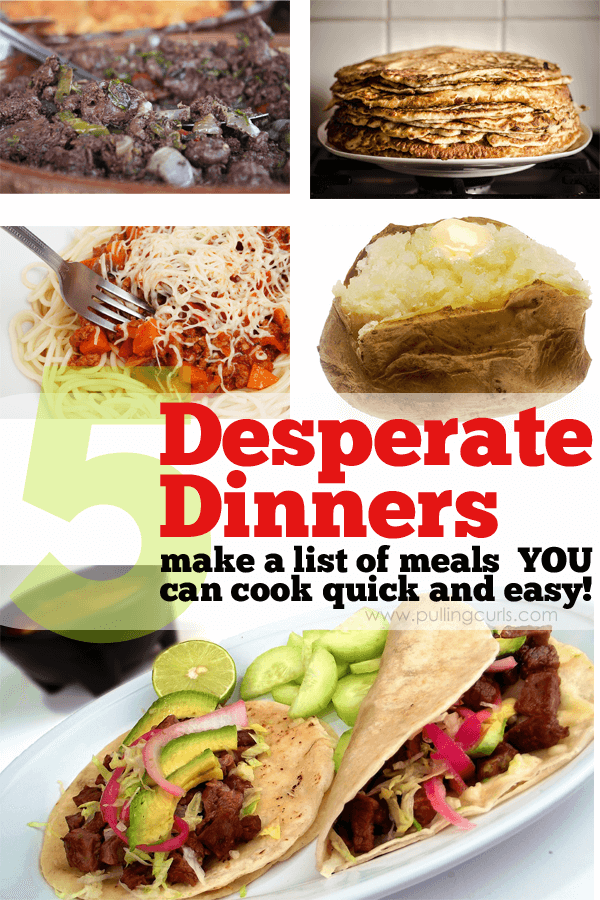 I mean, I could stand to lose a little weight (who am I kidding, a lot of weight) but my kids really need to bulk up a few pounds. 🙂 Sometimes everything on my menu plan looks overwhelming, which leads me to my 5 "rainy day" (even if the rain is only in your mind and heart) fast meals.

Spaghetti
Yes, Spaghetti can be a total win. You can make your own sauce, you could mix it up and make Cincinatti Chili, or you could just take a bag of noodles, and a jar of sauce and call it for the win. You could even use Ramen instead. Any type of noodle will do. Easy peasy, total emergency meal.
Things to have on hand : Spaghetti, Jarred Sauce (other things to add to it include frozen vegetables or salad fixings, or french bread to make garlic bread)

Baked Potato Bar
This is a personal favorite. I love potato and cheese. I do think potatoes have gotten a bad rap in the past few years. It's a great dinner for kids who need a lot of carbohydrates to keep going. If you have to be gone up to dinner time, you can even cook them in the crock pot (which is super easy and tasty).
Things to have on hand: Potatoes & anything your family likes on potatoes which can include cheese, butter, sour cream, broccoli, chili.
Tacos
I love tacos so much. Something about ground beef, cheese and sour cream will always call my name. Add some lettuce, tomato and cilantro for a more well-rounded meal. I love to add some cut up fruit with this one, especially in the summer, it always hits the spot.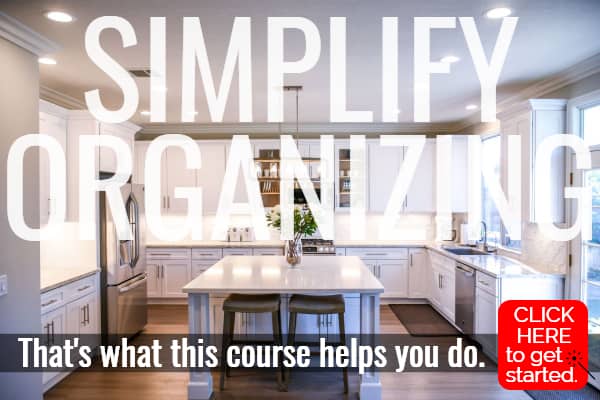 Thing to have on hand: Taco shells (or flour tortillas), ground beef or chicken, cheese, and anything else your family likes — ours usually has onion, cilantro, sour cream, Sriracha or taco sauce or salsa.

Some sort of Mexican Casserole
Really, any family favorite casserole can go in this category, but mexican casserole is how my mom always got dinner on the table. She had about 6 that she switched between. We mostly liked them, and it took less on-table effort than tacos, and often had some veggies mixed into the dinner I tend to make a mexican lasagna type dinner using ground beef, salsa, cheese and alternate with strips of corn tortillas. Throw that sucker in the oven, get a little Netflix (or homework time) in and enjoy it when it dings. Add a salad and you get bonus points!
Things to have on hand: Tortialls, ground/shredded meat, cheese, and whatever else calls your name to throw in it.

Breakfast for Dinner
Oh baby, this is the mother of all emergency meals. Throw together some pancakes (because, let's be honest, you rarely have time to make them in the mornings before school) and serve 'em up! One of my other favorite emergency, and fridge-clearing meals is a fritata. So easy to throw in some veggies that are about to go bad and feel great serving that to your family! Add some fruit for the win!
Things to have on hand: Baking mix or the actual ingredients to make pancakes, you could also add some eggs or bacon. Whatever is around.
---
I'm not saying that these should be YOUR emergency meals. I'm sure we all have them. I'd just make a list of them (be it mental or perhaps in Evernote ) so that when you're just whining that it's too much, you can pull one out.
I will say that if I just decide EARLY what's for dinner and get out all the stuff, sometimes that is just as easy to pull that out for dinner as an emergency meal. You can do it!
What do you have on your list? I really want to "beef" up my list. Tell me in the comments!!!!
Interested in more mom tips to try to let your mom life run more smoothly? Be sure to sign up for my newsletter!