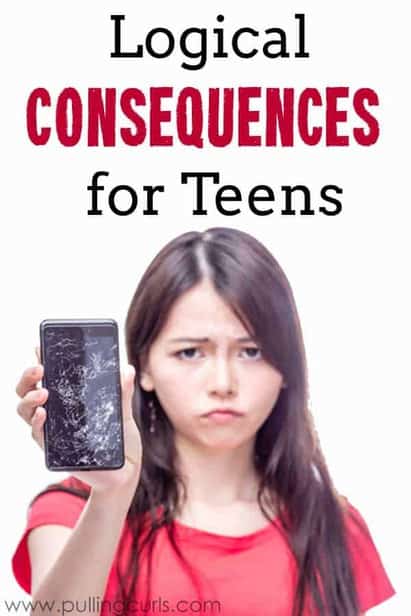 Inside: This post is going to explore consequences for teenagers and how it can improve your relationship with them, while also preparing them for real life. This list of logical consequences for teenagers are the best to prepare them for real life.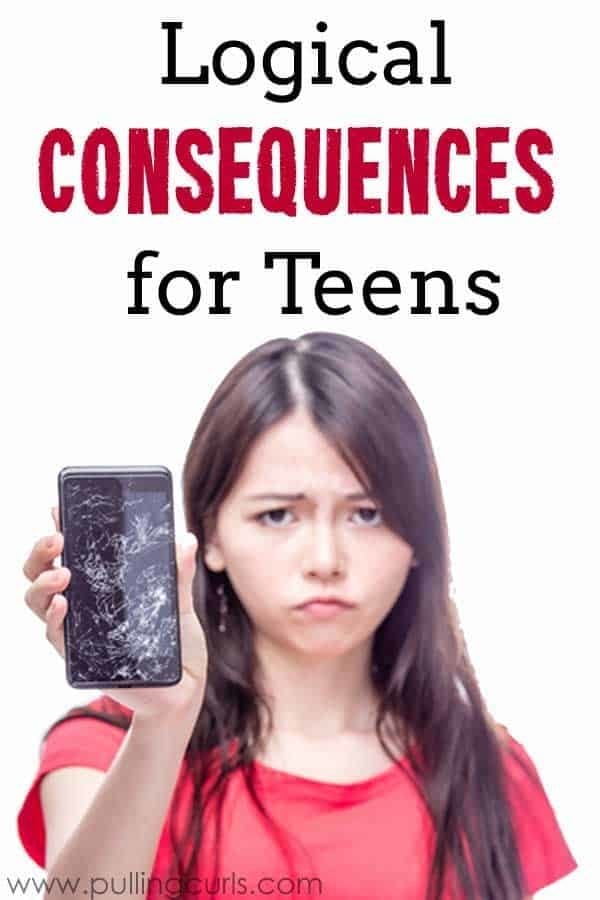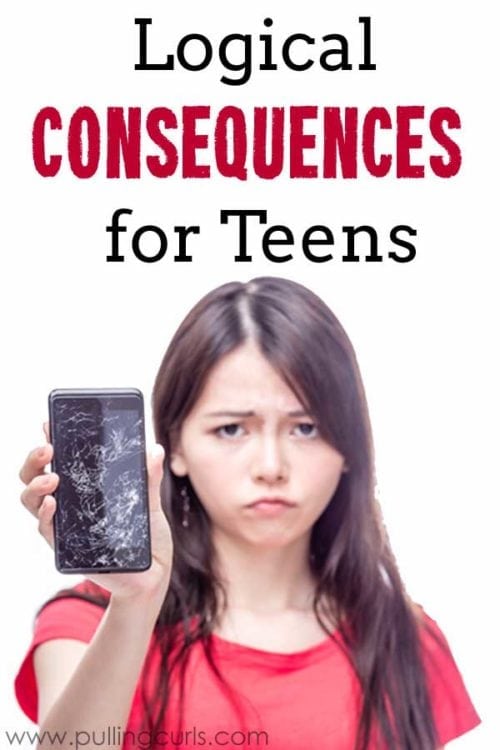 Consequences for Teenagers
I loved the book Love and Logic. It is amazing for little kids. The idea that kids have to fix their own messes is HUGE for me. It changed the way I potty train, the way I dealt with poor behavior or messes. It really made me think about the consequences. And me screaming at them was never a natural consequence — even if it comes naturally sometimes.
But now I have this gangly teen boy. I have no idea what a natural consequence is for him blowing off his curfew? I'm just SO angry and I feel like I can't change a SINGLE thing with him. Then, we just start at each other in a control game. It's awfully fun to have teens.
It's awfully fun to have teens.
But then he's also amazing. He's smart and funny. He's kind and genuine. He's really thinking about the world around him and how he can make a difference. Such an exciting time.
It really is awfully fun to have teens.
---
But, back to the control game. We play it a lot. Me tightening down, him getting mad. It's awesome. I really thought that returning to love and logic, with the logical consequences might really help me and my teen's behavior.
If you're looking for tips on making your home life easier, to leave enough of "yourself" for, well — teenagers. I am a BIG fan of this.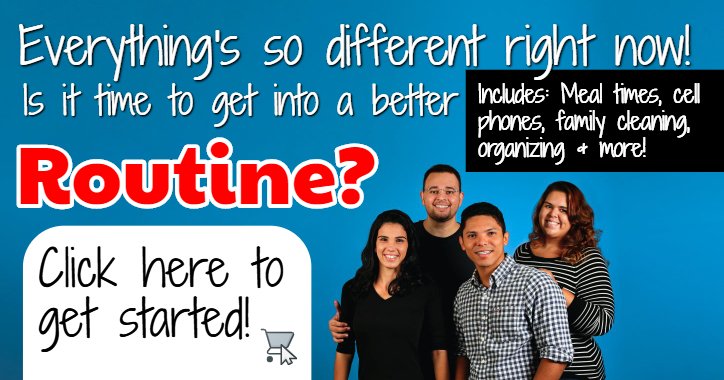 Here are my 5 best tips for using love and logic with teens.
Love & Logic for Teens
Consequences for Teens: Misuse of an item means I take it away
Just like if my 4-year-old cut his hair with his scissors, I'd take it away. If he's on his phone instead of doing homework or using it during dinner. It goes away. I have an electronics contract where it is spelled out, along with the consequences. It works pretty well. This is our constant fight though. I wish I could find a new one here. #commentandhelpme!
Consequences for Teens: My service to him is not mandatory
If someone is consistently rude to me I don't need to keep helping them. That means I pull back my support of him. He can take the city bus home.
I think a lot of the teen angst is the fact that they feel like they are 100% responsible for their own life and have ZERO idea that we're behind them juggling balls to keep them afloat. Maybe stop that juggling for a bit to see how it happens.
Consequences for Teens: Being more adult
If he likes being in charge of himself, he can do it more frequently. When laundry was an issue, I stopped doing it. When lunches weren't being made I just left him on his own. I need to be more hands off. It's a good consequence for him and me.
My job truly is to mother him out of needing me. That needs to start sooner rather than later.
Consequences for Teens: Sometimes we just need a break
My teen takes a lot of walks/bike rides and skateboard rides. I bet his hormones are just racing around that brain of his. He's somewhat irrational as a 16-year-old boy. Frankly, I need a good cooling off too. Giving kids space is a natural consequence that works.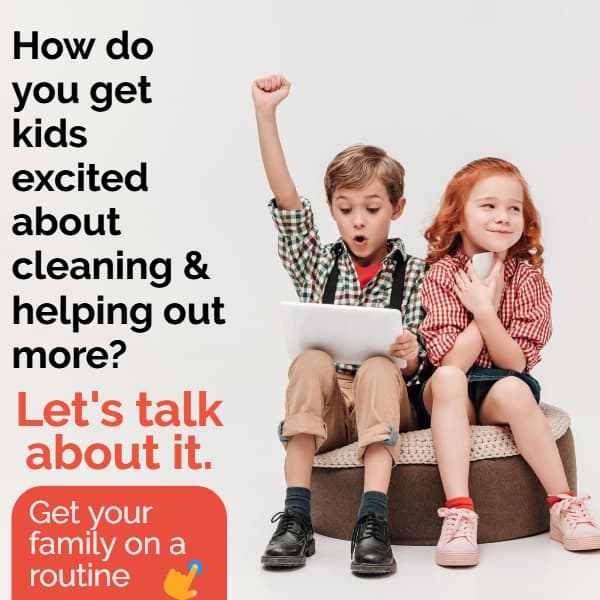 Honesty Moment: Sometimes the consequence isn't logical
My son won't make it down for our VERY SHORT scripture study in the morning. I'd tried everything I could think of. It was mostly me yelling at him to get downstairs.
So, finally — the consequence is no computer time if he doesn't come. And frankly, it's working.
The logical-ness of this one is:
He likes computer
I like family scripture study and I think it makes our home more peaceful
He gets computer time, if I get what I want
---
I DO think that the more natural and logical the consequence is, the more it mimics real life.
Just like in potty training. Once my kids have proved that they are capable of using the potty and doing it on their own their natural consequence is cleaning up after themselves. That means cleaning up the spot, changing their clothes, and sometimes even helping with laundry. The reason I don't wet my pants is that I don't want to change my underwear and pants (or to avoid embarrassment, but somehow that doesn't work on a 2-year-old).
SO, when my son wants money but is unwilling to do household chores or extra jobs. He just doesn't have money. That's the natural consequence. I don't go to work. I don't have money. We get foreclosed. Hence, I keep going to work.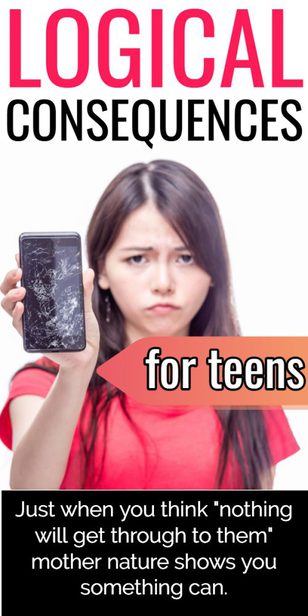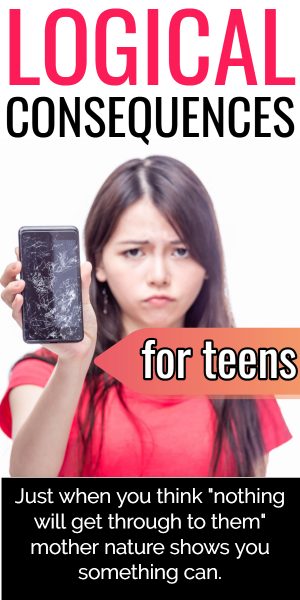 List of Logical Consequences for Teens:
The consequence of disrespect — He doesn't respect me, I don't respect him. I don't need to pick him up, or cook him meals (you can extend this as far as you want)
The consequence of lying — You can't trust him. You can't trust him to stay out with friends, use the car, be in his room alone.
The consequence of defiance — I would say it's similar to respect. Although, check yourself on what he's being defiant at — is that worth the fight?
The consequence of drinking or drugs — again, I would say you can't trust them. So, privileges that require trust would be eliminated.
How to punish a teenager who doesn't care
The reality is that they DO care about something. The key is finding that thing. Be it, his phone, video games, sports, etc. You have to be willing to be firm and make it logical. Those two are the key.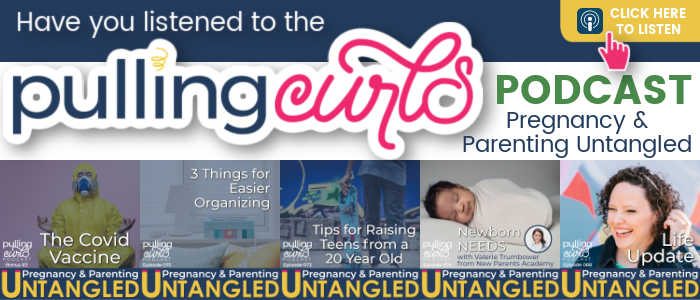 The key to consequences for teens:
The key is often saying that you need a little time to figure out the consequence. Sometimes the actual natural consequence is hard to figure out in the spur of the moment. Also, they can ruminate on how they could change this next time. Not knowing if this is a life sentence or just a slap on the wrist for them — sometimes that's the start of an awesome consequence.
I do think the more you do it it does start to come more naturally and will make them better adults in the long run. 🙂
Fist bump to all the moms with teens. I wish life was as easy as sleep training at this point. It's a constant battle between loving the AMAZING human beings that they are becoming and wanting to pull your hair out wishing they were different.
If you liked this post, be sure to sign up for my practical parenting series. We explore some pretty great topics together — and check out my other teenager posts below that!
And check out all of my other teen posts:
[pt_view id="fb1cb62n3t"]