This Is my Water Broken Quiz will help you figure out if your water broke or if you just peed… even with or without contractions.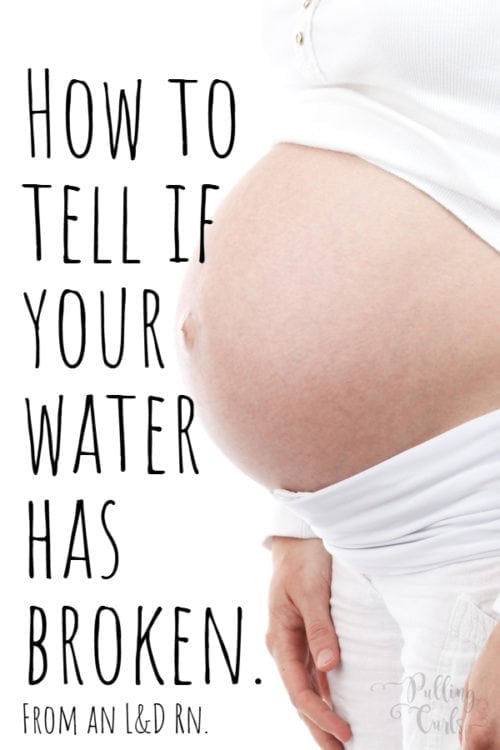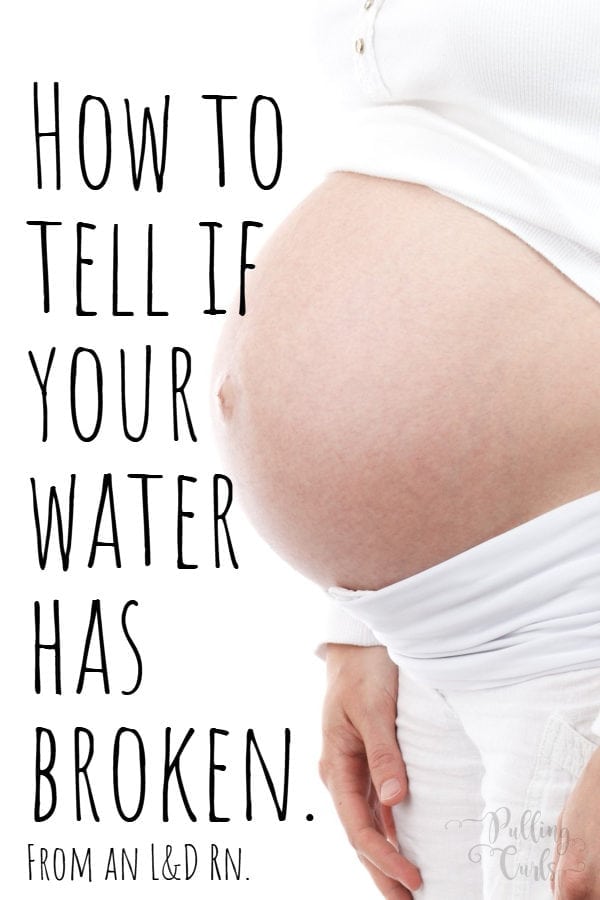 It seems like it wouldn't be that hard — IS my water broken?
Water gushes out of your nether-regions.  It's obviously broken… right?
First, a little medical FYI:
Hilary is a nurse who has worked in various medical fields for the past 14 years, however, none of the information on this blog, should be substituted for the care of a physician. The information provided on this blog is informational only and shouldn't be taken as medical advice. Please don't delay contacting a physician due to something you have read on here. Pulling Curls doesn't take responsibility for your health. That's your job. We're just a nice read.
---
Well, you've never been in labor then, because there is a whole lot that happens "downtown" at that point.  A lot of people ask themselves, "Is My Water Broken?"
Especially as you get into the "overdue" category — lots of change in discharge towards the end.  Be sure to check out all the other signs of labor.
I'm going to give you a Is my Water Broken Quiz? to help you determine IF yours is — and then we're going to talk about ALL The answers, as well as some common mis-conceptions about water breaking.
Don't forget that this type of AWESOME information is what a prenatal class is for.  I 100% recommend this one.
The Online Prenatal class for Couples is for busy couples who lack time and knowledge about the birthing process to get quick, engaging and accurate prenatal education so they can have a more relaxed pregnancy & birth.
I totally recommend this one.  It is…
You can even save 10% with code PC10.
Is my water broken quiz
Related Post:  Printable Birth Plan Worksheet PDF
Water Breaking Signs
Alright, lets talk about all those answers.  Here's a few things to consider before knowing if your water is broken:
1.  What does amniotic fluid look like?  Amniotic fluid is WATERY, it's not thick and it isn't normally bloody (but can have streaks of blood, that's normal).  If you do gush blood, you need to get yourself to the hospital, and if it's a LOT you need to call 911, but amniotic fluid smells kind of like a public pool.  A little chlorine-y, and a little bit like pee (because amniotic fluid is made mostly of baby pee).
2,  You may get a gush, you may get a trickle.  Depending on where your water broke on the "sac" it will gush or trickle.  It is likely to dump more when you move, or when you go from sitting to standing.  We call that a slow leak — when it's only a little.
3.  It will continue to come out.  If you get a gush, and then absolutely nothing, you can probably thank your bladder.  I've heard of people who had a "dry birth" and I'm not sure what that is.  It does keep coming out, it's baby pee.  And in case you didn't know it already — baby pee is in a seemingly endless supply!
5.  Once your water breaks, contractions usually start in the next few hours.  If you're heading to 12 hours without contractions you can expect that your doctor is going to want to start you on some Pitocin (the other induction agents are limited once your water is broken).  There is a chance of infection now that barrier is broken.  They'll take your temperature frequently (enough to drive your nurse insane).  An infection is the main concern if your fluid is broken for a long time.  They also may start you on antibiotics after it's been a while.
6.  If anything comes into your "va-jay-jay"  besides water from your uterus (or just your basic discharge — I'm talking about a THING), you need to get your butt in the air (hands and knees with your face in the floor, bum in the air) and call 911.  The cord can slip out when your water breaks and this can have serious consequences.  Don't take a shower, don't have dinner.  Call 911.  The end.
Oh, and wondering what all those urine tests are for — they are NOT checking to see if you're leaking — check out my post on why they check for protein in your urine.
What does it feel like when your water breaks?
Most people say it feels like peeing, although it IS coming from your vagina, it can be hard to separate "feelings" between the two.
How to tell if your water broke or you peed
I JUST had this the other day.  A lady came in to tell me that about 5 hours previously she had woken-up to a SOAKED bed and was sure her water was broken.
I asked her if she had any leaking since then, and she'd had none.
And her water hadn't broken.
She'd peed.
And frankly, guys – it's not unusual.
Especially, it was her 3rd, she was older and she just didn't have a "young" bladder anymore.
The big thing to watch for is if it KEEPS coming out.
Your amniotic fluid is made of mainly baby pee — so it KEEPS coming out.  Coughing, or going from sitting to standing should elicit another gush.
Water Breaking without Contractions
In most normal cases, your uterus will start to contract within a few hours of your water breaking (or, you were contracting when it broke).
Your body (thank you mother nature) just knows it's time to get that baby out.
Sometimes, you won't have felt the contractions before, but once the fluid come out they are much harder and painful — so that is all normal as well.
Did my water break or is it discharge
AS I said above — when your water breaks, it is super watery.  Yes, you can have a trickle, but if you cough or change positions usually more comes out.  Discharge is more constant and often thicker or white.
This can be hard to tell — which is why we have the test I talk about next….
How to check if your water broke
In order to REALLY know if your water broke — you will have to go to your doctor or to the hospital.  Your Labor nurse can test it.
The hospital does have a definitive test. It's called Amnisure (other hospitals may use Ferning, and some may use Nitrazine paper as an initial test).  It isn't something you want to wait and wait to decide if it's broken, but you can certainly wait a couple of hours.  Maybe shower, put on a pad and see if it's still coming out.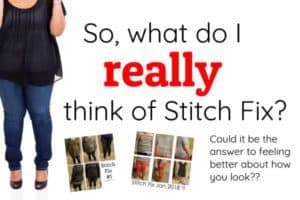 If you THINK it might be broken, I'd call your doctor to see what they recommend.
Things to take note of when your water breaks
If you know your water's broken (and it's often fairly obvious) check coat:
C — Color (is it clear or green?)
O — Odor (does it smell funny?)
A — Amount (giant gush or a small trickle)
T — Time (what time did it break, remember the clock starts going after your water is broken)
And, when in doubt — call your doctor or head into L&D.
Signs of Water Breaking Soon
There are a couple that I could think of.
 You're close to your due date, that means you're more LIKELY to have your water break.
You're contracting — it can cause your water to break.
But, really — some women just have really firm bags of water.  They won't break on their own.  so, very often the doctor has to do it when you come to the hospital.
---
Once again — this type of info is exactly what's in my online prenatal class (some people call it a birth class, hospital class or childbirth class).  I'd love to see you inside!
Or, if you're not sure you're ready — I have a quick beginning class you might like to try:
And don't forget that post all about labor: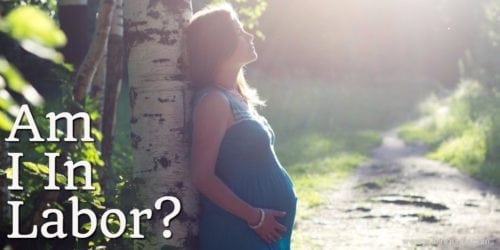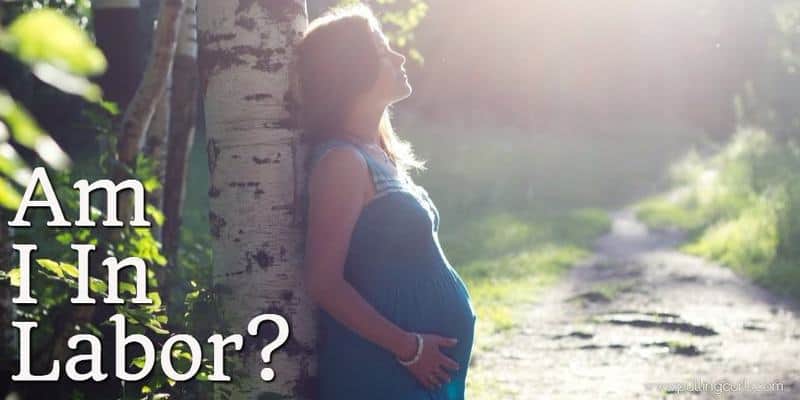 Check out all my pregnancy posts:
This post was originally published in March 2014, and has since been updated.