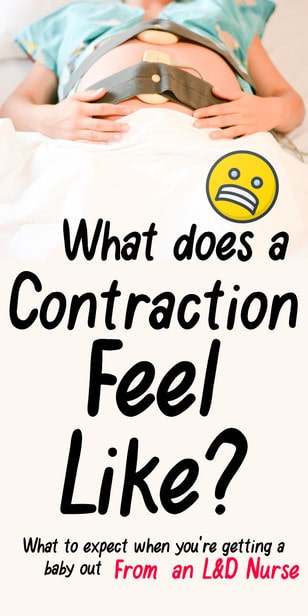 What does a contraction feel like? We'll talk about what to feel for from beginning to end of labor.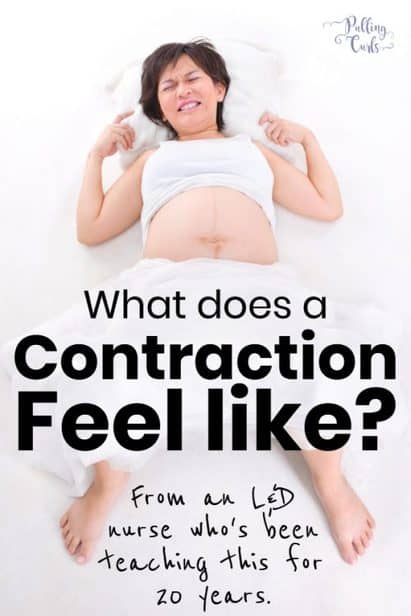 What does a contraction feel like?
I spent MUCH of my first pregnancy wondering WHAT the big day would feel like? What would contractions feel like? What would labor feel like?
Also, contractions aren't the only part of labor — don't miss my post on How Do I know I'm in Labor that has TONS of great info on all the parts of your body involved in labor.
What is a contraction?
A contraction is your uterus (which is basically, just a large muscle) tightening down on the baby. I really like how this video shows it:
I like to think of your cerivx as a tight sweater neck. Where the uterus is just slowly pushing the baby's head through it. So, it starts really small and grows as the head pushes on it more and more (I explain a bit more about that in my vaginal exams post)
All of that is thanks to contractions.
When you hit ten centimeters (check out this post to learn more about vaginal exams), you'll push in time with your contractions to give that baby it's final shove out your vagina.
It's all really a miracle. Just sort of a painful one. 🙂
BTW, I have a post all on natural labor, and also one on labor epidurals — in case you're worried about the pain
---
If you're wondering what a contraction feels like, I bet you're really interested in learning more about what it will feel like in delivery — be sure to check out this online childbirth class. It's perfect for:
Busy couples who can't fit in a "regular class" into both their schedules
Want to do a class on their own timeframe and be able to reference back to it
Want to be able to ask questions at midnight and get an answer the next day.
Want a relaxed delivery, because they will know what comes next.
I've even arranged an extra 10% with coupon code PC10.

>> Check out the internet's #1 prenatal class here <<
---
What do contractions feel like?
For me, contractions felt like a bad stomach ache or cramps with your period. You have to realize that you might just feel "crappy" much of the day — similar to how you feel during a bad period. That can be contractions (or, you just feel crappy).
Period cramps ARE contractions — they're your uterus wringing out what was left of the lining that it built up since it's not pregnant.
I have a whole post just on true labor contractions and how to differentiate them between false labor.
How do I know what a contraction feels like
Well, you likely haven't had a period in quite a while. So, while that is a bummer — just try to remember back….
For a lot of women, that can be somewhat confusing (don't miss my post all about the signs of labor)
SO, I have a solution… stay tuned!
Related post: Groin Pain in Pregnancy
Where do you feel your contractions?
Because your uterus is a pretty big muscle — you can feel your contractions in a variety of places. Areas women often feel them include:
Lower abdomen
Back (both lower and a bit higher)
Hips
Contractions feel like the baby moving
I get this question a lot. Large amounts of fetal movement can trigger a contraction — so sometimes those happen together.
Contractions CAN feel like the baby is moving — they cause similar pangs and pains. A lot of my patients, once I have them on the monitor — and tell them it's a contraction, will say — "Oh, I just thought the baby was moving." So, that's not unusual.
How do I know I'm contracting?
Your uterus will start to feel hard under your skin when you contract. It can be hard to tell for sure — but if you lay down, and really try to relax, as well as pressing on your belly when you feel the contraction, as well as when you don't — you might be able to feel it.
But, you'll also know it from a lot of pain.
Related Post: Things to do before baby comes
Contractions on the monitor but I'm not feeling them
This actually isn't unusual at all. Contractions come in all shapes and sizes. Sadly, you usually need to feel them in order for them to do any work for you, but a lot of women have no idea they're contracting until I put them on the monitor.
Of course, not EVERY contraction brings on labor. False labor (or practice contractions) can also be painful — they just don't make your cervix open much.
Tech to help me know if it's a contraction.
BloomLife has created a monitor that allows you to track contractions (and yup, this link will save you $20).
It has a smartphone app that allows you to see what you're experience is in real time.
We, of course, have similar monitors at the hospital — but they're crazy expensive — you really wouldn't want to buy one of those.
Learn more about it in my Bloomlife review & coupon code.
---
So, contractions aren't the only thing that comes when you're in labor — my post "Am I In Labor" details a lot about all that. Labor involves your whole body — it's an amazing and tiring event!
So, that's the skinny on contractions. Looking for even MORE info — don't miss my friend Katie's post all about labor contractions!
If you like this type of informational post, sign up for my pregnancy series. I'd love to send you more valuable pregnancy information, based just where you're at in your pregnancy — and check out some other helpful, similar posts below that.