This is the when will I go into labor quiz. It's going to tell you signs of labor, predictors, possibilities of preterm labor, and early labor signs from an L&D RN. While this isn't a crystal ball, it will give you some ideas as to what to watch for as you slowly move closer to having your baby.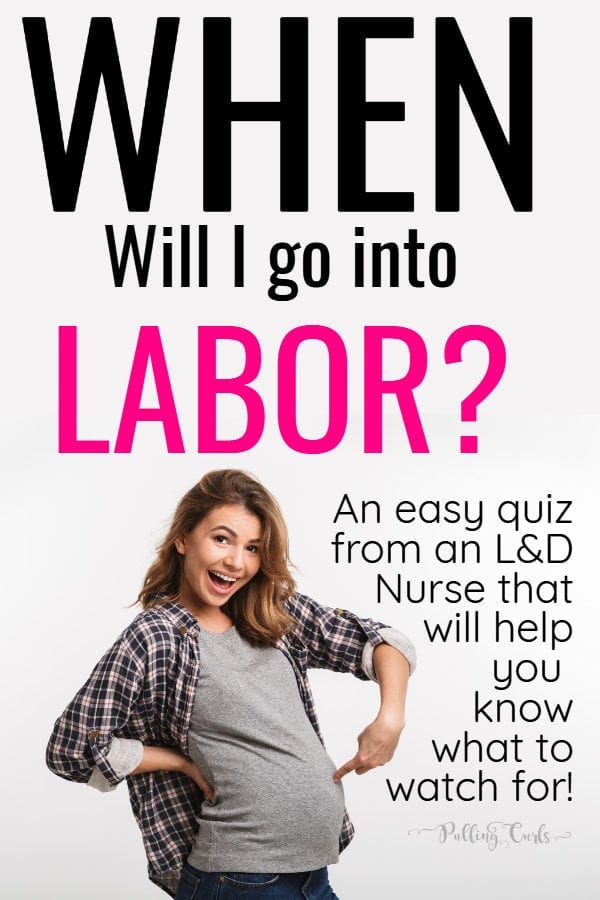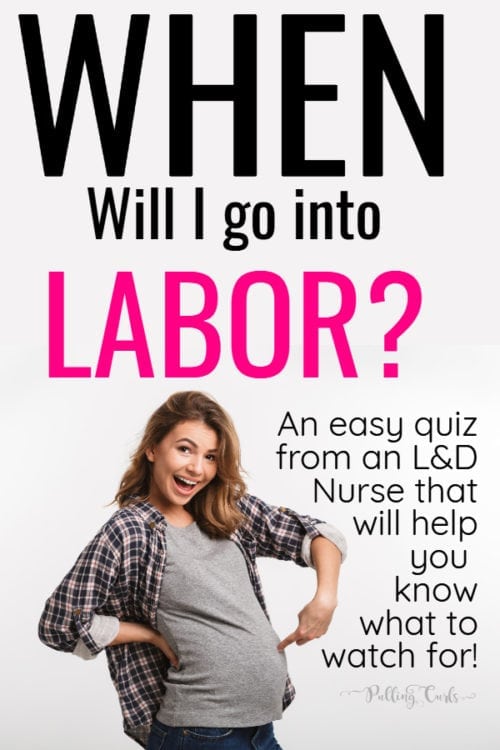 When WILL I go into labor is something everyone asks. I will admit that this post is no labor predictor (because nothing can truly do that) but this quick will give you some signs of labor, and maybe a little predicton for when the big day will happen!
>>PRO TIP: It is NOT too late to get a Childbirth Class!!! <<
Other posts that might interest you:
Did you lose your mucus plug?
Consequences of taking marijuana in pregnancy
Disneyland while pregnant
I actually talk about this on the Pulling Curls Podcast — Episode 10 on When Will I Go Into Labor — you can listen to it here:

When will I go into labor?
I've so been there. My mom wondered when to book her plane ticket. I mean "it's my job" to know when ladies will go into labor. Turns out, it's not. 😉 I think only mother nature knows that one. 😉
If I actually knew how to predict when people were going to go into labor, I'd be RICH — but I do have some things to watch for — that can be indicators it will be soon.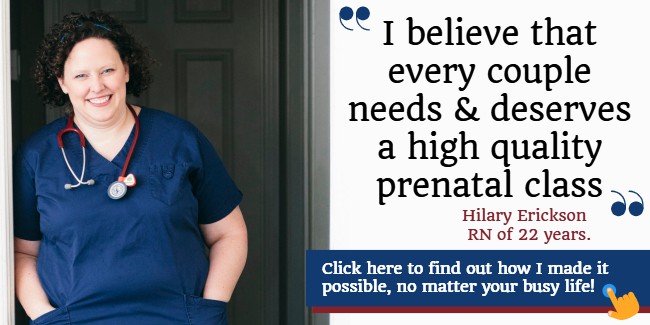 Am I in labor?
A lot of you might be wondering "how do I know if I'm in labor" — don't forget I have a whole page called Am I In Labor that goes into all of this a whole lot more. Be sure to check it out!
How did I create this labor predictor?
Good question! I've been a labor nurse since 2001 and I am thrilled to offer high-quality pregnancy information. I find it my goal in life to share more about pregnancy to everyone out there. I'm thrilled to share all of it with YOU! You can learn more about me here.
BTW, I don't really believe in too many things that will make you go into labor — especially not in stuff like this.
As a reminder, all the information here at Pulling Curls is not tailored to you and your situation. Please be sure to take the advice of your doctor over the advice you read here. For instance, if you have a long drive, or you've had previous quick deliveries, your answers might be different.
Will My Baby Come Early?
Keep in mind this post & quiz is really a labor prediction quiz for the third trimester. You really want to be past 36 weeks before you even start to think about going into labor!
---
When Will I Go Into Labor Quiz
Once you answer them all, click submit — and then see your score. You'll see your score as well as what you should be watching for!
There are 58 points possible — so, the higher you are — the more likely you are to either be IN labor, or to be headed there soon. Of course, labor can change quickly — at any minute your water could break (which adds 30 points to your total). 🙂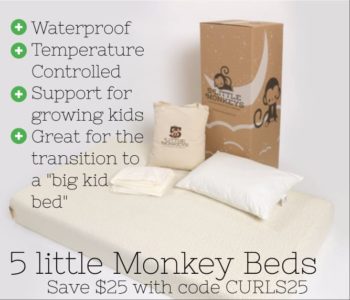 Did that answer your labor questions?
A prenatal class is SO important to feel comfortable at your delivery. Both partners really need to take one. You may think you've missed your chance if you're well into your third trimester, but you're wrong!
That's why I recommend this bestselling prenatal class. It is quick, accurate and engaging (she doesn't waste a minute of your time). I even wrangled a coupon code for Pulling Curls readers — PC10 will save you 10% on your course purchase.
What is "labor"?
Labor is considered when there is cervical dilation — I have a whole post on vaginal exams, and a video here:
Signs of Labor Approaching
Labor has LOTS of different signs — I have a full post of the signs of labor approaching, that I think you'll really like!
But, in short — you'll want to look for:
Nausea
Diarrhea
Generalized not feeling well
Losing your mucus plug
Aching
Cramps (often in your back)
And finally, looking for some more tips for labor-land — check out my friend Katie's post all about how to surviving labor and delivery.
Other posts you might like about the signs of labor:
By the way — if you ARE in labor — these are my top three to include in your hospital bag (here you can get a free hospital bag for delivery packing list).
Top three things for your hospital bag:
You don't want to look like simba….
I never leave home without this thing
Moist. The keyword is moist.
Grab my totally free hospital packing list (& listen to my podcast on it).
Btw, if you're thinking about getting your labor nurse a gift << check that post out!
FAQ's about When Will I Go Into Labor
When will I go into labor test
There really is not test as to WHEN you will go into labor.  Cervical dilation won't even give you too much info.  There is a test that tells if you're in preterm labor, but it doesn't predict anything in the future
When will I go into labor after losing mucus plug?
I have a whole post about mucus plugs — but it mostly means you'll have your baby in the next month.  Cheers!
When can I go into labor?
Normally, we don't stop anyone's labor after 34 weeks, but some doctors will try up til' 36 weeks lately.  I do recommend trying to go full term though.
Can I go into labor without contractions?
Your cervix can dilate to a point without painful contractions that are rhythmic in nature.  However, you will nee to have contractions to get past that point (usually 4 cm, but I have seen some not contracting at 6 cm).
Can I go into labor if baby hasn't dropped?
Yup.  Some babies drop right at the end.
Can I go into labor at 1 cm dilated
Yes, everyone starts at some place.  You can start labor at 1 cm but that would still be considered early labor up until 6 cm or so (it used to be 4 cm).
How soon will I go into labor after stripping membranes?
Sometimes it works, sometimes it doesn't.  Usually it takes a few hours for contractions to get going though.
If you liked this post, be sure to sign up for my pregnancy series, and check out some other pregnancy posts below that: