Vaginal Exams aren't something that any woman looks forward to, but many women find internal exams during pregnancy almost intolerable because of the pain. Let's talk about why they are so painful and what you can do to make them easier to handle.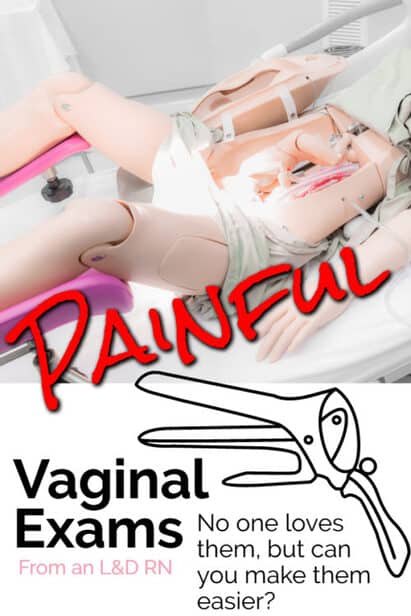 One of the BEST ways to make everything less painful is to understand more, which is why I recommend this. Thousands of women have gone through it and felt more prepared and excited for their delivery as a result. Let it simplify birth for you!

Painful Vaginal Exams
Most women haven't had many vaginal exams until they are pregnant, but vaginal exams are given for many reasons:
Cancer screening (including, vaginal, cervical, uterine and ovarian)
Checking your pelvic floor
STD screening
BTW, if you're wondering about cervical exams I have a whole on what all those numbers mean!
Other posts you might find helpful:
Is my water broken?
Gifts for Labor and Delivery Nurses
Does Labor Still Hurt with an Epidural?
Pro Tip: At ANY point in time you can refuse a vaginal exam. That is a section in this post on how/why to do that. However, at some point, you will likely need one. You can certainly lessen the # and make sure they are only doing them when necessary.
How do medical professionals perform a vaginal exam?
They can either use their gloved hands (usually two fingers) or they can use a speculum (that's the duckbill shaped implement they put inside).
The speculum is most often used when they need to visualize your cervix (most often needed for STD exams and a pap smear, although we sometimes use them in pregnancy as well for other reasons).
During pregnancy, we use a sterile glove in the hospital to be extra cautious about extra bacteria in the vaginal canal.
Most often the doctor uses a lubricant (like KY jelly) to make it easier on your tissues. Some tests can't have a lubricant, they can sometimes use water though.
Your provider will have a reason to perform a vaginal exam, and you should feel free to ask as many questions as you'd like before they do it.
Doctors SHOULD Be asking permission before they do something with your body, and I have a whole webinar on informed consent.
Most often your provider will have a "chaparone" who comes in the room when they perform a vaginal exam. Often, if your spouse/partner is in the room, they can forego this (that just protects the doctor if you were to say that something inappropriate happened during the exam).
Why are vaginal exams painful?
I would think this is fairly self-explanatory. Your vagina is a fairly small opening, and while you do use it during intercourse, that has a lot of different feelings and emotions involved vs a check-up.
A lot of people have pain during their first few times with sex, so it isn't unusual or different for you to have issues with the vaginal exam as well.
You may feel that the doctor is being unfairly rough but most providers are doing it with the utmost respect, but do have a "job" to do. And frankly, slowing down the process doesn't really make it less painful — it just makes it last longer.
**AS a note, women have three "holes" in their bottom/perineum area. There is:
Urethra: The hole you pee out of
Vagina: The hole the baby will come out of
Rectum: The hole poop comes out of
It is not unusual for women to not understand/know those 3 holes before — so I just wanted to clear it up. 🙂 And yes, I talk about it in here in much more depth.
Vaginal Exams During Pregnancy
Pregnancy is the time that most women have the MOST vaginal exams of their lives. You will have a vaginal exam at the beginning of pregnancy (to test for STD's), you may have an ultrasound that requires a "probe" that goes into your vagina.
Towards the end of your pregnancy, you will also have vaginal exams at many appointments to check your cervix and also assess for Beta Strep.
I have a whole post (with a video) on cervical exams in pregnancy and explains what they're for and what the numbers mean — so be SURE to check out that post too!
How to Make Vaginal Exams Less Painful
Ugh. They're not fun. That's for sure — but I do have some tips that will help a lot!
Relax to make vaginal exams less painful
Sure, it seems totally impossible, but the more you tense-up the more painful it will be during your vaginal exam. It just makes the "hole" smaller and that is harder on you.
Try to breathe, and try to think about all the positive things about being pregnant including that cute baby.
There is a whole section in this prenatal class on how to breathe during painful things that will help you make it through exams!
Press down to make vaginal exams less painful
A lot of women lift their hips UP during a vaginal exam (one doctor I followed during nursing school called it the chandelier reflex). This makes it harder and more painful for you.
If you push your hips down, it helps you to relax.
Raise hips to make vaginal exams easier
Sometimes, if you have a tilted cervix (and most people do in early labor) we will as you to put your hips on your fists (or we will put a bedpan under you) This raises your pelvis. BUT you are still able to relax as you are putting weight on your fists, vs tightening your thighs/buts to raise your hips up.
Discuss feelings/issues with your provider to make vaginal exams easier
Women who had forms of sexual abuse often find vaginal exams very painful. Besides the physical pain, it can also bring up emotional pain that they haven't processed.
Discussing these issues with your provider can be helpful for both of you. Sometimes, by them being specific about what they are doing and why they need to do it, it might help your brain be more at ease with the process.
**Moms of previous stillborns or even miscarriages often have feelings "swept" up during vaginal exams and that can be really hard too.
In all of those cases, we can't help you unless you let us know — so be sure to talk to us!
Get some support to make vaginal exams less painful
By bringing in your partner, your mom or a good friend, they can help distract you during some a painful time.
Some women just feel very awkward with a physician in this experience. I can assure you that it is not awkward for the provider and that it is just their "job" to do that day. Sometimes support can help you in that awkward time.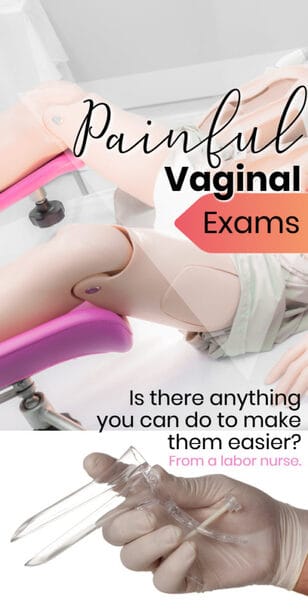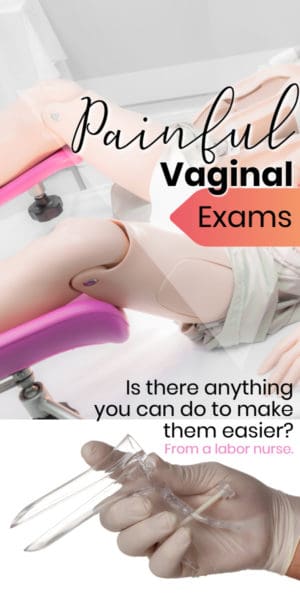 What do do if vaginal exams are too painful?
While you can limit the number of vaginal exams (you are free to refuse them at any time) it is important that they occur:
In the beginning to do a pap smear and std testing
In labor, to see how you are progressing
Other times, you can talk to your doctor about if the procedure is very necessary. Refuse it, if you feel you can live with the consequences of not doing it.
BUT….
You need to remember that your baby's head is much larger than the speculum or your providers' fingers.
You are going to need to work on your personal coping skills to get through it.
Even with an epidural, it is only meant to take away 80% of the pain, so you will need to learn how to cope with pain before an epidural (or natural labor, if you chose to do so) and the pain you'll feel as the baby presses on those tissues.
You will also need a vaginal exam after delivery to make sure that things are healing well. Along with your pap smear.
If you are finding that you're unable to cope I would take some pain management classes. As I mentioned, I have a chapter with some breathing in this class. I also recommend Hypnobabies, and I give my class at 50% off if you choose to do their pain management (my classes discusses the ins and outs of delivery to get you prepared to be at the hospital, which Hypnobabies does not do).
Here's how it works:
Purchase Hypnobabies here: https://www.HYPNOBABIES-STORE.COM/link.cgi?affiliateID=344 (to qualify — purchase SA 101 or 102) — you can even save 20% with code hypnoaffiliate
Fill out this form (it's going to ask for your name, email, date & time of your purchase so I can match sales)
I will email you with a 50% off code
You can find my Online childbirth Class here: https://www.pullingcurls.com/online-prenatal-class-couples (but, if you're planning to do this deal, do not purchase it until I send the code — I will not refund purchases made before I send the coupon).
The good news about vaginal exams
The further along you get in labor, and life — vaginal exams hurt less.
As your baby progresses down the vaginal canal, it makes it easier for us to reach your cerivx, and makes it less painful.
Your baby will stretch those tissues and with subsequent babies it hurts less.
You learn to cope with the pain better
So, that's good news. It is rare that a second-time mom find them as painful as they did the first time they had a baby.
Refusing Vaginal Exams
Ok, all of this has talked about making them more comfortable, but I want to make you 100% aware that at ANY point you can TOTALLY refuse a vaginal exam.
Things to do:
Straight-up say no (that's your right)
Ask them why they are doing it to see if YOU think it's worth it.
Delay it, say you're willing to do it in an hour or so (this works in labor, not so much in the office).
---
I hope you find this post helpful and that you'll consider getting some more pregnancy info from me right here (and check out my other pregnancy posts below that):