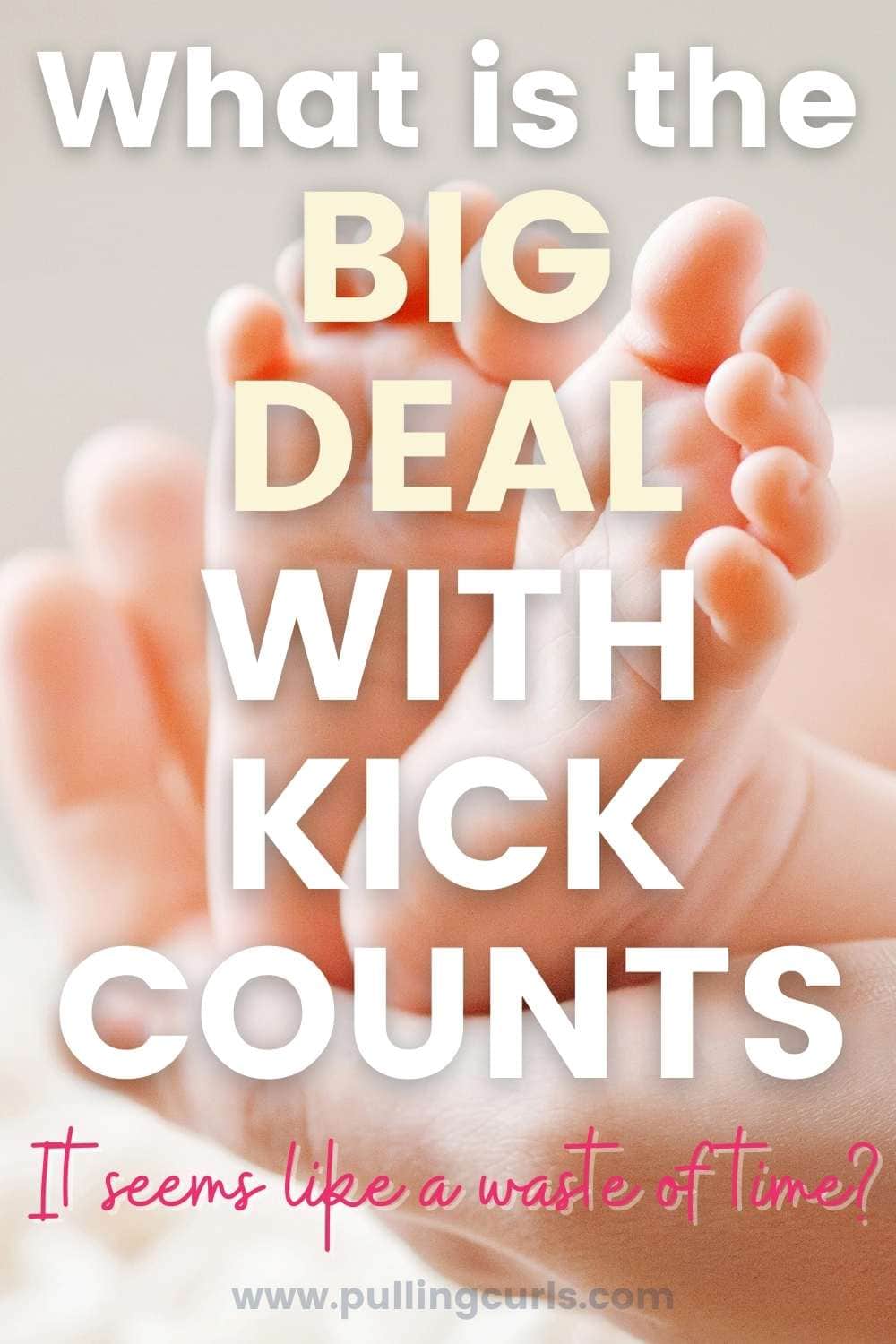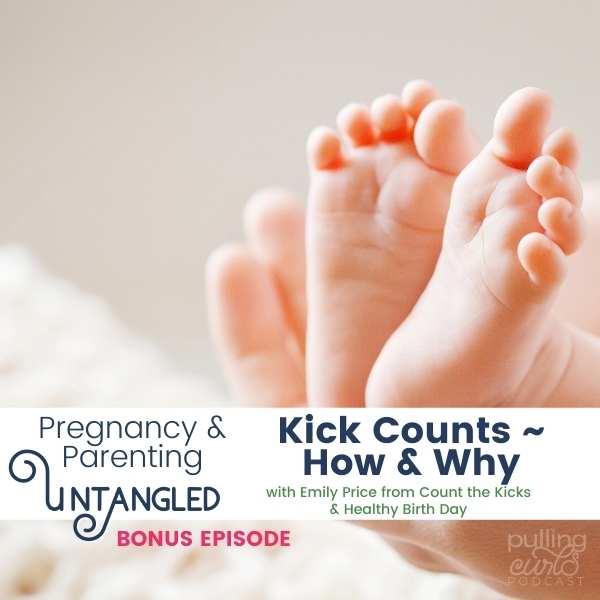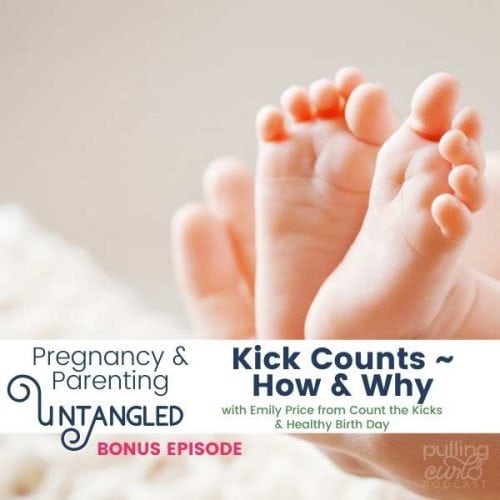 Kick counts are one of the FUNDAMENTAL things to your pregnancy. Today we're going to talk about why you do them, and how to do them. So helpful!
Today's guest is Emily Price who oversees the national expansion of the evidence-based Count the Kicks public health campaign that educates and empowers expectant parents to track their babies' movements in the third trimester of pregnancy. The proven stillbirth prevention campaign helped lower Iowa's stillbirth rate by nearly 32 percent in the past decade, and within that, helped lower the stillbirth rate among African American women in Iowa by a promising 39% in the first five years. This major reduction happened while the rest of the country remained relatively stagnant. Price leads the vision of the campaign — with an overall goal of realizing a 32% stillbirth rate reduction in all 50 states, which would save 7,500 babies every year in the U.S. She left a career in television journalism to pursue her current role after a story she reported on saved the life of her son Hayden.
This episode was inspired by my kick counts post.
Big thanks to our sponsor The Online Prenatal Class for Couples — let's get you prepared from bump to bassinette. Tons of good information (including info on kick counts). Birth doesn't have to be scary, this class helps!
In this episode
Why you should do kick counts
What benefits they give you and your baby, including bonding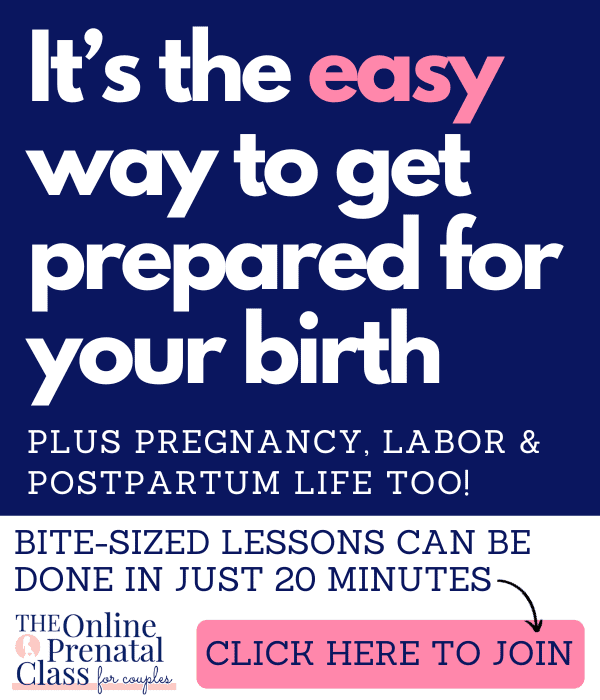 Kick counts have shown to have a 32% reduction in stillbirths when practitioners and providers do them!
77% reduction in anxiety
Other things that might interest you
My other episode on kick counts.
When will I go into labor quiz?
My episode on ultrasound testing.
Producer: Drew Erickson
Check out my other pregnancy podcasts: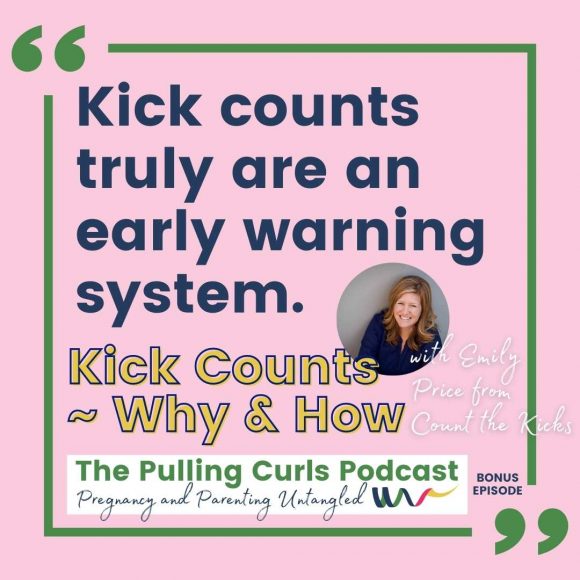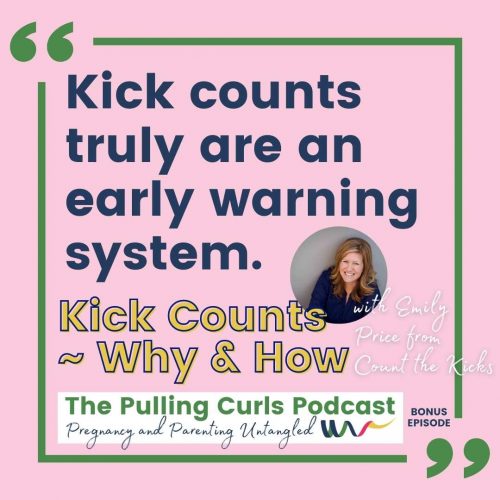 [00:00] – Hilary Erickson
Hey, guys, welcome back to the Pulling Curls Podcast. It's bonus time. We have not had a bonus episode in a while, but I am a missionary for this cause and it is not Church. So today we're talking about kick counts. Let's untangle it. Hi, I'm Hilary Erickson, the curly head behind the Pulling Curls podcast where we untangle pregnancy, parenting, home and even travel. We know there's no right answer for every family, but hopefully we can spark some ideas that will work for yours. Life's tangled just like my hair.

[00:47] – Hilary Erickson
Okay, guys, before we get started, jump on over and subscribe because you never know when we're going to throw out a bonus episode and you do not want to miss it. So make sure that you subscribe there's Stitcher, there's Apple podcasts, there's Google podcasts there's. I don't know. Just find your favorite podcast player and make sure that you've subscribed. Okay, guys, I wanted to release this episode pretty much as soon as we recorded it because I am such a fan of Kick Counts, and I want to make sure that everyone is doing them.

[01:12] – Hilary Erickson
And I thought it was kind of fun that it's coming out around Halloween, which means that something that could be scary really doesn't need to be. I know that the biggest part that's scary of pregnancy is the whole what if's, right? Health, you the baby, all those kind of different things. But this is really something that you can tangibly do every day that's really going to help promote your baby's. Wellbeing, so today's guest is the executive director at Healthy Birthday. I first found out about her from the Count, the Kicks public health campaign.

[01:40] – Hilary Erickson
I actually had a manager who was talking to me about the studies, which she will quote. So stay tuned about how many stillbirths just knowing and doing kick counts can really save. They are based in the I think it's Iowa, and it's amazing what them pushing kick counts and encouraging providers and moms to do Kit counts has really changed the life of so many babies. So I want to introduce today's guest, Emily Price. Do you feel prepared for your delivery in just three short hours? You can be prepared for the confident, collaborative delivery you want, you'll know what to expect and how to talk with your health care team.

[02:18] – Hilary Erickson
And there are no boring lessons in this class. I'll use humor, stories from my 20 years in the delivery room to engage both of you. I love how Alyssa told me that she found herself laughing at things that used to sound scary. Most of all you guys are going to be on the same page from Bump to Bassinet. Join the online prenatal class for couples today. You can save 15% with coupon code UNTANGLED. You can find the link in the show notes. Hey, Emily, welcome to the Pulling Curls Podcast.

[02:46] – Emily Price
Hi, Hilary, thanks for having me.

[02:48] – Hilary Erickson
I am such a Kick Count fan like huge kick counts are The Beatles at Shay Stadium for me.

[02:55] – Emily Price
Wow.

[02:56] – Emily Price
What a compliment.

[02:57] – Emily Price
Thank you so much, Hilary. That's awesome.

[02:59] – Emily Price
Thank you.

[03:00] – Hilary Erickson
Yeah.

[03:00] – Hilary Erickson
And I was a total kick count evangelist. I told all my patients about it because I think it's some way that moms can really engage in their own care and help at home without having to come to the hospital, which is super annoying. So let's talk about kit counts. All right, so how do you do a kick count? You want to tell us?

[03:19] – Emily Price
I'd love to thank you for the opportunity, Hilary, we would love moms in the third trimester to start counting their baby's movements every day, starting at 28 weeks or 26 weeks. At your high risk count the kicks every day, preferably at the same time. And what we mean by that is to time. How long it takes your baby to get to ten movements? And you can do this using our free Count the Kicks app. It's available in twelve languages. There are no ads, there are no pop ups.

[03:44] – Emily Price
There's nothing on there to get in your way of having your kick counting session. We're a nonprofit organization proven to prevent stillbirths with this kick counting method. So time how long it takes your baby to get to ten movements during your daily kick counting session in the third trimester? And after a few days, you're going to start to begin to see an average length of time it gets to ten movements. So call your provider right away if you notice a change in the strength of your baby's movements or how long it takes your baby to get to ten movements.

[04:11] – Emily Price
And the reason why this is important is because research shows that babies actually develop a pattern that every baby has and every pregnancy is different. So my baby, on average, might take 20 minutes to get to ten movements. And, Hilary, your baby might have taken four minutes to get to ten movements. But I need to know what's normal for my baby. And you need to know what's normal for your baby so that we can speak up if normal changes.

[04:36] – Hilary Erickson
Yeah. And I think the benefit of doing it every day, right. Because over time, your baby's movements will change, right?

[04:43] – Emily Price
Yes. Absolutely. So getting to know what is their normal. Looking back at the history, then you can be in touch with your body and your baby and speak up if something changes, that is alarming to you. And really, the app is sort of a data download for your mom's intuition, right? So many times, moms across this country may notice that something is off, that something feels different, but you don't really know how oftentimes to communicate it to your doctor. But the app or if you're tracking on paper or by a chart, you can show your doctor proof that something has changed.

[05:16] – Emily Price
You can say, hey, Doc, it used to take our baby five minutes to get to ten movements. And today, all of a sudden, it's taking 3 hours, and I only got three subtle movements. And if your provider knows that, then they know that they need to investigate, and they need to figure out what might be causing that change in movement. And sometimes it's nothing. But sometimes it is something. Sometimes it's an early warning flag, an early red flag flag, an early warning system, that there might be an issue that something has changed with your baby.

[05:44] – Hilary Erickson
Yeah.

[05:44] – Hilary Erickson
And it's really all that you can have because you don't have any other medical devices inside your body. So I love it. It's so cheap. It's so cheap and easy to do. And one of my best pro tips for all the tired moms out there is. I always did my kick counts after dinner because I was like, well, then my husband needs to clean up dinner and I can lay on the couch.

[06:02] – Emily Price
That is a pro tip right there. I love it.

[06:06] – Hilary Erickson
Plus, that's a time when the baby moves a lot. So it was really easy to do because I just said it absolutely.

[06:13] – Emily Price
And you can include siblings. If you have a toddler running around, have them come over and sit and help you count. Or you can use it as an excuse to retreat to the bedroom and put your feet up.

[06:22] – Hilary Erickson
Yes, that was mine. I was like, I really need to sit and just think about the baby right now. So you're going to need to leave me alone. Go to help dad.

[06:31] – Emily Price
Exactly.

[06:33] – Hilary Erickson
It's so awesome. So I have heard lately, though, they're like, the womb doesn't get too tight. The baby's movement should be the same throughout, but I always felt like it was like war the world at the beginning of kick counts. And then by the end, it was more like subtle shifting, which changed over time. The big thing is if Tuesday you feel XYZ and then Wednesday, it's just completely different that's when you call your doctor. But I feel like you are going to have subtle changes into how babies moving in your womb throughout the end of that first trimester.

[07:00] – Hilary Erickson
Do you think so?

[07:01] – Emily Price
That's right. Babies don't run out of room at the end of pregnancy. I think that part is a myth. Babies should move up to and even during labor. So you will notice subtle changes instead of things like big rolls or things like that. Toward the end, you may get something like a punch or a job, so there will be subtle differences in how your baby moves between a roll or a jab or something like that. But the average amount of time that it takes to get to ten and the strength of your baby's movements should roughly stay the same.

[07:30] – Emily Price
And so if you've noticed a change in any of that, you do need to call your provider, but don't let anyone tell you that babies were not a room or that they move less because in fact, they don't run out of room that they can move up to and even during labor. Okay. Yeah.

[07:44] – Hilary Erickson
It's just kind of how they're moving. Is that a way to determine? Okay.

[07:47] – Emily Price
Exactly. Yeah. All right.

[07:51] – Hilary Erickson
Why do kick counts? Obviously, I know. But what do the studies show about Kick counts? And why should Moms be doing them?

[07:57] – Emily Price
Daily studies show that it truly is an early warning system that this is a change in fetal movement. Changing your baby's movements in the third trimester are oftentimes the earliest and sometimes only indication that there might be something going wrong with the pregnancy. And so the reason why this is a still birth prevention campaign is because there are variety of things that can cause your baby's movements to change. Babies in the third trimester are a lot like us as adults. If we are not feeling well or not doing well, our movements are going to change.

[08:27] – Emily Price
We want to lay on the couch, we want to lay in bed, we're going to move differently. We're going to become weaker. It's the same thing for babies. If they're not doing well, then they're going to become weaker. Their movements are going to change. And so that's what the research shows us. And here are some examples of what might be happening to cause your baby's movements to change everything from they've developed a knot in their umbilical cord. They could have what's called a tight nuclear cord where the cord may be wrapped around their neck multiple times or tightly.

[08:57] – Emily Price
And it's not to say a nucle cord or not always leads to still birth. My son was born with the cord wrapped around his neck, and he was perfectly fine. But in some cases, if there are complications with your baby's umbilical cord, it could end up being a bad thing. And that's why it's important. If it's restricting their movements. If it's changing their movement, then it does become a red flag that you need to talk to your doctor and let your doctor investigate, perform an ultrasound, run an on stress test and see what's happening.

[09:26] – Emily Price
Other things that might change baby's movements are things like maternal fetal hemorrhage or placental abruption. All of a sudden your placenta is calcifying or it may have blood clots in it that all of a sudden start to restrict nutrients, keep nutrients from getting to baby, including oxygen as well. And so a change in movement is your baby saying there might be an issue here? I need you to go talk to your doctor and part of our campaign that makes it we believe so empowering for moms, this is knowledge.

[09:58] – Emily Price
This is information to help you have a good pregnancy outcome. Is that to speak up? Don't hesitate. If it's a Saturday at 2:00 a.m. And you've got an appointment, a regular appointment on Monday, but you really feel like something is off or the data on the app or on your chart is showing that something is very different. Do not hesitate just because it's Saturday at 2:00 a.m. That hospital is open. Your urgent care is open, your birthing hospital is open. Don't hesitate. Go and tell them what you're noticing.

[10:28] – Emily Price
Tell them what's wrong and let them take it from there. The worst that can happen is nothing's wrong, and they send you home and you're on your way and you're okay and keep monitoring every day. But we really encourage you to speak up if you notice something has changed and to not wait.

[10:42] – Hilary Erickson
Yeah, I especially like that you would have the data to back it up, because a lot of times moms would just come in and just say something feels off, which, of course, we also believe in Mom's intuition, but then that kind of just leaves a wide variety of things that could be off. Whereas if she says it's been taking ten minutes every day and today it took a full hour, then we know we first off know, Mom's been tracking, and we second of all know.

[11:07] – Emily Price
Okay.

[11:08] – Hilary Erickson
So this is a serious movement issue. It's not just like because when you say you feel off, you could be starting a cold. You could have a low grade fever. Being off has lots of different words to it. So I really like the data. I think that will really help your health care providers know that you're super involved and engaged in your care and then where to start. And like you were saying a lot of times, it's just an NST and a BPP. We're not going to be like, oh, we need to deliver a baby right now.

[11:31] – Emily Price
I imagine you had some success stories in your history of Moms paying attention and coming in. Yeah.

[11:37] – Hilary Erickson
I mean, our providers were not as great at advocating for Kit counts as I would have loved. We had a few doctors that were great of it, but a lot of them were just kind of like, oh, they're not that important, which was always really frustrating to me, but I'm a big believer in mom's intuition, but I also love it when moms are engaged and really know XYZ is going on, it's hard to say. I have had ones who have come in and been just something feels off.

[12:00] – Hilary Erickson
Or they said that the baby is not moving as much, and we see that the monitors are down or the heart rate is down on the monitor. And we quickly do a Csection and more. I've had friends who have noticed that something was wrong, went to the doctor and then were rushed right.

[12:14] – Emily Price
In so many cases, Moms become the hero of their own story. Like, they save their baby, they get their baby here safely because they knew it was important, and they spoke up and their provider took them seriously and got them here safely. And so it's so important to be your own advocate to be your baby's advocate and really do pay attention to what you're feeling and speak up and don't hesitate.

[12:37] – Hilary Erickson
Yes. And what you were saying about 02:00 a.m.. The hospital is 100% awake, and I will say that the doctors are returning calls at 02:00 a.m.. I've seen them return calls at 02:00. A.m.. Most providers I'll put a little asterisk on that. Most providers good providers, I think, have someone a lot of times they network through an experienced nurse who triage with calls before they get to the doctor, because obviously the doctor is delivering a lot of babies. They aren't going to have the time to be able to get back to you.

[13:00] – Hilary Erickson
But most of them should have a number that you can call after hours that will route to an experienced provider who can either say, yeah, I think you should go in or have you considered eating because a lot of times we would get people who would come in and say, the baby is not moving and we'd be like, oh, okay. And of course, we throw monitors on and we're really worried babies on. And then we're like, when did you last eat? And they're like, oh, yesterday at noon and today at noon and they just haven't even eaten, which I would lay around, too if I hadn't eaten that long.

[13:27] – Hilary Erickson
So sometimes your doctor, the provider you speak to on the phone, can give you some ideas, like, have you had a glass of wise water or stuff like that before you move in? But usually people who are on top of kit counts every day really already understood that by feeding their baby, the kit count was going to go faster and they could get on with their day. Exactly.

[13:47] – Emily Price
We've garnered almost 100 stories, safe stories for moms across the country and Canada and the UK who used our campaign or used our app to pay attention to track their baby's movements and get their baby here safely. That's the power of the campaign and the importance of doing this in the third trimester, because especially during covid, you could go weeks without seeing your provider in person. Those appointments are fewer and far between, especially last year. Earlier this year, we're moving a little bit closer to normal or pre pandemic, but it's a great way when you're not with your doctor every single day to be able to monitor your baby's health and see how they're doing.

[14:26] – Emily Price
In Iowa, where we started, where Count? The kick started by five women who all lost daughters to stillbirth or infant death. Our still birth rate has gone down 32% in a decade. And this is why the rest of the country has remained stagnant 32% reduction in Iowa in a decade. And what that is is hundreds of babies saved the last thing a provider wants, and you know this the last thing a provider wants is to deliver a stillborn baby. That is the worst day of their life to have to deliver a baby that is no longer with us and doesn't get to take its first breath.

[14:59] – Emily Price
And so we believe that women are not delicate flowers. Women deserve this education in their pregnancy. And so providers really do need to be having this appropriate this conversation appropriately and asking at every appointment not is your baby moving? But how is your baby moving? What's their normal and things like that. So if you are currently pregnant and you're going to your prenatal appointments and your doctor hasn't talked to you about this yet, I would encourage you to talk to them and let them know that you're paying attention and that you're tracking as a way to bond with your baby and keep in touch with their health during the third trimester.

[15:34] – Emily Price
Have that conversation with them and even show them the data on the app. If you want to show them what is your baby's normal so that they can be in touch with what you're doing. And they know that you've educated yourself on this and that this is important to you.

[15:46] – Hilary Erickson
Yeah. And I love how low tech it is because I didn't have apps when I was pregnant. I didn't even have a smartphone until baby number three, but I just use my fingers. Let's say you're at the water park with your family or whatever, and you don't have your phone close by and it's your time to do it or you've forgotten to do it. Just sit there in your beach chair and count for your ten fingers and then notice how long it took on the clock and then move on with your day.

[16:09] – Hilary Erickson
It doesn't need to be anything like super fancy. Although I love the app, and I love that you can track, like, how long it's taking. I think that's awesome.

[16:16] – Emily Price
Thank you. You're right. It does not have to be fancy. It just have to be mindful during those ten movements and how long it took. So I appreciate you pointing that out.

[16:24] – Hilary Erickson
Yeah. And then that statistic 30% was it 32%.

[16:28] – Emily Price
33%, 32% in a decade.

[16:30] – Hilary Erickson
And that's just you educating hardcore with providers and hospitals, I'm guessing.

[16:35] – Emily Price
Right.

[16:35] – Hilary Erickson
Like, what did you guys do?

[16:36] – Emily Price
You're exactly right. So we have a 96% saturation rate in Iowa of health providers ordering our materials, the brochures, the posters in the exam rooms, things like that. They're bright and empowering. It is a way to talk about stillbirth prevention without even having to talk about babies dying. It is a way to just encourage bonding with baby and getting to know what's normal. And so we sort of have a two pronged approach to our campaign. We not only work with birthing hospitals and maternal health providers and community based organizations, we also reach out directly to Moms via social media, stories told on TV and online and in newspapers, really sharing the stories of moms who have been paying attention and were empowered to speak up when they noticed a change and got their baby here safely.

[17:21] – Emily Price
It's just an example to other moms that if you're currently pregnant, take a look at what this mom did. She was diligent about it in the third trimester. She spoke up, and unfortunately, something was wrong, but because she spoke up and her doctor was able to intervene and get that baby here safely.

[17:36] – Hilary Erickson
Yeah. That's so awesome. I do want to say really quick, because I do love my still birth mom that this isn't going to prevent every still birth. There's nothing we can do that can prevent every single one. So even if you have friends or whatever, it doesn't mean that they weren't listening or feeling for their baby. Sometimes they just happen. But what a valuable tool that we can try to do everything that we can to prevent them.

[17:56] – Emily Price
Right. Well, that is a hugely important point. Not all stillbirths can be prevented. In fact, we believe about a third can be prevented. So that means two thirds are likely cannot be prevented. And so there should be no guilt when a baby is lost to still birth. And let me emphasize this, it is never the mom's fault. It is never the mom's fault. And I'm so glad that you mentioned that because there is no guilt associated with this. It's simply a tool and a resource. And we know that not all stillbirth's can be prevented and that there are going to be some things that simply cannot be prevented.

[18:33] – Emily Price
The goal of the campaign is to prevent preventable stillbirths ones that have the potential to be prevented, but not all of them can be. Yeah. All right.

[18:41] – Hilary Erickson
So awesome. Now I will say that there were days I didn't do my kit count. So if there's a day that you forget to do your kick count, just pick yourself up and do it the next day because we're busy people. So I don't want you to be like, oh, my gosh, I forgot it yesterday. As soon as you remember that you've forgotten to do it, take the time to do the kit count quickly. It's going to be a little different because it's a different time of day.

[19:01] – Hilary Erickson
But just sit there, feel for the baby to move, feel if it's pretty normal, and then set an alarm to remind you at 05:00 p.m. To tell your husband to clean the kitchen and you're going to feel for the video to move.

[19:11] – Emily Price
That's exactly right. And there's a reminder you can set on the app. You can set a daily reminder. So 07:00 p.m.. 08:00 p.m. Or first thing in the morning, whatever works for you and your schedule and your life, then set that reminder and the app will remind you.

[19:25] – Hilary Erickson
Yeah, I love it. Okay, guys. 32%. And it's something that you can do. And actually, in the end, I was like, oh, that's the movement you are always making, like, when the baby came out because you'd be like, what the heck is going on in there? What are you doing when you're doing kick counts, and then you realize that that same being was inside your body. It's like, hard to really imagine that you are growing a human being inside you, and that's what they were doing. It's the same person.

[19:47] – Emily Price
It's so fun. It's a way to get to know their personality before they're even here. We did a research study on our app users last year, and 77% of them said it reduced their anxiety. 84% of them said it helped them bond with their baby. So at the end of the day, if all that is a great way to bond with baby, then what a fun tool. What a great resource and a way to get to know your baby before they even arrive.

[20:13] – Hilary Erickson
Yeah, well, and anxiety, I think it really brings you back to the present moment. Just kind of like breathing. How you're just like, okay, baby is doing well. I'm doing my biggest job, which is growing another human being. Even if my house is messy or my work is not going the right. I'm doing the important things, and it just brings you back to, like, right now. Everything's good. Exactly.

[20:34] – Emily Price
And give yourself permission to sit down or lay down and have that time to pay attention and get to know them. Yeah.

[20:41] – Hilary Erickson
Okay. Counts. Guys, do them. Set the alarm. I love that you can just get the app and do them in there. If you have other pregnancy apps, I know a lot of them have tick counts available, so if you want to just use one of the other ones, just do them. Just use your fingers. Worst case scenario, you use a notebook in your fingers, like Hilary, circa 2004.

[20:59] – Emily Price
That's right. Whatever it takes to get it done. Yeah.

[21:02] – Hilary Erickson
Thanks so much for coming on, Emily. I hope this really makes a difference for people.

[21:05] – Emily Price
Thank you, Hilary, for the opportunity. We're so grateful. Thank you for the time.

[21:08] – Hilary Erickson
Guys, I know you're busy. I get it, but this is something you can do. Usually, it took me about five minutes, especially if I did it after I drank and ate because my baby was alert and active and all those different kinds of things. If you try and do it when baby hasn't been fed and you haven't had any water, then it is going to take a little bit longer. But it's really not going to take a long time, and it really can be an enjoyable time for you and the baby, especially if you make your husband clean up the dishes while you do it.

[21:36] – Emily Price
Anyway.

[21:36] – Hilary Erickson
Please do your accounts, please. It's not going to save every baby, just like we said in the podcast. But if it makes a difference for yours, it could be amazing. So thanks for joining us on this bonus episode. Thanks so much for joining us on today's episode. We know you have lots of options for your ears. And we've are glad that you chose us. We drop episodes weekly. And until next time, we hope you have a tangle free day. Bye.