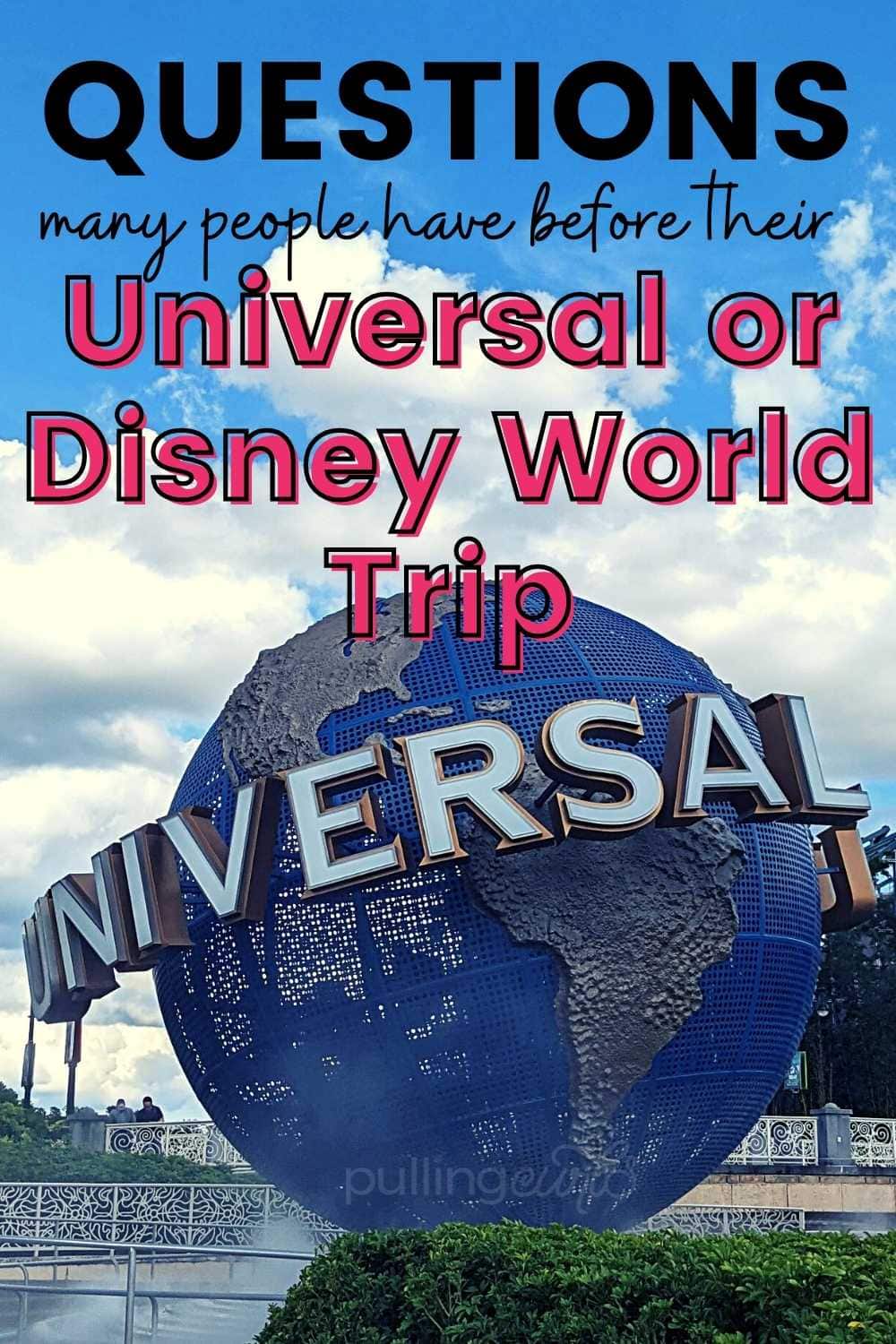 I had a lot of very specific questions about our trip to Orlando, vising Universal & Disney World. Today we're going to answer some of them, in case you have those same questions too!
Hi, I'm Hilary and I normally do DisneyLAND tips, but my little Harry Potter fans were desperate for a trip to Orlando. Our Orlando trip was fall 2021. You can see my Instagram highlights about it here.
Orlando Questions
Is it hard to get an Uber/Lyft in Orlando?
I didn't find it to be difficult. If you KNOW you want to leave at a specific time, just make a reservation ahead of time. That being said, even when I do that — I see lots of lyft's out there. In fact, we were ready early once, so I just requested one 15 minutes early (and it automatically cancelled the one I had scheduled, no one had picked it up yet so it was fine).
Does it Take Long to Get Baggage at Orlando Airport?
I didn't find it to be so. Also, the Lyft lane isn't far from the baggage area as well. Security line can be a bit of a beast though.
What's the Best Way to Book an Orlando Trip
I used Get Away Today. I use them EVERY time I go to Disneyland and they were just as great to Orlando. Use this form to request a quick no-obligation quote (you can also see sample pricing here) — just to see if it's in your budget!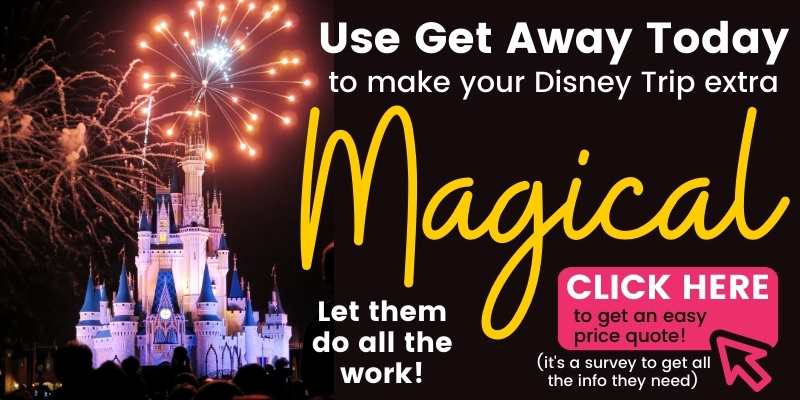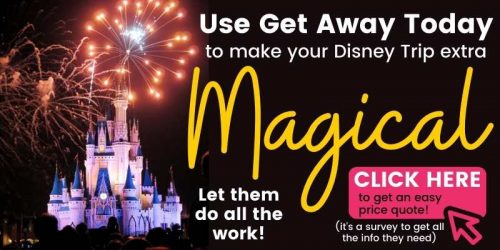 Universal Studios Orlando Questions
Can you take the Hogwarts train to Islands of Adventure (to ride Hagrid's Mythical Creatures) at Opening
When I was there Universal Studios Orlando was open at 7 am (for hotel guests, 8 am for anyone else), but Islands of Adventure didn't open until 9 am. SO, the big question is, can I just take the train over to Islands of Adventure rather than walking.
The answer — yes, you can. And honestly, I wish that I had.
That being said — depending on when they open the gates for Islands of Adventure — you may end up getting there later than the guests at the gate.
A GOOD number of people are headed to Hagrid's coaster — on the day that we lined up at Islands of Adventure I actually saw people coming out of the train at the same time we got there. So, there you have it.
I'd save the steps, plus I hear it's not super busy that time of day either.
The train drops you off not far from Hagrid, so it's a big win!
Also, we just LOVED that ride, in case you're wondering. I'm not a big coaster rider, but I really enjoyed it too.
REMEMBER you have to have a park hopper pass in order to be able to take the train (they do check) — meaning you can do the two parks on the same day if you wish — since the train goes park to park.
Is Staying at a Universal Orlando Deluxe Hotel Worth It?
If we're talking about the hotels themselves, I'd say no. However, Deluxe hotels (We stayed at the Hard Rock Hotel) come with the BIG perk of getting an Express pass (which we'll talk about below). That part was definitely worth it.
The pool area was lovely and you can hear the music under water…. but it wasn't worth the price, in my mind. It did remind me a lot of the resort hotels in Scottsdale.
I definitely appreciated how close our hotel was and that we COULD take the boats if we wanted to….
Are the Boats at Universal Hotels Worth It?
For us, no. The Hard Rock is pretty close and by the time we walked across the river and stood in line I think it would've taken longer. It's also likely we would have walked just as far…. but it is fun. We took it to Citywalk on our first night there (didn't go to the parks) and it was a lovely journey.
If you're at a further hotel, I think the boats would be great.
The other good news is that you go through security before getting on the boat. I thought Universal Security was so quick and painless.
Where Should I Eat at Universal Orlando/Islands of Adventure
We ate at a few places:
The Toothsome Chocolate Emporium & Savory Feast Kitchen – Universal Citywalk
This one was my favorite. We had a reservation and we were able to modify it that morning as well.
The food was good, the wait staff was great, they kept our waters filled up (SO grateful for this). Portions are good sized. We each split a meal with a kid, and then split a dessert together.
The meals are probably better priced then the desserts, but both were yummy. We were big fans.
Three Broomsticks – Islands of Adventure
We got breakfast here one day. We had to wait in line for what seemed like FOREVER. The breakfast was good and it comes with Butterbeer, so that was a win.
We also got frozen Butterbeer at the carts once, it was amazing, as always.
Mythos Restaurant — Islands of Adventure
This is billed as like the best theme park restaurant food ever.
It was good, but I actually enjoyed Toothsome better.
Also, if you have picky kids, they may not find a lot here. It's mediterranean and yummy. But a bit more expensive than Toothsome. I did like that it was within the parks and a nice break (we took the Hogwarts train over from Universal and it isn't far at all from that).
Antojitos Authentic Mexican -Universal City Walk
The staff was slow, but the prices were great. We just enjoyed their chips. Food was OK, but not amazing. Did I mention they have water and chips, because that was the total highlight. Yum.
Pro Tip: Restaurant reservations don't need to be booked weeks in advance with Universal. There were plenty even the day before!
What is the Express Pass
It allows you to go into a special lane at most attractions (generally, the newest ones with the longest lines do not allow this). When we visited Hagrid's Mythical Creatures and Velocicoaster they did not allow this, but everything else did.
We were there on a busy weekend and the Express Pass allowed us to do lots of things, many times while we were there. We would not have been able to experience everything if we hadn't had it.
Our hotel was about $500 more expensive (total) to have this perk, but I think the bonus of it being CLOSER, PLUS the express pass made it worth it. BTW, due to the 50th at Disney World we had to stay at Universal an extra night which increased our cost, but it was our best option. Booking earlier would've helped us with this issue.
Which Rides Should We Do First at Universal Orlando?
My biggest piece of advice is to do what's important to you first.
Remember that many outdoor rides shut down if it rains.
But, if you want to do all the things…
Which Rides Should We Do First at Islands of Adventure?
Velocicoaster and Hagrid's Magical Creatures Motorbike Adventure are the most popular rides. I would recommend riding one of those first if you're there early. However, if you're not there right at open, you may want to consider waiting til' later in the day. I found some of the LONGEST wait times to be about 30 minutes after opening.
Keep in mind that Velocicoaster has a single rider line (and my husband had a lot of luck doing it pretty quickly in the mornings, but it was still pretty long — 20 minutes or so — later in the day).
Remember to download the Universal map so you can see wait times.
Which Rides Should We Do First at Universal Orlando?
Because we had the Express Pass and no rides were excluded, we didn't really care in Universal Orlando.
However, if you don't have the Express Pass I'd aim for Gringott's, it tends to have the largest wait in that park.
How is the Bourne Identity Show?
This show was SOOO good. We really enjoyed it and I enjoyed sitting down. It was super cool and we highly recommend it! It is at Universal Orlando.
How Do Ride Lockers Work?
Most high speed rides do not allow backpacks on them (more than Disneyland) — this includes almost every large ride. There are lockers that are free, but they are small. This fact actually made us take two backpacks so that we woudn't have to pay for a locker each time (the price ads up). Each person can get their own locker (hence taking more bags isn't an issue. You use your park pass, or express pass to get in the free locker.
The lockers are longer and thinner. They easily accommodate wands (even the extra long ones). But, when you're packing your bags, make sure that you pick backpacks that remain more thin — they'll be easier to put in the locker. Something like this is a good option (especially because it has those cinch straps to keep it close to your body).
I wore a fanny pack and I never had to remove it for a ride (but I think you do have to take it off for Velcicoaster or Hulk (I never rode those). They do remind you to move it to the side on rides (so it doesn't get in the way of a bar coming down on your abdomen).
---
Disney World
How Is the Online Check In?
I ABSOLUTELY give this experience 5 stars. It is SO nice to be able to check into your room ahead of time, then just head to the room when they text you (we had to wait almost 30 minutes in the Universal hotel check-in line).
We had actually requested to check in to the Caribbean Beach Resort at 7 am, and while a room wasn't available at that point (no surprise, that's early), we gave our luggage to the great Bell Hops, and headed into Epcot. About 11 we were text that our room was available. That afternoon we took the Skyway back to our hotel (SO easy) and we then called the Bell Hops who delivered our luggage easily. Not an problem at all. Very slick. HUGE. FAN.
Also, we put our desire to be close to the Skyway over having our room early (they asked, which is super smart). We were pretty close (not the CLOSEST, but pretty close) and in the Jamaica resort (in the Caribbean Beach Resort). It was pretty great. My friend Casey recommends Aruba — although either one would have been fine in my book.
How is On-Property transportation?
One of the biggest perks to staying on property is being able to use the transporation they provide. We found it to be great and very efficient.
Do the Disney World busses really work to take you around??
Yes, the busses were great for us. I have heard horror stories of long waits, but we never had them. We got to the bus area at our hotel (we stayed in Jamaica at Caribbean Beach resort) an hour before the parks opened and we got a bus each time. One time they got there a bit early and I had to run for it, but I made it.
We were leaving just as the fireworks finished from Magic Kingdom and they had more than one bus back to our hotel loading and it seemed like they had it very set up. I was impressed and I'd use it again.
How is the Skyway?
I loved it! Yes, there are times that it stops for a minute or two, but it resumes. I have a strong fear of heights, but it wasn't an issue for me. It felt very safe and was a GREAT way to get around.
While we never stayed for fireworks, we were always there early in the morning, and we never had too wait long to get on one. I am a cheater, but if no other party was in our tram, I took my mask off. It was lovely. 🙂
Plus, the tram stops are close to the gates. Are you sensing I'm in love?
Oh, and you don't HAVE to be going to a park to ride it. One night I just wanted to see the Epcot ball all lit up, so we went over. While we were on it the Magic Kingdom's fireworks went off also and it was one of the most magical moments of our trip.
What about Uber/Lyft?
I have heard it's about $10 for an Uber around the parks. I found that the Uber XL (which they recommend if your party is bigger than 3 people) is about $13-14. We didn't take it, but I did check in the apps a few times and it looks like both of them had availability every time I looked.
That being said, if you're leaving right at park closing or after fireworks, I expect there will likely be a wait.
If you want one to get you there before rope drop I'd make a reservation in the app ahead of time.
Should I take an Uber to Epcot?
I wondered this, because we wanted to head to test track as our first ride — and yes, it is MUCH closer to an Uber than it is to the Skyway Tram. So, if speed is your main goal, an Uber would be great.
But the Skyway was so close and easy to use, we used that, plus — in case you missed it above — I love it. 🙂
Is Be Our Guest Worth it?
In a word, no.
But if we hadn't gone I probably would've always wondered what it's like — but take it from me, it's not worth it.
Our server was lovely, the whole experience was nice — but not $300 nice. The end.
How Intense Is Mission Space?
Super intense.
Disney, you have a serious issue with saying that a ride is intense, when it's something like Soarin', or 7 Dwarves Mine Train — so I figured, sure I'll be fine. My main issue is drops. And I take Bonnie for motion sickness (works like a charm btw, huge fan).
But, I thought I was going to die on that ride, and I wasn't even sure what was happening. It was one of the few rides that I hadn't really researched. I thought it was more along the lines of the old Mission to Mars that used to be at Disneyland.
Suffice it to say it is VERY intense, and if you get motion sick at all, ride the easier one, or don't ride at all (I heard the easier one still spins a bit as well).
Spoiler: They spin you super fast to make you feel like you're being blasted off. Your eyes are tuned into a steady computer screen in front of you, so your mind has no idea what's going on. They say several times before you load that if you're feeling sick to just keep your eyes open, watch the screen and breathe (they also have fans on the side of your head that is supposed to help with feeling sick) — I followed this recommendation and although it was very weird I made it through.
I did find this cool video about how it works and this video explains how intense it is.
Does the Virtual Queue Eliminate the Wait
NO, and it really bugs me. Ratatouille was just open when we went and we had a VIRTUAL LINE pass, but we still waited in line for probably an hour. I don't get it, at all. It's not cool at all.
I get a 20 minute wait, at times — but a full hour (and this happened to me in the Spider Man in California Adventure as well) just isn't OK. Seems like they delay parties until they're called, etc.
Can you sense my bitterness?
How Does Genie+ work?
I have a whole post about how it works right here.
What are the Differences between Disney WORLD and DisneyLAND?
I have a whole post about the differences between Disney World and Disneyland, lots of good info in that post too.
Ok, so what other specific questions do you have about Universal Orlando (I talk about Universal Hollywood here) or Disney World? Ask them in the comments and I'll try to answer (and I may even stick them in this post if I think they can help a lot of people). 🙂
AND if you're booking a Disney World trip, I'd recommend asking Get Away Today for a quick quote: