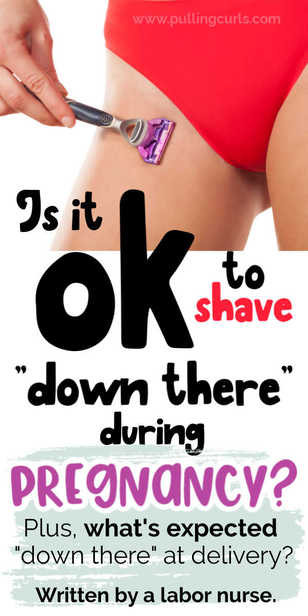 I get the question FREQUENTLY about how to shave while pregnant — and how to perform safe hair removal. Especially how do you shave your pubic or leg hair during pregnancy. Can you use a cream, can you wax? How do you maintain? What's best to do before delivery and also when can you shave after delivery?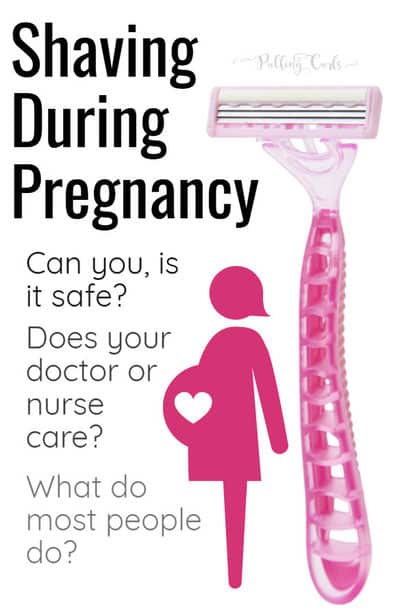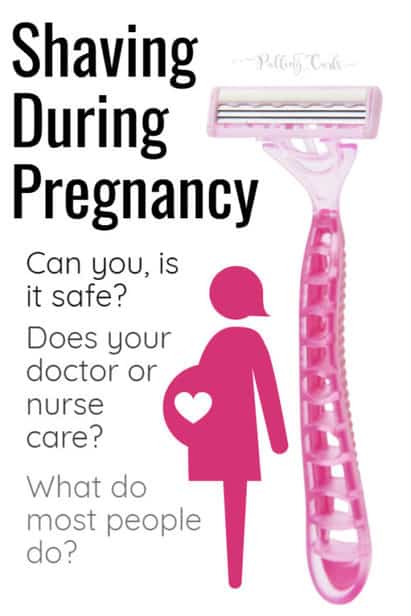 Yup, today we're talking hair, and not the hair on your head. 😉 Hopefully, you're only reading this post if you're wanting to hear about it — but, a lot of people have his question — so let's get started!
I even have a podcast on the subject:
BTW, if you have other pregnancy questions — jump onto my newsletter, where I'm not afraid to brave the "tougher" topics:
How to shave while pregnant
We're going to talk about ALL The facets of shaving any parts of your body while pregnant, and at the end, I'll give the honest opinion of your health providers when you're "baring it all" down under, and if we care if you have pubic hair.
How to shave your pubic area when pregnant
It is completely safe to shave while you're pregnant. BUT, you need to keep in mind:
Your pubic area has increased blood flow from the being pregnant, and the pressure that pregnancy puts on that area (which is why people love these). Which means
You may bleed more if you nick, and it may take longer to heal
You may react differently because of this PLUS the hormones.
Your hair may grow faster, or different because of those lovely hormones!
So, your regular "routine" may not work when you're pregnant.
When I get the question, if you plan to shave — I recommend the this razor. Mostly because it is COVERED by some sort of soap/gel/shave stuff that makes it REALLY hard to nick yourself or have ingrown hairs, etc.
If you don't use that but prefer to go with something like Dollar Shave Club (I have friends who LOVE those — and it keeps you from paying the "pink tax"!) — make sure to use plenty of foam/soap or whatever you use to make it more gentle.

How to shave while pregnant
If you're wondering about shaving OTHER areas, I would stick to your regular routine. Arms, face or whatever.
If you're trying something new, as with all shaving, start small to see how your skin responds.
AND, keep in mind that your skin may react differently while you're pregnant than it does at other times.
Why you shouldn't shave while pregnant?
I've seen some research saying it increases infection rates, but I haven't heard anything about asking people NOT to shave. However you do it, make sure that you wash the area afterwards with your regular body soap (antibacterial soap should be saved for hospital use or a pre-surgical prep).
Another problem with shaving "down there" during pregnancy
God gave women pubic hair for a reason. Part of the reason is that it keeps "bad stuff" out of your urethra (otherwise known as your pee hole).
If you get frequent uti's, I would 100% recommend NOT shaving during pregnancy, maybe that's part of your problem?
---
Btw, if you're looking to make birth a little less complicated (especially in your mind) — I LOVE how this simplifies labor. I think you'll love it too — you can even get 10% off with code PC10.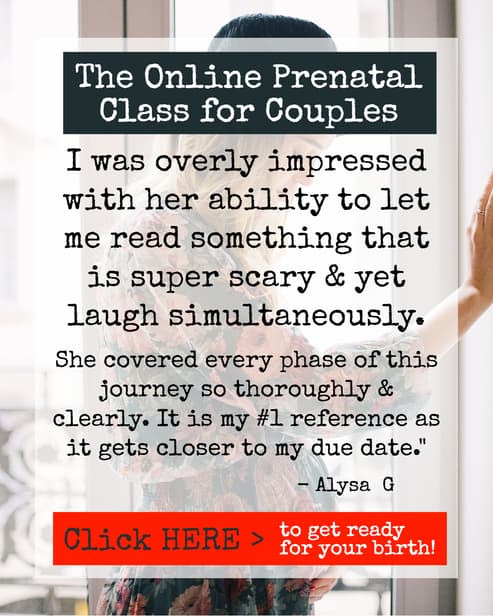 Shaving legs while pregnant
I still love that intuition razor for legs while pregnant. As your belly grows, you'll have less vision of everything below your belly, so safety should be your #1. Something like this may extend your reach.
Also, husbands can be great to shave legs, I have heard a lot of women who use that route.
Pregnancy mirror for shaving
If you want a bit more vision — something like this might be helpful to see it all. Although, make sure the lock on your bathroom door works if you have kids at home. #awkward. 🙂
Shaving stomach while pregnant
I guess this gets googled. I haven't seen it. You may grow more hair on your belly when you're pregnant, and that's normal. I wouldn't shave it though — I think it will just make it feel rougher. If you get a particularly long one, you could always use tweezers to pluck it.
Hair growth should go back to normal after the baby.
Shaving if you're in preterm labor/bedrest
I wouldn't put shaving ahead of your baby's health. Let it grow, you can take care of it after the baby.
Also, if you were to nick something important "down there", you may have increased preterm labor problems. I'd just refrain from it. But that's me.
Hair removal cream during pregnancy
Ok, let's talk creams.
First off, a cream "down there" makes me nervous and personally, I've never tried it.
I do NOT think that pregnancy is a great time to START using something like Nair.
If you've been using a hair removal cream before pregnancy I'd just use it with caution. Just keep in mind what I said before, that your skin may react differently.
Pubic hair growing during pregnancy
Pubic hair growth, as well as the hair itself, may change during pregnancy. All of that is normal. You probably notice something similar on your head as well. After the hormones are gone your hair will likely go back to normal.
Pubic hair maintenance during pregnancy
Just do what you did. No biggie. If you don't want to shave, stop. That's no biggie either.
Is it safe to use trimmer during pregnancy?
like I've said before — just be careful, and try to use as safe as a trimmer as possible. If you start nicking yourself — stop.
Waxing while pregnant
A lot of women still wax while they're pregnant, but I'd call the spa you use to make sure they will do it on pregnant women (there are tons of Groupon deals on waxing too!). Be sure you're going to a reputable salon that uses clean wax and clean technique.
Waxing before delivery
If you've been doing it during pregnancy that's fine. I would not wax right before delivery if you haven't been waxing lately. It's just too risky that your body won't react well and you'll be in a LOT of pain.
If you're going for a C-section, we will shave the top part of your pubic hair before surgery. It's part of our job and we would MUCH rather do it vs you hurting yourself doing it.
Shaving after birth
I would give yourself some time to heal a bit after delivery, and certainly, don't shave in the vaginal area until your 6 weeks are up, just like vaginal reset.
If you're looking for more info on before, during and after your pregnancy — I recommend this Online Prenatal Class. It has TONS of info that will make life a lot easier, but you don't have to take my word for it.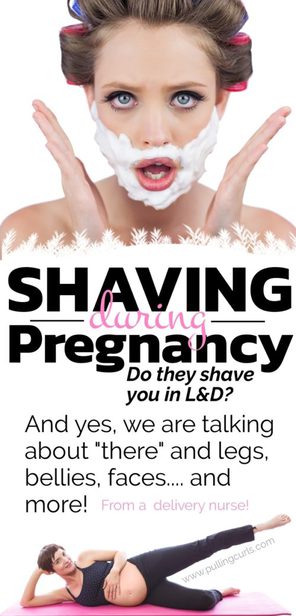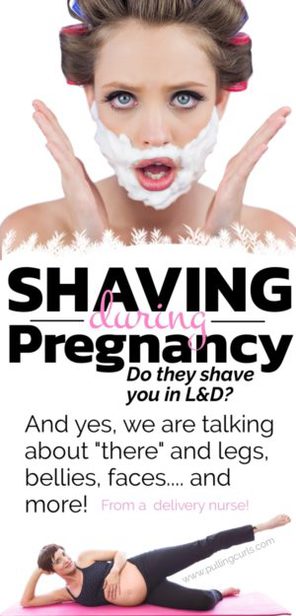 Ok, time for the big question
What does your nurse/doctor think about pubic hair during delivery?
WE DON'T CARE!
I want to state this categorically. There is NO reason to avoid healthcare or seeing a doctor because you aren't shaved/waxed/clean down there.
A lot of different nationalities/cultures have different feelings on that area of the body and shaving in general.
When I worked in CA very few people shaved their pubic hair.
In Arizona, more do it, but probably not the majority.
And I don't care. At all.
Sometimes, if the doctor plans to give you an episiotomy, he will cut some of your hair so that it makes for easier/safer sewing up — but it's not a big deal at all.
I have a slogan I always say — "You've seen one vagina, you've seen them all" — and frankly, it's pretty true. They all look pretty similar and as soon as I leave the room I basically forget what it looked like because I'll just be seeing another one in a few minutes.
We really look at vaginas in a very different way than normal people and we mostly just want you comfortable and happy. 🙂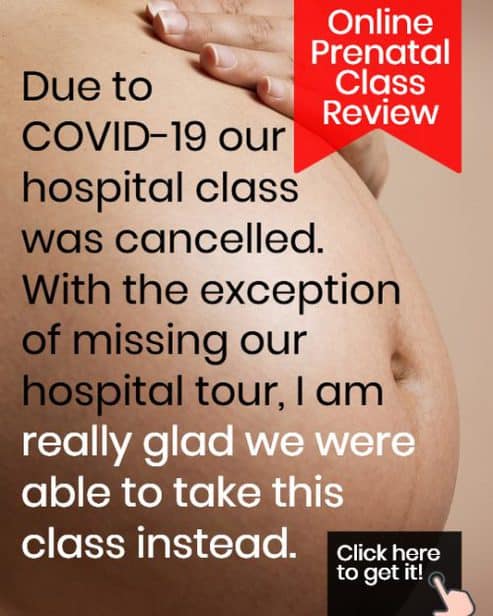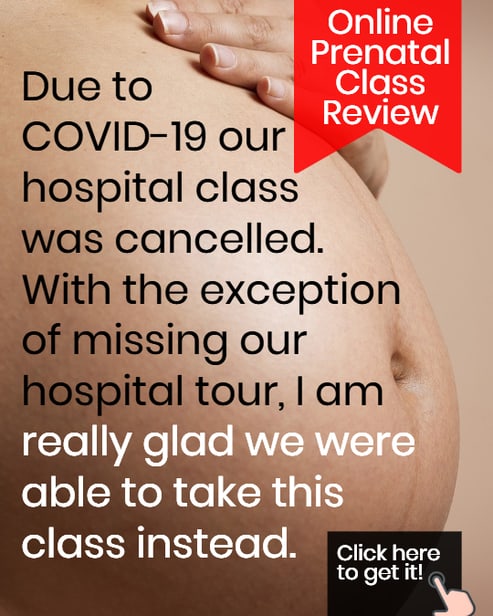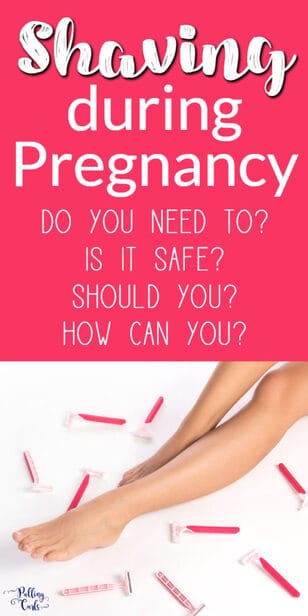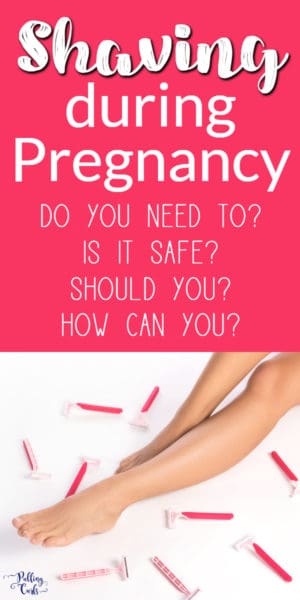 If you've wondered more about what nurses thing — check out what nurses think of birth plans — or some of my other similar posts:
I hope you enjoyed this post on cleaning private area during pregnancy. I also answered the question — do they save you before giving birth, shaving legs while pregnant and shaving for labor and delivery. And hopefully, you know the answer to is it safe to use trimmer during pregnancy. Because it is — as long as you stay safe. 🙂
If you liked this post, be sure to join my free beginning prenatal class, and check out my other pregnancy posts below that: