In this post, we'll talk what can cause premature birth and what to watch for. Ten percent of all births are premature. You'll find out if you're at risk and what you can do!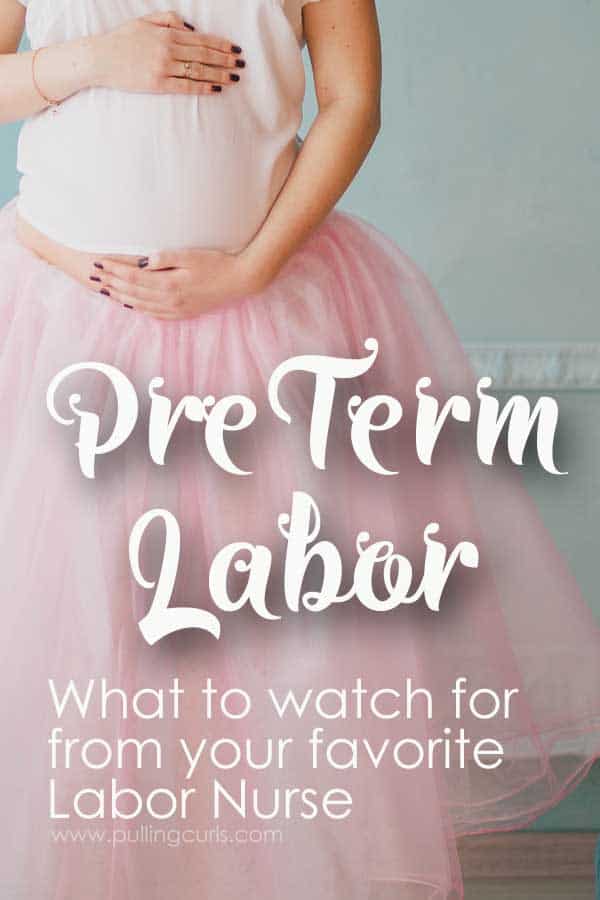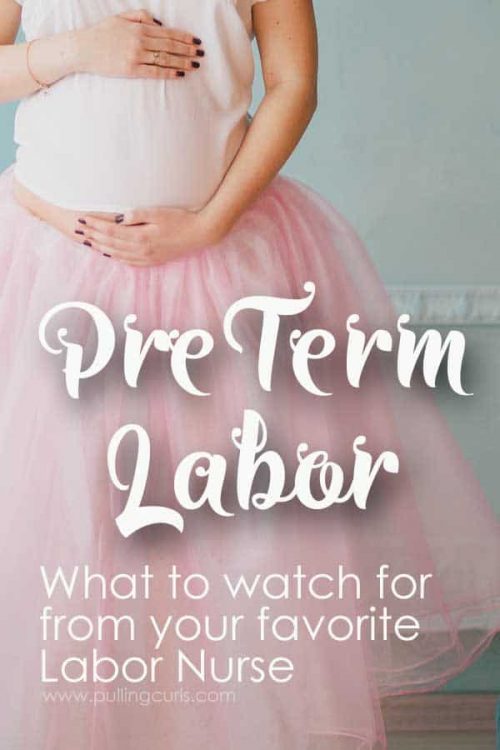 Preterm labor isn't something most people consider until it starts to happen.
This post is sponsored by PreTRM, but I am an avid believer in preventing premature births — ideas and opinions are my own.
Sure, it might sound amazing to get that baby out and get out of the worst part of the pregnancy, but a preterm baby has lots of possible consequences, including a NICU stay, possible long term medical issues as well as more appointments afterward (which is why I always recommend going the full 40)
Wondering how I know all of this? I'm an L&D nurse since 2001 and I even have a newsletter that will follow you through your pregnancy, giving you JUST the right info from behind the delivery room door: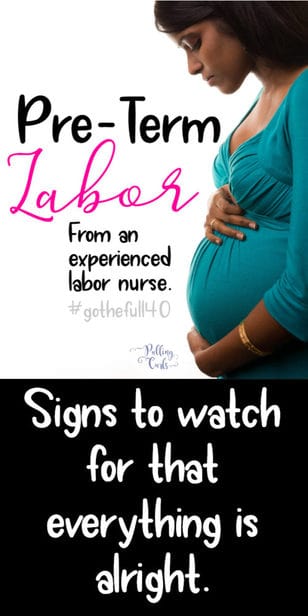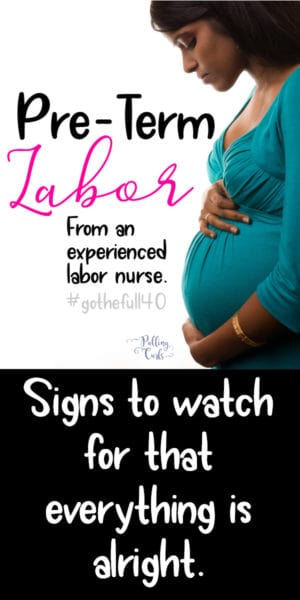 Signs & Symptoms of Premature Labor
Preterm labor is defined as anything before 37 weeks. If you were to come in for contractions, there are many things that we can try (earlier obviously being easier to stop than later). However, we don't usually stop you after 34 weeks.
Things to watch for:
Back pain that comes and goes (constant back pain is not usually contractions)
Bleeding
Pressure in your lower pelvic area.
Related post: Signs of Labor
Those are things you'd want to talk to your doctor about!
Some things they might consider
Cerclage
Terbutaline
Steroids for lung development
Nifedipine
Magnesium Sulfate (which you have to stay in the hospital to get)
Of course, you can be in preterm labor (or having contractions before 37 weeks) all you want — it's truly a premature birth that is disconcerting.
Related Post: Weeks of Pregnancy
Cause of Premature Birth
The best indicator as to if you are at risk for a preterm delivery is if you have had preterm labor in the past, but 40% of preterm labor occurs with women who are pregnant for the first time.
Fifty percent of preterm births happen with no accompanying risk factors (things like IUGR)– and up until this point we had no real way to predict it. Eighty-five percent of premature births happened with no advance notice! One in ten pregnancies results in a premature birth.
Causes of preterm labor include:
Illness/Infection
Dehydration
Unknown factors
Often a bladder infection can give you contractions. And sometimes you'll feel flank pain if it's extending to your kidneys.
That last one is annoying, but for a lot of people we don't know why they're having preterm labor…. Which can be frustrating, but part of pregnancy (and parenting).
Premature birth is considered anything before 37 weeks. Premature births often cost ten times more than a term delivery, and they have 40% more doctor visits (not to mention all the emotional and financial strain that can place on a family — mom especially).
I love sharing this type of high-quality information on the internet — for free.
I love it when I have educated patients. But most people just can't seem to fit a childbirth class into their busy schedules.
If you want to get educated about your upcoming birth — this is the class for you. Quick, efficient, engaging and accurate. She wants you to have the birth YOU want and you'll come out knowing more about your choices. You can even save 10% with code PC10.
However, there is a new test that can help your doctor predict if you are at risk for a preterm birth.
The PreTRM test, is the first and only clinically validated test that uses sophisticated technology to measure and analyze specific proteins in the blood that have been shown to be highly predictive of premature birth. It is done at your 19th or 20th week of pregnancy.
Once your doctor has that information, they can monitor you more closely (things like NST's, medication or checking cervical length frequently).
The test is for singleton pregnancies (not multiples — like twins or triplets). If preterm labor is something you are concerned about — talk to your doctor. I always write down my thoughts before I go into my appointment as I tend to get tongue-tied when my doctor is rushing through the appointment.
Also, no matter if you do or do not take the test — be sure to watch for these things, before 34 weeks.
Belly or back pain that comes and goes (constant back or belly pain is not normally labor)
Bleeding
Pressure
Your doctor may also check your cervix to see if it is shortening.
Want to learn more about PreTRM before talking to your doctor — visit their social media sites:
Looking to learn more about pregnancy — sign up for my newsletter with all the behind Delivery Room Door tips — AND check out all my other pregnancy posts below that!
[pt_view id="0fae3f0c8d"]