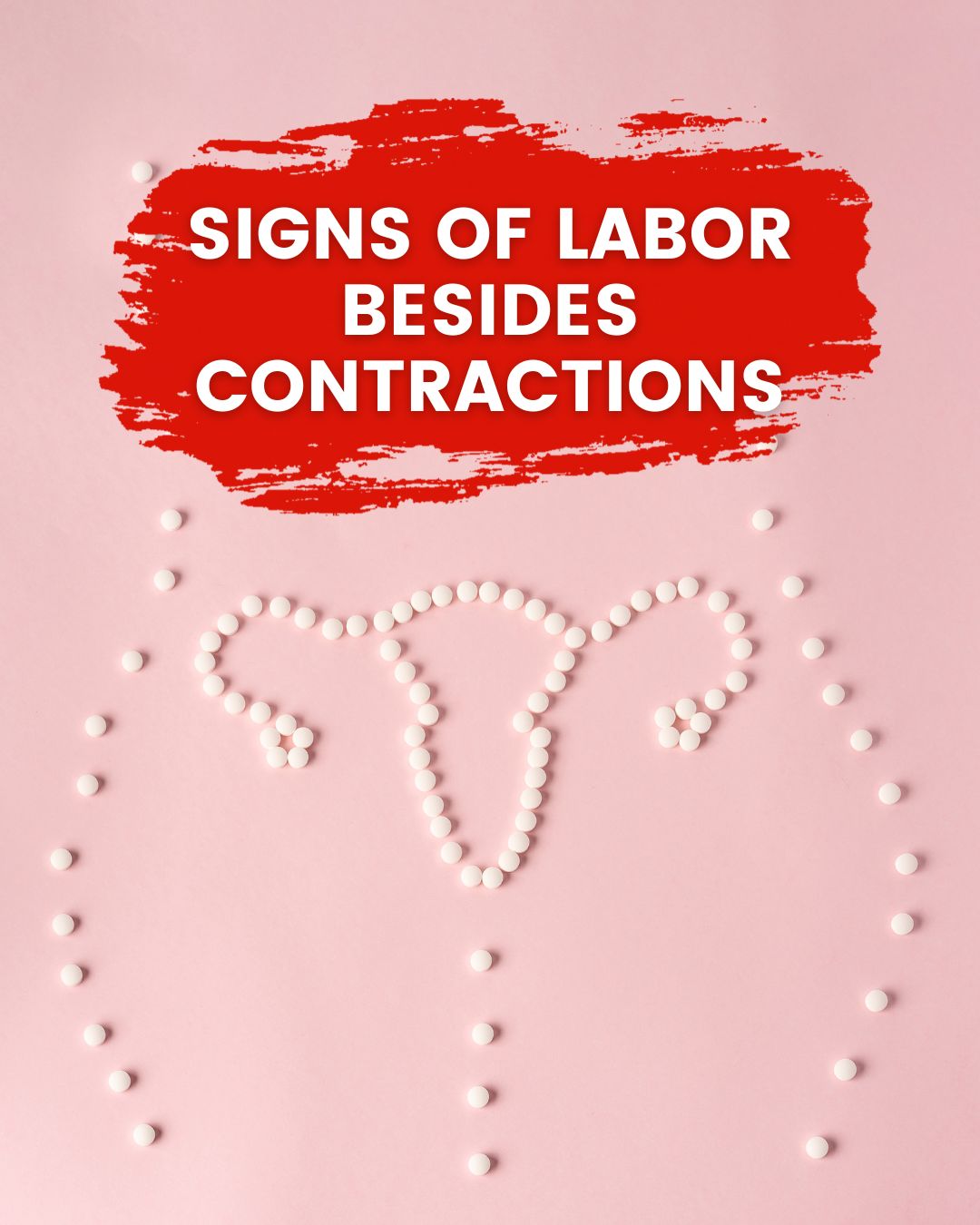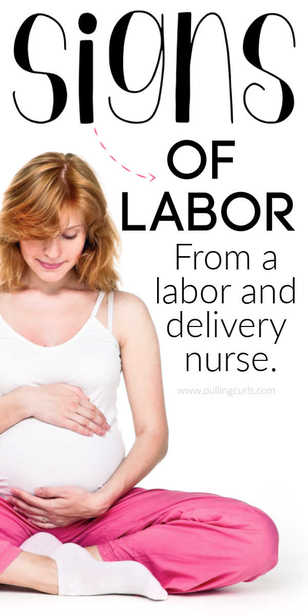 The signs of labor can be confusing. The early signs of labor approaching can give you an idea for what's to come. We all know to watch for contractions, but what are the other signs you're in labor BESIDES contractions?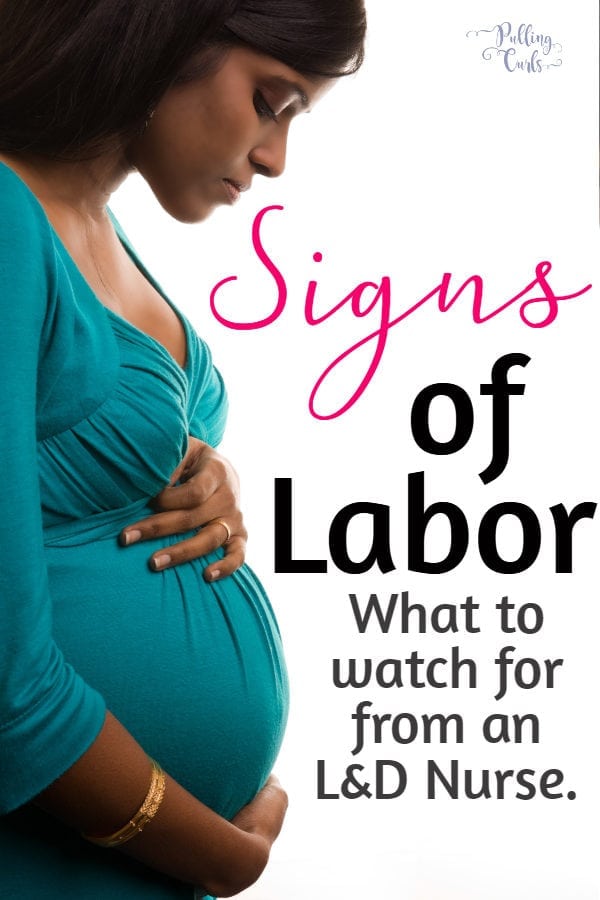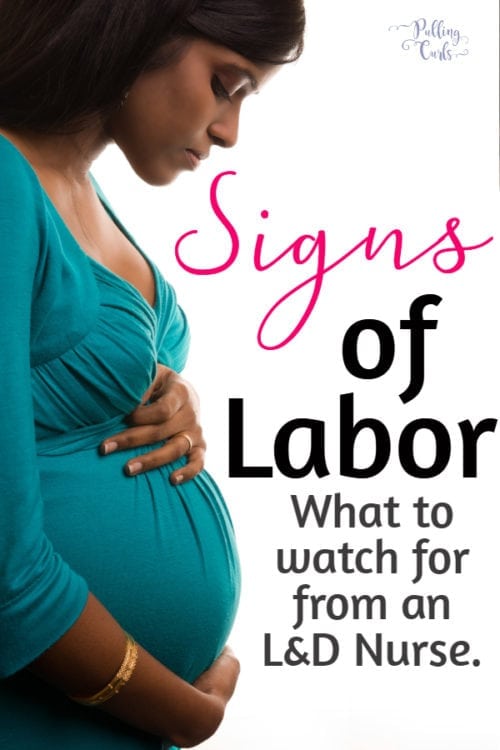 Boom! Labor happens. One minute you're making out with your baby daddy, and the next minute OUCH — OMGosh the baby is coming! That's how it happens, right? If you believe the movies, it sure is.
But how do I know all this?
Hi! I'm Hilary — many people know me as The Pregnancy Nurse 👩‍⚕️. I have been a nurse since 1997 and I have 20 years of OB nursing experience, I am also the curly head behind this website Pulling Curls and The Online Prenatal Class for Couples. 🩺​ I have helped THOUSANDS of moms decide if they're in labor, and I think I can tell you too!
I'm here to tell you that is NOT how it happens. This post is about the signs you're going into labor. When it's not "boom. labor" — how do you know it's the real thing?
And if you really want to understand how all these signs work together — check out Labor Made Easy!
Signs of Labor
Labor is sort of like a creeper in the night….
Labor usually comes on quite slowly. Especially if you're close to your due date and waiting for it (preterm labor contractions might be more "boom" because you're not sitting around constantly wondering when you're going to pop). You'll feel some back pain. You'll feel like you're going to start your period, and then the cramps will come on. It may then regress back to just back pain. It comes and goes. It may also really just go after this point.
Keep in mind that labor may start and stop. Totally normal, all part of the process!
Difference Between Active Labor and Latent Labor:
The big difference is that it is ACTIVELY opening your cervix. However, it can take some time to get your uterus going (and cervix ripened enough to open). It's a PROCESS, not really an "event"
Most often active labor contractions remain at fairly regular intervals (every 3-5 minutes) for over an hour. And in general, you'll have some more of the symptoms I mention below.
PRO TIP: Proper Hydration can prevent false signs of labor:
If you're starting to wonder "Am I in labor?" My big advice is to drink two GIANT glasses of water right then (something like this can make it a little more palatable). A lot of times you'll feel this way just because you're dehydrated. They won't be adequate contractions to get anything going (often called Braxton Hicks Contractions) — just enough to make you miserable.
And if you're super confused by labor, stop clicking around for more information and join me in here. In just a few minutes I can get you prepared on what to watch for, and what you can do in early labor to keep things going (plus, when to know when you should call or go into the hospital).
Labor Signs Besides Contractions
Please note, on your first baby this is SUPER confusing (and sometimes confusing on subsequent babies as well) so don't feel like this is something you should "just know" — because it doesn't come natural to most of us.
Discharge changes is a sign of labor
You might be wondering "did my water break"? Just because everything's a bit damp in the "downtown" (if you know what I mean). It's hard to tell what exactly is going on. Now is probably the time to put a pad on (love these for after anyway).
I have a whole post on vaginal discharge in pregnancy that people love!
However, if your water breaks, that's a TRUE sign of labor (it's just sometimes more confusing than it sounds). Remember that amniotic fluid is WATERY — it may have streaks of mucus or blood but is WATERY not thick.
Pro Tip: Be sure to check out my whole post called Is my Water Broken for more information on this.
Diarrhea can be a sign of labor
Your bowels will clear. You might feel a little nauseated, and you will clear out the other way too. Yay! Make friends with the toilet. I often find it my most comfortable spot in early labor.
Of course, there can be many other things this is a sign of (including bad food), so keep that in mind.
Losing your mucus plug can be a sign of labor
You might lose your mucus plug. Or, you lost it a few weeks ago. Just because you lose your mucus plug doesn't mean you ARE in labor. It's just a sign it will happen sometime in the next month. Please, don't be the woman who brings it to me at the hospital. Please.
The loss of the mucus plug DOES show you that something is happening though. If you're not towards the end of your pregnancy (past 36 weeks), and you see it — be sure to alert your provider.
I have a whole post on whether a headache is a sign of labor at 38 weeks that might be helpful also!
Radiating pain can be a sign of labor
Labor usually starts in one area of your torso. Most often we hear it's in the woman's back, but sometimes it's the belly. Then, as labor progresses the pains extend all the way around your mid-section.
Extreme fatigue can also be a sign of labor.
Bleeding CAN be a sign of labor
You might also have a little "bloody show" — and no, that's not a horror movie. It's just a little action out the va-jay-jay. Good times….
Of course, it can also be a problem so if you're before 35 weeks and see bright red bleeding, call your healthcare provider (and if it's enough to fill a pad at any point, get yourself to the hospital).
Other labor perks:
You might be extra emotional
You might go hot/cold
You might not be particularly hungry
You may get a sudden burst of energy (or be dog-tired).
All of this is getting your body ready to do what you were created to do. Sure, we do lots in our life, but there is so much in your body that was specifically created to push a baby out.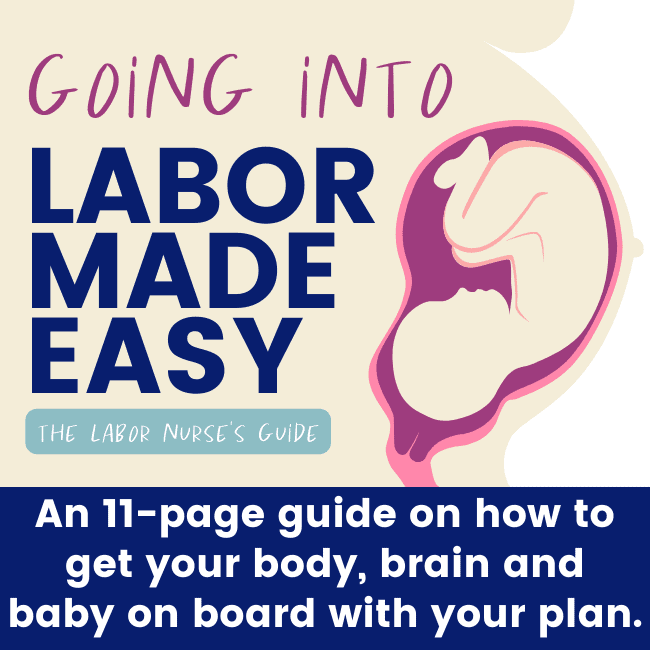 Sure, there can be other signs/symptoms, but that's what most people experience (but you certainly don't have to have ALL of them to be IN labor).
How do you KNOW it's actual labor?
To know if it's true labor, it has to be opening your cervix.
Usually, that means they get close together and more painful, usually with a few more of these symptoms.
Just what you wanted, right?
In reality, the main way to know is that it the real deal is that you actually progress into labor and you having your baby. "Real contractions" can feel just as painful as "false" ones and the difference is really how it's pushing the baby's head into the birth canal.
Feeling like you're still not clear on all of this. The Online Prenatal Class for Couples has a whole chapter on how to know if you're in labor with tips for partners and tips on when/who to call. The entire class can be done in just a few hours and the reviews are amazing.
Use coupon code PC10 to save 10%
Or, if you JUST want to know about the signs of labor — check-out labor made easy!
This post was originally written in 2016, and has been updated.