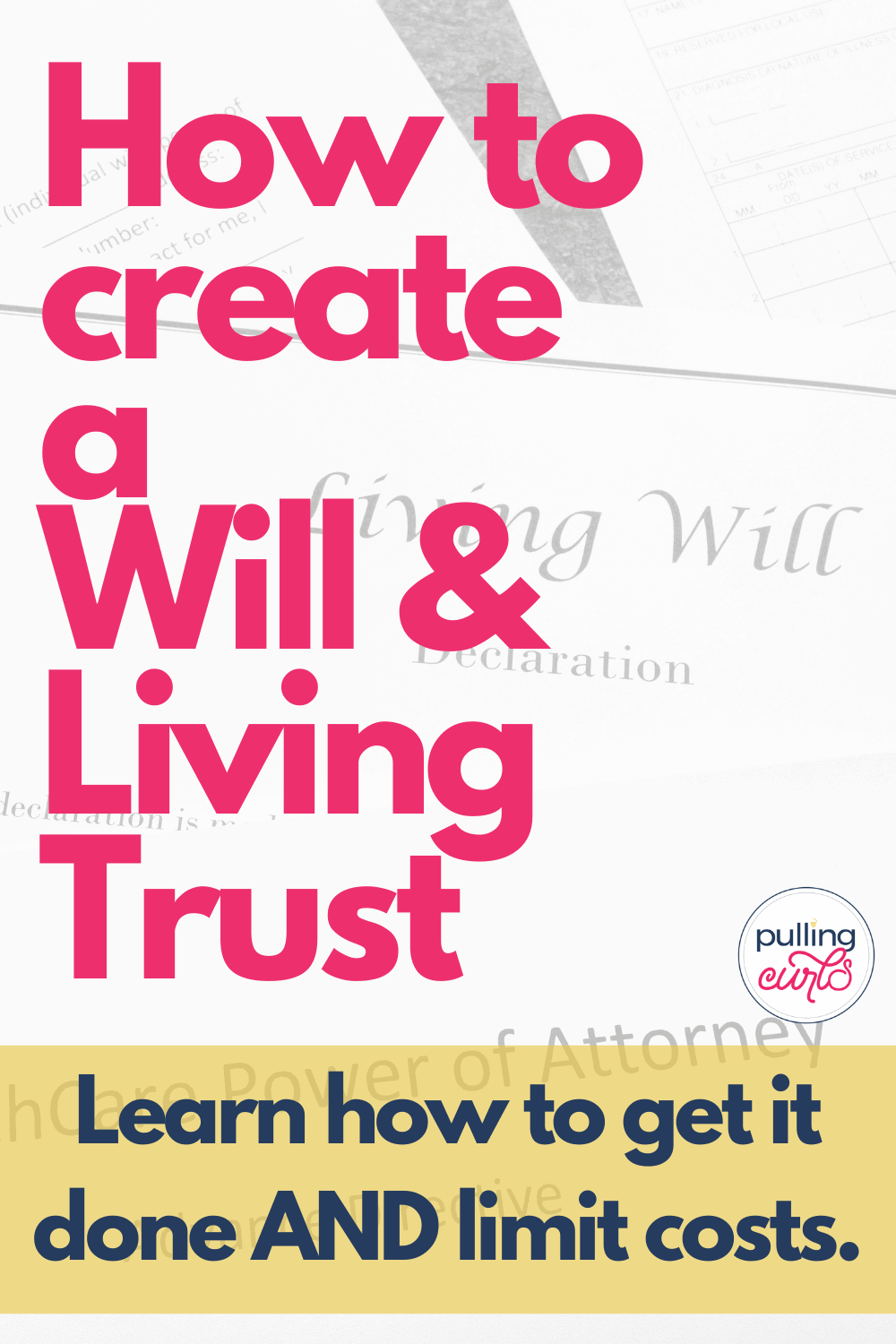 Creating a will can be intimidating. Where to start? Do you have to use a lawyer? At what age should you get a will? We are going to answer all of that in this post targeted towards young (ish) families creating a will.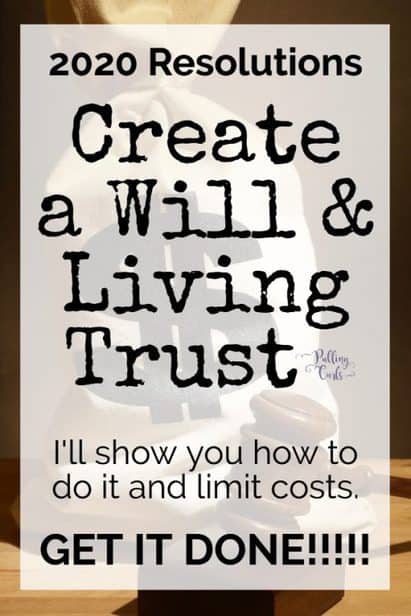 Having your own will is something I am SO passionate about — I actually did a podcast that explains what I did, and what I would do if I didn't have the cash to make a trust right now.
Oh, and before we get started, grab my steps to the steps to creating a will and trust to remind you in your inbox:
Creating a Will & Living Trust at the Age of 40.
You might wonder how on earth I know all of this. Hi, I'm Hilary and I'm an RN who knows that life changes in an instant. I've also had two uncles die untimely deaths and I am well aware of the need for a legal will.
BUT, finances, and a lack of will (see what I did there), always kept us from getting one.
And it almost kept us again. It was just SO disheartening to call around and find out it is THOUSANDS of dollars for a lawyer to go into a computer program, push a few keys and print out a valid will for us. I found out that a will wasn't anything, that we for sure needed a Living Trust (as do most adults)…
We really thought about doing Legal Zoom, but I wanted to do it RIGHT (in retrospect, I think Legal Zoom would have been fine, but we have an LLC that I wanted to make sure would be taken care of — I'd check out Legal Zoom's current pricing — you get access to a lawyer).
I have also found a new company called Trust & Will that ONLY does estate planning, which is pretty cool. Pricing seems similar to Legal Zoom, but it seems a bit easier (and they focused JUST on that)…
It is certainly cheaper (but also be aware they charge extra for the house deed, etc).
So, I asked on Facebook. And basically, no one I knew had even a simple will. Until my close friend, Betsy answered that she'd used a paralegal.
And a light went on.
I called her and found out her rate seemed really reasonable. We used Christy at Arizona Legal Ease. She is a paralegal and a certified document preparer. And was, frankly, the answer to a prayer. She was so great during the whole process and answered ALL of my questions (there were a few).
In fact, Drew and I were headed on our first flight together since we'd have kids (disclosure, one of my uncles died in a plane crash, so this is a tender spot for me) and I really wanted to get things going before I left on that trip for my own peace of mind.
Christy made it happen. We had the will and the trust before I left. And I had placed about 80% of the things in the trust before I left. It was awesome.
Some of the lawyers sounded like it would be weeks before we could be done with the paperwork.
We actually talked about this all in a recent podcast episode:
How to Make a Will & Living Trust
At What Age do you Need a Will?
I would say it's a good idea for anyone who has amassed wealth beyond basic retirement and bank accounts, including a home should get a will, and should strongly consider a living trust.
Anyone who has children should probably have a will (but may not need a living trust yet) so that if both parents were to die, the children's legal guardian would be undisputed.
All people should have a living will (notice, I said WILL — we will talk more about that further in this article), and parents should likely have power of attorney papers for their adult children that are not yet married (aka, my 18-year-old — if he went to the hospital right now, I would be unable to find out anything about him or make medical decisions without those papers).
What is a Will?
A will is a document that covers important things you want to be done when you die.
Who you want to have the items you own?
Who is supposed to take care of your children at your demise?
It's actually pretty simple (and there are a lot of free places to write up an online will — we had used one of them before we did a pour-over the new will with Christy). It looks like there are several places that allow you to make a free simple online, just google it.
Our will:
Says that anything that one spouse owns goes to the surviving spouse upon our death.
Names our oldest child (who is an adult) as the executor of the will and the guardian to our other 2 children — more on that later!
Says that anything that isn't already in the trust name should go into the trust (meaning it will divide the same as the items IN the trust)
We also have the option to list specific possessions we want to go to specific people.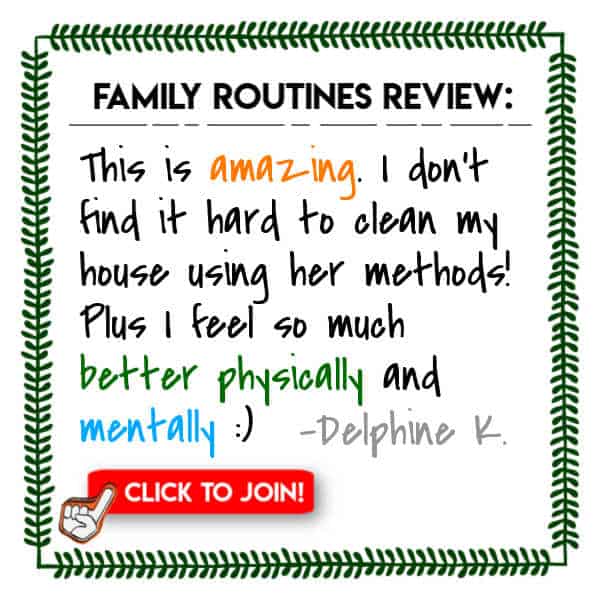 What is a Living Trust?
A living trust puts all your assets into one "pot" which will prevent those items from needing to go into probate.
That living trust is an entity that is now on the deed to our home, on our retirement accounts, and a member of our LLC for our business.
And, it is a lot more complicated.
Our will lists:
The executors of our trust (which is my son, followed by my mom and brother)
How our trust income will be doled out to kids (we don't give them a lump sum — they get a certain % as they age, beyond the money to raise them or to go to college)
This has a LOT more legal jargon than that, but the MAIN thing it will do is prevent our property and money from having to go through probate court once we die. The probate process can be costly (depending on your state laws, it actually isn't too much in AZ) and can take a lot of time.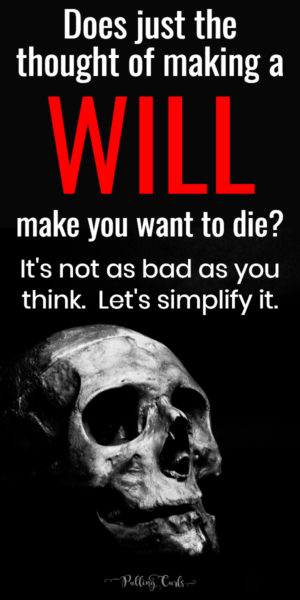 What needs to go into the living trust?
Every single bank account we own (including HSA's)
Every single retirement account we own
Every single pension account we have
Life Insurance (from both spouses)
Our business (we are now listed as co-trustees of our trust on our LLC documentation)
Our home (the living trust is listed on the deed to our home)
** The living trust does NOTHING to prevent probate unless those items are put INTO the trust, and we'll talk about that later.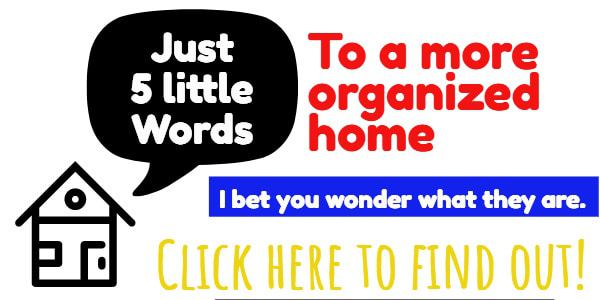 Why do you need a will & living trust?
You need both of them. The living trust deals ONLY with assets and doesn't talk at all about what would happen to your children or any assets not specifically in the living trust. I thought this article explained it pretty succinctly.
How much is a will?
Honestly, I would do a freebie will (just google it). I am not sure that they are worth paying for as most people are doing a will to list where children should go if they die.
BUT, in calling around a will seemed to be around $500 with a Lawyer.
How much is a living trust?
I called about 5 lawyers in the Phoenix Metro area. It varied from about $1800-$2500 (honestly, I am not sure what exactly was included in this pricing. I wasn't aware that they often charge extra to:
Put our house deed into the living trust
Move my LLC into the living trust.
We used a Paralegal and it was just over $1,000 — it included both of those things (the deed to our home was included in her pricing, and the LLC stuff was another $100). Although I am pretty sure we could've easily done the LLC portion ourselves for about half that cost, I was just ready to be done at that point.
How can I make a will & living trust without a lawyer?
You can use a paralegal or a legal document preparer. Keep in mind they can not give you legal advice (but they can explain what your options are — so, honestly, I felt advised), but the documents were prepared in the same way a lawyer would. We were able to adjust things (like the timing our children could receive money from the trust).
You could also use something like Legal Zoom. BUT, in looking at the pricing. Legal Zoom is not THAT much cheaper than our Paralegal was. At this time in 2019, a living trust starts at about $200-$300. BUT, that doesn't include moving the deed — which cost another $200 or so (I am not sure of the number, and I can't find it now). By the time you print it and go through notarizing what needs to be notarized plus witnessed… it's probably half the price. I am sure moving the LLC was another $200… but I have no idea, because that just seemed like too much.
Just thinking about going through Legal Zoom and then trying to figure out how to move things into the trust. Well, it made me want to burst into tears…
I just liked the happy medium that our paralegal gave us (and she really walked us through funding the living trust).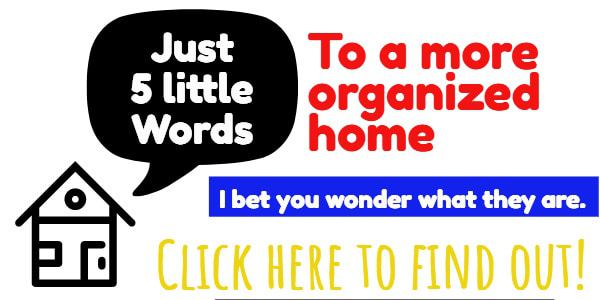 How do I find a paralegal that will make a Will & Living Trust?
I would google "paralegal living trust". Start there, hopefully, there is someone in your area.
You could also ask around on Facebook — see if anyone has someone they recommend!
What do you need to create a will?
Everyone I spoke to had a list of things you would need to complete the will. Some of them varied a bit, but mostly it was:
Deciding who was going to be your children's guardian (if applicable)
Deciding who your executor(s) would be
Deciding how any assets (including digital assets) would be distributed (our kids get them slowly as they grow up, vs a lump sum)
Bank Accounts
Retirement Accounts
Life insurance policy
Our Paralegal had a questionnaire we just filled out. It was pretty easy! It maybe took an hour or so. It took longer to get all the accounts, etc.
What is a living will?
A living will specifies what you would want to be done regarding your healthcare if you were in a state that didn't allow you to speak for yourself.
Aka, if you're in a car crash, and a vegetable, and can't make your own future health care decisions — do you want them to pull the plug?
Although, there is more to it than that — that is the main reason it is used.
What is Power of Attorney?
This means, that if I were incapacitated for some reason, my husband would have power of attorney (meaning he could make all choices for me). If my husband isn't around, it specifies who that responsibility would fall to next.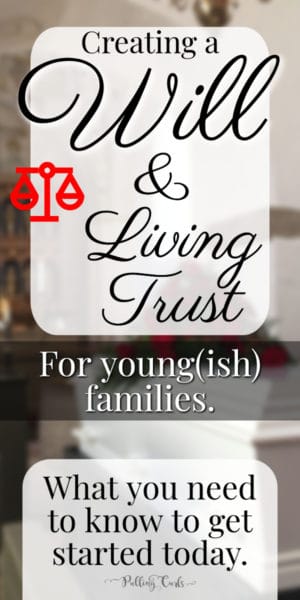 What is HIPAA Authority?
That means you can get healthcare information about the person if they are incapacitated.
I want to try to get this for my son, as once they are 18 you can't get healthcare information about them.
What do I do after I make the will & living trust?
This is the most important part.
You need to speak to each of the accounts, etc that you are placing in the trust and get them moved into the trust's name.
For some accounts, my husband is listed as the primary beneficiary, and the trust is listed as a contingent beneficiary.
It is TEDIOUS and it can be overwhelming. But, it wasn't that hard. Just a LOT of paperwork.
So. much. paperwork.
Also, we are going to create a paper that would tell my son trusted people to help him in all of these areas. Those types of people would include:
People he can speak to about healthcare decisions (for me, I will list some of the nurses I trust at work)
People to help him with the finances, as he will be left with A LOT of money that needs to be invested wisely (I have a cousin who is a financial advisor, and would be willing).
He already knows people, family members he can call for help as the new guardian of two little people.
** For accounts that allow it — you place the trust as the beneficiary or contingency beneficiary vs putting the accounts in the trust name. I was grateful for our paralegal's support in knowing how to best do this!
What is the hardest part of creating a will & living trust
While gathering all the paperwork and going through all of it is hard, the idea that my kids might have to live without me is heart-wrenching. I literally can't even think about it. I just typed that sentence above — that my 18-year-old would be the GUARDIAN of my two other children if I were to die and I got sick to my stomach.
I think it is important to be honest with yourself that this is an emotional hurdle for you to cross.
It isn't a nice feeling, and that's OK because it's more important to get it done.
How do you pick an executor of your will and legal guardian?
I bet some of you reading this are thinking YOU PICKED YOUR EIGHTEEN-YEAR-OLD TO PARENT YOUR OTHER CHILDREN?!!!
And yes, we have gone the rounds with him, but — in general — he's a pretty smart cookie.
I think he is 100% aware that he would need resources to help him in raising those two kids. There is also a clause where he can bow out of any of the responsibilities and then my mom and brother would take charge. These are my minor children's closest relatives which I think is important for them, they are close to them.
I wanted to write this will to be good for another few years — and it makes the most sense to put him down. In 3 more years, we amend it to put my other son as co-executor (although I think I would keep the oldest son as guardian of my daughter).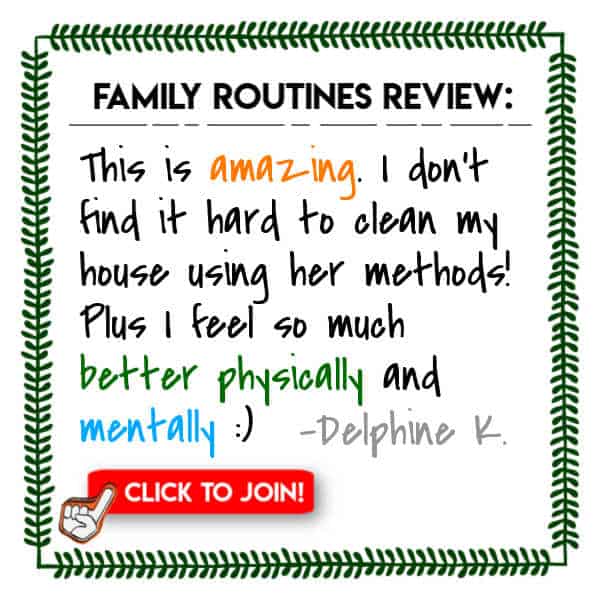 You can set the terms of your will. You do need to list a specific person to be the executor and you need to list someone to be guardian.
When should you amend your will/living trust?
We should amend ours as each child turns 18, or if my mom were to die.
After that, I think we will re-look at it every 10 years or so. There are important details that may change and you want to stay on top of them. At some point, we'd need to take out the clause that limits how much money each child can get at a certain age (and we might want to raise that age as we see them grow up).
You should also check if you need to update these if there are new special needs, a major life event, real estate changes, etc.
What should I do if I can't afford to make a will or living trust?
My first choice for you is to make it a priority and to save to make it a reality.
The next step is to:
Create a free will — to share who would have guardianship of your minor children, it's an important first step
Get a document going that has the last 4 of each account you own
Bank Accounts
Retirement Accounts
Pension Accounts
Also, include your life insurance policies and the phone numbers of those companies
If you don't want to keep this document in a google doc under a hidden name, print it off and keep it in a safe place where your family knows where it is.
Make sure you include the full name on each account
Talk about what you want to be done if you were to die (frankly, I still have no idea on this one — I want to be cremated, but my religion recommends not to).
I hope this helped you get some ideas on getting prepared on your own. I wish someone had explained all these differences to me and I am so grateful I found Christy at Arizona Legal Ease. It made a LOT of difference to have our handheld, while not paying her a ba-jillion dollars for it.
If you like, I will send you the reminders of what to do NOW so you can have that sitting in your inbox to remind you. 🙂