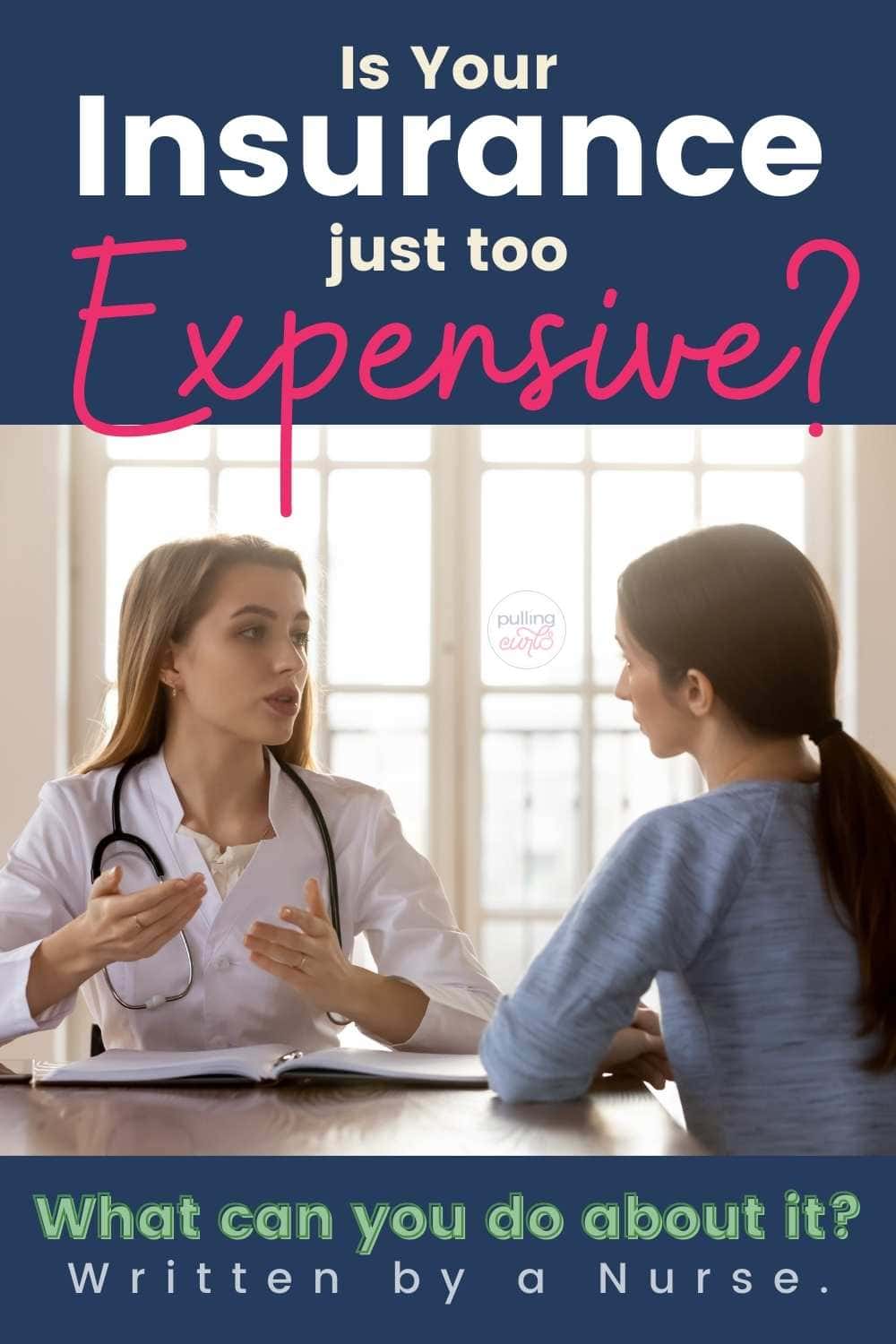 Christian Healthshares are a viable option to traditional insurance for many US families. Liberty HealthShare has run into some problems and has a lot of complaints. Should you leave Liberty Healthshare? Also, what are the good alternatives to Liberty Healthshare?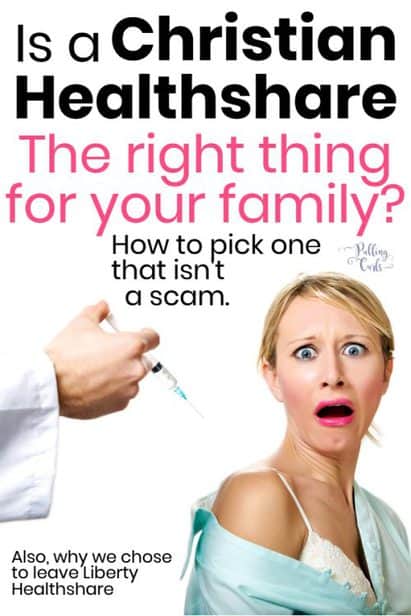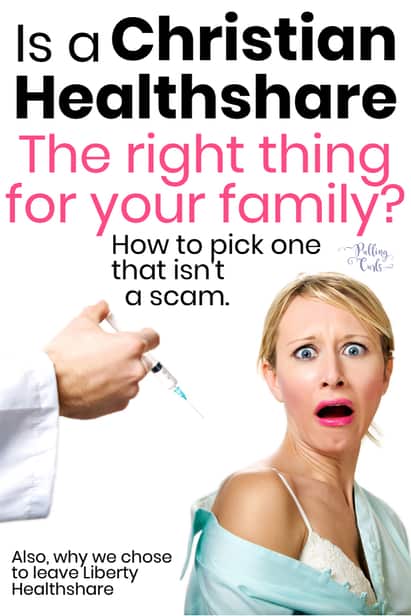 Cliff Notes: I left Liberty for Zion Healthshare for a variety of reasons (which I review in this post). I'll share the now, but I finally feel secure with Zion.
I also did a recent podcast on why we chose a healthshare (and our cool DPC model):
Liberty Healthshare Review
I joined Liberty Healthshare about three years ago when we were priced out of the Arizona health insurance market.
We had been on a traditional plan during Obamacare that had been a bit cheaper (it didn't offer maternity and was grandfathered in). However, once it surpassed our mortgage cost (with a 14k deductible for our family) I started to look at other options.
I decided on Liberty because they covered preventative medicine (which is what we most often use health care for).
I also felt they were less "religious" — as a nurse, reading some of the documentation at the time was off-putting. Liberty seemed a bit more mainstream and more like insurance (although it says EVERYWHERE that it is NOT insurance — I hope you "get" what I mean).
I also vaguely liked the idea of meeting with a dietician each month to help with my weight issues (even though it cost more to do so).
** Liberty is NOT insurance, it is not governed by the insurance board. So, definitely keep that in mind as you move forward with any healthshare.
Liberty Healthshare Problems
The problems came down to a few things:
Liberty HealthShare isn't Paying My Medical Bills
I have a flu shot from October 2018 (writing this in December 2019) that they never fixed or paid us for. We finally just paid the doctor's office for it. I have called them maybe 6 times about it since February and have gotten the same story each time.
We actually got three flu shots that day. Two were processed correctly, but the third was denied and a portion was applied to our deductible. Each person I talked to said that was totally wrong… and here we are, 10 months later….
I also have bills from June (5 months ago) that have been approved but still haven't had a check cut.
They keep saying that it is a software issue they fixed in April, but now that we are eight months out from that and not really seeing any fixes — it just makes me nervous.
** I want to insert here that I do believe that it is a software issue. I don't think the people at Liberty are scamming us of our money, I just don't know that they have the leadership to get it all back together. I also am not sure I can keep trusting them at this point. They did recently have a CEO shift, so hopefully things will pick up.
2020 Update: I have yet to get anything paid from 2019 as of February 2020 and I ended up paying my doctor hundreds in cash, which was sad.
Liberty Healthshare Healthtraq Program Wasn't Helping Me
Yes, my dietician was faithful, and yes she had some good ideas. Ultimately, I have gained weight in the program. Not saying that it is the program's fault, but I did have to call in with my weight each month and the guilt I felt from each call weighed heavy on me.
I felt like she didn't really have any ideas for me, and that she was more an accountability partner that I was paying quite a lot of money for her to say "yeah, that's hard."
Anyway, it didn't work. I felt happy to cancel my next call. But I also plan to keep trying to lose weight. 🙂
Liberty Health Share Complaints
The more I looked, the more complaints I saw about Liberty.
Yes, I know insurance, in general, has a lot of complaints leveled at it. People don't submit bills right, etc.
But, when issues (like not paying medical expenses) are consistently dragging on for years it makes me double think it. I found a lot more complaints about Liberty than other HealthShares.
Almost all of the complaints are about bills not being paid — for YEARS.
Why I left Liberty HealthShare
Ultimately, I decided to leave. I need them to act like insurance, even if they are not. Recently, their letters have gotten vaguer, the customer service wait was forever long. I just didn't feel good about it.
What are some Alternatives to Liberty Healthshare?
As I considered leaving Liberty I talked to a few friends and found a lot of people liked two options.
I should note here that I have limited use of Christian Healthshares. Many don't consider members of the Church of Jesus Christ of Latter-Day Saints Christian. The ones below are fine with us though:
Christian Health Ministries vs Liberty HealthShare
Christian Health Ministries (CHM) is a bit more "religious" in their talk on the website (although, I found it better than it was a few years ago).
Here are the benefits I have found:
Their incident deductible is $500 (and they lower that if you get prices decreased)
They answered a phone call on a Monday morning in 10 minutes (Liberty took over 30)
With their brother's keeper program there is no incident maximum (which always worried me with Liberty)
Their price is cheaper than Liberty
The cons for CHM were similar to all Health Shares. It's not regulated like insurance. I do believe they still take a few months to get checks cut, but that is how it is with many of the programs.
However, they were also SUPER religious. Like their messaging was off-putting to me. Many Christians wouldn't have that issue, it was just something that both my husband and I noticed.
>> Apply for CHM here <<
Zion Healthshare vs Liberty HealthShare
Zion seemed great. However, they seem new. The girl I spoke with on the phone had to ask someone else almost every question I had.
Things I liked about Zion:
Their turnaround time is QUICK — guys, 7-14 days!
They negotiate bills for you, to decrease the medical costs.
After your first year, they cover preventative stuff (including immunizations for kids under 12).
You can lower your price by using a direct care doctor (this is a doctor you pay a monthly amount to and they coordinate your care).
Some things that concerned me a bit:
The price. Zion's monthly price is more than the other option I had (if I pick the lower deductible).
They don't pay until each incident hits 1k (or more depending on your "level". That seems to be a more catastrophic-type plan. That means if your kids break their arm you pay 1k (they pay the rest), and then you need your appendix out — you pay 1k (they pay the rest). They do say that after three incidents (I think it was) they waive the rest — so, ultimately you wouldn't be out of pocket for much more than 3k — which isn't horrible.
They are so new. I think they started in 2019 and while they seem to have a firm financial footing, I was just worried.
That all being said, I switched to Zion after a few months with CHM. I finally feel a bit settled. I love their comparison with both traditional insurance and no insurance.
Zion Health Reviews
Things I have liked so far:
You get free Teladoc — which means I can assess my family and call in to have a doctor help us, pretty much any time of day (which could decrease doctor or emergency room visits).
I emailed with a question and they called me back with the answer to ask if I had any other questions. Very nice touch.
The MAIN reason I switched was their quick turn-around, and their promise to negotiate for you. I just feel more secure with this, and I finally feel "settled".
I mean, the reason you get insurance is for the BIG stuff, not the strep throats or small things you can be seen for…
If you register, I'd also love it if you used my name (Hilary Erickson) or website under the comment as to how you heard about them. 🙂 It helps me out.
I would also encourage you to call them, they were great at answering questions.
I also did a whole podcast with Zion Healthshare, talking about who it IS good for (and who it's not):
Cons of Zion Health Share
The whole pay per incident type thing can be something that could have a LOT of bills. This means that they only pay once your bill hits $1,000 (and you have to pay that full $1,000 first).
As with all health shares, they do not cover pre-existing conditions right away (she talks about that in the podcast above). It's definitely something all prospective members need to consider before choosing a health share (as far as I know they ALL have this stipulation).
FYI a pre-existing medical condition would be some medical conditions you had prior to joining the plan. That would be something you've had treatment for in the past 3 years (every pre-existing timeframe is different) — but I think theirs is 3 years.
Zion Healthshare DPC Model
In 2020 I joined Zion's DPC program.
A DPC is a Direct Primary Care. I basically have a concierge doctor that is on 24/7 for me. I can call/text/email him at any time for any service and he will see me. I pay $195 for our whole family to see him.
My Zion price went down $200 dollars, so — basically I am paying the same, but I can get care under this physician any time I want.
Now, he is a family practice doctor — so he can't do EVERYTHING, but he can do all our checkups, and minor things… and also let us know if something is serious that we should see someone else.
HUGE fan of this model.
Hey, and if you do sign up with Zion it does mean a lot to me when you say you heard it recommended by Hilary at Pulling Curls. I love this model and I want to share it with everyone who is in search of affordable health insurance!
BTW with the DPC model it doesn't have free teladoc (because your DPC would take care of those items).
Liberty Healthshare Customer Service
People have always been nice enough on the phone. But, wait times have increased over the time span that they haven't paid bills.
Also, when I ask them if I should stay, I don't get a very passionate or very positive answer. They say they understand my concerns. They keep saying they're fixing things, but I have yet to see any of that come to fruition (and I've been calling monthly since Feb 2019)
How to cancel Liberty Healthshare
Here is what they sent me (after I remained on hold for 30 minutes):
To cancel your membership, we will need your request in writing via email or mail. Please include the following information in your written notice:
Your Name
Member ID Number
Requested Cancellation Date
Reason for Cancelling
Your written request must be sent to cancellations@libertyhealthshare.org and received by the 20th of the month to cancel your membership on the 1st of the following month.* Once the membership is processed for cancellation, you will receive a cancellation confirmation via email.
For me, I have taken my payment method out of their portal. I don't plan to pay again, so I will see if that is an issue as I didn't inform them before the 20th. I started CHM on December 1st.
ETA: I did get an email back saying they would cancel my coverage on November 30th. So, that worked out fine.
Is Liberty Healthshare a Scam?
I don't think so.

But, I guess they could be. Ultimately I feel like they grew far too fast and didn't have the infrastructure to withstand that.

They have changed CEO's. I hope it goes on to thrive, it just wasn't the right choice for my family at this point.
Liberty Healthshare Flu Shot
Yes, they cover them. Now I wait to see if they pay for them. You can get them at any pharmacy. I recommend Costco since you'll have to pay out of pocket initially.
Is Liberty Healthshare Tax Deductible?
As far as I could tell no, but I am starting to hear more and more businesses who are deducting it. If anyone has knowledge on this I'd love to know (because I'd love to deduct it).
Liberty Healthshare Reviews BBB
They are horrible. Absolutely horrible. 🙁 They also aren't resolving concerns (or they only resolve them when people take it to the BBB – and I'm not sure which is worse).
I hope that we take health reform seriously in this country. I rarely go to the doctor (and am willing to shoulder a lot of the cost on my own), so to have health insurance cost more than the home I live in seems unnecessary.
It will certainly affect who I vote for in upcoming elections, and I hope you'll help make a change with me.