What to do when your audiobook habit is too expensive?  Here are some Audible alternatives.  Some of these are free, some offer unlimited audiobooks and most are cheaper.  Thank goodness.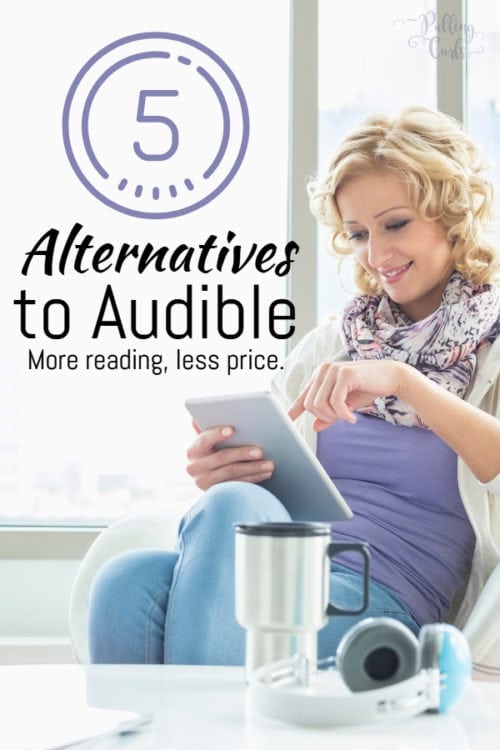 I love a good audiobook.  I mainly love them when I'm in the car, but I must admit the mindless tasks that consume a mom's day are often more cheery when an audiobook is in the background.
I have looked into Audible more times than I could count.  It's super frustrating though.  I'm almost paying a similar amount to the actual AUDIOBOOKS and it's a subscription — I feel like I'm getting no savings, and I end up not joining.
Audible Alternatives 2018
Today, I want to share some Audible Alternatives in 2018 and talk about the pro's and con's of each option.  I hope we'll be saving you some good cash — especially with great options like Scribd.
I also really would like to be able to READ some books too for the price of Audible.  So, I'm going to share programs that allow a lot of flexibility.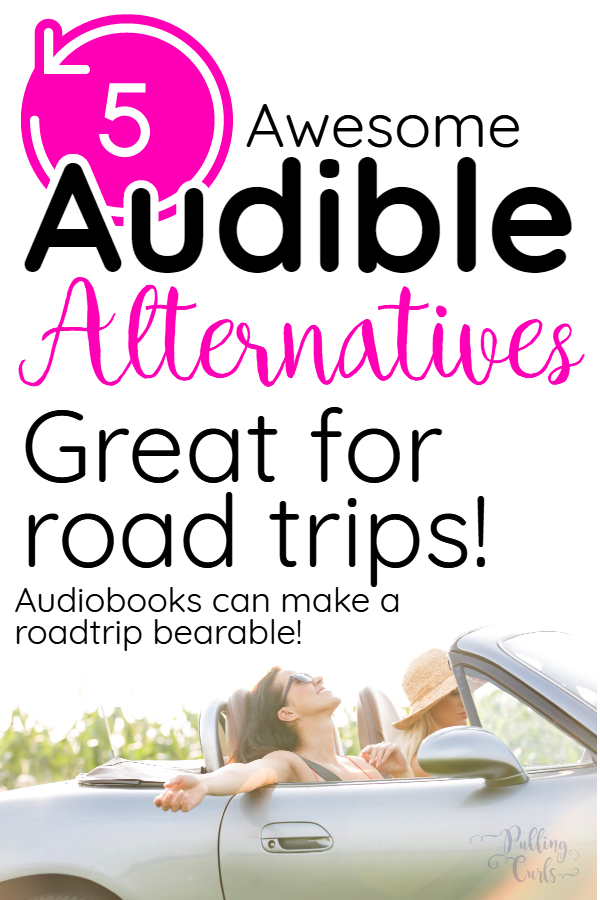 Audible Free
Ok, sure — Audible has a free trial, but after that, you're on the hook for about $15/month.  For one book.
There are some free options.
Your Local Library — for us it's the….
Overdrive App
And frankly, I love that thing.  It works well, and it's AWESOME for car trips.  You can use it for music, and e-books (often you can read them on your Kindle) and it has GREAT e-book functionality.  BUUUt… the problem is that each library has a limited # of each book and often your book has a giant wait list.  Hence, me longingly looking at Audible — but if time isn't the issue, your local library is a great option.
I'd 100% recommend checking with them.  Just keep in mind, that if you plan to use it a lot, your library may have limited selection and definitely limited availability.
I know there are other library apps besides Overdrive — so don't be hesitant to try those either.
YouTube
There are audiobooks on Youtube.  This is OK for when you're at HOME, but it would be a pretty big data hog when you're on the road (and would be super annoying when you're out of service).  But, you could always check there. Also, with the new YouTube playing time/ads protocols, you are likely going to listen to advertisements throughout an entire book.
Cheaper than audible
The reality is that the best things in life aren't free.  I've found some pretty great options cheaper than Audible.
My favorite is Scribd.  Mostly because it is SUPER easy to understand (and it's the one I actually chose).
Audible Unlimited
Scribd
Scribd offers unlimited audio and e-books through their platform.  They have apps for iOS and Google — you can even download it to your Kindle (you have to bypass the Kindle store, but it was easy enough).
I've been using it for a while (full disclosure, they emailed me with a free trial) and I REALLY like it.  It's just $8.99/month, and I just think of it as the Netflix of reading.
So far I'm finding books in all the genres I like — parenting, marketing, self-help, and I often add ones I hear about from friends to my list.
AND they have a lot of magazines you can read as well.  I'm looking forward to downloading a few for my next plane trip (you can download items for reading in the app when you're off wifi).
I really think of this as an audiobook subscription — since it's unlimited.  Like netflix for reading!
Plus, you also get a free membership to Farfaria – a kid's e-book site.  Library trips stress me out, so that's a huge benefit (and I'm a BIG fan of giving your kids a ton of different options to read).
I can even give you a 30-day free trial.  I also have a full Scribd review.

Kindle Unlimited
Now, Audible is owned by Amazon — so I don't even understand this, but Kindle Unlimited DOES have a number of ebooks. Your Kindle Unlimited Membership Plans
 includes millions of ebooks and thousands of audiobooks.  You can use it on a kindle, or you can also download apps for other devices.
If you have Amazon Prime you can get one free e-book each month, and that is the same as the available options in the Kindle Unlimited program (you're just paying $9.99/month to get ALL of them).
Kobo
Kobo has a different model.  You can get unlimited e-books for $9.99.
But, Audiobooks are super confusing.  Somehow you get a subscription that gives you credits, and you can buy more credits — and apparently, they have a price guarantee….
But frankly, I don't get it.  BUT, I think it looks cheaper than Audible.  Plus you have the option of getting e-books.
There are certainly other alternatives out there, but these are the most user-friendly that I found.  I like their user interface and the ease of their apps.  All of that makes reading easy (and having 3 kids makes reading hard enough).
Best Audible Alternative
For me, it's Scribd.  I love that the price point is less than Amazon, I like the selection, and how the app is available on many devices.  I am finding almost every book I want to read on there.  I'm just a BIG fan.
I actually find that by putting a little "skin in the game" at $8.99/month I'm reading more.  Which has been a goal of mine.  Plus, you can cancel at any time — you're not locked in (which makes it extra great for summer trips, etc).
I'd recommend taking their 30-day free trial on a test drive and let me know what you think!

If you're looking to save some check, check out my abundance budgeting checklist, and check out all of my other money-saving posts below that.