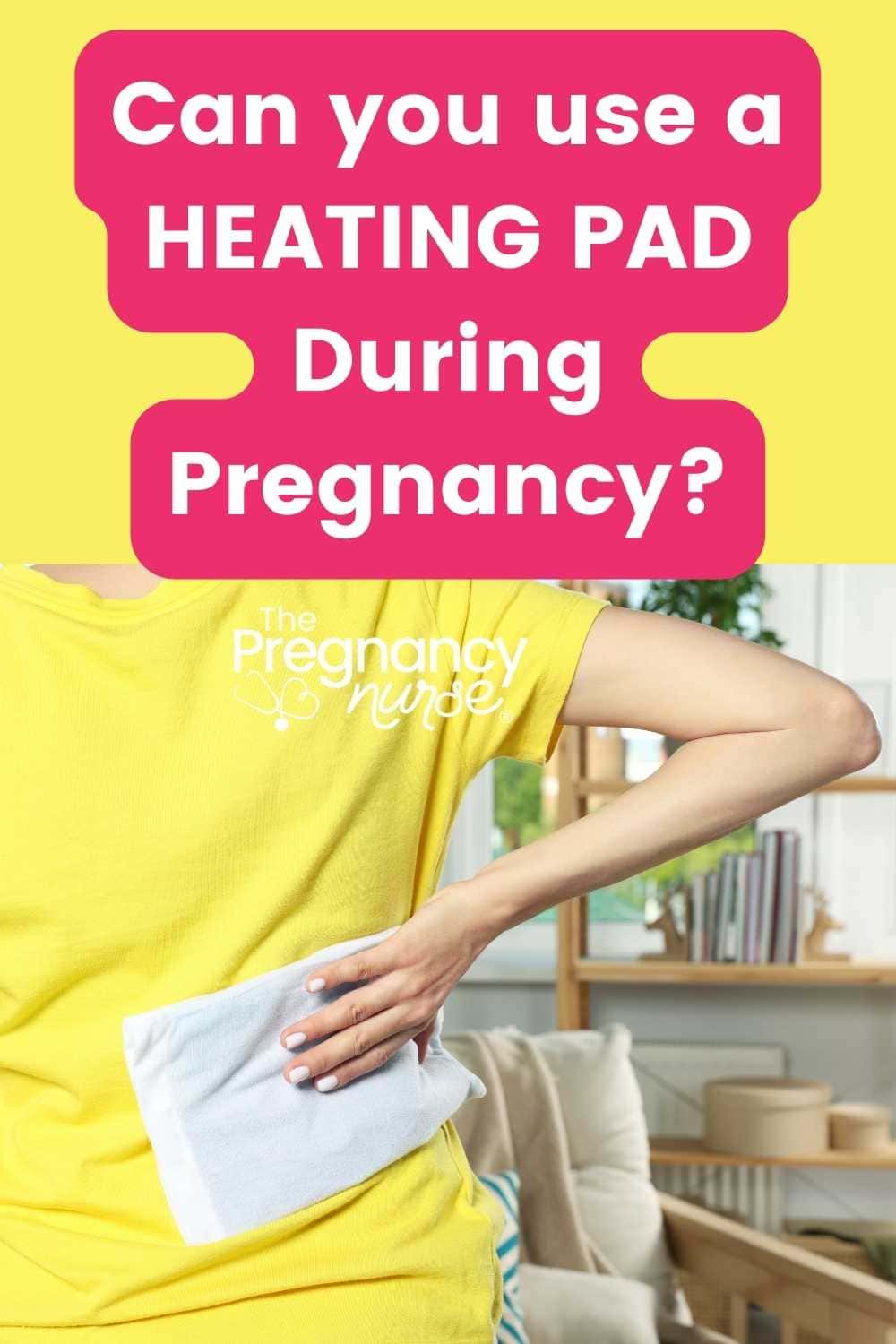 Is using a heating pad safe during pregnancy? Using heat can be a simple way to resolve pregnancy-related aches and pains in your hips, back, and joints. But, should you avoid it so that it doesn't raise a woman's body temperature? Come let this L&D nurse tell you!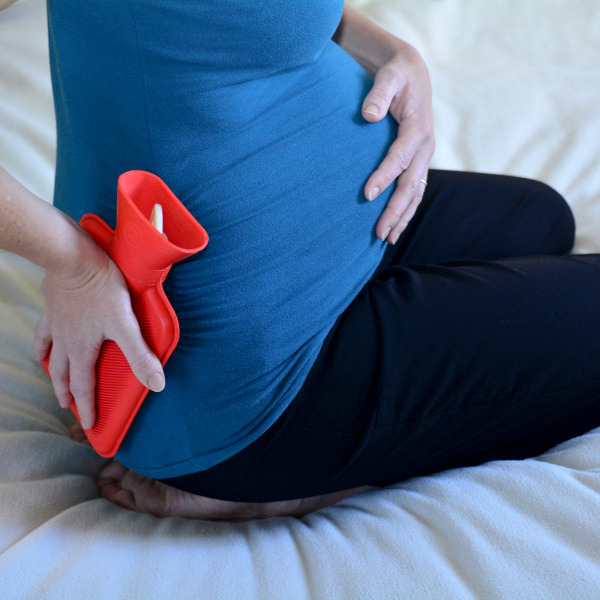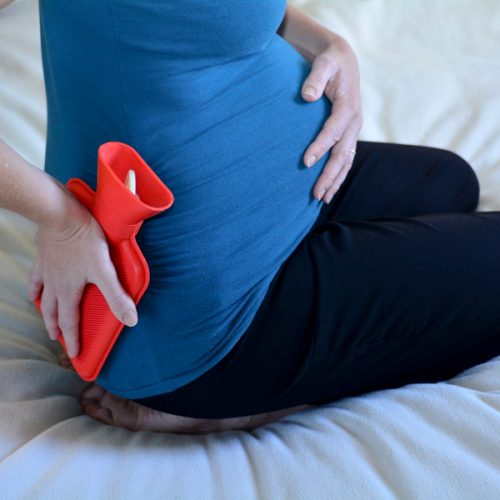 First off, hello! I'm Hilary — many people know me as The Pregnancy Nurse 👩‍⚕️. I have been a nurse since 1997 and I have 20 years of OB nursing experience, I am also the curly head behind this website Pulling Curls and The Online Prenatal Class for Couples. 🩺​ I've talked to thousands of people women about the aches and pains of pregnancy — and I'm a good resource on using heat to help with it.
If you're looking for tips and tricks for making pregnancy (and labor) easier, check this out.
Heating Pad While Pregnant
This is part of my Labor Pain Management series — and the great thing about heating pads is you can use them during your pregnancy, as long as you follow some guidelines…
Pregnancy certainly has a lot of aches and pains associated with it. The big question here is — CAN you use a heating pad while you're pregnant and what can it help?
How Does Heat Help Normally?
Heat treatments allows tight muscles to relax. It is a side-effect-free (normally) way to ease those aches and pains and help your body re-align itself.
While it doesn't always take the pain away entirely, it does help "take the edge off". It is just a temporary relief from pain, but welcome nonetheless.
As always, please take the advice of your provider over my advice, as they know more about you and your individual circumstances.
What type of heating pad to use while pregnant?
Because pregnancy has its own set of issues, I prefer to use a microwaveable heating pad. You can also use a hot water bottle. These are safer alternatives (don't worry, we're going to talk about why).
You are in a bit more control of the temperature vs an electronic one and a microwavable one cools with time, which makes it a bit safer (because often you'll fall asleep once it helps you relax).
Keep in mind, appropriately used heating treatments can often be safer than medication. It's a very simple solution to many pains pregnant women have — just be sure to know where you're using it is with your provider's OK.
And yes, there have been studies that raising the heat of the unborn baby can cause neural tube defects & other birth defects, which is why they don't recommend very hot baths, use of hot tubs or saunas during pregnancy. Long periods of using a heating pad can cause your core temperature to rise to a problematic state. The good news is there are other good alternatives that won't cause a high temperature.
However, heat applied to one part of your body (especially when not directly near your baby — or draped across your abdomen) won't raise your whole body temperature to unsafe levels.
However, if you use a water bottle or a microwavable heat pack — you can use them for a long time (aka, if you fall asleep) as they will cool with time.
ACOG which is the OB's professional practice organization recommends heat for back pain, but says you should limit the time heat is placed (which is why I prefer the microwaveable vs electric ones). You may want to consider using the heating pad on the lowest setting.
The big thing is to not raise your core body temperature (so just a small area, for short periods of time), and you don't it touching areas where the baby is — so across your belly.
Most manufactures don't recommend long time use of a heating pad at the highest setting and there have been documented skin burns from using it that way.
Also, make SURE you're staying hydrated during your pregnancy. I even have a related post about if you can drink Gatorade during pregnancy. I also have a post if you have belly button pain.
Can you use a heating pad on your belly when pregnant?
I don't recommend using a heating pad over your belly while you are pregnant.
We'll talk a bit more where about where you CAN use it on your belly, but draping it over your belly isn't a great option for a few reasons:
If you're really cramping like you need a heating pad and you're before 36 weeks, you should talk to your doctor — if you aren't sure where the abdominal pain is coming from, you need to talk to your provider.
It will heat up the baby as they really aren't far from the surface and don't have too much protection between them and the heating pad.
If you want to use a heating pad on your belly, I would certainly talk to your health care provider before doing so.
Where can you use a heating pad during pregnancy?
I am a big fan of using it (and by it, I mean a microwaveable one vs an electric one) a few places:
In your ligament area (that's more in "corners" of your belly vs. directly on top of your belly — you can read more about round ligament pain in this post on normal pregnancy symptoms).
Back pain, you can lay on the heating pad (or use it behind you in a chair).
Sometimes leg cramps can be really annoying and heating pads can help relax those muscles in specific areas (although being mindful of your hydration as well as vitamin intake can be important in those as well — talk to your provider!)
Keep in mind that the vast majority of pregnant women do experience back pain during pregnancy, so you aren't alone in trying something to help!
How can a heating pad help during pregnancy?
You're using the heat to help relax tense muscles — which is a good idea!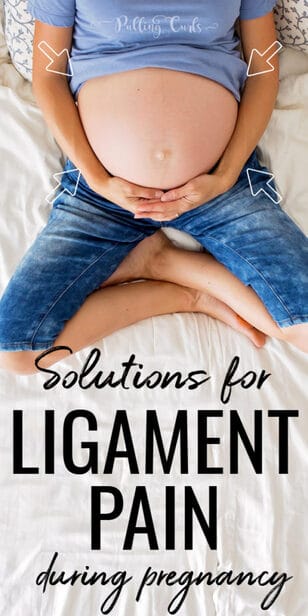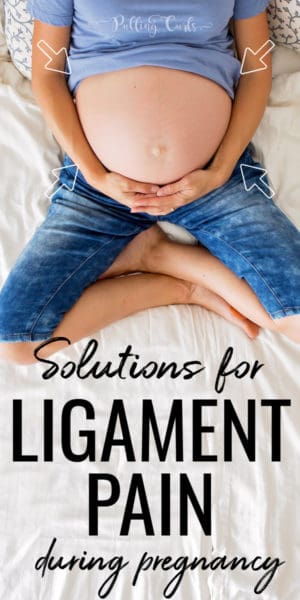 Using a heating pad for ligament pain in pregnancy
Use light heat — you don't want to use your microwaveable pad to be too hot. It should just feel warm to the touch.
Tuck it into the corner that hurts — as little as possible should be touching your belly.
Do NOT use an electric heating pad — use a microwaveable one — as it gets less hot with time and is easier to "tuck" into spots.
Pro Tip: Since microwaveable heat packs don't have a heat source they slowly cool and can be safer vs one that the heat is constantly being "fed' to it.
The graphic above shows where your ligaments are that usually hurt (they're actually called your "round ligaments" — and they hold your uterus onto your body, and they are stretched a LOT as your uterus grows. They can also hurt more:
When you stand quickly.
When you lay down quickly.
Cough or sneeze.
One thing that can help ligament pain is making sure your belly is supported when you sleep on your side (use a pillow underneath it). I talk more about ligament pain in my normal in pregnancy post.
Also, pregnancy belly straps may help this issue as well!
Make a pregnancy heat pack
Get a dishtowel (buy one or use an old one).
Sew up the majority of the sides, leaving an opening to add the beans/wheat/rice — which you add now.
You can also add essential oils if you like those smells and they relax you.
Then sew up that hole.
Start with 1 minute in the microwave to see how warm it gets, then add 30-second increments to see how long your pack will tolerate. I wish I could give you a good rule of thumb for how long to heat it but it really depends on what is in the pack and how your microwave heats.
You want it warm, but not too warm so that the towel/rice burns (done that!) or is too hot for you to pick up and handle.
I talk about the best ways to use a microwavable heating pack for labor pains in here (the natural pain management bonus video).
Heating Pad During Labor
Some women find heat comforting during labor. Remember:
Still don't use it draped across your belly.
Don't use it for extended time periods.
Consider a hot water bottle too if a microwave isn't convenient.
Heating pads are one of the most common tools doulas use and they can help a lot as you labor at home.
You may also be hot due to increased blood flow — just use it if it feels good.
Common Questions About Heating Pads During Pregnancy
Can you use an heating pad during your first trimester?
Again, I would not use it across your belly, but ligaments can ache as your uterus grows. You can also use it on your back (especially your lower back pain), or another affected area for pain relief.
However, if you've already done it — keep in mind in early pregnancy you have a thick uterine wall, as well as muscles and fat to cushion your baby against any heat. While I wouldn't do it, if you've already done it it isn't too concerning.
The main thing, especially in the first trimester — is not raising your core body temperature with an electric heating pad. Baby does best when they grow at your regular body temperature (which is part of why they don't like fevers in the first trimester when baby is growing important parts).
I also have a whole post on when your belly will start to get hard in pregnancy.
Can you use a heat pad during your third trimester?
Your baby REALLY doesn't have much protection from a warm pack across your belly at this point — so be sure NOT to use it across your belly as it will heat your baby and stress them out. But I recommend it frequently for back or ligament pain when placed appropriately.
Is it ok to use a heating pad on lower abdomen while pregnant?
You don't want to lay it directly across your abdomen, but I usually recommend you tuck it below the uterus. Often one side will hurt due to ligaments and heat can help those relax. I like one like this that you can use OFF your actual belly or where the baby is.
How long can I use a heating pad on my back while pregnant?
You definitely don't want to increase your core temperature due to it. You're wanting to use it in specific areas for 20-30 minutes and then let the area "air" out — but the good news with a microwaveable heating pad it slowly cools, because you often will fall asleep if it's helping you relax while it's on.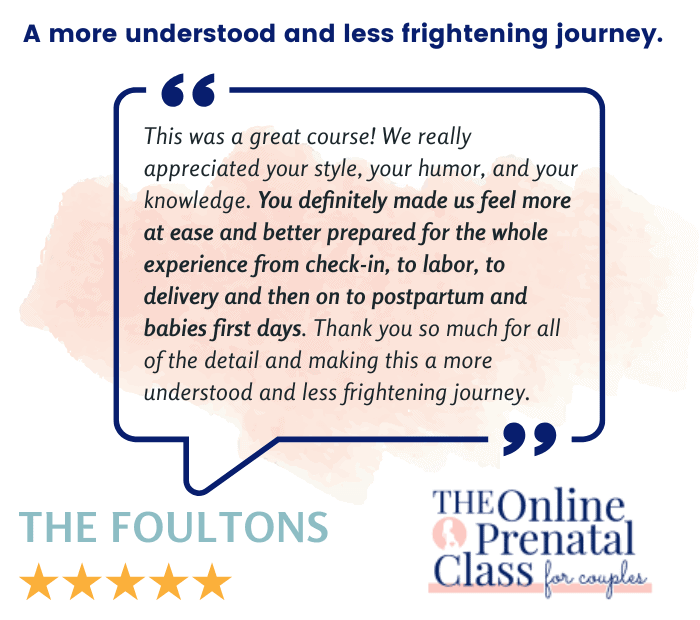 Can you fall asleep with a heating pad while pregnant?
I never recommend falling asleep with a heating pad during any point of your life, unless it is microwaveable (one of the big perks to using a microwaveable heat pack — as it cools with time). It can over-heat your body and can be problematic (including fires).
Heating pad for pregnancy back pain
Heat therapy can be AWESOME for that. I would be more willing to use an electric one on my back vs near my belly but I would still be cautious (and don't fall asleep on it). I would limit it to under 20 minutes at a time.
Also consider your body mechanics and work on your posture during the day, it might help. Consider ditching the high heels, and wear something that gives good arch support.
You can also consider using heat packs for joint pain, sore muscles (not your abdomen) or muscle spasms, as well if you have an injury, etc.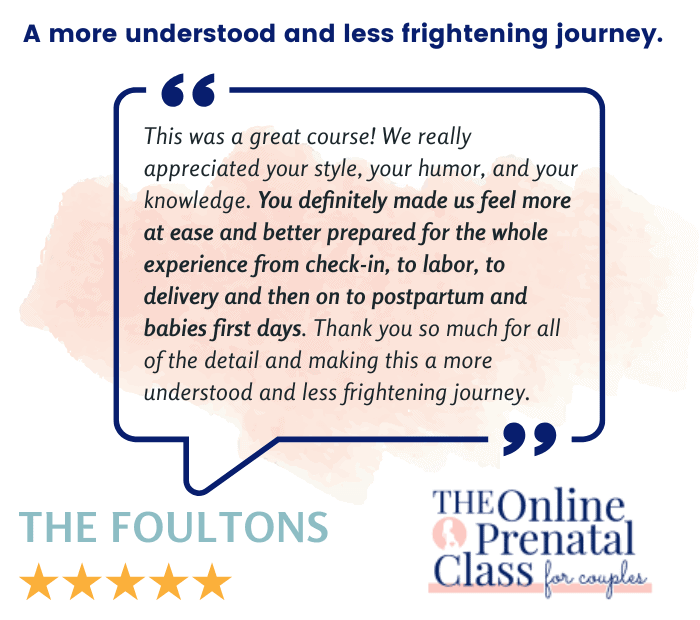 Other things to consider for pain during pregnancy
A lot of the aches and pains you experience during pregnancy are totally normal, but I would certainly discuss them with your provider to make sure you're still good to go.
Other things you can do (under the care of your provider):
Prenatal Yoga (there are some poses you shouldn't do while pregnant, so be thoughtful of that).
Regular mild exercise can help.
Mild stretching.
Pregnancy support bands (like this).
Pain medications (like Tylenol) — there are options depending on how far along you are in your pregnancy — talk to your provider.
Warm bath (not hot) or shower — remember avoid high temperatures.
If heat isn't working for joints, you can always consider an ice pack (but again, I wouldn't place it over your belly — your baby will notice).
Using a body pillow to support you during pregnancy sleep — like this. Or if you just have an extra small pillow, put it under your belly or between your legs when laying on your side.
If pain is really an issue, consider seeing a physical therapist or a chiropractor, there are things they can do to help!
I am a big believer in giving your baby the most neutral environment to grow during your pregnancy, so the less you can use medications and even heat, the better. Before you know it, your body will be back to being your own and you'll be able to do what you please — but during those nine months, be thoughtful of what you can tolerate.
Obviously — there is a lot to think about when considering both your's and your baby's health. That's why I really recommend a prenatal class. Things can feel really complicated, but this one really simplifies things for you!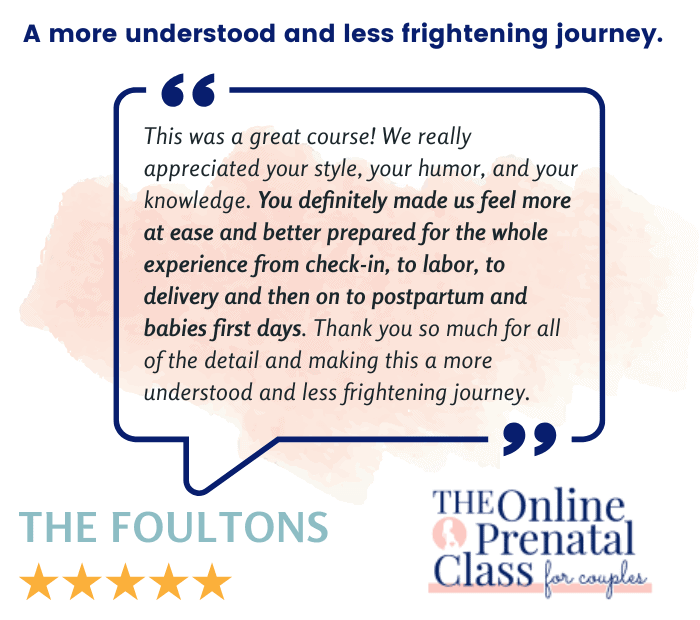 Or, if you're not quite ready for the full class, check out my free prenatal class — It's your first step towards being your own birth boss.