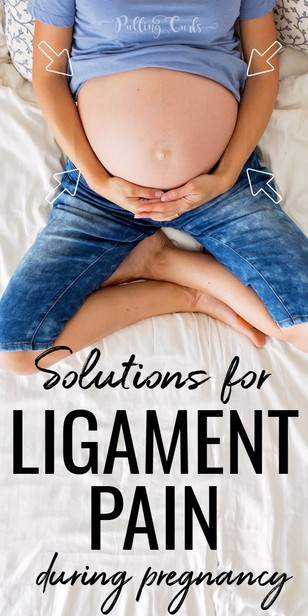 Heating pad while pregnant: A lot of women would like some heat to relax tense muscles. Is it OK to use a heating pad while pregnant, can you use it on your stomach (or where CAN you use a heating pad) and what trimester is it OK?
Heating Pad While Pregnant
Pregnancy certainly has a lot of aches and pains associated with it. CAN you use a heating pad while you're pregnant and what can it help?
What type of heating pad to use while pregnant?
Because pregnancy has its own set of issues, I prefer to use a microwaveable heating pad.
You are in a bit more control of the temperature vs an electronic one, and it cools with time, which makes it a bit safer.
How do I know about heating pads while pregnant?
Hi, I'm Hilary — I've been an L&D RN since 2001 and I have answered thousands of questions about comfort during pregnancy.
I love how many questions this course answers.
Do it on your own timeline
Get the RIGHT information unbiased to prepare you
Quick — she doesn't waste a minute of your time!
You can even save 10% with code PC10!
I'd love to follow you along during your pregnancy, giving some helpful advice is you progress:
As always, please take the advice of your provider over my advice, as they know more about you and your individual circumstances.
Heating pad on belly when pregnant?
I don't recommend using a heating pad over your belly while you are pregnant. We'll talk a bit more where about where you CAN use it on your belly, but draping it over your belly isn't a great option for a few reasons:
If you're really cramping like you need a heating pad and you're before 36 weeks, you should talk to your doctor
It will heat up the baby as they really aren't far from the surface and don't have too much protection between them and the heating pad
If you want to use a heating pad on your belly, I would certainly talk to your doctor/provider before doing so.
Where to use a heating pad during pregnancy?
I am a big fan of using it (and by it, I mean a microwaveable one vs an electric one — we'll talk more about that later) a few places:
In your ligament area (that's more in "corners" of your belly vs. directly on top of your belly — you can read more about ligament pain in this post on normal pregnancy symptoms)
Back pain, you can lay on the heating pad (or use it behind you in a chair)
Sometimes leg cramps can be really annoying, and heating pads can help relax those muscles
How can a heating pad help during pregnancy?
You're using the heat to help relax tense muscles.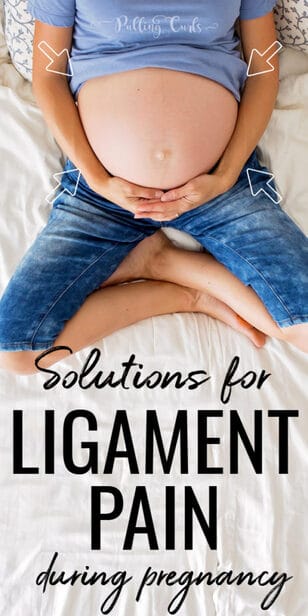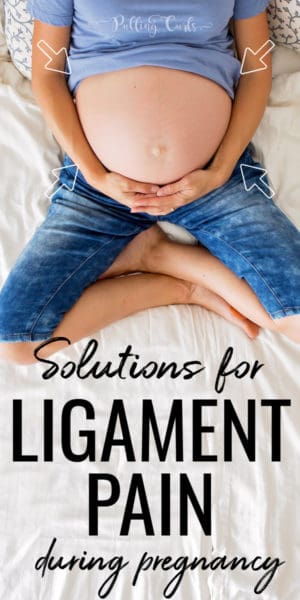 Using a heating pad for ligament pain in pregnancy
Use light heat — you don't want to use your microwaveable pad as hot as it gets
Tuck it into the corner that hurts — as little as possible should be touching your belly
Do NOT use a heating pad — use a microwaveable one — as it gets less hot with time, and is easier to "tuck" into spots
The graphic above shows where your ligaments are that usually hurt (they're actually called your "round ligaments" — and they hold your uterus onto your body, and they are stretched a LOT as your uterus grow. They can also hurt more:
When you stand quickly
When you lay down quickly
Cough or sneeze
One thing that can help ligament pain is making sure your belly is supported when you sleep on your side (use a pillow underneath it). I talk more about ligament pain in my normal in pregnancy post.
What type of heating pad to use during pregnancy?
As I said before, you want to use a microwaveable one.
Some of the older heating pads are a bit sketchy in how they produce heat — so, I just prefer the microwaveable kind.
You can also easily make one for yourself.
Make a pregnancy heat pack
Get a dishtowel (buy one, or use an old one)
Sew up the majority of the sides, leaving an opening to add the beans/wheat/rice — which you add now.
You can also add essential oils if you like those smells and they relax you
Then sew up that hole.
Start with 1 minute in the microwave to see how warm it gets, then add 30-second increments to see how long your pack will tolerate.
You want it warm, but not too warm so that the towel/rice burns (done that!).
Can you use a heating pad during your first trimester?
Again, I would not use it across your belly, but ligaments can ache as your uterus grows. You can also use it on your back.
Can you use a heating pad during your third trimester?
Your baby REALLY doesn't have much protection from a warm pack across your belly at this point — so be sure NOT to use it across your belly as it will heat your baby and stress them out. But I recommend it frequently for back or ligament pain.
Can you fall asleep with a heating pad while pregnant?
I never recommend falling asleep with a heating pad during any point of your life, unless it is microwaveable (one of the big perks to using a microwaveable one). It can just over-heat your body and can be problematic (including fires).
Heating pad for pregnancy back pain
It can be AWESOME for that. I would be more willing to use an electric one on my back vs near my belly but I would still be cautious (and don't fall asleep on it).
Other things to consider for pain during pregnancy
A lot of the aches and pains you experience during pregnancy are totally normal, but I would certainly discuss them with your provider to make sure you're still good to go.
Other things you can do (under the care of your provider)
Prenatal Yoga (there are some poses you shouldn't do while pregnant, so be thoughtful of that)
Mild stretching
Pregnancy support bands (like this)
Pain medication (like Tylenol) — there are options depending on how far along you are in your pregnancy
Using a body pillow to support you during pregnancy sleep — like this
I am a big believer in giving your baby the most neutral environment to grow during your pregnancy, so the less you can use medications and even heat, the better. Before you know it, your body will be back to being your own and you'll be able to do what you please — but during those nine months, be thoughtful of what you can tolerate.
If you liked this post, I bet you have other pregnancy questions that can be answered by Hilary here.
Be sure to sign up for my pregnancy series and check out my other pregnancy posts below that: