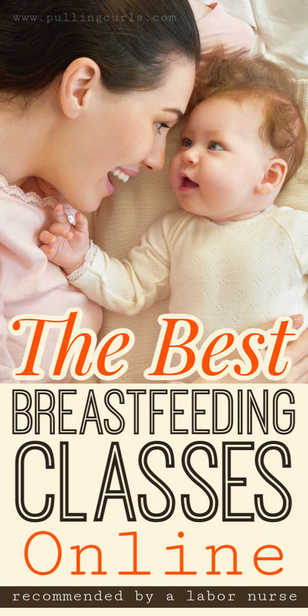 Taking an online breastfeeding class is a GREAT way to learn how to feed your baby. Much of the class is NOT hands-on (as you likely won't have a baby when you take it) and is easily learned online. Many include awesome graphics and instructional ways to help you understand it well!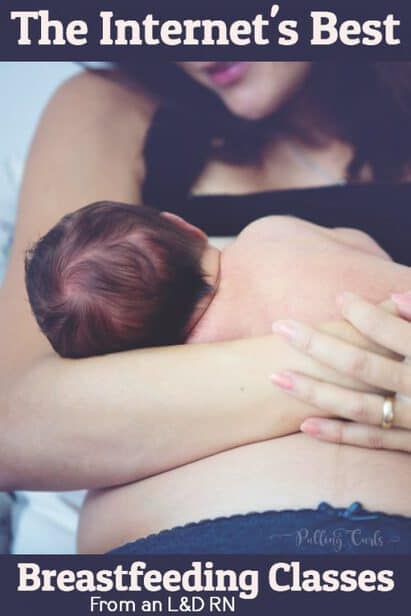 Online Breastfeeding Classes
Why take a breastfeeding class online?
As an L&D nurse since 2001, plus the creator of one of the best selling online prenatal classes I strongly believe that a breastfeeding class is paramount to understanding how things work and having a better experience.
You may be wondering about breastfeeding because you're leaking colostrum and wondering if it's a sign of labor — and I have a post on that on my sister site!
What will you learn in an online breastfeeding class?
Here are a few things you should expect to learn:
Basic breastfeeding anatomy (all the parts)
Basic breastfeeding physiology (how all the parts work, and how milk is made)
Basic positioning (a few different positions to give you options)
How to troubleshoot some normal breastfeeding issues
How to know if breastfeeding IS or is NOT working
When to know to get help
Honestly, those are the same things you'll learn at an in-person class
Perks of taking an online breastfeeding class
No traffic
You can do it on your own schedule
Taught by people who do this REALLY well (as they run their own business doing it, vs just some nurse they asked to do it)
Well thought through as none is done spur-of-the-moment
Easy to invite your partner to watch it with you
As you likely have quite a long access, you can review the lessons you need once you get closer to delivery or after the baby is born!
Cons of taking an online breastfeeding course
If you learn MUCH better in person than online, this may work better for you
Able to ask questions (although most online classes have a place for questions as well)
You might be able to meet some of the lactation workers who will be supporting you in the hospital (but those aren't the ones that always teach those classes).
As you can tell, I'm a big fan of taking it online, and having that resource to support you whenever you want it. 🙂
When should you take a breastfeeding class?
I don't recommend taking any pregnancy class til' you're about 20 weeks. I have a whole post on when to take a childbirth or breastfeeding class.
Cliff notes: I'd recommend starting it at about 25-30 weeks.
Online ones are great as you can do a quick run-through early on, and then deeper dives as you advance in your pregnancy and get closer to your due date (even watching them again in the hospital!)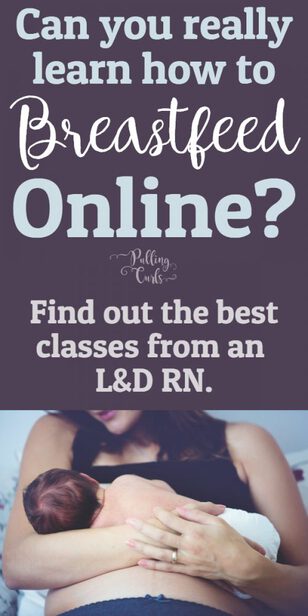 Best Breastfeeding Classes
I have four breastfeeding classes that I recommend, all have good points (pricing for the classes is correct at the time of publication):
Real-Life Tools Breastfeeding Class
The Breastfeeding Mama On Demand Breastfeeding Classes
My friend Katie (who's been on my podcast three times) has a new breastfeeding course that I am just wild about.
My BIGGEST beef about breastfeeding classes/educator is that they ignore the rest of your life and pretend that ONLY breastfeeding matters.
My friend Katie is going to give you the real life tools to make breastfeeding work for you. She has a full course, but also has a couple of smaller classes for specific needs as well:

Pro's of Breastfeeding Mama Classes
Great, realistic tips
Supportive Facebook group and instructor
Targeted more towards just what you need
Con's of Breastfeeding Mama Classes
Newer on the scene, less reviews
Basic Breastfeeding Class
Milkology Breastfeeding Class
Milkology is an AMAZING resource for new moms. I felt like it taught 100% of everything that is taught in a regular breastfeeding class. Stacy has great graphics and really explains things SO well.
It is priced really well:
Pro Tip: If you buy the ultimate breastfeeding class, keep your eyes peeled to get the back to work class for a great price!
Pro's of Milkology Breastfeeding Classes
Clearly, the price is the biggest pro! What a huge value for such a small price tag!
Time: Each class is just 90 minutes, which is great. No fluff (which can be a problem in a lot of online courses)
This also isn't overwhelming. There is no need to have every. facet. of breastfeeding before you have your baby. An awesome prep class!
Con's of Milkology Breastfeeding Classes
Things are a bit "sterile" as it's taught via powerpoint rather than face-to-face. However, the videos are super informative and great, just something I noticed.
I didn't find a lot of troubleshooting tips in her classes, which is problematic if you find that breastfeeding isn't working. However, all the trouble-shooting can get overwhelming, so I think her basic breastfeeding class is awesome before baby is born! I also have a post on what to do when breastfeeding isn't working.
Newly Updated Breastfeeding Class
Cindy And Jana's Breastfeeding Classes
Cindy and Jana's class is the one I have recommended the longest. I think it is the most well-rounded, and I really like all the trouble-shooting techniques they give you.
It's really like learning from a trusted mom friend, it's great!
Pro's of Simply Breastfeeding
I like that there are two of them, so you got two viewpoints
They are SUPER experienced and that really shows. Both in hospital and out of the hospital
They REALLY care that you have an easy transition into postpartum, and put you above forcing breastfeeding (which I think is super important)
I REALLY love the parent tips that they have included in their new update. Great ideas!
Con's of Simply Breastfeeding
It's a bit more expensive than Milkology
It is a bit dry — but I love to keep things fun (as people say from my podcast).
Most In-Depth & Polished Breastfeeding Class
Lacatation Link Breastfeeding Classes
Lacatation Link classes are probably the "gold standard" to breastfeeding classes (and their price shows it). They are a VERY popular option for lots of moms. She has a few of them, and then also all 3 in a bundle
Pro's for Lactation Link: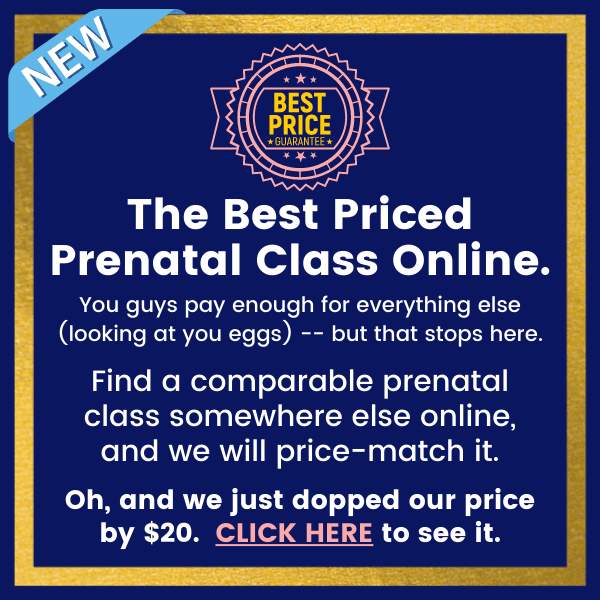 Everything is SO professionally done, really pretty videos & site (which costs money)
Lindsay is a trained L&D RN and is IBCLC-Certfied, so she clearly has a lot of training! Her ability to troubleshoot shows that.
She offers both e-consults $49 and in-person consults $100 — located in the Salt Lake City area
Been around quite a while, so you know she promises to provide a quality product!
Con's for Lactation Link:
Clearly, it's pricing. I believe that you need all three of those classes (possibly not the pumping one if you don't plan to pump at all) — so that is a pretty big investment!
Free Breastfeeding Classes
Wanting to get a "taste test" before you do the real thing? There are a few free ones (but I admit that none are comprehensive):
I do offer my own free class: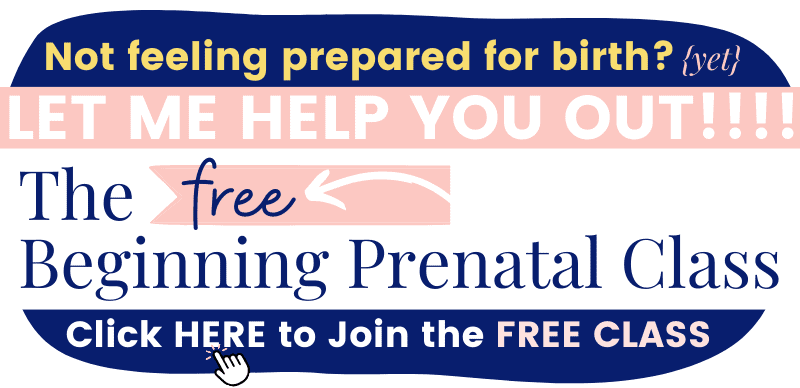 Which Breastfeeding Class Would I Take?
I really do recommend all of them, clearly for different reasons.
I think if I HAD to pick one, I am torn between The Breastfeeding Mama and Milkology. Both offer great information at good prices.
I would recommend checking out both sites and see which you prefer. Both of them have some freebies and have good information on their site.

I love Lactation Link's classes, but I also know all too well about being strapped for cash, especially on that first baby!
---
I hope this information on breastfeeding classes helped out. I'd also love to see you in my Online Prenatal Class — I don't discuss breastfeeding (which is why I recommend these three), but I do share some basic newborn tips with a bonus include — check it out!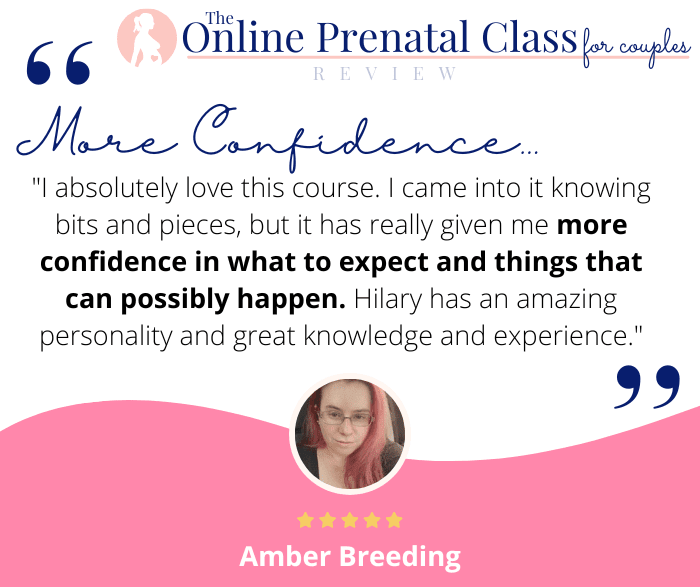 [pt_view id="0fae3f0c8d"]