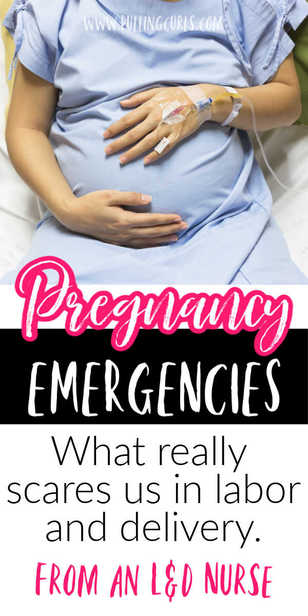 Pregnancy can have a lot of complications, but today I want to talk about pregnancy emergencies. These are obstetric emergencies that a good hospital is trained to handle, but with some care from you — we can make sure it doesn't get this far.
First off — how do I know all of this? Well, after being a labor nurse since 2001, I've seen all these things, and I am trained to help in each of these situations. I'm excited to share a bit of what to watch for with YOU so that we can be partners in your health care.
BTW, looking for more things to watch for and what tests might be offered in the third trimester? Check out this class. It's so nice to get a prenatal class done on your own timeframe. I love it!
Prolapse Cord is a pregnancy emergency
A prolapse cord is when your water breaks and the cord falls out into your vagina.
It happens most frequently in the hospital when doctors break water (likely, because most water is broken in the hospital).
If it happens when the doctor is there, you will be rushed for an emergency cesarean section.
If it happens at home you need to get on all 4's put your head on the ground and your butt in the air, and call 9-1-1
It can be disconcerting to have your water break at home at any time (sometimes you wonder if you just peed), but if you feel a gush, just make sure you don't feel anything else hanging out — the cord is thick, about the size of your thumb, so you'd feel it.
The idea of doing that is that you want to take the compression of the baby's head off the cord. By using gravity to get baby closer to your lungs, it can help your baby have a chance of survival.
If the ambulence comes and asks you to sit on a gurney tell them no.
This is pretty darn rare, but it is a true emergency and you, 100% need to call 911!
Seizures is a pregnancy emergency
Unless you have a history of seizures, having one in during pregnancy is an emergency.
It is usually a sign of preeclampsia (it's actually the "clampsia"part of that word).
It is really important that you try to avoid this.
Ways to avoid a seizure:
Go to your prenatal check-ups. At those, your doctor will check your blood pressure and you urine to make sure they are normal
If you have a headache that doesn't seem to be going away (try, tylenol, 3 LARGE glasses of water, and a balanced meal first) — call your doctor, it can also be a sign of preeclampsia
Hemmorhage is a pregnancy emergency
While these can happen while you're pregnant, they are more likely to happen after you have the baby.
If, at any time you have a gush (and I mean a full pad) of bright red blood, you need to get into L&D — call your MD on your way.
However, after you have your baby — things are a bit more unclear.
With each child you will bleed a bit more, and that is normal.
Things to watch for: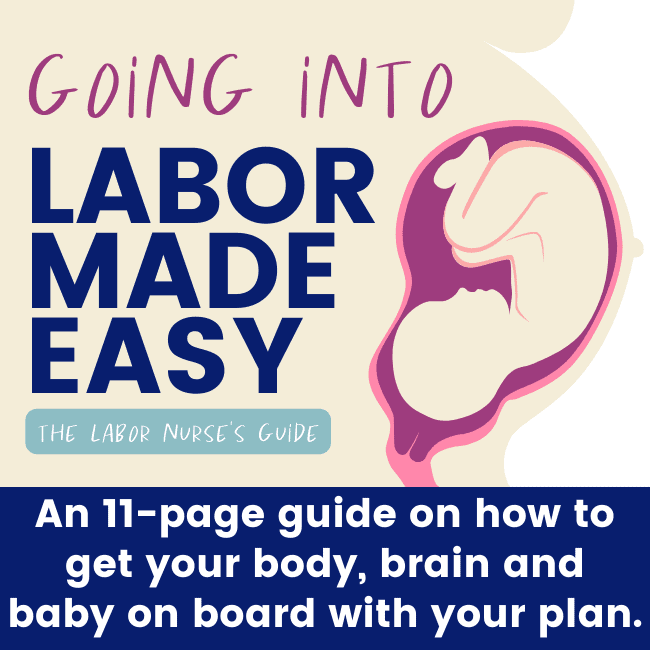 Large gushes of blood (it is normal to have a small gush when your nurse pushes on your fundus, or when you sit up or stand up)
Blood clots larger than a golf ball
Soaking a pad in less than an hour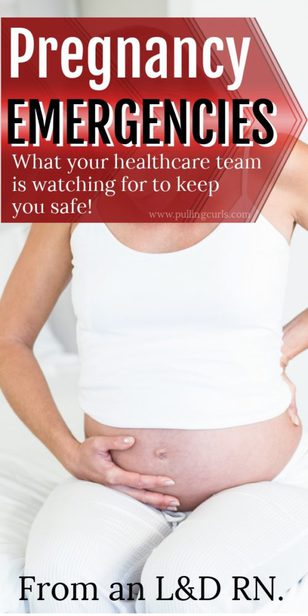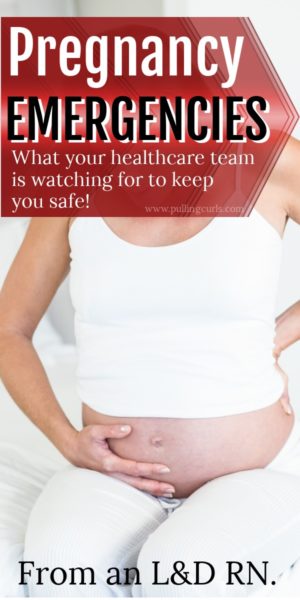 Decreased Fetal Movement can be a pregnancy emergency
Your baby not moving can be an emergency — which is why I recommend doing kick counts daily (that article shares that 1 in 4 fetal deaths can be prevented by doing kick counts daily).
I get concerned when people come in and say their baby is not moving.
Most often everything is fine.
If you're not feeling your baby moving. Have 2 glasses of ice water (drink it all fast), eat a balanced meal or snack with both protein and carbohydrates, and then take some time to just sit there and feel for him/her.
BUT, doing daily kick counts is SO imporatnt. I share it with ALL my patients and the millions of pregnant ladies who have visited my blog.
I am super passionate about it. 🙂
Danger Signs in Pregnancy
I have a post that talks about what to call your doctor for, but I also love how this class talks about what to come into L&D for and will reassure what's normal and what's not. You can even save 10% with code PC10.
If you liked this post — be sure to sign up for my pregnancy newsletter, that will give you helpful tips and tricks for just how far along you are (and check-out my other pregnancy posts below that):
[pt_view id="0fae3f0c8d"]