Are you looking for fun family costumes? Look no further than our Flintstones Halloween costumes! Group costumes are so fun when your family will go along with them. The great thing about the town of Bedrock is that there are a lot of characters to choose from. We have costumes for our whole family and there are still more characters if you have a larger family.
Let's get started – Yabba Dabba Doo!!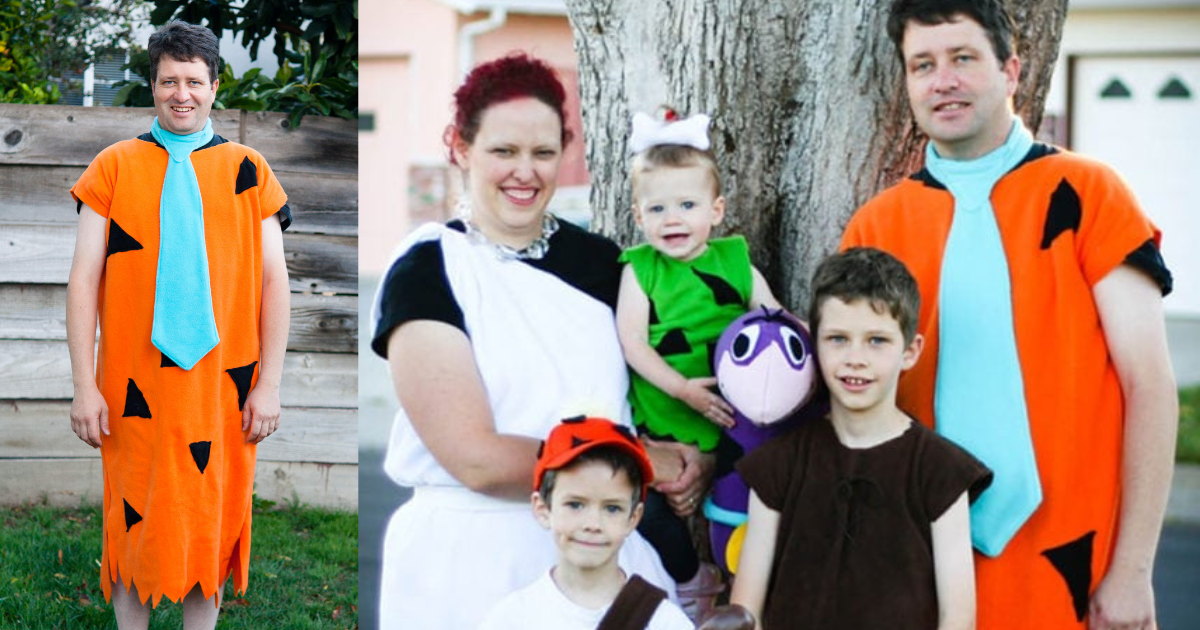 How to Make Costumes for Different Flintstone Characters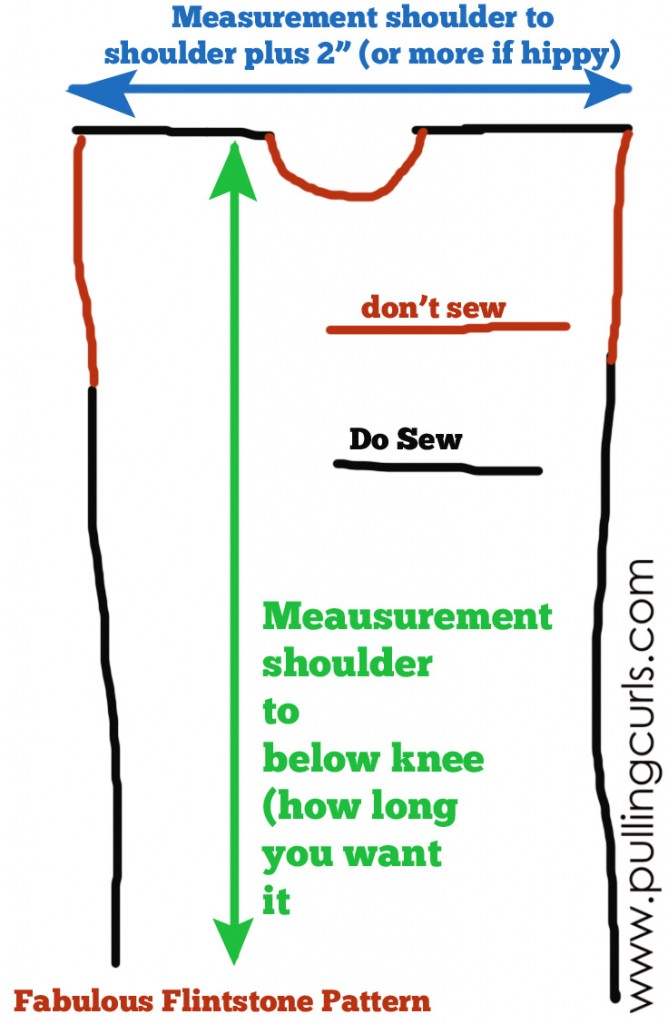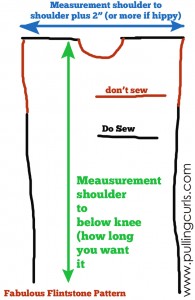 These Flintstone costumes are an easy, fun way to celebrate Halloween! Whether you need costumes for a whole family or couples costumes the Flintstones are classic costumes.
I'm sharing easy tips to make costumes so you can trick or treat as your favorite prehistoric family. I made costumes for Fred, Wilma, Barney, Bam-Bam, and Pebbles.
The Flintstones costumes are so bright and colorful. Drew's is actually one of my favorites. They are SUPER easy to make and fairly cheap — especially if you can find fleece on sale. Let's go!
Flintstone Family Costumes
All of the costumes have the same basic technique — shown on the left. Measure the person shoulder to shoulder, I also measured around the largest part of them paying attention to hip and chest size. Note that I said to measure around the largest part not just across. You may think the shoulders are the largest part but it may be your chest, hips, or rear end.
Use that measurement to cut out giant rectangles (the top of the rectangle would be the shoulder measurement plus 2″, or 1/2 of your hip measurement plus 2″), the length of the rectangle, will just be how long you want it to be.
I let my family members have input as to how long they wanted their costumes.
I didn't cut any "swoop" to the neck until I finished the rest of the assembly. In the end, I don't think I cut a "swoop" on most of them.
The great thing about how easy this "pattern" is is that you can make any size costumes with this layout.
Take note that you're just leaving holes for the head, arms, and legs. Here are the specifics for each character.
1. Fred Flintstone Costume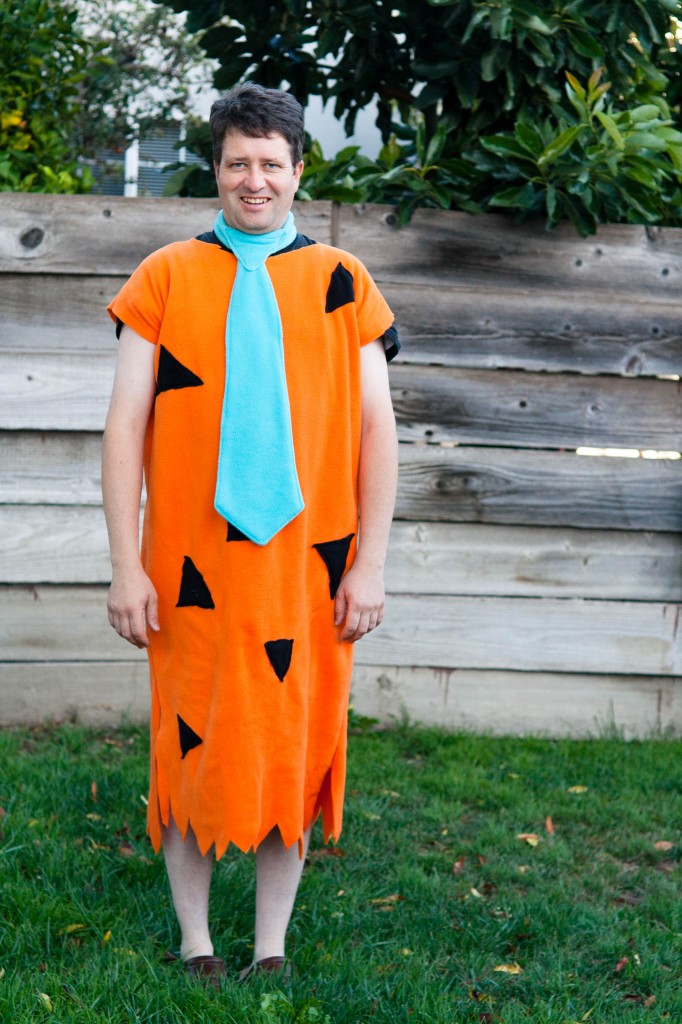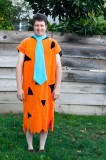 Make the rectangle out of orange. I cut triangles out of black fleece and sewed them on (you could easily use fabric glue instead).
For the tie… First I measured how long I thought I would want it on Drew's frame (asking him also) and cut out the diamond tie shape. I then sewed the right sides together, turned it out, and sewed it closed. Make a triangle for the top and sew that onto the tie part. I made strips of fleece, sewed the whole tie onto that, and then sewed velcro on the edges of the fleece strips.
The last step was to cut a jagged hemline at the bottom of the orange so it was more "raggedy".
2. Wilma Flintstone Costume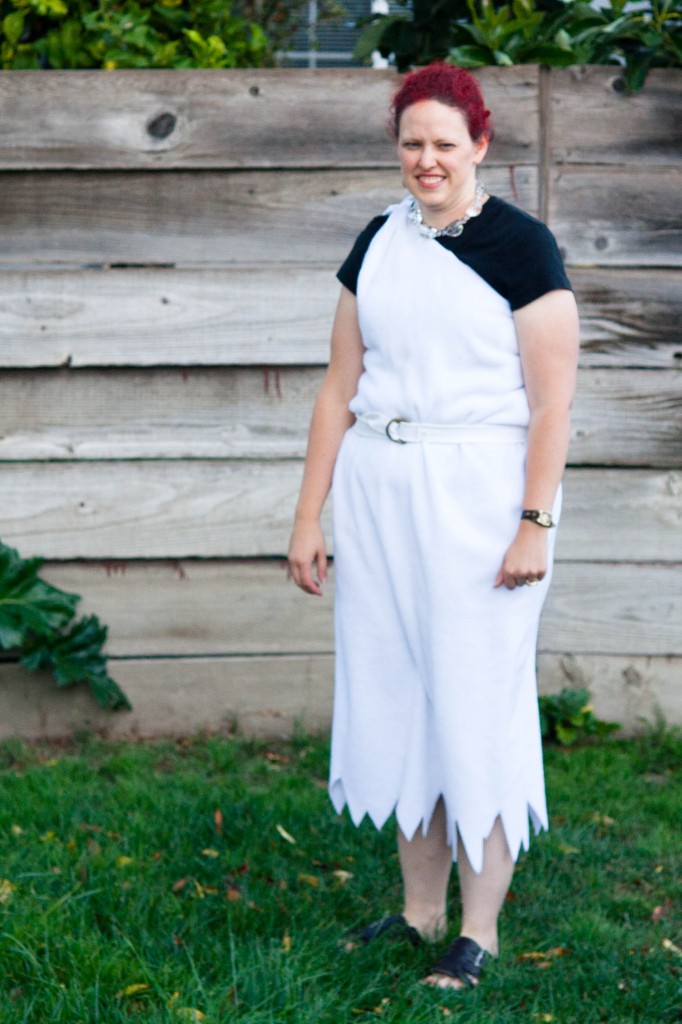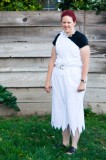 For my Wilma costume, I used the same pattern style as above and then cut off a triangle from what would be one side of the neck hole leaving an area to sew the shoulder to what would be the bottom of the opposite armhole.
Sew the shoulder and side seams and cut a jagged bottom hemline and your dress is done.
Wilma Costume Accessories
A consistent of all Wilma costumes are the accessories. Whether you make your own white dress or purchase one the accessories are a must. You need a giant necklace with large white rock-looking stones. Wilma's hair covers her ears in the costume so depending on how you do your hair you can wear earrings or not.
I added a white belt to my costume to give the dress the gathered waist Wilma's dress has. I also think it's important to remember Wilma always had red lips and her orange/red hair.
3. Bam Bam Costume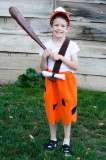 The Bam Bam costume is the most different from them all. I made a skirt by measuring his waist and having him decide how long he wanted it. Then I rolled the top and ran Elastic through that the size of his waist (I measured his waist ahead of time, and took off an inch — and cut the elastic to that size).
I made a bone (sew a bone shape, right sides together, then turn it out so the seams are on the inside, and then stuff it with batting and sew to close).
Next I cut a strip of brown fleece, and sewed it together (long enough to go around his body from shoulder to waist. I sewed that onto his skirt and threaded the bone through some slits I cut.
In the end I ended up buying an orange hat off Amazon after looking locally without success. I glued on black triangles and a made a puffball out of yarn to go on top. I also got him a little club on Amazon.
4. Barney Rubble Costume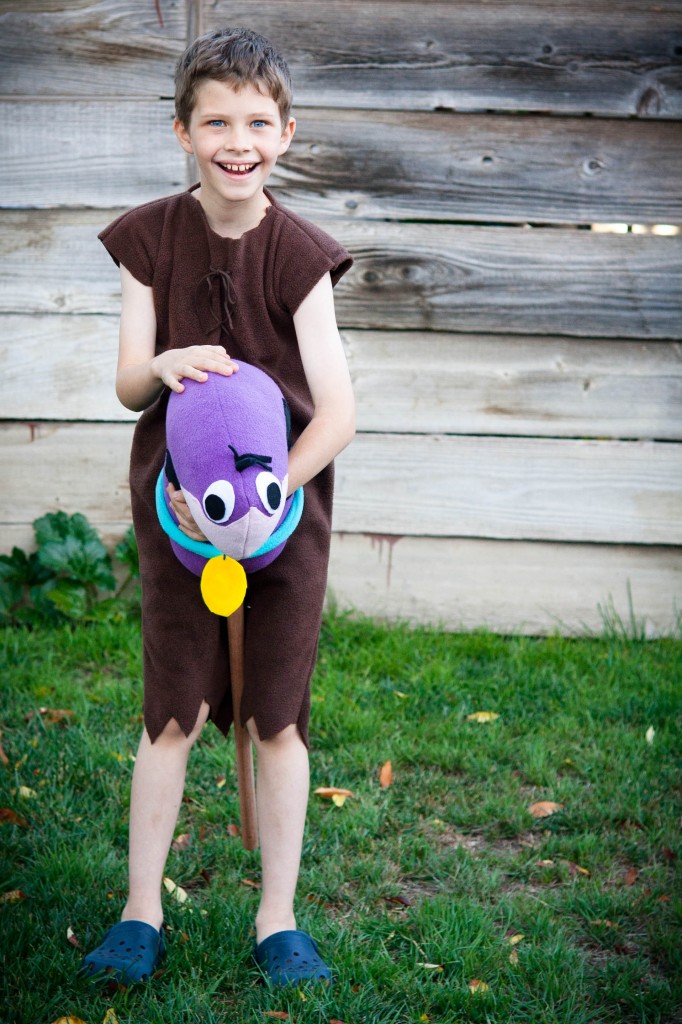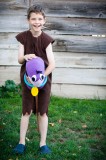 Similar to Fred but even easier. This is a very simple costume. You could also use this to make a caveman costume. Easy peasy on that one. Follow the steps for the Fred costume except you'll use brown fleece and you don't have to add a tie or any triangles.
5. Pebbles Flintstone Costume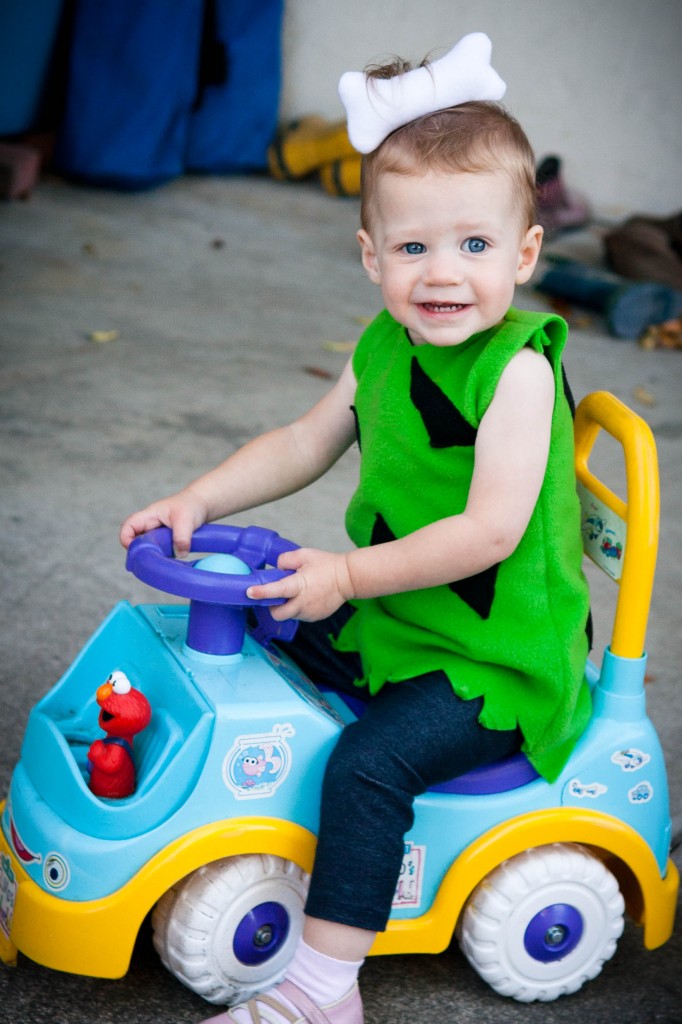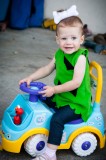 To make the little girl Pebbles costume I used the same process as the Fred costume but made it shorter and green. We added black leggings but if it's really warm where you are you could add little shorts as pebbles wears.
I made a bone to go in her hair, but back when we did this, she had SO little hair, it was hard to keep in. I wish I had just done it on a headband or something.
On this costume, I did end up needing to make a closure for her head to fit through (she was 1 at the time, and her head was still pretty big, compared to her body). I just cut a slit in the back and added a velcro closure (I always sew velcro on fleece, I don't feel like the adhesive kind sticks to fleece at all).
Bonus Dino Instructions.
The main thing I remember about Dino is that he was a pain. I cut him, as shown on the right. Then I sewed him right sides together and turned him out.
I filled him with a fair amount of stuffing and then cut his other pieces and glued them on. That was painful, and hard to get even.
Then I took a dowel and covered the end with a few rags, which I hot glued and sewed down (so they wouldn't fall off, and wouldn't come poking through Dino's head).
I made sure that Dino's head was WELL stuffed at that point, and added the dowel up to the part where it starts to curve. Then I kept adding more stuffing around the dowel until Dino was firm (he may have up to 3 bags of stuffing in him, he's pretty firm). Make sure to leave enough room to gather the edges at the bottom. I ran a basting stitch around the bottom (in purple, as this will show) and gathered it up.
I stuffed in as much stuffing as I could before pulling it all the way closed. Last, I hot-glued around this like crazy. Frankly, I'm shocked it's still around and looking ok — but it is.
I think one of the main reasons it doesn't slip much is that I had hot glued rags down to about that area, so with it being filled firm, and then gather with the rags it doesn't have much room to scoot around.
The Flintstones Costumes can be fun for a whole family. Wear them trick-or-treating or to a Halloween party. They're pretty easy and definitely recognizable.
If you're making your own Flintstones costumes I hope this was helpful! Make sure you share your costumes with us if you make them!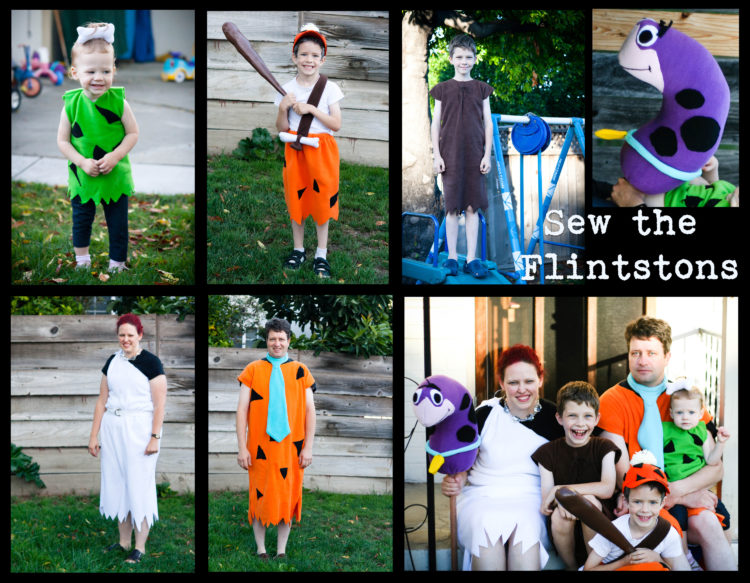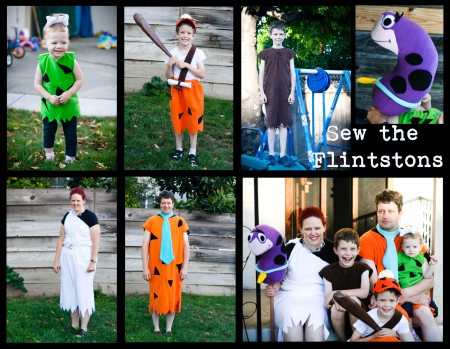 Be sure to check out all my Halloween Costume tutorials!
Check out my other costumes:[pt_view id="0726fa8b7b"]