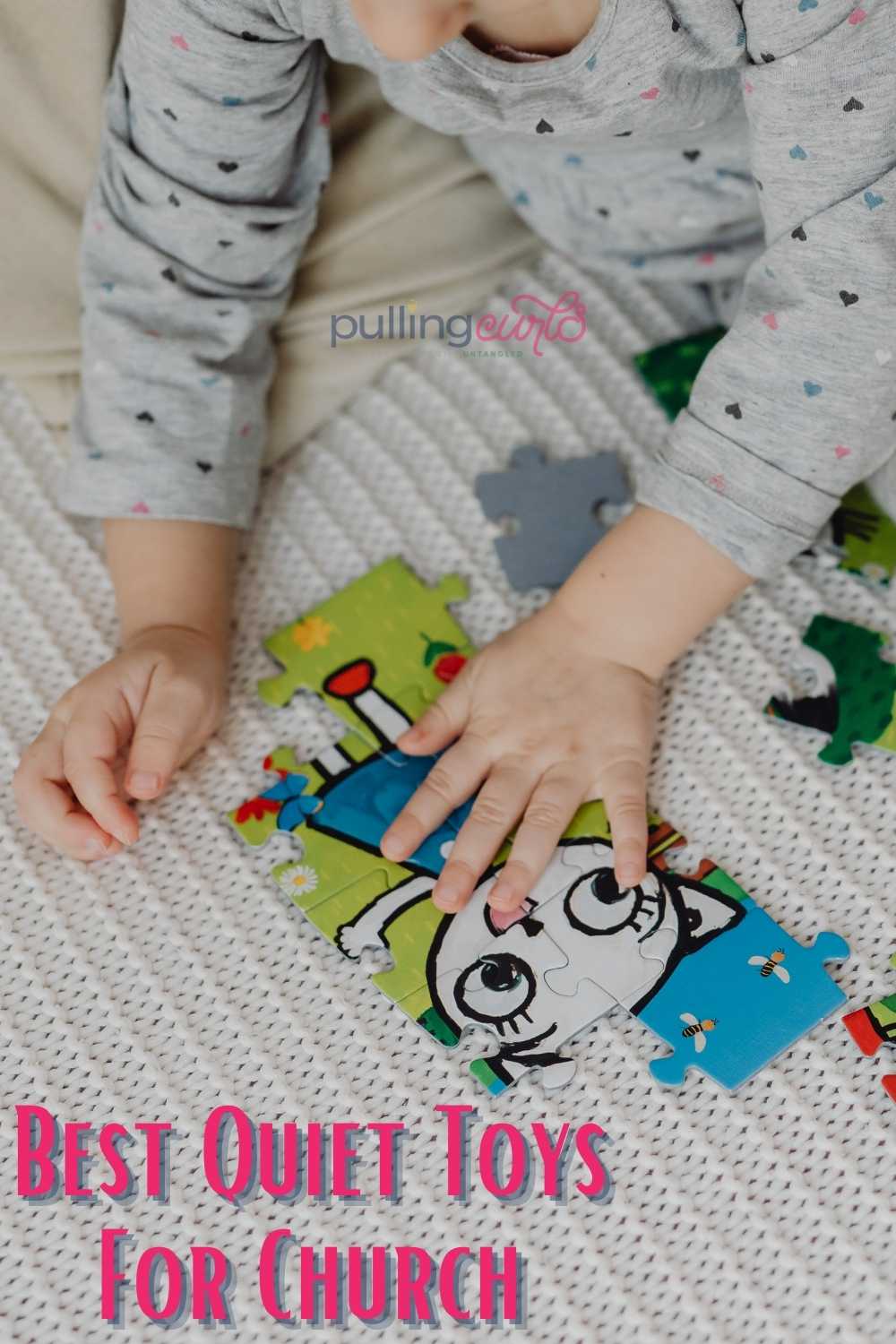 Quiet toys for a church bag or busy bags are a great way to help young children be quiet when you're in a meeting (or church). This post will teach you how to make children's church activity bags.

I have a wildly popular post about quiet bags, or church busy bags. The reality is that before I had the luxury of sending these kids off to school I had one, even up to two, kids who needed to attend an event with me and be relatively quiet, even beyond church. I have a quiet drawer for our church toys, and a quiet box for other quiet activities.
Getting quiet bags is all about the routine of packing them and making sure you have them ready before an event or church service. Just sayin' — routines are the bomb and I can help you get in them. 🙂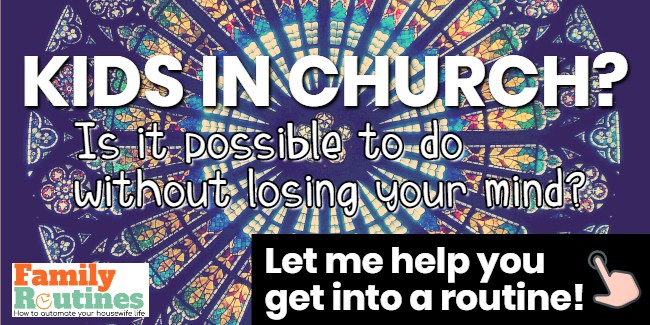 Before we get started, if you have a child 0-36 months I LOVE the toys in the Panda Crate. I outline what I love about in this post about what to do with your baby all day, but they're top-notch toys and most are also very quiet. 🙂
Quiet Toys for Church
Church Activity Bag for Small Children on Sunday mornings:
1. Books. Of special note are books that have doors that open (or flaps that lift), or things you slide, any book that requires an action is highly prized in this area. Again, I checked at Goodwill, I looked at garage sales and I bought from bargain book shelves. Some of the different books have religious tones or bible stories, but many don't. At one point my dollar store had these smaller books with GIANT flaps that were SO perfect for little hands. The key to finding good quiet bag items is keeping your eyes open.
Favorite Quiet Books:
I love Touch/Feel books like this one
I love fabric quiet books like this one
2. Coloring, and stickers. Once my kids hit 18 months I bring out the coloring options. I like twistable crayons the most for church. They don't break and they are plenty sturdy for small hands. Right now my 5 year old gets a notebook, and a coloring book. I have a few coloring/tracing/workbooks that we rotate between. Coloring and drawing is a great option for young kids and older kids as a quiet activity.
Favorite Coloring/Activity Quiet Books:
3. Quiet Toys. I no longer bring toys to church but I do before kids are good readers. Usually just one small, silent item. etch-a-sketch,a small felt board, small dolls, or those draw and erase boards are great. I have had a lot of finger puppets (love the Ikea ones), or sensory bottles. The key is SILENT toys. Also toys with few parts because I have 12 million things to do on Sunday and I don't want to miss pieces. I also try not to use toys that can easily be thrown or make excessively fun banging noises. Seriously, it's trial and error on this one. But I have found some great toys for our special bag. 🙂
Favorite Quiet Toys:
I tend to bring 1-2 of of these 3 items. Right now, she gets a book and some coloring, and that is all she needs. When she was younger, it was certainly more (and before she went to nursery I had a GIANT box of church-only toys that I rotated through).
This is the boy scouts moms and dads, be prepared.
Busy Bags for Church
When my youngest was about 2 we did a giant busy bag exchange at church and it was AMAZING. It allowed us to build a huge collection for our children's church activity bags.
Seriously, we all made our own bags (which streamlined the process, and allowed us to buy items in bulk making it, ultimately, cheaper.
They were great for sacrament meeting or quiet time. Don't think you need buy a new bag for this, just use an old diaper bag.
Steps to a busy bag swap:
Get a group of friends you'd like to do it with
Make a giant Pinterest board with ideas (invite everyone to pin there) — there are a TON of busy bag ideas on Pinterest!
Make a google doc signup sheet to make sure people aren't over-lapping activities
Have a date that you come to exchange.
Besides the fact that you're cutting a TON of circles or whatever — they are absoutely great! Well worth the time you put in.
Quiet Toys for Meetings:
For me, I don't demand my kids are silent in my meetings. Most of them are attended by mothers, some of which like to color with her or reminice about when they had to bring their own kids to meetings.
1. Polly pockets, and i'm talking the old cool kind. NOW, these have a lot of small pieces, which is OK if we are sitting at a table. She LOVES these. I found them all at Goodwill and they have been a wonderful find. Matchbox or small cars would be the boy version of these.
2. Paper dolls — or, I have found some magnetic doll sets that are really neat.
3. Coloring — color wonder is great. I try not to bring markers to church, but I allow them at meetings (especially color wonder).
4. Tiny dolls — any kind. The girl loves to pretend and these don't make much noise.
5. Spelling items. We had a similar rotating spelling toy. That was fun for the kids (still in our quiet box).
6. Puzzles — I really like these cube ones. Again, found at Goodwill! You can find some of the best quiet toys and quiet time activities there!
7. Beading — the more you can work on lots of hand eye coordination, the better, am I right? Little fingers need to practice fine motor skills. I would bring just a few in a tiny tupperware container.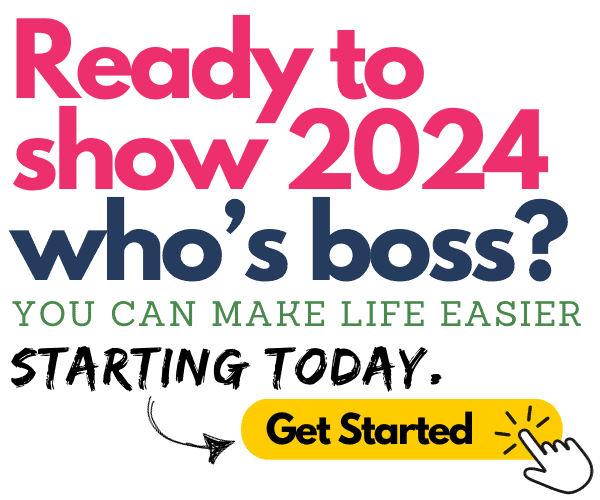 8. Busy Bags — we did an exchange for these once as friends and they were SO nice. I love them!
9. Letter writing practice. I have had wax pencils, dry erase boards, wipe-off crayon boards, you name it we've used it and it is GREAT practice! AND, quiet!
10. Small video games. I also have some old marble games from when I was little. These are louder than I normally care for, but it depends on the type of work I am doing. I REALLY try not to resort to electronics, but you can be sure I've thrown my phone to her a few times. I'm sure if I had my Kindle Fire back then it would have been a mainstay.
11. Stickers. Oh baby, do we love stickers. Sticker books, random sticker sheets — you name it, we play it. Big fun.
For a while we had a pipsticks membership which was AWESOME!!! Especially when I had a lot of meetings as PTO president these were lifesavers, the variety was well-worth the price!
The main key is rotating through all of your stuff. Much like my shirts, I put the items we last used at the back, and then push forward the other stuff. That way, when you grab from the front, those tend to be newer things that you haven't done in a while, and will hopefully capture some interest.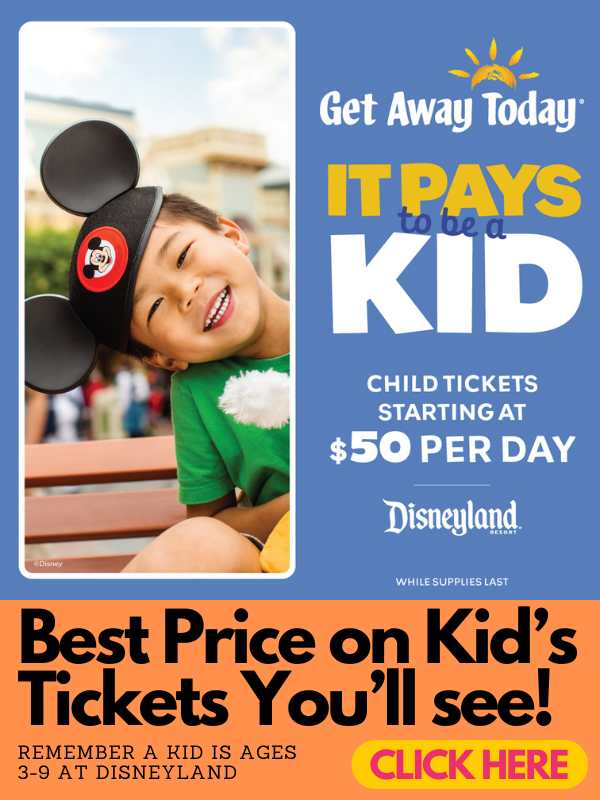 FAQ's about Quiet Toys for Church
Quiet Toys for Babies?
Babies are pretty easy — there are tons of teethers and a quiet book that can take their attention pretty easily. Here are a few things to think of:

Fabric books (especially ones with textures)
Sturdy board books (we often got some at the dollar store that kids could gnaw on during church)
Mirrors (babies love mirrors!)
When they're extra tiny, cards in black and white are fascinating because of their high contrast)
Quiet Toddler Toys for the Airplane
Airplanes have some special considerations.

One thing my kids LOVED on airplanes were the color wonder markers. The only problem is them dropping them and losing them, but they are a great "treat" for a time like a plane.

Most of the other items in this post are great as well!
---
Do you have any tips for quiet bags? Share them in the comments, Id' love to hear more. Even though my 5-year-old is in school we still have meetings to go to every now and then. I really don't miss the weekly toting-a-child-to-a-meeting-phase. I must admit.
Do you have any favorite quiet toys? Feel free to link to them below (I'll even allow affiliate links of high-quality non-spammy type toys).
FYI– This post was originally written in Jan 2015, and has been updated since then.