Have you read all the articles about summer learning loss? It's where your kids brains turn into applesauce during the summer as they veg out and watch TV for 8 hours (or longer) per day. Ok, maybe your summer doesn't look like that, but here's my 7 tips to prevent summer learning loss: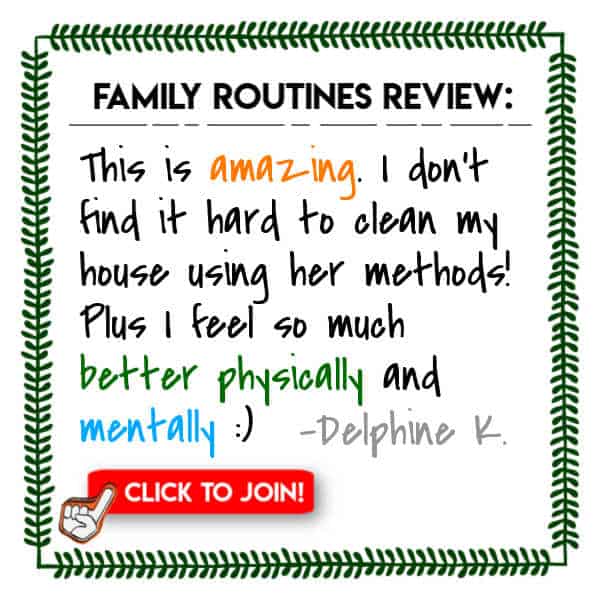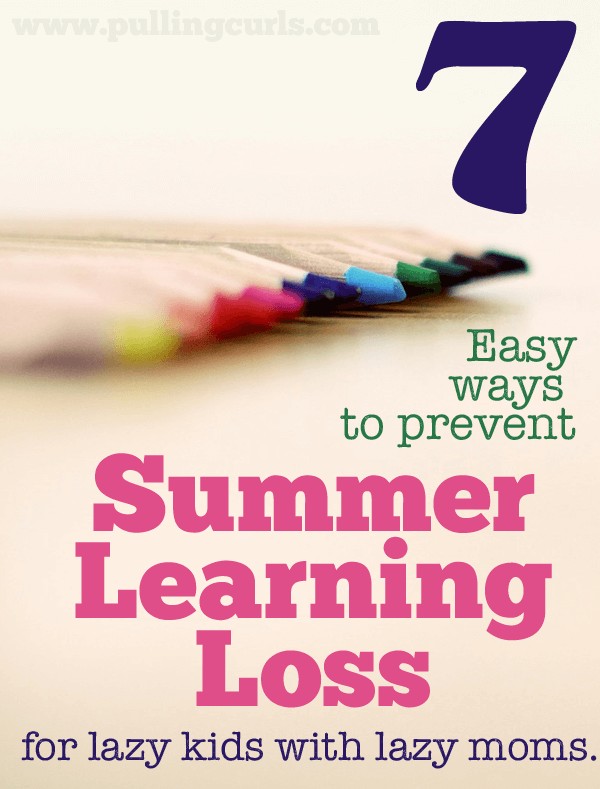 Some of the links in this post are affiliate links.
It's REALLY hot here during the summer – so having an oasis full of learning materials is a big win for me. To bribe my kids I allow unadulterated computer time for about a half an hour after I check out books. They love being on the computer all together. We try to go weekly. I am careful to get a few non-fiction books each week that they can enjoy, as well as plenty of fiction. I let them pick out about 80% of their books, but I try to throw in one classic that I "require" (that is in quotation marks because it is as much as you can "require" anything during the summer, I make a good effort though) them to read. I try to make it one they'll like. Seriously, I think the library is one of the most under-utilized things in a parent's arsenal anymore. Don't go to a bookstore, save your money and go to the LIBRARY! Be sure to check out the summer reading program too! While you're there, check out some books to be a good example. Make sure kids have some reading time daily.
2. Use YouTube.
Once you've checked out those informational books on a subject your kid is interested in, find some great YouTube videos to enhance your learning on those subjects. We just watched the coolest video about cow's lungs yesterday. I was talking to Mr Middle about how lungs work and your diaphragm was involved. He looked at me with a blank stare until I pulled up a YouTube video (the cow one wasn't actually all that informational on that subject, but was very cool).
3. Find a way to use math!
Math is one of the biggest ways kids lose learning during the summer. Basic math facts seem to float out of their brain when summer comes by. Here are some of my favorite ways to keep math inside those brains:
Cook — talking about doubling a recipe, work on factions that way!
Find a fun way for them to keep learning them while not feeling tied to paper — these math wraps are cool!
Quiz them in the car, and include yourself. Have them make you a question, then you make them a question. Maybe they can help you with placenta loss. 🙂
Find a cool math video game. There's plenty of them out there that will test their math skills, while making them fun. A great majority of my kid's computer time has to be educational during the summer. They don't tend to mind, especially if I take the time to bookmark some fun sites for them before school gets out.
4. Workbooks?
We do workbooks. About 4 times per week. My kids do well with paper and pencil and it is an easy way for me to see what they're knowing and what they're not. Also, we are inside most of the summer. It's just hot, hot, hot here! I try to get them at Costco. They often have good ones before school is out. Or, check your local learning store, or Amazon (those summer bridge books make giving them a variety easy, as they rotate through the different subjects daily). Don't feel like you need to complete the whole thing. Just do it on days you're home.
5. Vacate.
Vacations are the BEST time to learn things. Stop along the way, read whatever you can. Learn about it. Get google up on your phone before you get there (or after) and learn more about it. Find great museums, spend time in nature. SO much can be learned in a family environment while vacationing.
6. Tell stories.
My kids aren't ones to sit down and write. Which, is a shame, because our school really wishes they were. BUT, they are likely to tell stories together. I am a particularly great story teller, and as they learn from me they learn about adding details to their own stories, and I just have to hope that they'll put that type of thing on the paper come the fall. Tell dad what happened during the day when he gets home. Life has lots and lots of cool stories within it.
7. Do art!
When you do art, be it drawing, or even just a craft project (or even pounding playdough) you see life in a new way. You're trying to replicate it, so you look closer. Art time is a favorite at our house. Some things we like to do:
Clay (or playdough, but my kids are getting old enough they want to bake and pant things, durn it)
Watch some videos on YouTube about people sketching things and then try to replicate it.
Anything involving glitter (and then I have a heart attack — I am NOT the messy art mom, although I try)
Tons of cool projects on Pinterest I can replicate.
If nothing is sparking ideas, maybe grab a coupon and head to your local craft store. Something is likely to spark an idea there! They even have cool kits that kids can replicate something from another time period (see #2).
So, there's my 7 tips to prevent summer learning loss. Sadly, there's nothing to prevent your brain from shrinking as they whine that there is "nothing to do" in the afternoons. Luckily, when they do that you can always hand them another page of the workbook. Maybe that will keep them quiet the next time!
If you liked this post, you might be interested in a similar post I did last summer, my summer schedule post, or following my MomHacker pinterest board.