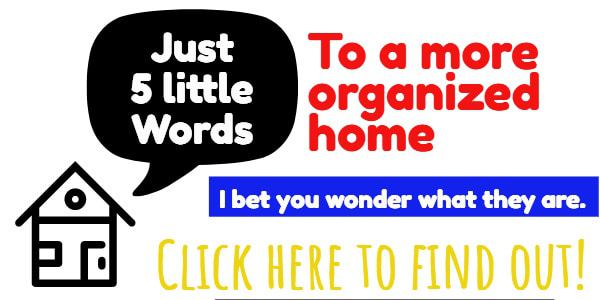 Yes, getting your baby to sleep is tough.  They're new, you're new to them.  You're not really sure who they are or what their cries mean.  It is TOUGH.  But, once you get a baby to sleep well through the night you feel like you're on cruise control.  Baby sleep regression can be a tough thing on parents (who are worried they're headed back to the newborn daze).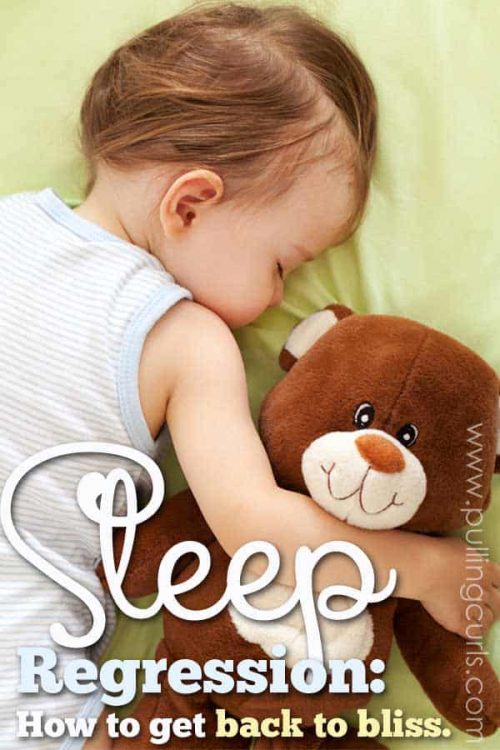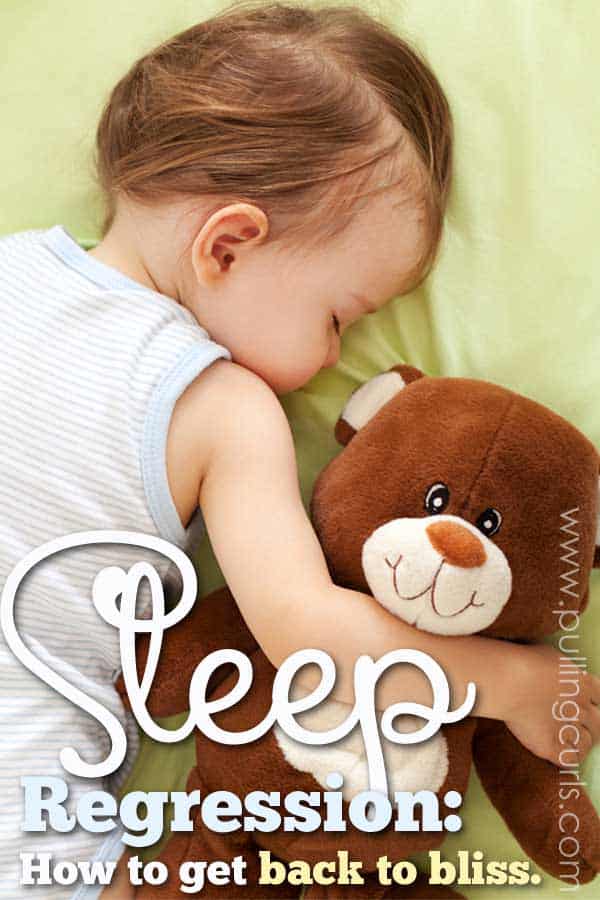 With princess P it was anything BUT cruise control.  Although much of her sleeping was rocky, she hit a horrible sleeping speed bump at 18 months.  I thought I was going to lose my mind.  Well, I think I actually did lose my mind a little bit.  Read on to find out what her issue was.
What are some causes of baby sleep regression?
Shots
This can be a big cause of 2 month sleep regression or 4 months sleep regression.  Those shots (while I believe 100% worthwhile) are often a set-back in a baby's sleep routine.  Stay tuned — I have a post coming up that talks about how to prep your baby for immunizations.  They're pretty miserable for a 2 month old who, likely, hasn't felt much discomfort at all at any point in their little life since birth.  Be sure to try to get back to your regular routine as soon as you can, but there's nothing wrong with a little extra love those first few days.  Tylenol, also, is certainly a friend.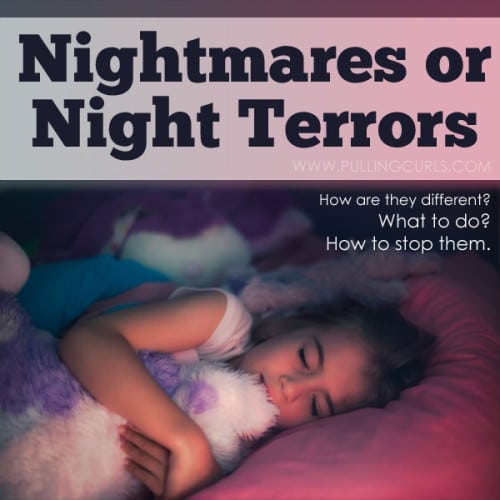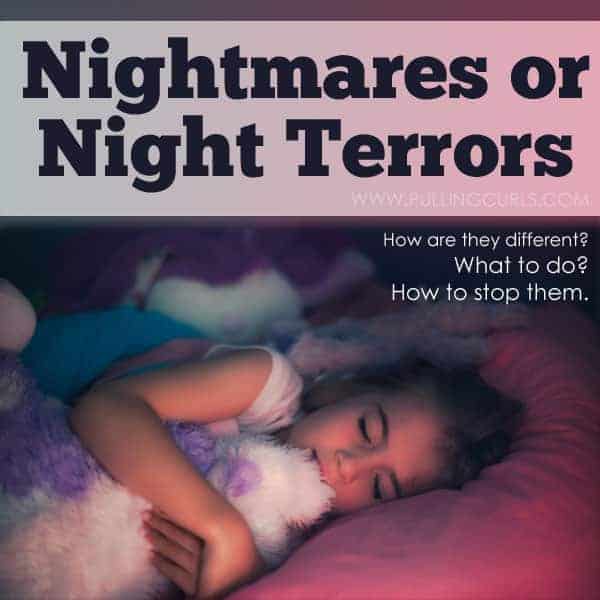 Night Terrors
These can be SUPER scary, for the whole family.  The difference between a night terror and a nightmare is during a night terror your child will not wake up.  They often won't know who you are, but they will wake up screaming and basically in terror.  With a nightmare they will wake fully and will resist going back to sleep because of their scary experience.  These can be super disruptive for your whole family.  You can find out more about the difference here.
I did find this super cool product that looks really reasoned to help your child (and you) get better sleep.  Check it out!  You can also get $20 off by shopping through this link.
The basic idea the product is entering when the night terrors happen (they usually happen at a particular time in your child's sleep cycle) into their app in your smart phone.  It has a vibrating pad that will gently stir your child just before that time (but not FULLY wake them) to try to stop them.  It's risk free and guaranteed to work.  Certainly worth a try if this is an issue at your house!  I would have paid all sorts of money to let this fix my problem!
Teething
Oy. Vey.  I almost always just think that it's teething when babies wake up at night.  If it is ONLY teething I have found that Hyland's teething tablets are helpful.  I may have popped those in one kids mouth like they were candy.  #momfail
Illness
Having a sick kid can certainly ruin sleep patterns.  I am a fan of cuddling when they feel miserable, but once they're feeling better it's time to get back to the routine you were on.  Ear infections can be a big cause of kids not sleeping well at night.   Check out my post about ear infections and find out how to get an otoscope you can use as well as some other ideas!  Again, try to time your tylenol/ibuprofen (as directed by your doctor) to give a dose before bed.  That's a time when their miserable-ness increases.  Also, don't miss my children's fever post or any of my children's health posts.  They might give you some ideas on how to make your child more comfortable.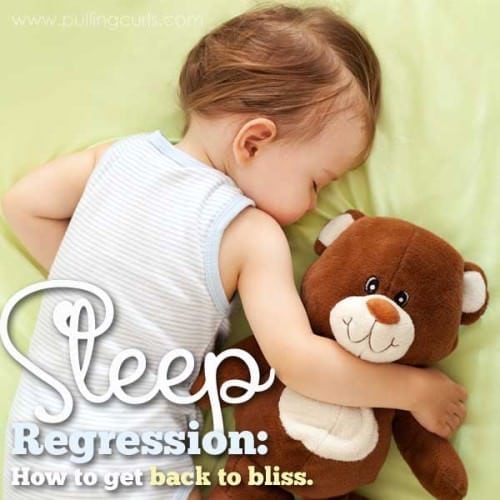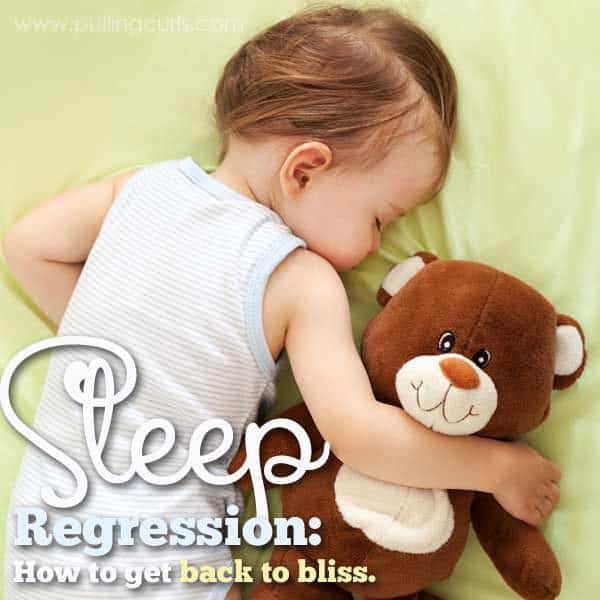 Separation Anxiety
This was my own personal nightmare.  Princess P, at 18 months had serious separation anxiety from me.  It was odd.  She did go to daycare every week when I worked and she was with her dad and brothers quite a lot, it wasn't like I was with her 24/7…. but boy oh boy.  She'd just SCREAM every night until I'd walk in the room.  Then, she'd lay down and suck her thumb.  The screaming would stop.  I was what she wanted.  She, at the time, even slept with the 2 kids in her room.  She was certainly not alone.
I was baffled for a long time about what was going on.  I googled it and finally saw that it's an issue for a lot of kids around that timeframe.
I had just taken her to the church nursery and left her there (like all the other parents).  She was fine for a couple of weeks and then she completely melted every time I took her.
Then, one day I watched a friend's baby.  Princess P entirely LOST. HER. MIND.  The baby was small, maybe 4 months old and every time I held her, fed her, talked to the baby her she'd just SCREAM at me and try to climb in my lap or hit me.  It was insane.  Her separation anxiety reached a peak that night.
So, what solved it for me was no longer babysitting.  I even took a month or so off having a friend over for her.  I tried to do a lot of extra time with her.  The two who slept in the same room with her wanted to kill her.  I finally told them to have a talk with her about it.  That was what did it.
She loved her brothers, and she was smart enough to know when my oldest said "Paige, I don't like it when you wake up at night.  I can't do good at school because I am so tired.  I need you to stop."  They weren't mean but they were really straightforward about how much they hate waking up in the middle the night.
And that solved it.  Who knew?
But for the months that happened, it was SO miserable.
Is it You?
Sometimes over-hovering can cause sleep regression.  I think it can be hard to let that door shut after a scary health crisis or even just a regular illness that has them extra fragile.  Check out the owlet monitor that can let you know how they're doing all night long.  It's not just for babies, as long as the little bootie fits, the child can be monitored. Depending on the child's size it can easily go up to 18 months and likely beyond!  You can read more about it on my own posts with an owlet monitor coupon.

So, there you have it.  Sleep regression.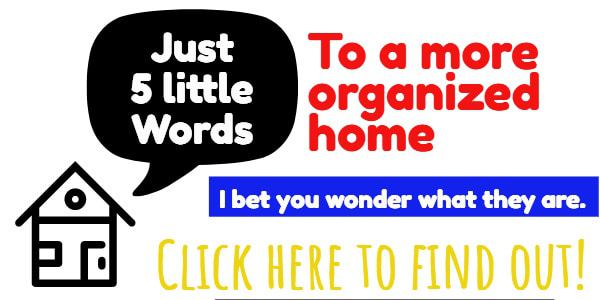 I am a big fan of tolerating things once there is a change (like immunizations or illness) but once that change is over it's time to get back on a routine.

That leads for healthy sleep patterns for all of your house!
Be sure to check out my baby sleep post.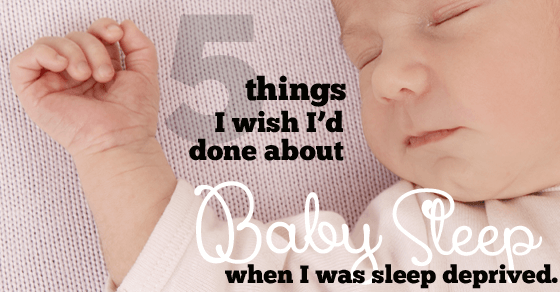 Also, if you liked this post and want other parenting tips check out my MomHacker newsletter.

And all my other children's health posts: