This post is sposored by Four Monks Cleaning Vinegar, but

my love of vinegar is all my own

. Read on….
Counters.
Mine are Formica. At one point we had the awesome faux wood Formica. I'm a classy gal, peeps. Right now we have almond formica that stains if it just happens to see fruit punch. It. is. awesome. Frankly, I don't see granite in my near future. I think I'd rather have a trip and still have a few stains here and there.
BUT I am a NUT about having my counters clean. Nothing gets me MORE excited than clean counters. It just makes it so much easier to DO things in the kitchen if I don't have to start by cleaning them.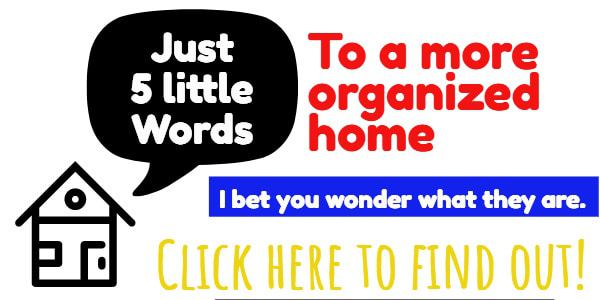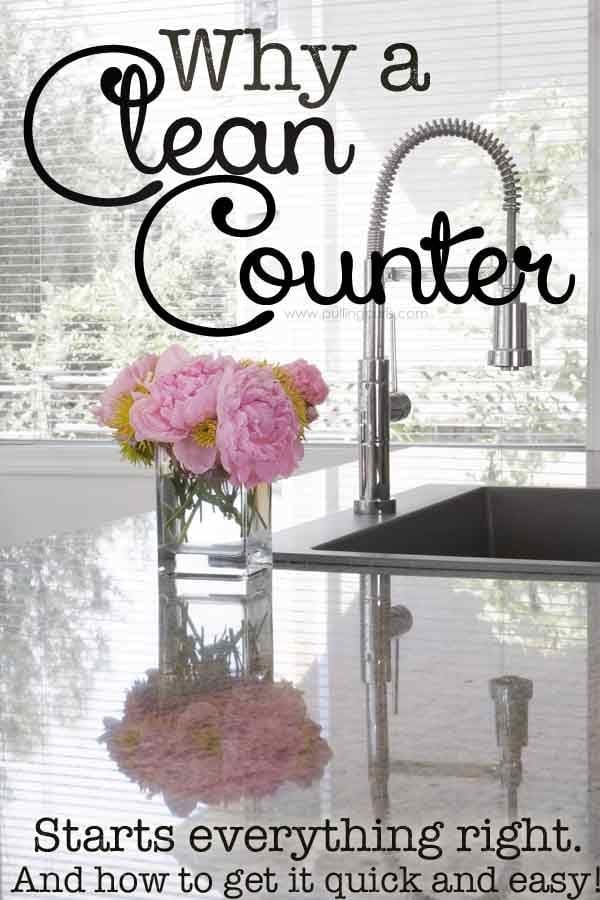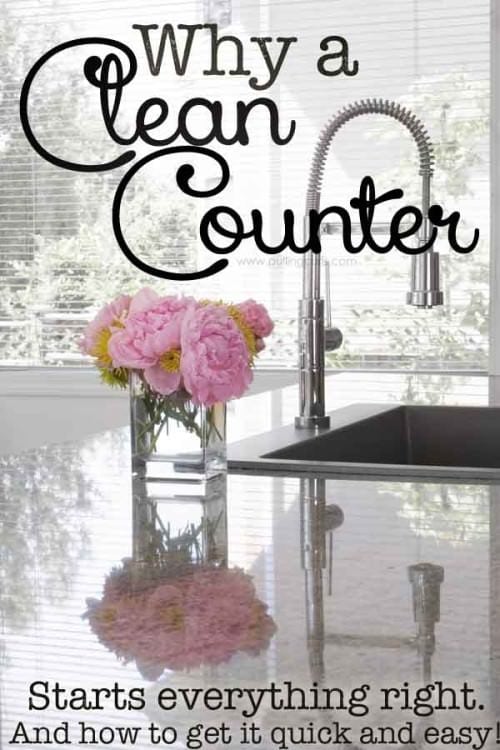 The thing is, I need something to clean them that won't leave a residue because a lot of times I'm putting food on the counter and then eating it. I don't need any extra nasty chemicals in my body. I already put enough there. 🙂
I used to steam my counters. Which was awesome. It doesn't leave a residue and it cleans pretty well. BUT, I have to get out the steamer and then hope I put enough water in the tank to make it all the way through.
I clean my counters every Monday. I mean, I clean them ALL the time, but I do a full "pick everything up" type clean on Mondays. I just like that fresh start to my kitchen each Monday morning.
Recently I switched to vinegar and a microfiber cloth. And I think it works just as well with a lot less effort. I shared my usual "recipe" for counter cleaner in this post. I get my regular Four Monks Cleaning Vinegar at Walmart Supercenters in the vinegar aisle. It's worked for me so well thus far!
Vinegar. If I wasn't married already…. well, you'd still be in a big bottle on my washing machine (I use vinegar as fabric softener too!). I've found so many great ways to use vinegar around the house!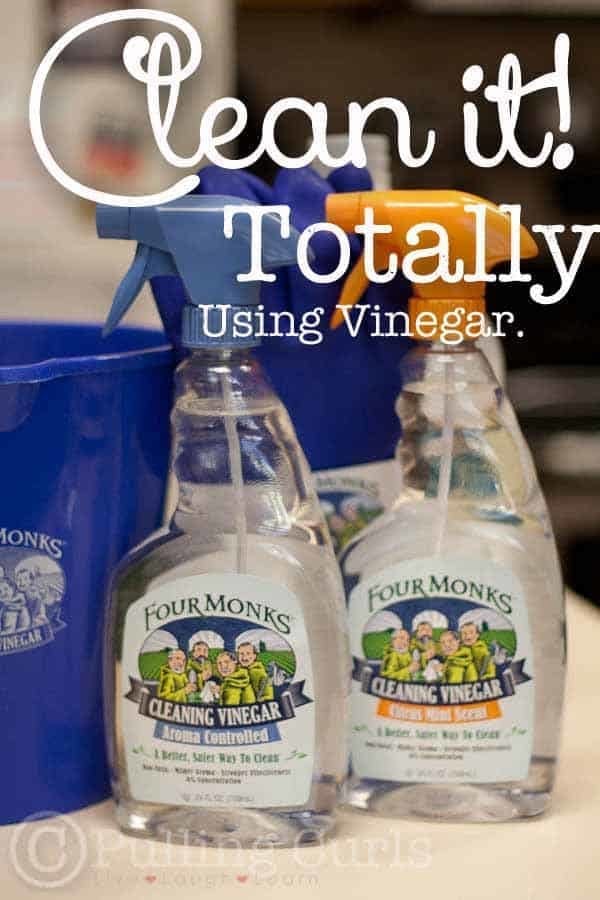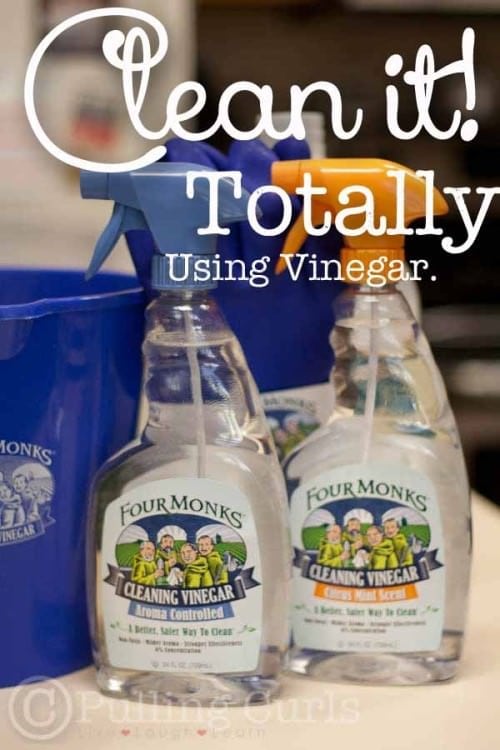 Ways to Start Cleaning with Vinegar
Use it to freshen your drain. If your drain is ever stinky — drizzle some vinegar over it and the flush it down with some super hot (I like to boil it in the microwave) water. Sha-boom!
Use it as an everyday cleaner. As I talked about in my microfiber post, I use vinegar (with a microfiber cloth) for all the surface cleaning at our house. It won't disinfect, but it DOES do a good job. The new cleaning vinegar solutions even take much of the vinegar smell out of the cleaning equation!
Use it on burned-on pans to help loosen the gunk.

We use stainless stell, which does give a great sear to meats and cooks so very evenly. BUT, sometimes it's a HUGE pain in the tush to clean! Add hot water to a warm pan (if you let the baked-on muck dry, you're totally screwed), a few drops of dish soap and about 1/2 cup of vinegar (depends on the pan's size). Use this awesome scraper to help you and it really goes SO much easier! Woot-woot Vinegar!

Use in in lieu of downy in your washing machine. I use vinegar to help cut down on static and keep clothes pliable in the washing machine, without all the nasty effects of downy (turning your dryer into a waterproof mess)
Use it to freshen up linens. Use Four Monks Cleaning Vinegar in your laundry to get odors out of fabrics, including your couch, bed linens, animal beds (I think the Four Monks Citrus Mint would be awesome at this).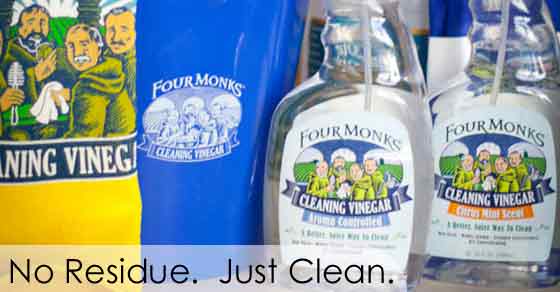 The good people at Four Monks recently sent me bottles of their own cleaners. I know that a LOT of people have an issue with one BIG thing with vinegar and that is the smell. It doesn't bother me, as it dissipates quickly, but if it's an issue for you — check out their new aroma controlled and citrus mint scents. I tried them out and I agree that the aroma controlled is about 1/2 as vinegar-y as my regular recipe (but cleans just as well) and the citrus mint has such a clean fresh smell.
Four Monks Cleaning Vinegar comes in those two scents (aroma controlled and citrus mint). It's all-purpose, safe and environmentally friendly for the whole family (SUPER important to me on counters).
You can get their super convenient spray bottles at most major retailers including the vinegar aisle at Walmart Supercenters and HEB in the cleaning aisles. Use their pleasant smells to help refresh your home!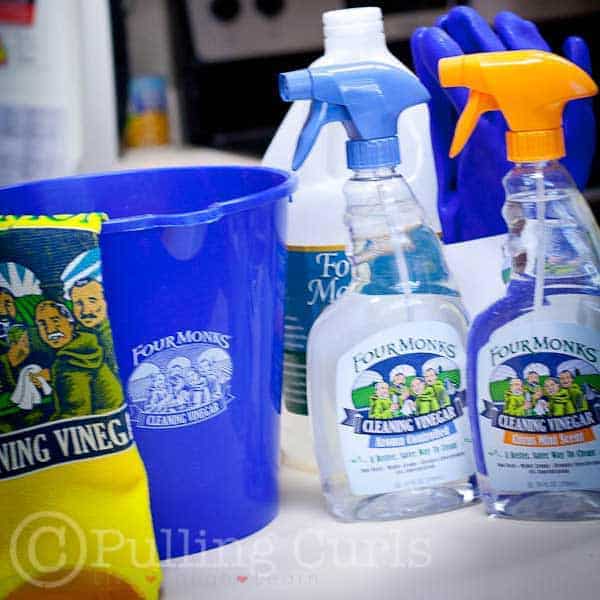 Vinegar is something that's cheap and easy to have around the house. It's safe to use around animals and kids. It's SO easy to find tons of ways to use it. How do you use it at your house?