Using Vinegar as Fabric Softener: Vinegar can take the place of your conventional fabric softeners. It has many benefits and can improve the life of your machine. So make sure you have vinegar in your laundry room in place of liquid fabric softener.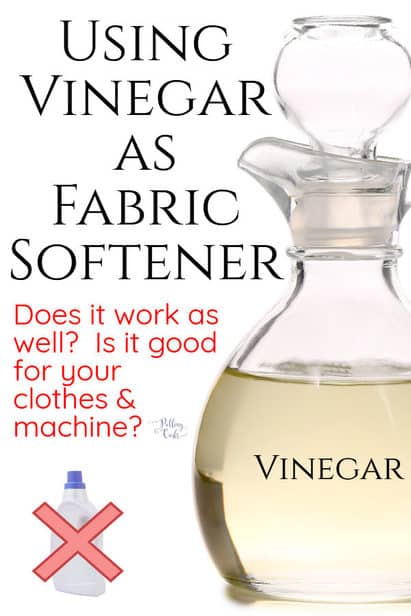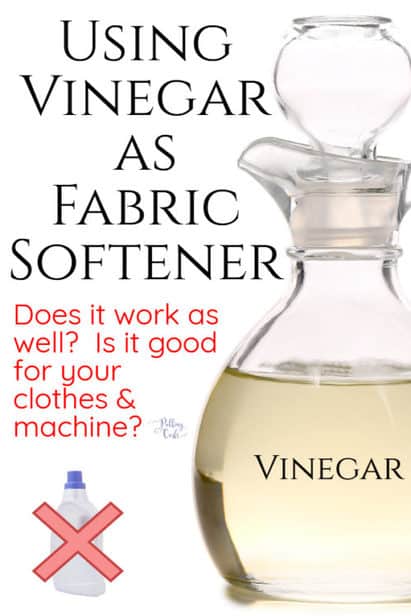 A long time ago I learned that using Downy liquid softener and some other commercial fabric softeners made your lint filter impervious to water. Which, of course, is problematic as steam needs to escape from there to get your clothes clean.
But, I did love my downy, and how it kept things soft and static-free
And truth be told, I still keep a bottle of downy on hand with my laundry detergent, every once in a while I need a little extra softness.
But, in the meantime I use vinegar in place of fabric softener.
Vinegar as Fabric Softener
Good ol' fashioned white vinegar can be your friend when it comes to your laundry routine.
I pour in about the same amount as I'd use of fabric softener — right into the fabric softener dispenser. Easy peasy.
Then, dry as usual.
The clothes still feel fairly soft. They don't have the Downy smell.
I do keep some fabric softener dryer sheets on hand, mostly because they are handy for other things.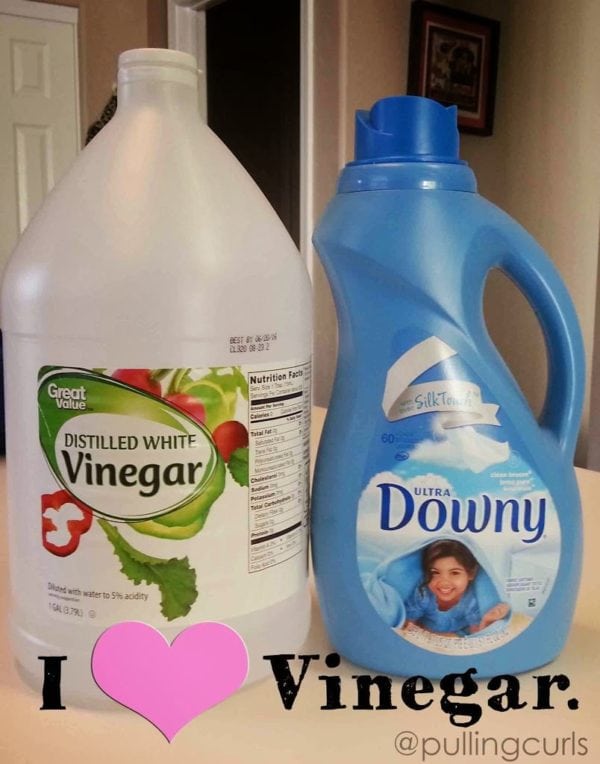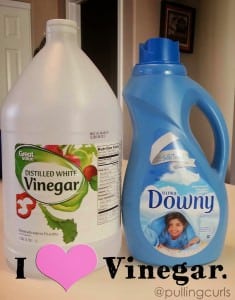 Is Vinegar a good Fabric Softener?
I do not believe the clothes are AS soft as when I used Downy. I also find more static cling than I did when I used Downy. But, it's manageable and has fewer harsh chemicals. Sometimes when I'm finding more static I will use….
BTW, I use vinegar for lots of things — I have a post on how to clean tile floors with vinegar.
Tin Foil Dryer Balls
You can just take a big sheet of foil, crumple it up and put it in your dryer as a fabric softener ball. It helps with the static-y ions (big word, right) and keeps static in check, in a reusable form that still works. This is an affordable options and a good alternative to wool dryer balls.
If you want something else to help your dryer, check these or these out!
Vinegar and Essential Oils in the Laundry
A lot of people worry that the vinegar will make your clothes smell like pickles all day.
Not true. You're putting so little in that it will easily rinse out.
You can also add some drops of essential oils in with the vinegar to help scent your clothes, as well as keep any mold/bacteria in your front loader in check. Tea tree oil is great for this! A few drops of your favorite essential oil is an easy way to create your own mixture of vinegar natural fabric softener with fewer chemicals.
Vinegar in laundry front loader
Good news! Vinegar can help your front loader not smell as much with a mildew odor. When I wash my machine (I try to wash it monthly) for best results I alternate between 1 cup of bleach and 1 cup of vinegar. Both are a great way to help keep my front loading machine running well!
I also use vinegar to clean my floors and in lieu of Jet Dry in my dishwasher. I also use to to clean my dishwasher, as well as my washing machine. I love vinegar. Don't tell Drew. 🙂
Vinegar as Fabric Softener Faq's
Can you mix vinegar and fabric softener?
Yes, if you're still planning to use both of them, vinegar has great properties such as making your detergent a little stronger, and getting rid of smells that can be awesome in addition to fabric softener?
Why not just use fabric softener?
As I mentioned above, it's not great for your machine. It makes it so moist air can't get out your dryer filter and clothes will eventually take longer to dry.

Plus, it's expensive and not great for the environment!
Can I use apple cider vinegar as vinegar fabric softener?
You can use ACV in a load of laundry as a homemade fabric softener, but i prefer just regular white vinegar as a laundry softener.
How much vinegar should I use to get soft clothes?
It's best to use one quarter to one half-cup of white vinegar is usually the best amount of vinegar per load.
What type of vinegar should I use as fabric softener?
I use white vinegar instead of chemical fabric softeners. I get a large bottle of vinegar at Costco and we use it frequently around our house
---
Be sure to check out this post about my love of vinegar when combined with my favorite cloth.
Grab my weekly cleaning schedule here and check out my other cleaning posts below that!
[pt_view id="93e22895b7″]