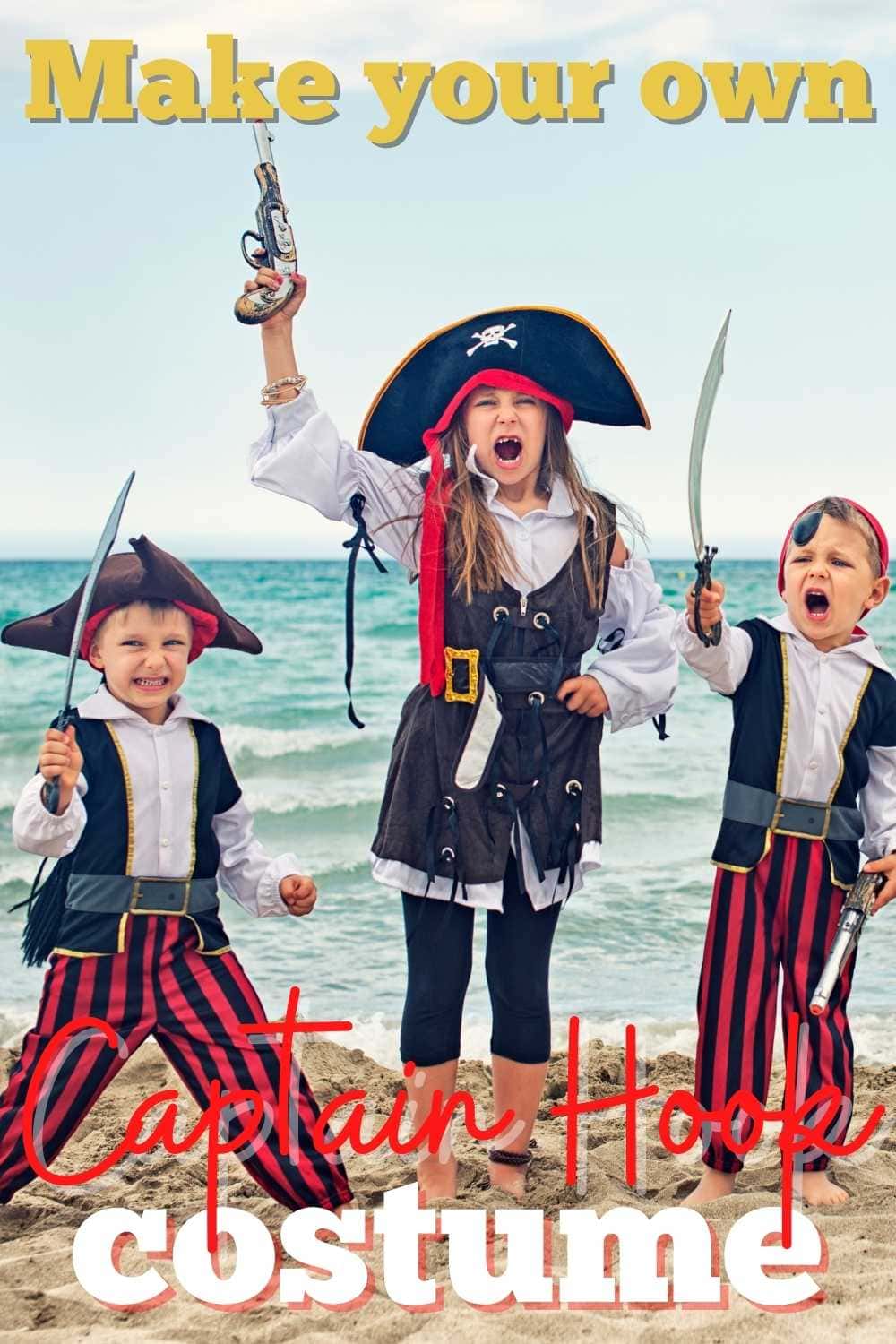 CAPTAIN HOOK COSTUME DIY: This was actually one of my favorite costumes to make. This was the year of Savers thrift store. I tried to use a lot of things from there, to save money and time. This DIY Captain Hook Costume worked out well and will be perfect for your next Halloween party. So let's make your own DIY pirate costume.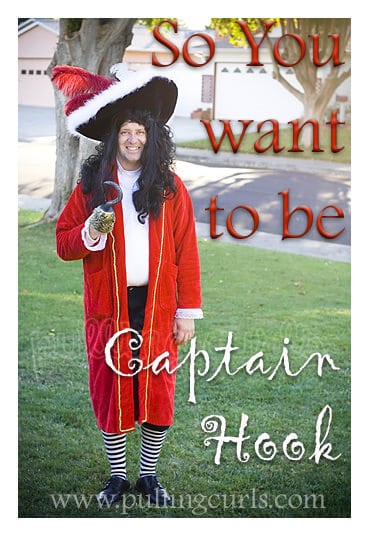 DIY Captain Hook Costume
If you're looking for a good costume idea, this is a classic pirate costume is really easy to do and can be part of sibling costumes, whole family Halloween costumes or last-minute Halloween costumes. This whole costume is definitely more a Disney cartoon or Dustin Hoffman from Hook and doesn't really give off Captain Jack Sparrow vibes. With the right accessories, you'll get to be one of your favorite Disney villains in this classic halloween costume.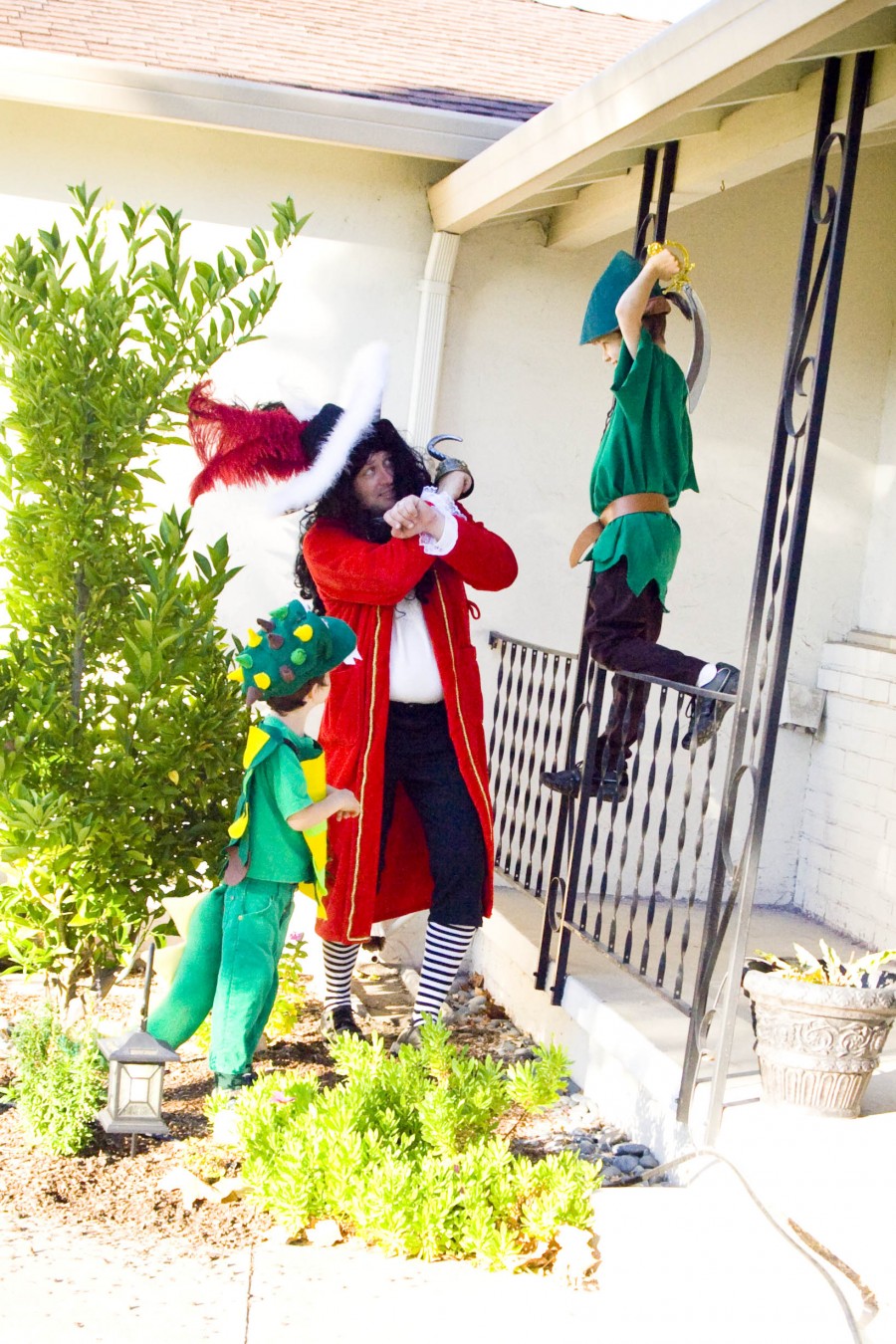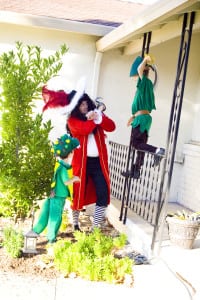 Captain Hook Coat: Is actually a red robe. I edged the front lapel with gold edging (sewing it on with transparent thread). On the sleeves, I put thick lace, which I gathered and then sewed in. If you aren't great at sewing, you could get fabric glue at one of the craft stores or use a hot glue gun. The red robe was a lifesaver! If you happen to have a longer wool or felt red coat, that could work too.
Shirt: I showed a strip of thick lace down the front of a women's turtle-neck like a "frilly shirt"
Captain Hook also needs striped socks (I found these at Costco, they were actually mine).
The black pants are women's capri pants (you can only imagine how hard I Iaughed when Drew was trying those on)
Shoes are just black and the wig is a long curly wig.
We've been lucky enough to borrow cool hats at times from friends. They really help make the outfit. I have seen tutorials where they make the pirate hat out of a thick black foam (just cut an oval out the size of their head) and then glue on a few fancy feathers (you could even edge it with a boa). It's mostly about the feathers.
Female Captain Hook Costume
There aren't really many adjustments to this costume to make it work for a woman!
Child Captain Hook Costume
Once again, not a lot of adjustments, just smaller sizes of things to make the cutest Captain Hook ever!
This was top of our list for a family costume idea because there are so many options for a Peter Pan Theme. With the option of Peter Pan, the lost boys, Tinker Bell, Wendy and her brothers, Mr. Smee, the possibilities are endless.
This captain Hook costume is one of my favorites, and buying at Savers made it really easy! Be sure to check out my other Peter Pan (and other) costumes in my Halloween Costumes Category!
Check out my other costumes:
[pt_view id="0726fa8b7b"]