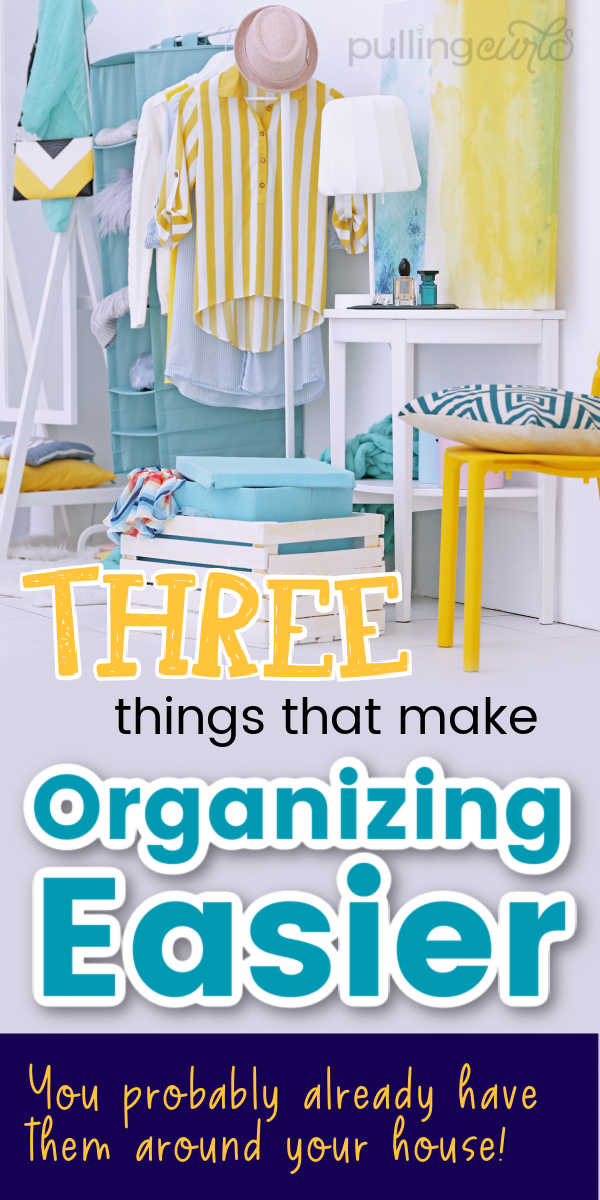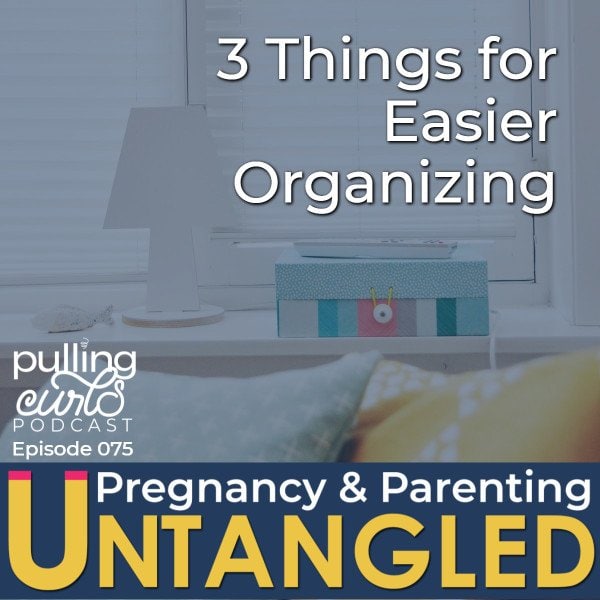 Make organizing easier with these simple things. They're just a few supplies you likely already have around the house. Grab these to make it easier to organize, and you'll need less motivation to organize next time.
Make sure to get on my 5 Word Organization Challenge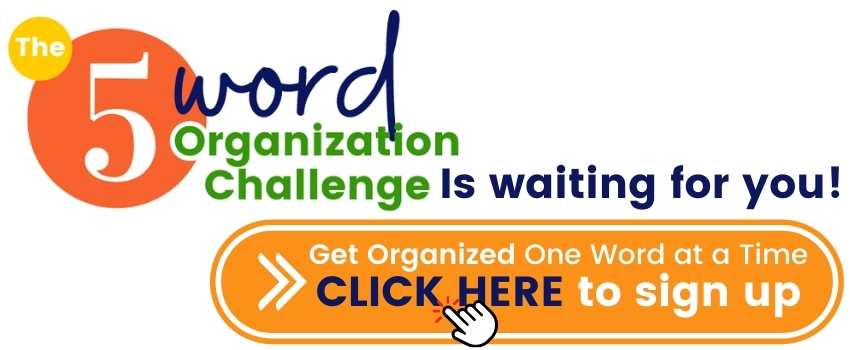 This episode was inspired by my post on 5 things that make organizing easier.
Big thanks to our sponsor The Organized Home. It's being updated through 2021 (and into 2022), with challenges, plans and more! It's a great way to get your motivation to get started (and loads of ideas in our private Facebook Group)
3 Things for Easier Organizing
In this episode
We're talking about the three things that make organizing easier. Simple, functional ways to make it easier. I find the easier every organizing session is, I am more likely to work on it again next time.
Things mentioned in the episode:
A card table.
Producer: Drew Erickson
Check out my other household tips podcasts: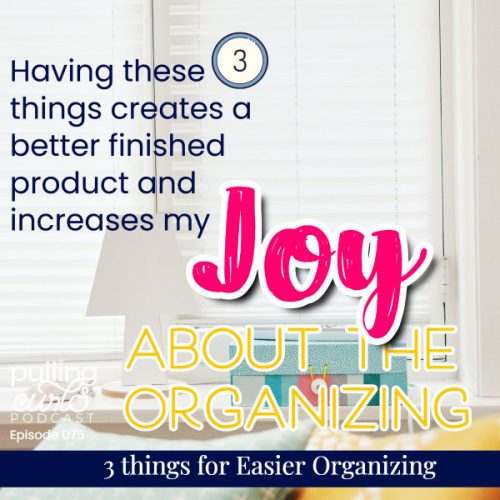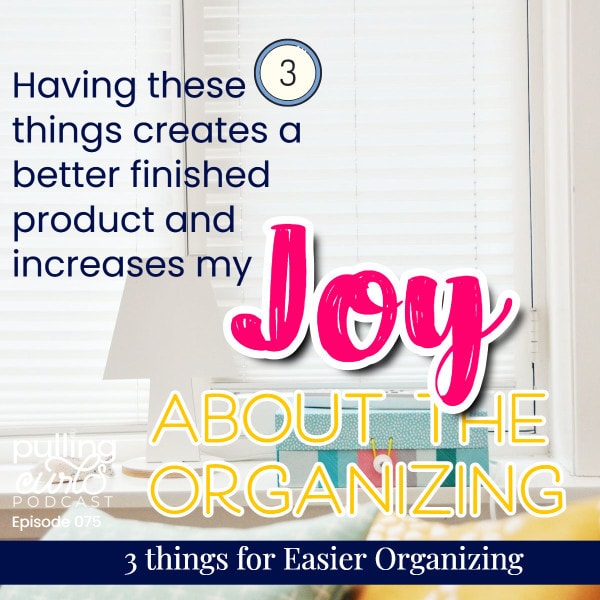 Check out all my podcasts:
Transcript:
[00:00:00.355] – Hilary Erickson
Hey, guys, welcome back to the Pulling Curls Podcast. Today on Episode 75, we're talking about the easy street of organizing. I've got three things. Most likely you already own them. One might be questionable, but they're not like rocket science. It's just things that make an organizing session go better and easier and there's less motivation for me. Let's untangle it.
[00:00:31.585] – Hilary Erickson
Welcome to the Pulling Curls Podcast, I'm Hilary, your curly headed host on the podcast, where we untangle everything from pregnancy, parenting and home routines. I want you to know that there are no right answers for every family. And I find that simplifying my priorities is almost always the answer. It's tangled, just like my hair.
[00:00:56.825] – Hilary Erickson
Hey, Could you leave a review? Thanks. OK, before we dive into it, make sure that you get on my Five Words for Organization email. It is a whole email series that give you five words that are going to help you organize. They are great, people love that thing, it's totally free, just give me your email and I'll sign you up for the course. There's videos and encouragement in there.
[00:01:16.505] – Hilary Erickson
So side note. This episode of the Pulling Curls Podcast is sponsored by the organized home. The Realistic Way to manage a home, reduce clutter and clean less. Ever wish you could relax with Netflix rather than worrying about the state of your home or that last paper you need? No more needing hours to prep for company. Be prepared for any doorbell. Let's simplify organizing so you can enjoy life more. Save 15 percent with the coupon code UNTANGLED, you can find it at Pulling Curls.com in the menu under courses or in this episode's show notes.
[00:01:50.015] – Hilary Erickson
OK, so I know you guys all think that I have, like, this monumental like will to get things done and I do have a fair amount of will. But I also have really found a lot of things that make it easier so that I have less excuse in my brain to get going. So today I want to talk about three different things that you need to make organizing easier. Now, OK, the first one is a table, a surface.
[00:02:13.625] – Hilary Erickson
Now, this is a little bit easier in your kitchen because usually you have counters that you can put things on. But sometimes, like when we're in an office or I did my mom's pantry last year and she has a very small countertop in there and it wasn't anywhere near how big I needed to bring all the things out. So I went and grabbed a card table and it made it so much easier. Not only was it easier for me, but it was also easier for my parents who I was trying to get them to, like, tell me if they wanted this brownie mix from nineteen ninety seven or not.
[00:02:41.585] – Hilary Erickson
Actually I just threw all that away.
[00:02:43.125] – Hilary Erickson
But, do you know what I'm saying? Like it is a lot of motivation for me to think that I need to squat and pick things up constantly. If I can just have a table and lay things out there, it's faster and easier to just organize with that and then put the table away. So a small card table or Costco a lot of times has those nice folding tables could just make organizing easier and you bring it in and then you take it back out when you're done.
[00:03:03.845] – Hilary Erickson
OK, the next thing is bins. Now, I'm not talking about the clear acrylic bins or the fancy woven ones from Container Store. I'm just talking about even they could be bags. I a lot of times we'll use laundry baskets that I normally use for laundry and these three bin, you need a throw away one. So that could obviously be a garbage can or a garbage bag. But I do find that it's easier if it's open at the top.
[00:03:27.005] – Hilary Erickson
So that's a lot of times why I use a laundry basket, because it's easier to just toss things into it. And then also a goodwill one or a thrift store or giveaway. Or if you're gonna have a yard sale, say no. Don't lie to yourself and say you're going to have a yard sale and then just keep all that stuff in your garage forever. That is not worth it. But if you really feel like you're going to have a yard sale, then that those things could go in there as well.
[00:03:46.565] – Hilary Erickson
Oh, and then also there's one more bin that is goes elsewhere. And you need to be honest with yourself with that bin. A lot of times you're like, I don't want to throw this away. So it should go somewhere else, when really, it should be thrown away. So don't put a bunch of stuff in there. But it's things that obviously need to go to a different room, like if you're in your kitchen and all of a sudden you find a kid's shoe, that would go in that bin.
[00:04:05.525] – Hilary Erickson
OK, the last thing is a microfiber cloth, because if you've done my five word organization challenge, you'll find that I recommend to take everything out and wipe it because it feels so much better when you have all the dust and whatever wiped off of the area and then start afresh, anew, and everything feels new and fresher because the area is all clean. So the three things are those bins, a microfiber cloth and a table or a surface to organize on, not brain surgery, but they all just kind of make it easier and they make it more polished, finished product, which increases my joy about the organizing immeasurably.
[00:04:37.685] – Hilary Erickson
And then next time I remember that even though I really want to watch Netflix, I know that I'm going to have so much more joy if I organize a spot instead. So those are the things I would recommend. Do you guys have something that you think makes organizing easier? I'd love to hear about it in the show notes. You can find it at Pullingcurls.com/podcast. This is episode seventy five. And yeah, also I have big exciting news. The organized home is getting an update in 2021.
[00:05:03.935] – Hilary Erickson
It was wildly popular in 2020 and I just, I was organizing quite a bit and so I have all of these good ideas. They aren't going to cost a lot of money. I love watching shows like the home edit and Marie Kondo and all these things, but when they're constantly bringing in new bins to organize things, I'm like, this isn't a sustainable method for me and my family. So I think I'm going to have lots of good ideas for you.
[00:05:26.615] – Hilary Erickson
And I can't wait to see you guys inside. If you order right now, you're going to lock in the price that it is today versus the price it's going to increase to as we get through 2021. So check it out. It is in the show notes.
[00:05:37.385]
Thanks so much for joining us today. I hope we help smooth out a few of the snarls in your life. We drop an episode every Monday and we always appreciate it when you guys share and review. Until next time, we hope you have a tangle free day!