I've said it before, I'll say it again. If I didn't have a calendar I'd probably just lay on my couch and watch Property Brothers all day.
That's right, all day.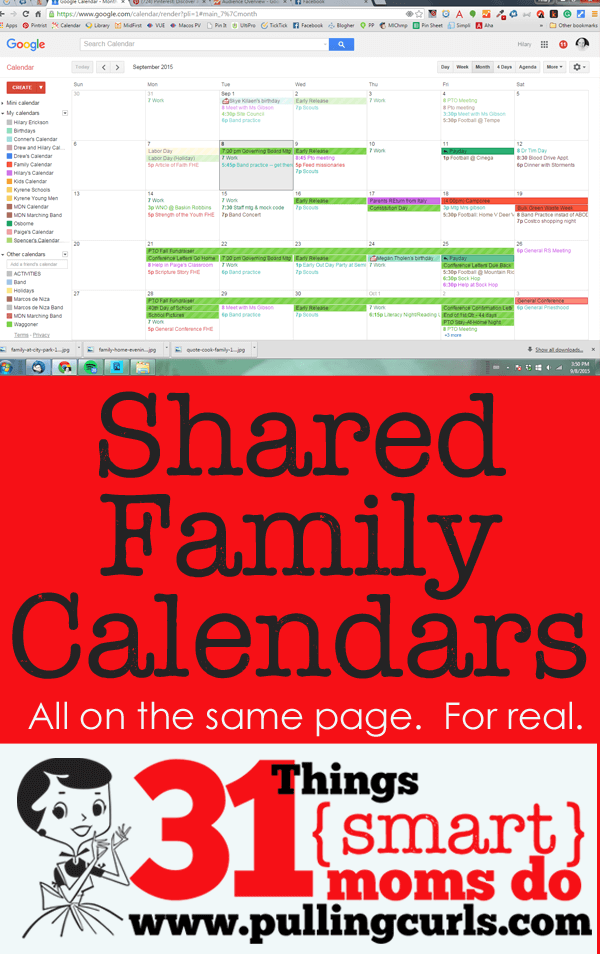 I love my shared online family calendar. I used to use a giant desk calendar . It was great, I had a job and some young children and a husband who had things. Every Sunday we would go over the calendar and things we needed to add to it (or remove). It was great that the kids could look at their calendar and know what's going on. This post will tell you how to use your calendar more effectively.
Now it's my phone. Oh my-goodness! I sure do love my phone calendars. I have 3 widgets that show on my phone:
An agenda app (this only shows activities that I am directly involved in)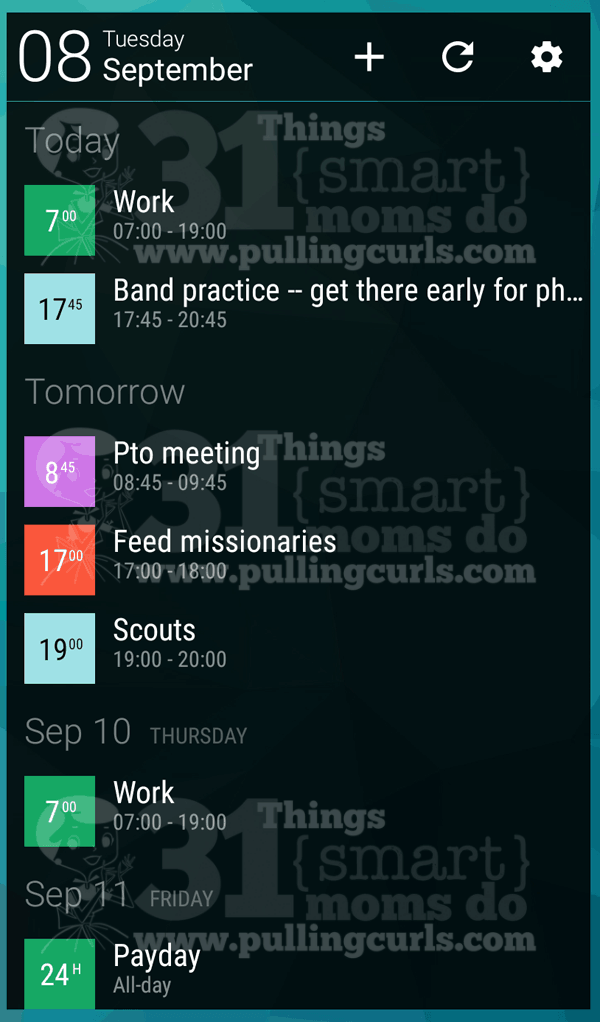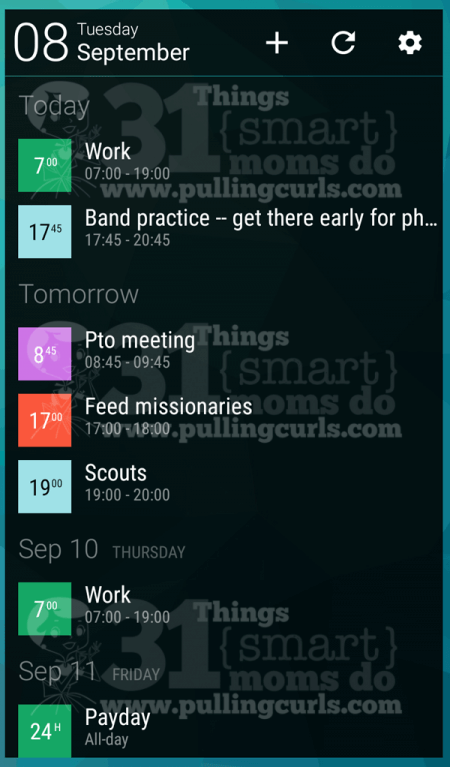 A weekly calendar (shows me a bit more detail)
A monthly calendar (shows an overview) This view is so chock-full it isn't all that helpful unless I just need to glance at something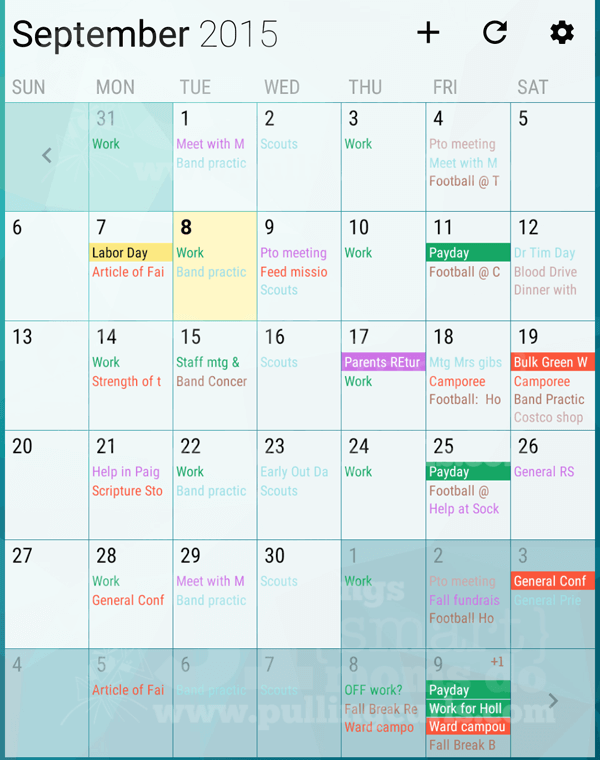 I have like 20 calendars on my account: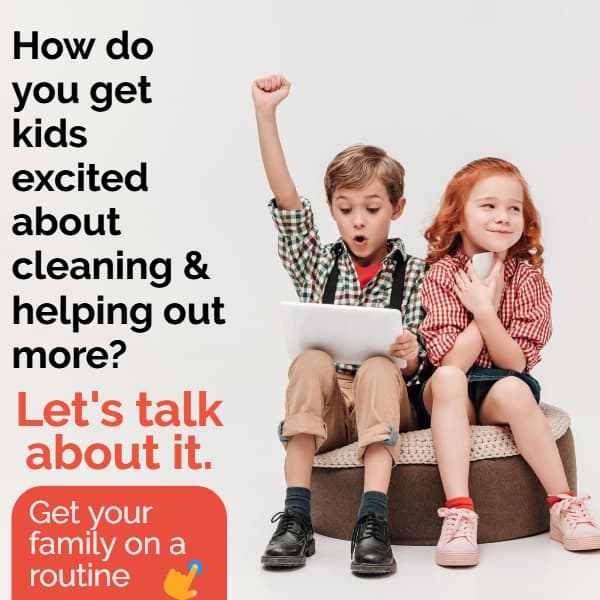 My own calendar
My work calendar
A family calendar (which only holds family-wide events)
a "kids" calendar (less used now)
A "Drew and Hilary" calendar
My husband's calendar (which we share, so when he adds an activity into his calendar it shows on mine)
My Son's calendar (also shared)
My other son's calendar (also shared)
My Daughter's calendar
My elementary school calendar (most schools have a place where you can add the school's calendar directly to your own — you might not want it shown on your own calendar, but it could show when you view it on the desktop)
My Middle School Calendar
My High School Calendar
a special Marching Band Calendar (no, seriously)
And a few others
Honestly, it's SO nice to just have them auto-updated (by the schools or by my sons/husband). And when they change it, it just changes for me.
I love being able to pull it up at work or wherever I have my phone.
And if it's not in my phone, it's not getting done.
Because I really love the Property Brothers. Well, that and the fact that I just don't have enough space in my brain to hold all those calendars. Frankly, who does?
I use Business Calendar (I actually paid for the pro version). I like it because I can pick which apps I can see on each calendar, I like how it shows it on the widgets. I use google calendar for all our shared calendars and since our family is all android it works well for us. I do miss Princess P being able to see on the wall calendar when something big is coming up. I should put a calendar in her room that we can add HER things to.
Have you found a calendar system that works for your family? I know this type of system also works well on apple products but I'm not sure of a good app — so list your favorite below in the comments!


**{Smart} Moms is a relative term. I had to give it a name, but I am the first one to say I'm not smart all the time. My family isn't as excited about this calendar as I am (and I am often the one putting everyone's stuff in it), I just find it easier when I do. This series is just a list of things I've found to make life easier — not to say — WOOT WOOT, I'm SOooooOOOO smart! {said like Steve Martin}
Check out all my other {smart} moms posts:[pt_view id="4256a9870e"]