Deciding what to bring on a Carnival Cruise can be hard. You certainly don't want to miss something you really need, but you also don't want to over-pack and have a ton of useless items in your small room. Let's talk about what's MOST important to bring on a cruise, and what isn't that helpful.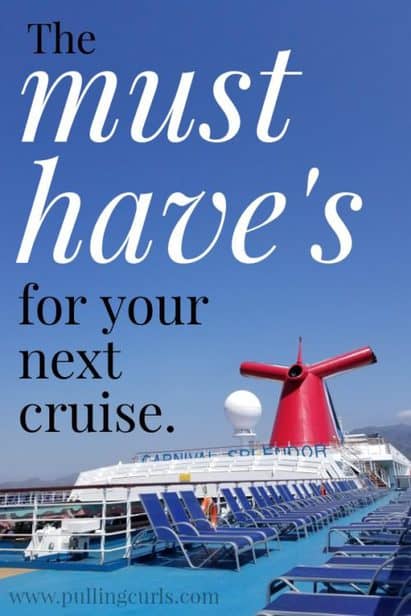 I watched/read maybe 400 videos & blog posts on what to bring on a cruise. I knew I may be over-doing it… and I did film a video before we went of all the different things that we were bringing. The remainder of this will share what I found to be MOST important, pretty important and less-important.
As an FYI, we took the Carnival Splendor on a 7-day cruise to the Mexican Rivera (so, clearly, if you weren't going to a warm/beach places — your list would need to adjust). I am a self-proclaimed over-packer/planner. SO, take that for what it's worth. 🙂
[thrive_leads id='45797′]
And, we booked out cruise with Get Away Today. They had the best room selection and by FAR the best customer service ( because, of course, I had 2 million questions).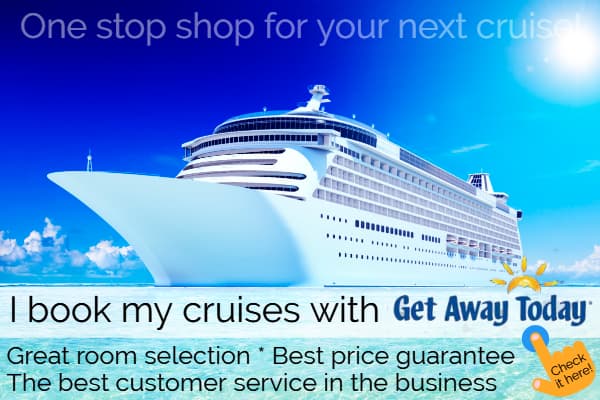 What to bring on a Carnival Cruise
VERY important to Bring on a Carnival Cruise
Reef-Friendly Sunscreen (or frankly, sunscreen at all) — we brought the spray kind and did it on our deck. But it made our deck so slippery, I wish we would have just used the cream. I also used one of these shirts and these shorts and they did GREAT. They were awesome on our snorkel day. If you have an active sun activity, get them!
$1's $5 Dollar Bills: We probably used around $20 to $30 in tips, mainly ones. Honestly, I am not sure how important that was, but my daughter loved taking a buck up to every form of transportation we were forced to take and put it in their tip jar. For instance: In Puerto Vallarta, we had to take a tram to get through the port, then on our PAID excursion (not cheap) we took a bus to a boat, to the island, to a boat, to the bus, to the tram. Each time they asked for tips. Just something to think about.
Motion Sickness Patches — these patches I am linking to are a natural remedy and worked for each of us within about 30 minutes of putting them on. I tried to avoid wearing them (because I was worried they'd make me drowsy — which they did not) but was SO glad when they kicked in. I tried both Sea Bands and ginger chews before this. Not helpful. Also — if these aren't working, I have heard you CAN get dramamine from guest services.
Power Strip — you basically just have one useable outlet in the room. If you think you'll need more than that, bring a power strip! Note: You can NOT bring a surge protector on board — so make sure you just get a POWER strip. The ones I linked to are correct!
Pop-up Hamper (we didn't need to use the laundry bag – -we just put it from the hamper into a suitcase). You change clothes a LOT on a cruise ship. If we hadn't had a dedicated spot for them, it would have been a mess! I know a lot of people like the dollar store kind, but I don't think they're large or sturdy enough for a family, I'd spend a bit more to get better quality.
Clothespins — necessary to hang up wet items in the bathroom/deck. We had some wooden ones from the dollar store, we had some of these that are nice (and hold things better than the wooden ones — we also get ours like this at the dollar store, although they're not always there). We also had some towel clips — which we used to dry our microfiber towels on the chairs on our deck (although a TON of people use them by the pool). We got our towel clips at the dollar store. They're not super sturdy, but they certainly worked!
Magnetic Hooks — these were SO important. helped keep stuff organized and off the floor. Honestly, one of my MOST important items! FYI, most of the Carnival line has magnetic walls — so, just try to google around to see if yours does. We were on the Carnival Splendor.
Over-the-door shoe hanger — it made stuff very accessible that otherwise would've been in the closet.
Waist Packs — this kept my phone 100% dry while snorkeling. Although I bought my son one of these and I liked those better, he could put his case in with his phone, and was able to take photos through it (I could not do that through the waist pack).
Travel Alarm Clock — There are very few ways to tell what time it is on the ship. SO, this thing makes that a LOT easier! Plus, you never know if your electronic devices are on ship time, port time, or whatever. It was nice to have something steady that we could all see. Also, if you are a later sleeper, you'll need the alarm on excursion days and when you arrive back home to get off.
Note on Daylight Savings on Cruises: We switched to Daylight Savings the first night on our cruise, and our criuse didn't switch the ship time til' the NEXT night, I believe — in the middle of the night. Anyway, just an FYI, in case anyone was wondering. I think it's up to the captian.
Luggage Tags — you're not really PACKING this, but you're provided paper tags, and I just found this to be more substantial so that our luggage wouldn't get lost.
Pretty Important to take on a Carnival Cruise
Travel Wallet — ours seemed a bit big, I wish I had a bit smaller of a wallet (like this), although this was great to also keep our excursions and cruise documents. Whatever you do, use a bright color so it's easy to find. Travel documents STRESSED ME OUT. 🙂
Door Decorations (we used vinyl wall clings from the dollar store) — all those rooms look alike, so it was pretty nice. The stickers were a bit harder than I'd hoped to take off but removed 100% cleanly.
Other Options to decorate your door on a carnival cruise:
Someone just put a gift ribbon on their door — my daughter was jealous of that room
Just tape something else to your door. I know Carnival says nothing "flammable" but I saw plenty of stuff taped to doors — just be thoughtful that you'll need to remove the tape and not damage the door!
Some people used command hooks, but I think masking/washi would work just fine (and is cheaper).
Clorox Wipes — it just made me feel better, although the room looked very clean when we arrived. I just got a travel pack.
Glide — I THINK it helped, but I didn't really notice it too much? Hard to say? If you're worried about thighs, I'd buy those bottoms I recommend.
Microfiber towels — these were nice and compact to take on excursions — but only 2 of us ever used them. I think they'll be handy to have in the future.
Swim shoes — I bought those for my husband and son. They really liked them. They didn't let a whole lot of sand in, and they really liked them, especially for snorkeling/kayaking.
GoPro Bouy — we actually have a fake GoPro (this one) and this was super helpful — you knew the go pro was never going to sink. HOWEVER, on the Kayak day you had to stick the bouy in your life vest, you coudn't attach it to your hand as it would just bang around and be annoying. A chest strap might have been nicer. 🙂
Not as Important to Bring on a Carnival Cruise
White Board — we did leave a note to our steward once, but I am not sure he listened. 🙂 My kids, however, found it very amusing and it was only a buck….
Wrinkle Release — honestly, our stuff wasn't super wrinkled. Also, in trying this at home, it worked OK, but not amaze-balls. We did use this garment bag and luuuuuuuved it!
Extra Bags Fold-up Bags — we didn't end-up using them. BUT, I can see it being a problem if you buy a lot of souveniers and can't fit them in your luggage. I would recommend having some wiggle room in your luggage.
Duct Tape — never used it. BUT, I can see how I'd probably want a roll with me…. just in case.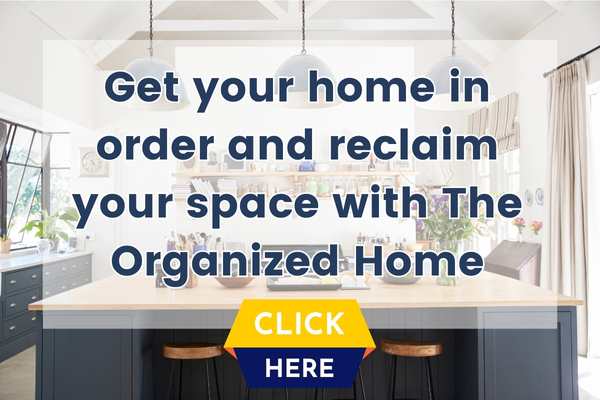 Sea Bands — didn't really help motion sickness. Honestly, I'm not 100% sure where the pressure point is supposed to hit….
Ginger Chews (got them at Trader Joe's)– didn't help when the seas were rough.
Kleenex — they do have kleenex in the room
Sanitizing Hand Wipes — they have hand sanitizer all over the ship, we just used that. I think I may have used a couple on an excursion — although I could have just used the bathroom….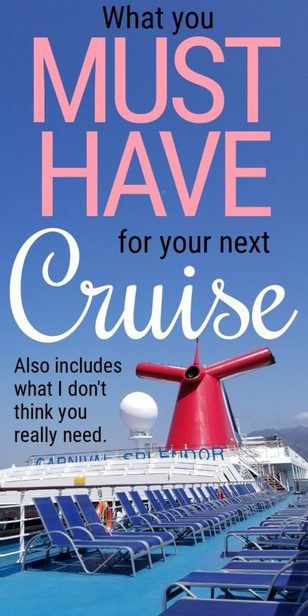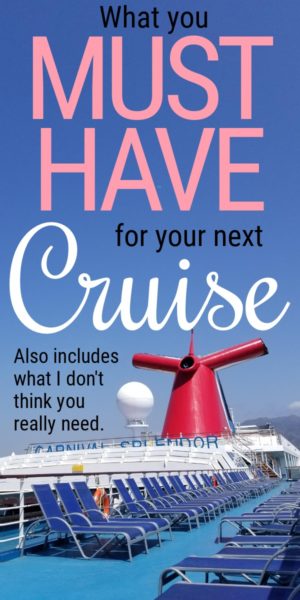 Weird things I want to bring next time on a cruise:
A pencil/paper crossword book. I had one on my kindle, which I loved — I wish I had a paper one.
My own bingo cards — this sounds crazy, but I loved playing (just to play, not really to win prizes) — but the pricing is crazy. Also, are all bingo cards the same?…. I guess you'd have to find out if they use 75 or 90 balls…..
So, those are my tips! I'd love to know what you agree or disagree with in the comments. Be SURE to sign up for my ESSENTIAL six for cruising, and check out my other cruise & travel posts below that!
[thrive_leads id='45797′]
[pt_view id="8f834b1nx1″]
[pt_view id="672b576eab"]