What a great way to start a new month, we NEW recipes! I cling to my menu plan each day. Making sure I know what's for dinner really helps after school run better. If you wonder how I pick these recipes you can read about menu planning here, and my recipe binder (which really helps in the menu planning). Without further adieu, here's our September Menu Plan: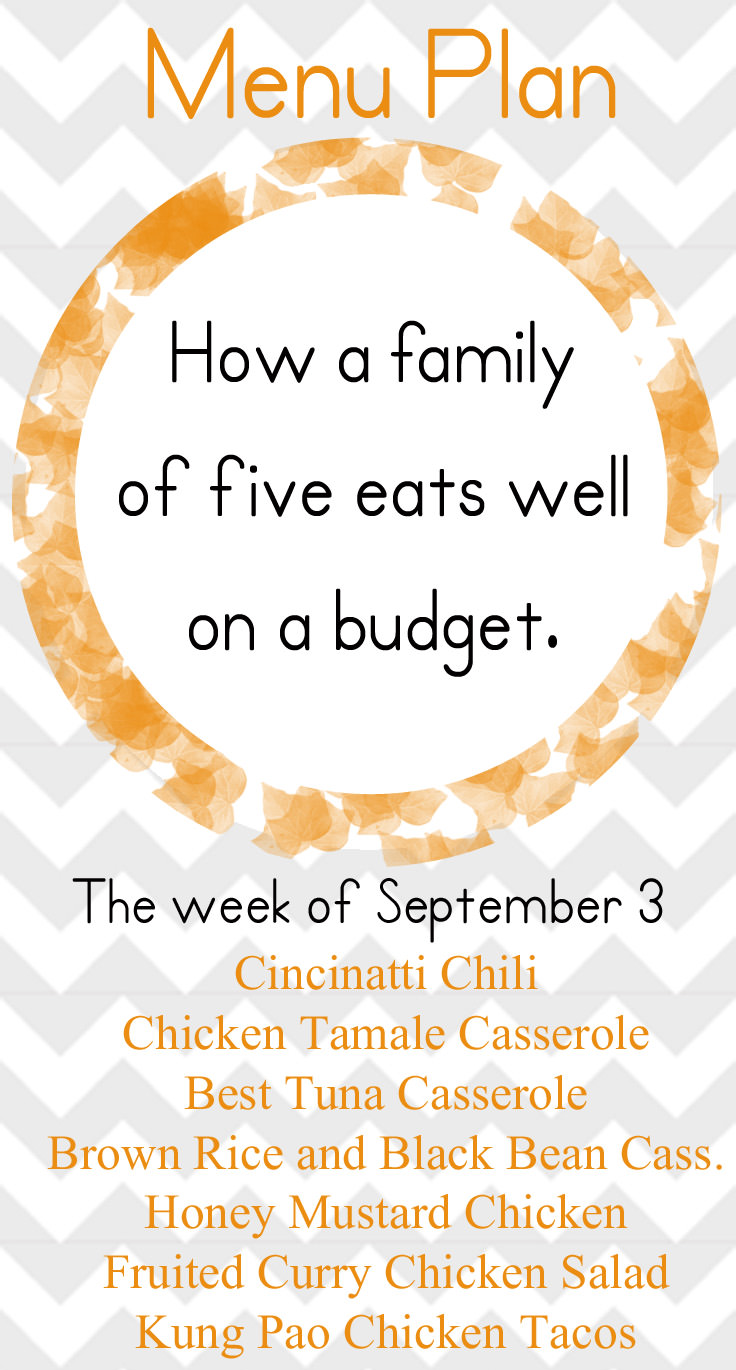 Chicken Tamale Casserole: I once saw this was the #1 recipe from Cooking Light. It is a tasty, light dinner that pleases our whole family. Watch the spice in the enchilada sauce for kiddos.
Cincinatti Chili: This is the America's Test kichen one. It has a TON of spices, which all make it VERY tasty. Make sure you have them on hand before making them (or be my neighbor). My magnetic measuring spoons will come in handy on this one.
Brown Rice and Black Bean Casserole: I love swiss cheese. That is all. The rest of the food just allows me to have bubbly swiss cheese on top. BUT, with the beans and brown rice this is really filling and tasty dish. You could easily do some other type of cheese on top if you're not a swiss fan.
Baked Honey Mustard Chicken: This is an easy and tasty recipe. I think we'll have it on a pile of spinch with probably some red pappers on the side. I like to do that, it just cooks the spinach a bit when you put the hot chicken on top of it. Somehow my kids eat the spinach more if I pile chicken on top of it. Who knows?
Fruited Curry Chicken Salad: I think I'll pile these in some romaine leaves and we can roll them up. I am NOT a curry fan in general (our CA house smelled SERIOUSLY like curry when we bought it — and any time we'd go on vacation for more than 2 nights). BUT, I really like it in this.
Kung Pao Chicken Tacos: This is the new one for this round. I saw these in Cooking Light and ripped the recipe out. I think it will be an interesting flavor combination. I found some corn/flour tortillas at Costco last time I was there that I think will be nice with these.
So, that's what's on tap here. I have some frozen pizza dough leftover from my Pesto Chicken Pizza last time (I make a big batch and freeze half when I make pizza dough). I wouldn't be surprised if Pepperoni pizza sneaks its way into these dishes, and perhaps potato bar. Just tryin' to get these kids fed. 🙂