Summer first aid training for moms will cover everything from bones, bumps and bites. Get ready to stay safe this summer!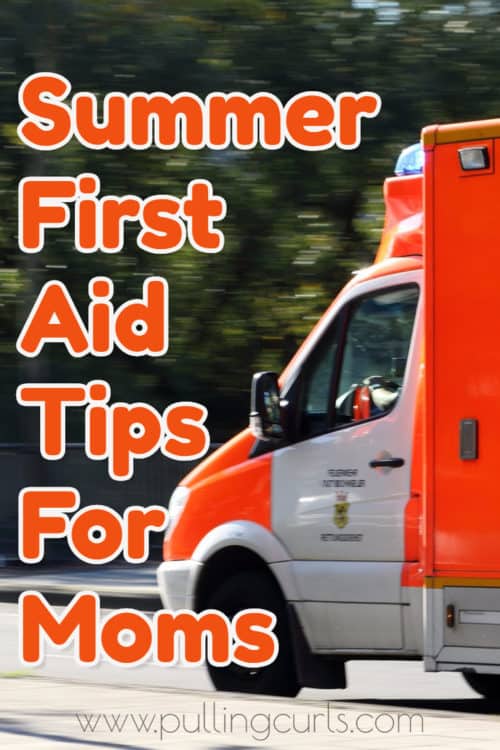 Summertime can be a lot of fun, but with kids playing outdoors more, comes more risks.  More bonks and bruises.
Here are a few quick tips and links that will help you stay safe and sane this summer.  Be sure to pin this post for future reference!
Broken Bones
This post all about broken bone symptoms will give you a good idea if you need to get it checked out or not.  Keep in mind that, in general, those no harm in taking a breath and icing it for a bit to evaluate the condition.
Head Bonks
When kids collide, one often comes out with a nice sized goose-egg.  This post about head trauma is going to help you know what to do and what to watch for!
Bruises
I have found arnica to be great on bumps that haven't broken the skin.  I wrote a post about child bruising — and since then I've just heard more and more friends who use it.  You can still get the stick here — that thing is VERY kid friendly (and great to tell a kid to go put on when they're whining to you. 🙂
Mosquito Bites
I use a combination of hydrocortisone and  lavender oil.  It really helps.  If they're bad you can also use benedryl (or any other allergy medication).
First Aid Kit
I talked all about first aid supplies right here.  I'd have some extra kid ice packs in your freezer for the summer.
Water Safety
I am a huge advocate for water safety, being a health care provider in Arizona.  I have heard of too many babies dying in unsuspecting pools.  You can never be too careful around pools.  Gates must always be shut, kids must be aware of watching out for other kids and to be safe.
Even if your child is a decent swimmer, you need to make SURE they know not to be by the pool alone.
We did the "drop them in the pool fully clothed" class but she still knows she can't be out there by herself.
I am a huge advocate for swim classes too.  Preparing from every angle can help prevent a lot of accidents.
My #1 tip for summer safety can come straight to your inbox.  Don't miss it, and check out all my family health tips below that!