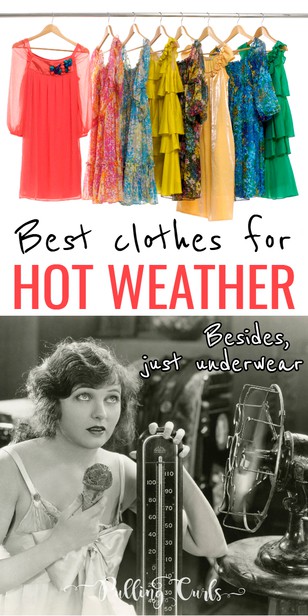 Looking for hot weather clothing tips? Look no further since I live in Pheonix and desperately wish I didn't during the summer. These are the best hot weather clothing tips you'll find to keep you cool in hot weather!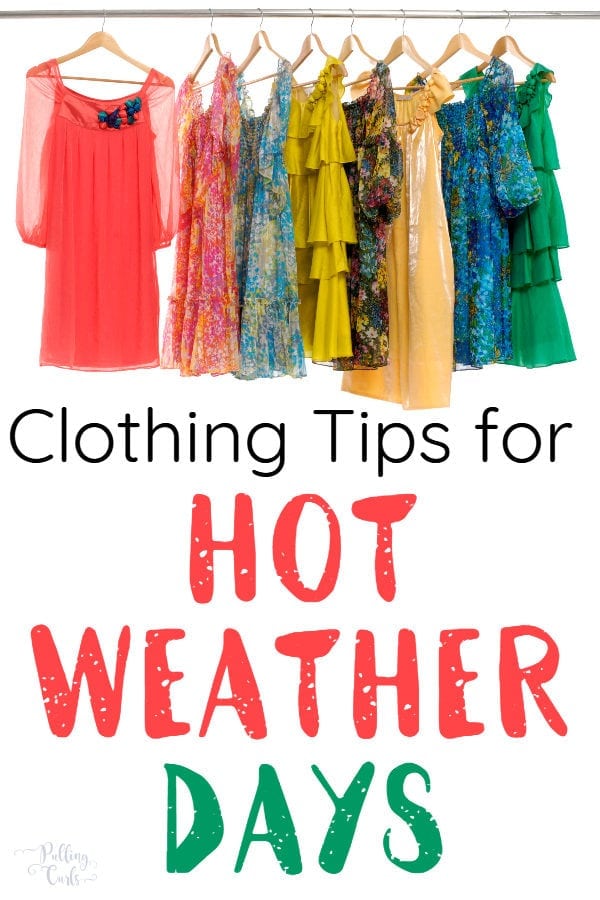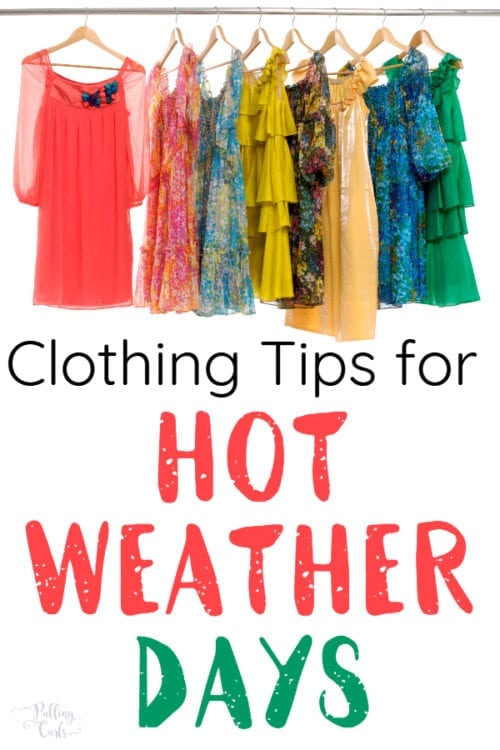 Hi, I'm Hilary — and I live in Phoenix. We moved here after my husband was laid off – and while I will admit it wasn't our first choice — it is VERY beautiful in the winter.
During the summer though.
Oy. vey.
It's hot — and I don't mean HAWT, I mean hot. Desperately, broilingly hot.
So, today I wanted to give you five of my BEST hot weather tips. Hopefully, they'll keep you cool in the summer.
Related Post: Minimalist Wardrobe
Hot weather clothing tips
Stop layering.
Just stop it.
I'm Mormon, so we have certain modesty standards that reqiure us to be fully clothed over our shoulders and to about our knee. Sometimes I think a shirt would be fine if I added a thin T under it or something.
But, don't. Just don't. it's WAAY too hot for that! No layers, zero. The end.
Best hot weather clothing
Consider the fabric
Fabrics to lean towards during the hot months:
Cotton — it's just usually so light (but can also wrinkle — so I try to blend it with another fabric if possible)
Linen — feels SO great — but again, the wrinkles make me want to cry…. but sometimes they're worth it and I've heard good things about linen and a wrinkle releaser
Rayon — this one is good because often the clothes feel very light and thin. Also, it's fairly breathable and doesn't stick to you as much as other fabrics. Personally, it's not my favorite choice as clothes often say dry clean only that include it.
Chambray — I love this mixed with a BIT of spandex so that it doesn't wrinkle as much. A great light weight version of denim it's a goodie.
Seersucker — While I mostly like this for tops and maybe skirts — its' SO light and allows for great air flow. I think it's a cotton, but it doesn't wrinkle as badly becuase of the wrinkley-ness of the fabric anyway.
Looking for more info on fabrics, this one had a lot of good info.
Women's clothes for hot climates
I tend to love skirts a lot (big ones) in the summer to allow for more air flow to my lady parts. It can be a big win for everyone!
Making sure that my clothes aren't tight and that I can get good air flow helps a lot!
For those who feel comfortable, you can try tank tops or shorter shorts — but make sure you feel COMFORTABLE in them, and don't just like them because they include less fabric. It's never worth it to wear a short short that you feel super awkward in, to just save a few inches of fabric on your thigh (a skirt might be just as cool, and cover you up a bit more).
What to wear when it's hot
Colors Matter
Sure, I love dark jeans — but when I wear them in the summer I imagine them baking onto my legs and melting to my flesh.
For real.
So, think about lighter colors — even if you have to wash a bit more, I think it's worth it.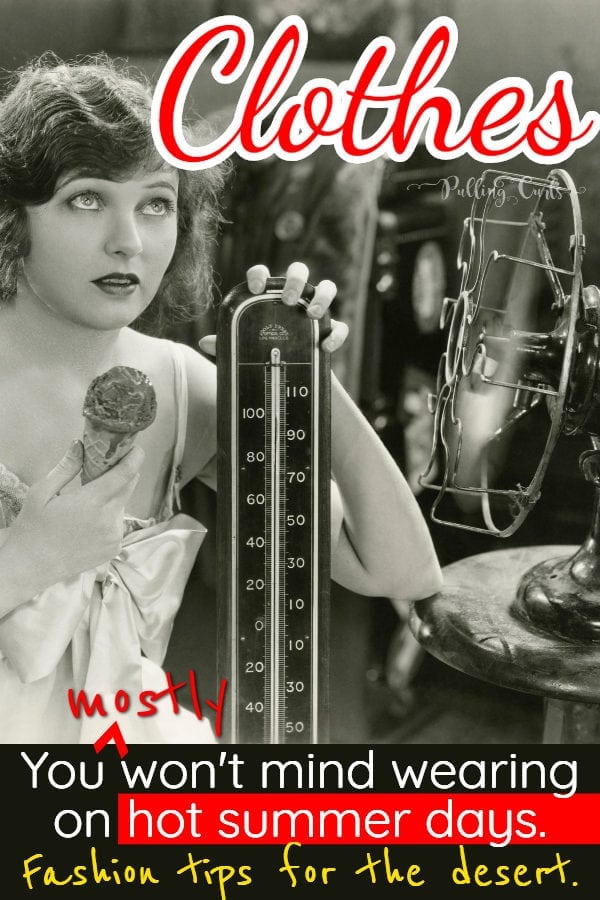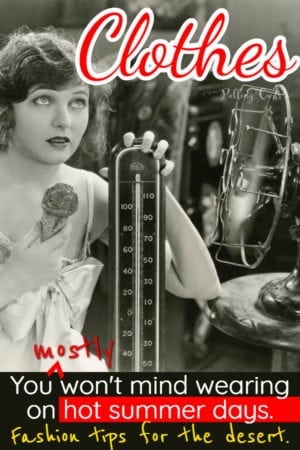 Best hot weather clothing
Use a service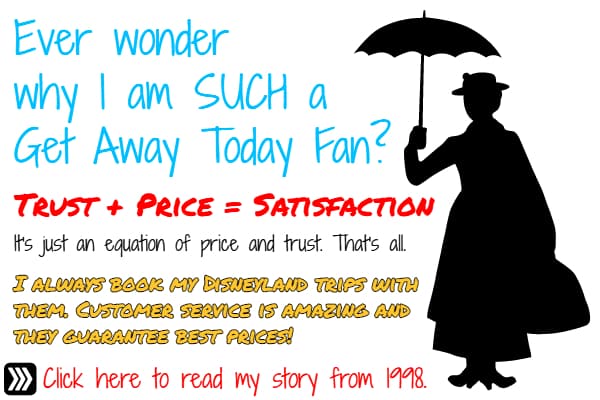 People like StitchFix or DIA & Co. have TONs of clothes at their disposal and they really want to make you happy.
SO, if you're looking for tops, or bottoms that will work well in a hot climate, be VERY specific with your request.
You can learn more about my experiences with style boxes here
The key is being specific…
I also like to just get those subscription boxes a few times a year, as the seasons change. That way I can be SUPER specific about any events I have coming up or what I REALLY need vs "just send me cute stuff" which is what it is when I get them monthly.
So, to review:
Don't' layer
Be more considerate of the fabric
Be thoughtful of the pieces you pick so you feel comfortable AND cool (skirts rule)
Colors Matter
Consider using a service to get some awesome options.
Personally, I have a box coming from DIA & Co in a few weeks to service me during the HOTTEST Summer months, and I'm excited to share what I get (sometimes I get awesome ideas from looking at what other people get in their boxes) — so if you want to check it out –be sure to subscribe below:
[thrive_leads id='30908′]
[pt_view id="23ee41a1fk"]