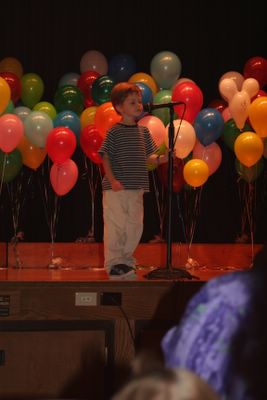 This is Conner at the church talent show. It's not that great of a photo, but I am SO proud of him. He said a 4 line poem entitled "peckin" by Shel Silverstein. He coudln't remember the title at first, but then with a little help from Grandma he did the whole thing all by himself. Way to go bud, I know it wasn't easy and I'm really proud!



Want to find more joy?
Pulling Curls is a blog for the overwhelmed to find more joy. Be it a laugh in something I share or tips for everyday life. Don't miss out!
Happy to have you as a subscriber!
Similar Posts from Pulling Curls: