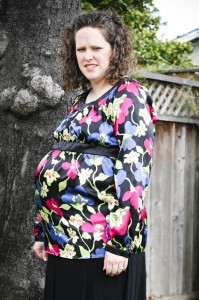 No, it's not that I'm throwing up that much — it's that I'm so darn HIGH.
Look at this picture — it's all rightup there in my face.
I don't remember the other two being such high riders.
and yes, I do have more than one maternity outfit to wear to church — just so happens this one tends to be on when I have a minute to have Conner take my picture.
At least I'm in focus this time.


Like This Post?

Stay in touch with Pulling Curls by signing up for our newsletter. Get JUST the information you want, sent direct to you!
Happy to have you as a subscriber!