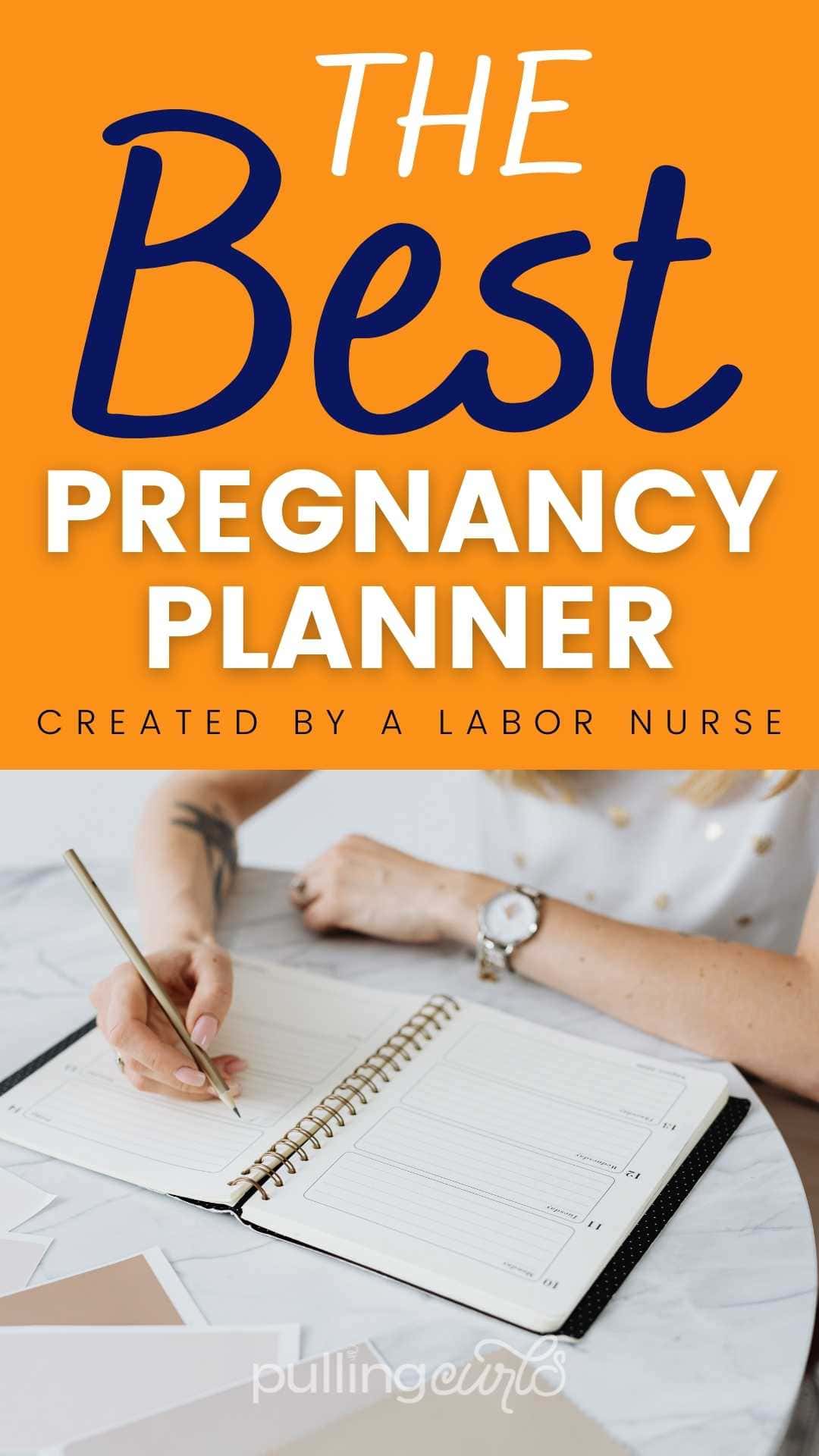 Pregnant? Worried about all the things you need to do to prepare for the baby? Never fear – I've created the perfect pregnancy planner to help you get everything ready before the little one arrives. This planner includes week-by-week tips on what to expect during your pregnancy, as well as a checklist of must-do items. So download it now and get ready for an amazing journey!
New moms feel very worried they will miss something as they head into their pregnancy. I have seen lots of ways to document your pregnancy journey and I think so many are focused on e ither thoughts and feelings OR the facts of your pregnancy, and I am excited to bring you one that combines both!
As someone who has seen THOUSANDS of births I am here to support you in your pregnancy, and I've known for a long time that a Pregnancy Planner was something you all needed and I'm happy to offer it to you here with the Bump to Bassinet Pregnancy Planner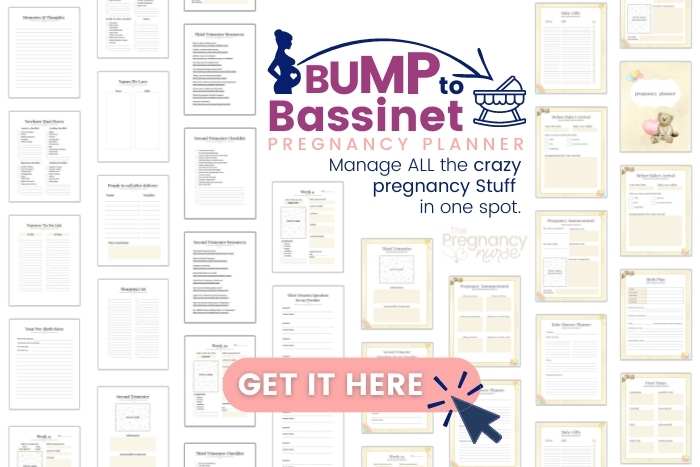 As a nurse and a HUGE planner this really is a marriage made in heaven. I hope to both support your pregnancy brain with to-do lists, but also help you record all the emotions you're feeling in this journey.
What should be in a pregnancy planner?
This pregnancy book really has everything you need for your upcoming birth. The best pregnancy planners will include:
A week-by-week guide to what to what's going on in your pregnancy

Tips on how to stay healthy and active during pregnancy

A spot for your birth plan (although I prefer birth "preferences")
A spot for your baby shower planning
A place to mark thank you cards for baby gifts
A list of resources for additional information, support and pregnancy tips
To-do lists for things you need to get done (pregnancy brain is real)
A list for baby names (I know you'll love these later on)
A family tree portion so babies can see where they come from
Spots for bump photos
Journal prompts to share your feeling on this journey
Plenty of room for you to add your own needs with some blank pages
A place for firsts— like first kick
A spot for birth announcements (even print off the pages of comments when you share online)
A spot to detail your birth story
A medical log of what's going on (could be extra helpful for other pregnancies)
A spot for pregnancy milestones
Ultrasound photos (that first ultrasound will look so small someday)
A hospital bag checklist
Bonus: The Bump to Bassinet Pregnancy Planner gives you the opportunity to join us in our pregnancy group, and get more support from other families like yours!
Why Use a Pregnancy Planner?
A pregnancy planner can be a helpful tool for both first-time and experienced parents. It can help you keep track of your appointments and to-do items, as well as provide guidance on what to expect during each stage of pregnancy. Additionally, a pregnancy planner can help you manage your stress levels and keep you organized during this busy time.
Ultimately, as a mom of older kids I can assure you that someday your child will be amazed that they used to live inside you. This keepsake journal is the key to remembering it all. It's not just for you to keep it together during the pregnancy, but a great option for memories this child will love some day.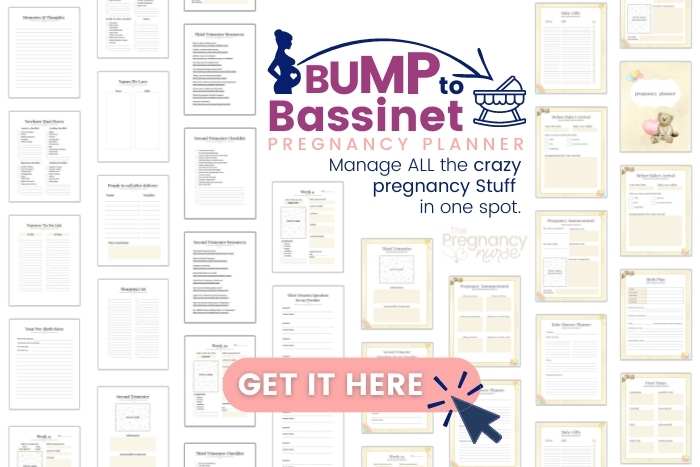 What about the Best Pregnancy Journal?
I think that a good planner combines not only including feelings, but also the facts of your pregnancy. That's how I use my OWN planner, and I created that for you to do this in this planner.
How to Use a Pregnancy Planner
To get the most out of your pregnancy planner, be sure to:
Fill it out as you go along – don't wait until the last minute!
Customize it to your needs – there is no one-size-fits-all approach to pregnancy planning
Use it as a reference – refer back to your pregnancy planner throughout your pregnancy for guidance and support
A great way to use it is to print as you go. No need to have a bunch of empty sheets in your body before baby's arrival, that will just feel stressful.
The best pregnancy planner will make your life easier and help you prepare for the arrival of your new baby. So download it now and get started on your journey!
How Should I Take the Bump Photos?
You can easily print the photos at home, but I really like a more "photograph" look (and my printers don't always do this for me).
I love a this camera/printer that prints those types of photos right on demand for you.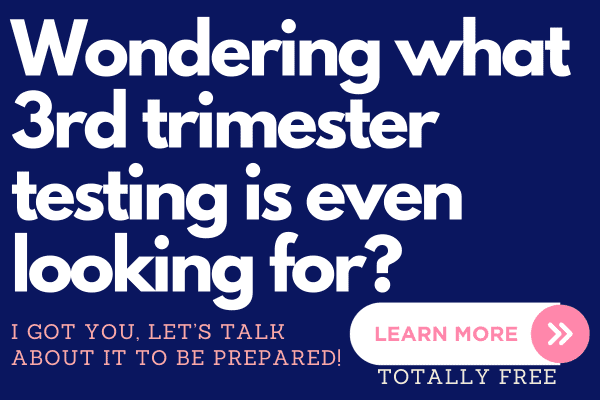 Or, you can keep this planner entirely digital and use drag and drop things. Easy peasy!
How do I print this pregnancy planner?
To print this pregnancy planner, you'll want to purchase it.
Upon purchase we will send you information on how to access it.
The planner comes as PDF files for you to use.
You can then print it, or you can use it in a tablet software where you can write directly on top of PDF's.
Not interested in printable pregnancy planners I do have a few that I recommend (but clearly won't have everything I'd put in there)
Best Pregnancy Planner FAQ's
Is this planner just for first time moms?
No, not at all. This is great for all expectant parents
Can this make a great gift?
Yes, you absolutely can! Just shoot me an email to hello@pullingcurls.com and I'd be happy to make that happen. It's a fun way to acknowledge the first trimester of pregnancy (makes that morning sickness more worthwhile if you remember the total game)
When is the best time to start a pregnancy planner
While this planner has spots for 4 weeks on the best time is to start where you are. Even if you're well into your second trimester, or even your third trimester I think you can still really enjoy what you put into this book.
Does this cover baby's first year?
Currently it does not, but if there is interest in a baby book I'd love to do that for you! That way you could track baby's development in the womb AND outside!
Ok, I can't wait for you to get started in this pregnancy planner!