Stitch Fix For Teens:  While larger teens can use the regular Stitch Fix, smaller teens & tweens can use Stich Fix Kids.  This Stitch Fix Kids review shows that it is possible to get a modest subscription box for tween girls that won't break the bank.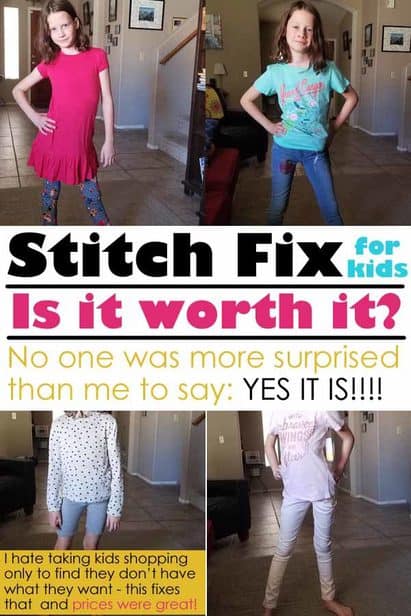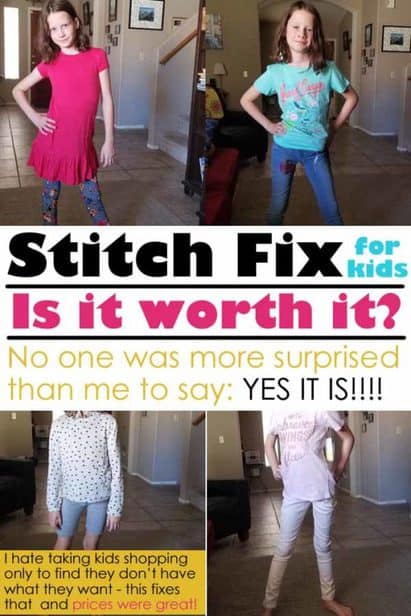 Kids Stitch Fix for Tweens
Kids Stitch Fix is available for kids sizes 2T to 14.
I have two kids that fit that bill and both are PRETTY picky about what they wear.
This post talks about my 9 year old daughter's review of Stitch fix and what she thought.  She has some modesty standards that she's chosen to abide by which include:
Covered shoulders
Longer shorts (hard here in AZ where it seems like booty shorts are the standard)
Covered Abdomen
But, she also loves clothes and looking cute and colorful, so I thought we'd give it a try.
BTW, I have also tried Stitch Fix for teen boys.  Check that post out too!
Why try Kids Stitch Fix?
I just took both of these kids (I also have an older son in college) to the mall and wanted to DIE.  I felt like selection is just getting less and less, and it was HARD to find things that worked for THEM that weren't insanely expensive.
While losing my mind I decided that Stitch Fix Kids might be worth our time.
What I was concerned about in trying Stitch Fix Kids
I was mostly worried about:
If they'd stick to what we wanted to be covered up
If pricing would be insanely high for using their stylists
If the quality would still be good.
I have to say they hit all 3 and I'm REALLY thrilled with what she got.

Stitch Fix Kids Unboxing:
Here are her initial impressions to what she got (and yes, I do have a head … #oops….)
A closer look at the outfits: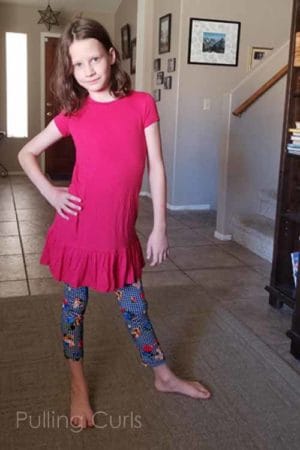 Red ruffled shirt dress: $18 ($13.50 with full-box discount)
Kind of plain, but she's a fan
Patterned Leggings $10 ($7.50)
These are SO soft, and very different than what we'd buy normally, but SO fun and cute.  Let me stress HOW soft they are — big fans of these, a box favorite.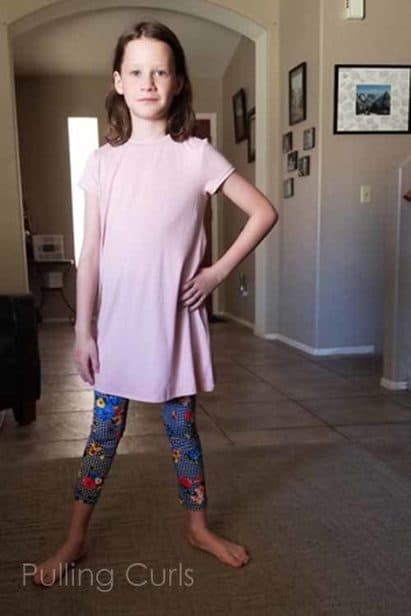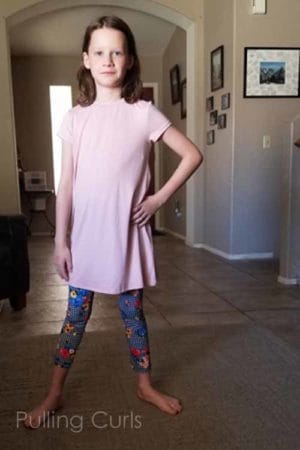 T-shirt dress $16 ($12)
Sort of plain, probably our least favorite thing in the box — kind of muted, although it's very soft and could be dressed-up or down.  So, that's nice.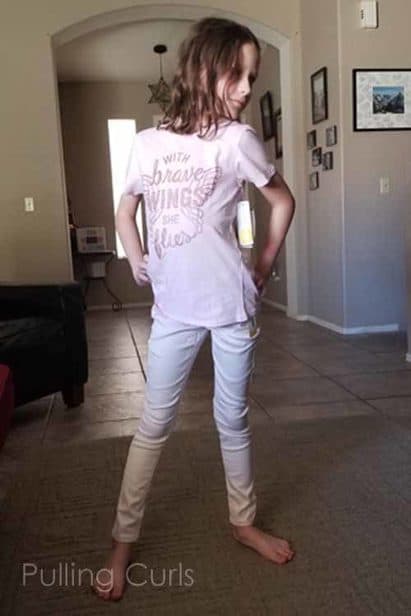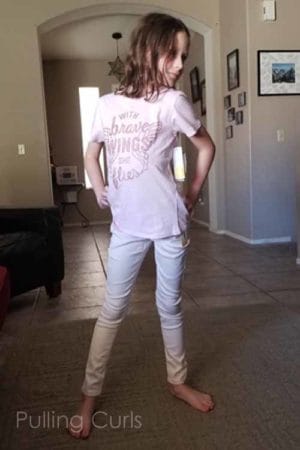 Graphic T (all of the graphic T's are $12 — $9 with the discount)
Great quality, I said she loves shimmer and they delivered with this one.
Pink Skinny Jeans $20 ($15)
These are great, super good fit and it has cinches on the waist to make it fit for her.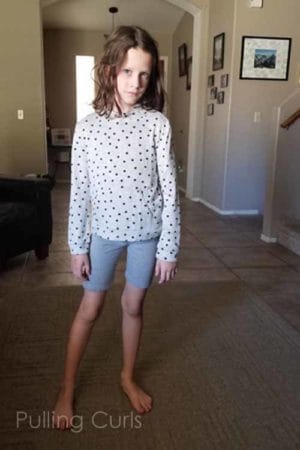 Polka Dot Sweatshirt $20 ($15)
This is Paige's actual favorite of the whole box.  She loves the lightweight nature.  She LOVES to wear a sweatshirt in the mornings when it gets cooler and this one is super lightweight, perfect for AZ
Bermuda Shorts — 2 pack $16 (for both pair — $12 with the discount)
Total win with the long shorts.  At first I thought they were a bit tight, but they look great AND they fit on her super skinny waist. — here she is from the back side: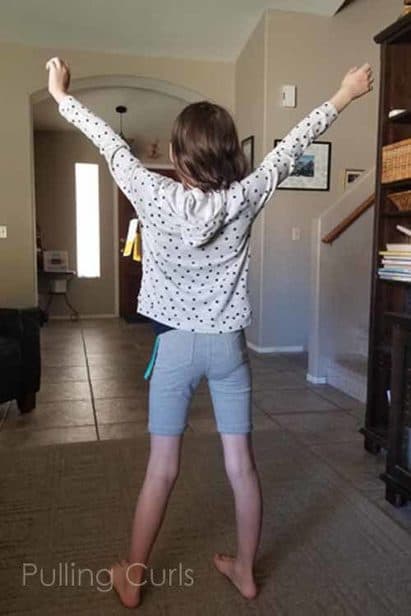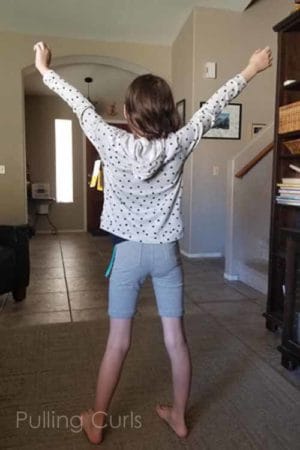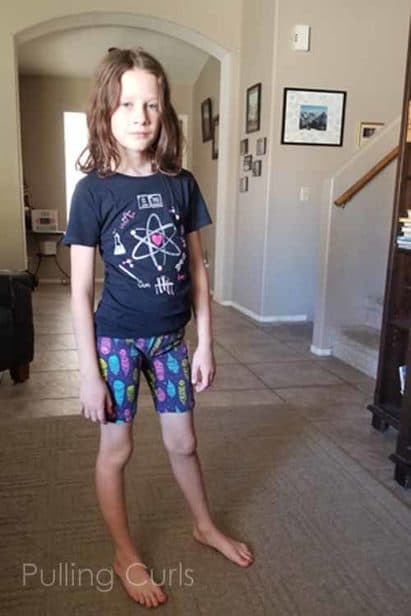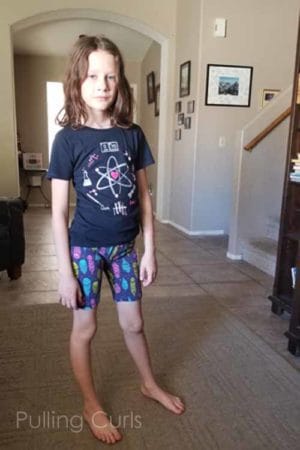 Graphic T ($12)
SO, SO cute — perfect for her.  She loves science and stem.  I love how they saw that she likes science and put this in the box, that makes it extra fun for her.  This is her 2nd favorite item in the box.
Shorts are the other pair in the 2 pack above for $16)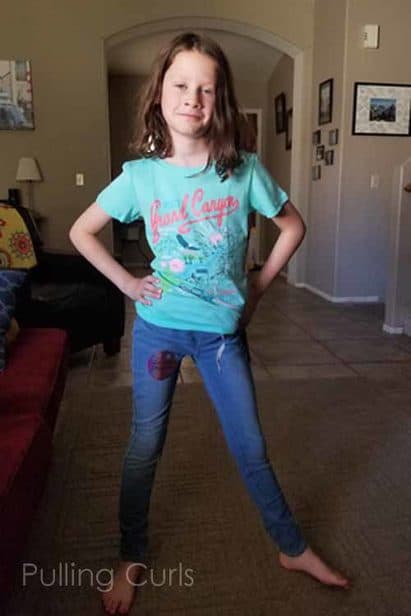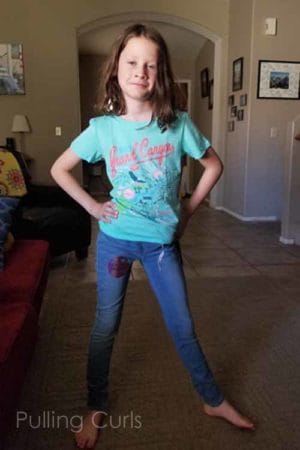 Cute grand canyon T-shirt $12
A big yes on this one from our Arizona girl.  It's bright and colorful.  She likes this one a lot.
Skinny Pants
OMG guys — I NEED THESE, they are SO soft and stretch.  Main problem, they don't fit her waist.  However since they're just $20 it doesn't make sense to send them back (as we get the 25% discount for keeping them) so, I think I'll jus tput a tuck in the waist band.  I'm basically an expert at that at this point.
>> Get Stitch Fix for Kids Today!! <<
Sitch Fix for Modest Girls
Stitch Fix has NOT done a great job with my own modesty standards, but I was super impressed with this box.  I think our plan is to keep all of it.  I will be VERY specific with any concerns I had with any of the items when I return it as I hope to get her another box when winter rolls around.
Tips to get a Stitch Fix Kids Box
Be VERY specific in your initial questionnaire.
I stated a 5-inch inseam on shorts.
I stated her entire shoulder needs to be covered.
I said that at no point show her abdomen.
I didn't want shoes.
Also, I wanted clothing items on the lower end of the price range.
I wanted more shorts, but you get what you get with Stitch Fix, and I think the pants are lightweight enough that in a month or so they'll be a great option.
Will I order Stitch Fix Kids again?
Yes, I think I will.
It was SO nice to not have to go to the store.
The price point is right where we would buy "nicer" items at (we will probably fill in around this fix with items from Goodwill), so I am normally on the cheaper end of clothing.  This is a bit of a splurge, but I figure one fix in the summer and one in the winter and we'll be good.
Check out my other kid's gift guides: