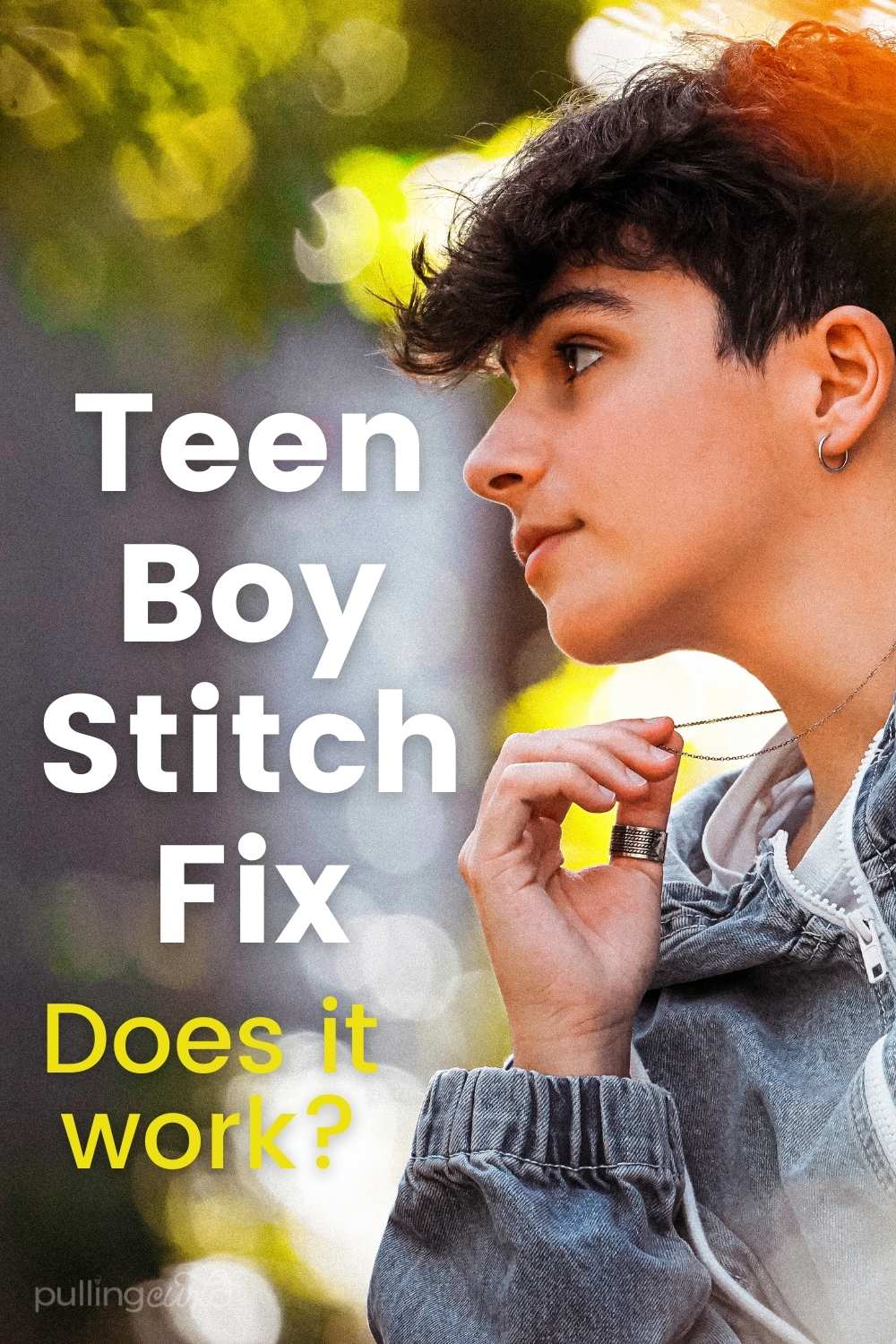 TEENAGE STICH FIX: Fashion for teenage boys can be hard. Will a teenage boy stitch fix subscription help? This review of a 14 year old boy, size 14 will tell the tale. ALSO, we have updated this post with some MEN'S stitch fix to show what you can get as your kids get older and have NEW reviews from boys 15 and 19.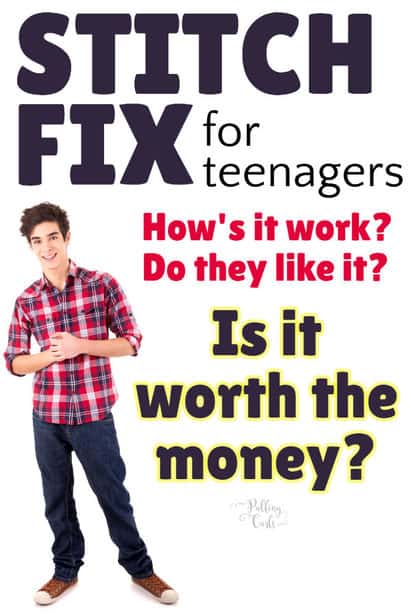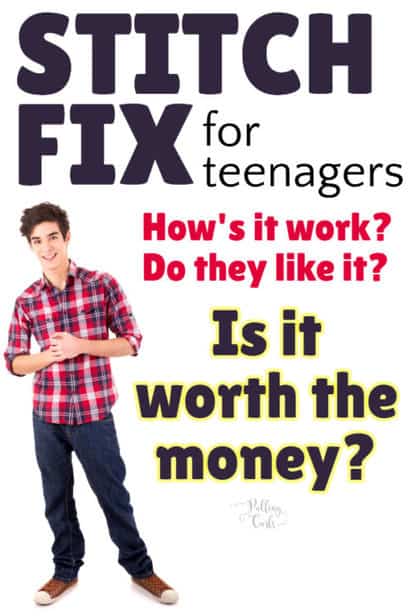 This is my 2nd review of Stitch Fix Kids, I also have one about tween girl's stitch fix << that is a great stitch fix kids review.
FYI, I will first review our newer boxes that we got from regular Stitch Fix Men's, and below that is the review of stitch fix for kids.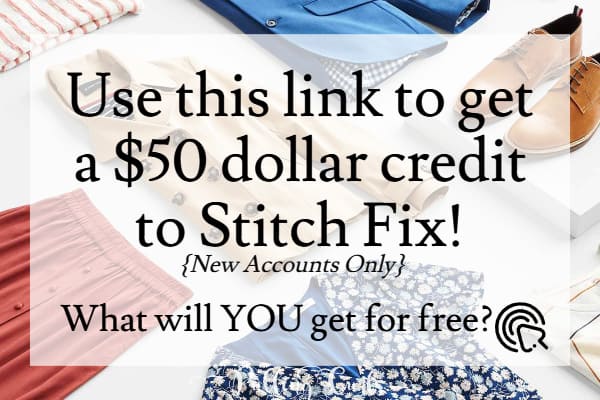 Stitch fix for teens/kids works the same way as it does for adults. You pay a $20 styling fee (which is applied to any purchase you make), and you get free shipping to you (and free shipping for any returns). It does take a little bit to get your box (return times are longer than they had been).
Make sure that you fill your questionnaire for your personal stylist out thoroughly. That way they know what you want, and will hopefully send things in your price range. For my boys, this seemed like a LONG TIME, but worth it to get some great things. You could even have them curate a Pinterest board of some styles they like for their stitch fix stylist.
Also, if you're looking for specific items (like, say — black pants), be sure to put that on your questionnaire.
Stitch Fix for Older Teen Boys
My son is far outground Stitch Fix kids but wanted to try Stitch Fix Men's. he is a sophomore in college (and full disclosure, for all of these videos we did get some credits for each box, but you can tell that opinions are all their own — I mean, they are teenagers!!!). We asked for all casual clothes, and these are all our honest stitch fix reviews:
Box Pricing $283.00 (would have been $212 if you bought all 5 items)
He ended up keeping 3 of the items: the pants, the blue button-down shirt, and the red t-shirt.
He liked the shoes, but he has so many neutral colored sneakers already that it wouldn't be worth the price tag for them.
He also somewhat liked the floral button-down, specifically the material, but does not like outfits with floral shirts.
Overall, he thought Stitch Fix did a great job with what he gave them in his style profile and has ordered another box with them that he hoped was more tailored to his personal preference.
Mom Thoughts: He has a hard time finding nicer pants that fit his slim body (you'll find those genes throughout this post) — SO it was really nice to get some he REALLY liked with Stitch Fix. He is 19, so while he may grow a bit more, he will likely be able to wear those pants quite a bit. I felt like it WAS worth it for him. He cares more about what he looks like and really liked some of the items.
The price is probably more than we'd regularly pay — but the items were of high quality and they fit his body type, so that was a relief.
Stitch Fix Men's for Teen Boys
My other son is 15 and got a Stitch Fix Men's (you can see his Stitch Fix Kid's box below this from last year):
Note on my son: He is SUUUUPER skinny and somewhat tall. Probably heading into 5ft 8″ or so…. so, fitting him in stores is ROUGH. Especially on pants. I would guess that many parents have this issue with their young adults.
Box Pricing $193.00 (would have been $144 if you bought all 5 items)
My son ended up keeping 3 of the items. He liked the pants but they just BARELY fit on his ankles, and he will likely be growing this year and to pay that much for jeans that will only last a few months probably isn't smart this time.
He also wasn't a fan of the pineapple shirt. He SAID he likes button down shirts, but in reality, he doesn't. He's all T-shirts.
Although it is often cheaper to keep all 5, in this case, those were the 3 most expensive items so he sent them back and is awaiting a second box.
Mom's opinion in the end: If we can get jeans that fit well on his long and skinny body, it would be worth it. Otherwise, for a kid who basically just wants to wear clothes, it's probably not worth it for him once you upgrade to men's.
Stitch Fix Kids for Teenagers
Stitch Fix for Kids serves kids up to size 14 (and down to 2T). If you're past size 14, you can order the adult stitch fix (although, I find it to be pricier).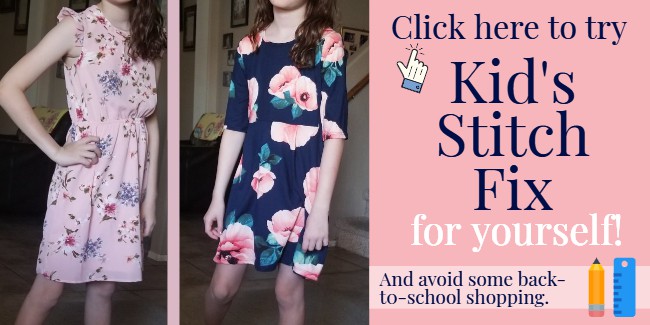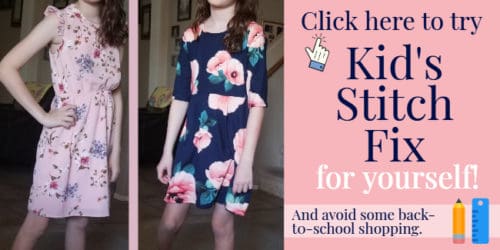 Why do stitch fix for a teen boy?
This one's hard to shop for. He's picky about fabrics and what T-shirts say. Going with him drives me crazy, so I thought we'd at least try it and see how it goes.
Teenager Stitch Fix Unboxing:
Clothes included for teenage stitch fix:
Lets look at the outfits a bit more: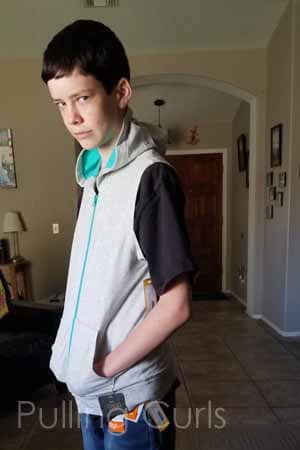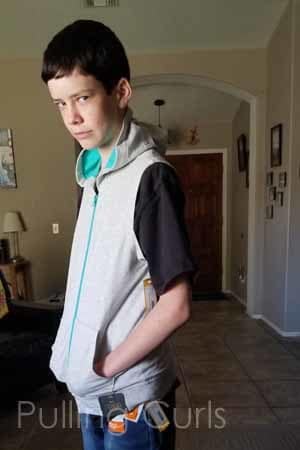 Hoodie $20 ($15 with the full box purchase discount of 25%)
He loved it, but he hates it with no sleeves. Like HATES it. We gave feed back that he only wears short sleeves, but he does wear long sleeve hoodies — oops. He'd love this one with long sleeves.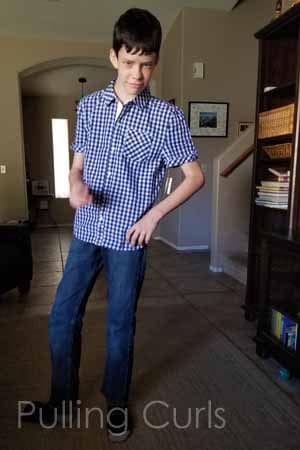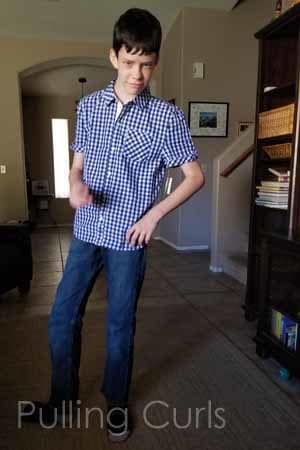 Blue checked Shirt $16 ($12)
He felt like this one was too plain — and I don't think he liked the sleeves rolled up (he called them "sleeve collars").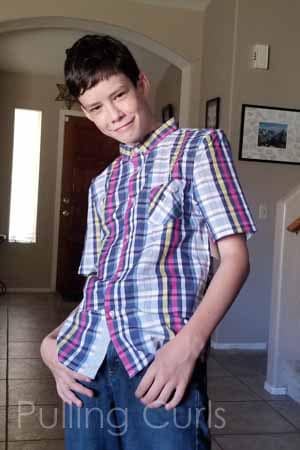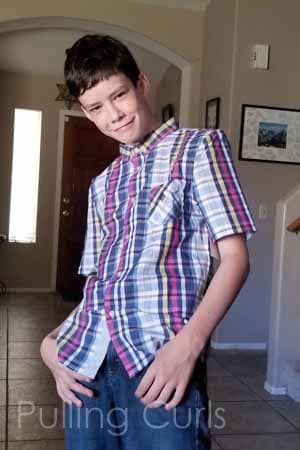 This is the exact same/price as the brand above. HE didn't love it, especially the pink.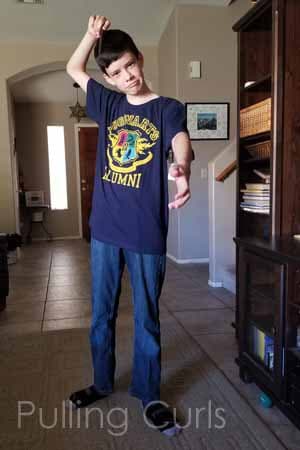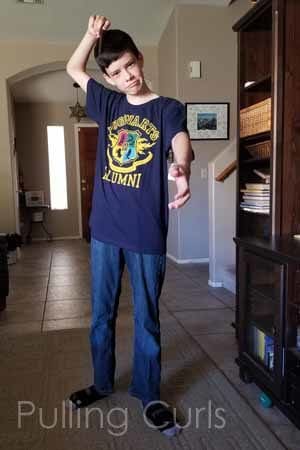 Hogwarts shirt $14 ($10.50)
He loves Harry Potter, this was a win.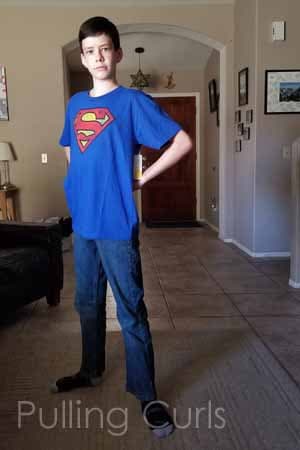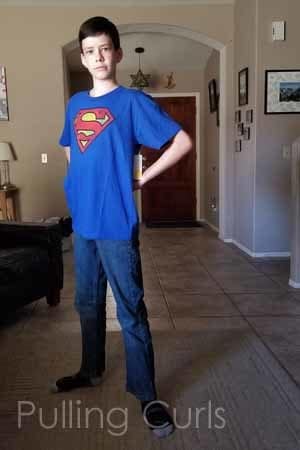 Superman Shirt $14 ($10.50)
He liked this one too. Surprise! It is nice that they send fun items like this.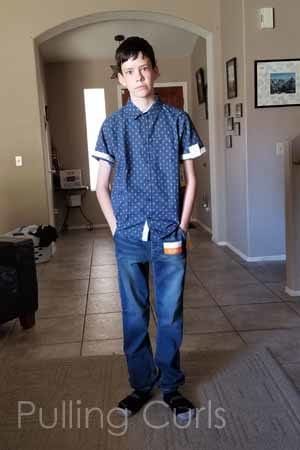 Anchor Shirt $18 ($13.50)
He liked this one OK. He SAID he'd wear button down in the initial survey, but once he got them, he seemed reticent. He did end up keeping this one though
Denim Jogger $20 ($15)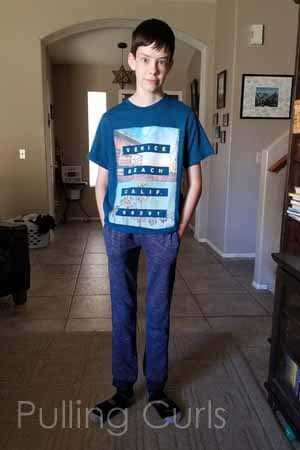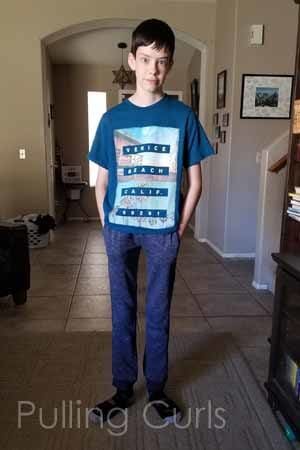 This one was horrible. He couldn't stand the waistband (it was elasticized plus a drawstring and the ridges drove him insane). The leggs were cuffed, and while I thought he might like it when he rides his bike to school, it was a no. He much prefers skinny jeans.
Graphic T
Just your basic graphic tee, he didn't love it — again, it really didn't fall in his realm….
Jogger Pants $20 ($15)
In the end, he got the Harry Potter shirt, the Superman Shirt and the Anchor shirt. He was sad that there wasn't more there that worked for him. We plan to do another run in a few months as it gets closer to winter. It would be nice to get some new items that work for him. Although I would NOT turn on automatic deliveries for someone who has so many clothing issues. The best part would be if they "got" him and each stitch fix box took those concerns into account and he got some great new pieces.
>> Try out Stitch Fix for Teen Boys <<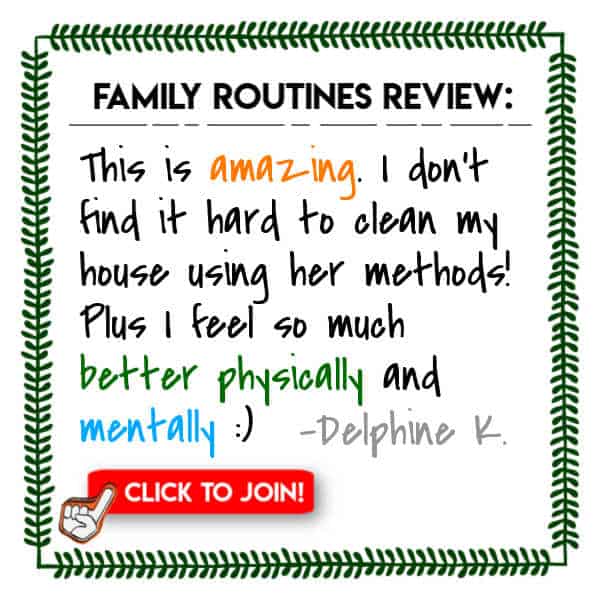 It was frustrating that they sent so many similar items, but I guess he is a teenage boy, and this is a kid's box.
Full disclosure: They did waive my styling fee for this box, but we did pay for the vast majority all on our own.
Perks of Stitch Fix:
You can try them on at home, no weird dressing room moments.
The online quiz can be a good way to get to know what your kid likes for yourself too.
Kids stitch fix is really reasonably priced (less so stitch fix men's, when you're shopping for a teenage boy)
Stitch fix clothes tend to be vetted for quality, which is nice in kids clothing.
If you keep the entire box, you do save 25% (which is awesome — but I have REALLY rarely liked everything in my box, personally). My daughter does like her whole box frequently.
You can schedule them to come at the perfect time (like, before school starts, etc). months in advance.
I found his sister's tween stitch fix to be a better fit. I'm not sure if that's because she's younger, or a girl. But either way — it wasn't a win for this teenager. BUT, it was close enough, and things different enough that he'd like to try it again.
Keep in mind, often your fix box is a bit off, and you need to continue to use the subscription service to really see them understand your personal style.
Don't forget there's lots of other boxes like this, including trunk club (Nordstrom's personal styling service), or LeTote, you could try if this doesn't work.
And, if you're super unhappy with a box, I'd contact customer service and ask to have your styling fee applied to another box or something.
If you liked this post — be sure to check out my practical parenting series, and check out all my other teen posts below that: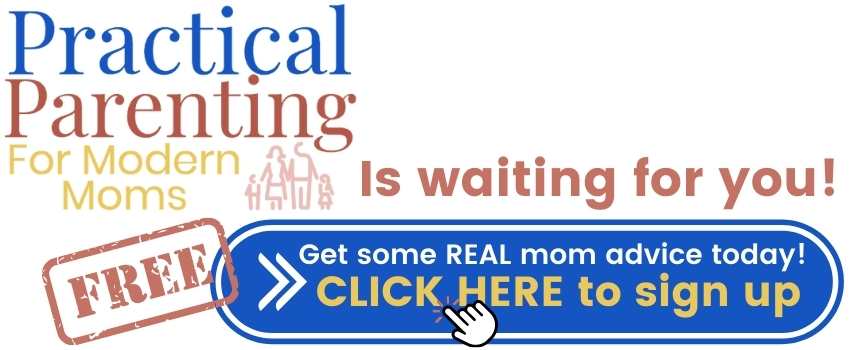 [pt_view id="fb1cb62n3t"]