TEENAGE STICH FIX: Fashion for teenage boys can be hard.  Will a teenage boy stitch fix subscription help?  This review of a 14 year old boy, size 14 will tell the tale.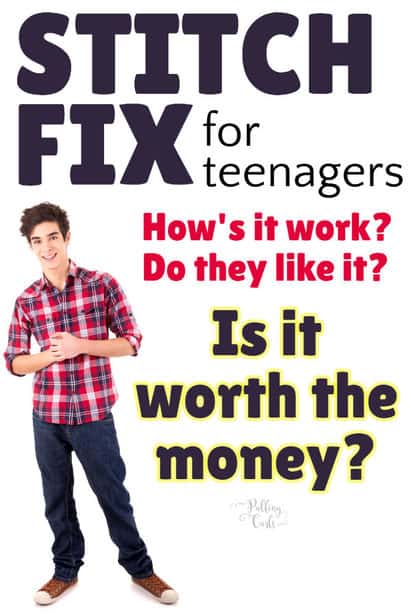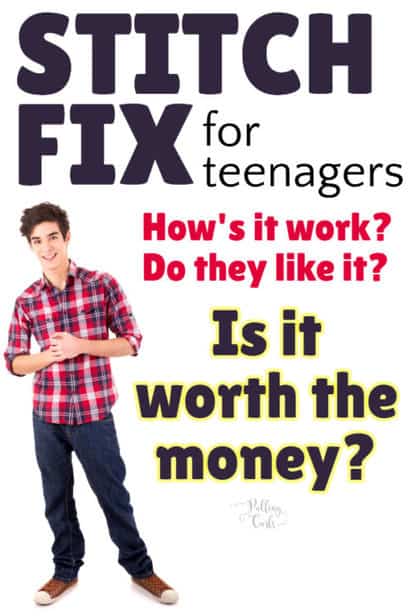 This is my 2nd review of Stitch Fix Kids, I also have one about tween girl's stitch fix.
Stitch Fix for Teenagers
Stitch Fix for Kids serves kids up to size 14 (and down to 2T).  If you're past size 14, you can order the adult stitch fix (although, I find it to be pricier).

Why do stitch fix for a teen boy?
This one's hard to shop for.  He's picky about fabrics and what T-shirts say.  Going with him drives me crazy, so I thought we'd at least try it and see how it goes.
Teenager Stitch Fix Unboxing:
Clothes included for teenage stitch fix:
Lets look at the outfits a bit more: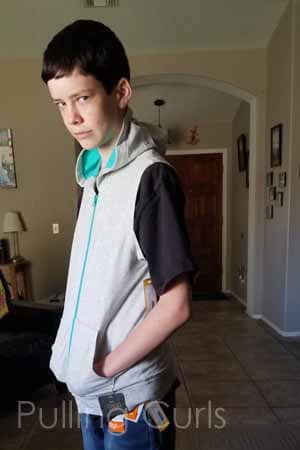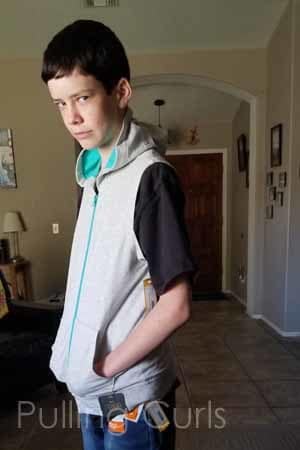 Hoodie $20 ($15 with the full box purchase discount of 25%)
He loved it, but he hates it with no sleeves.  Like HATES it.  We gave feed back that he only wears short sleeves, but he does wear long sleeve hoodies — oops.  He'd love this one with long sleeves.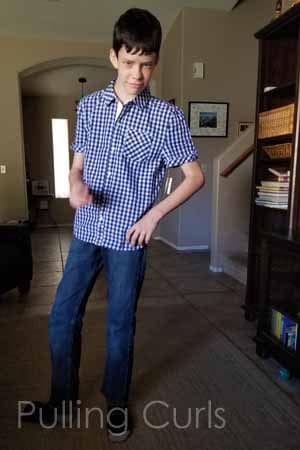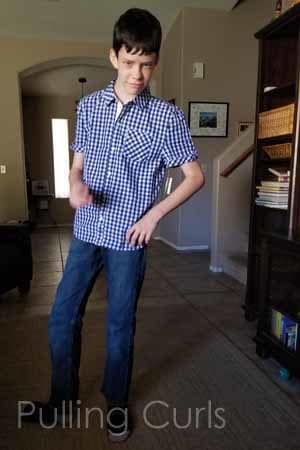 Blue checked Shirt $16 ($12)
He felt like this one was too plain — and I don't think he liked the sleeves rolled up (he called them "sleeve collars").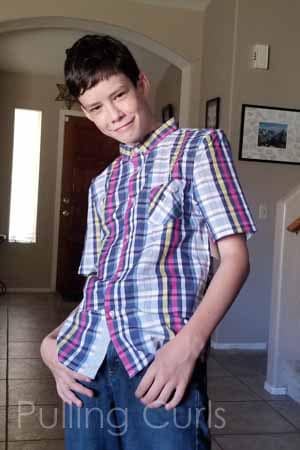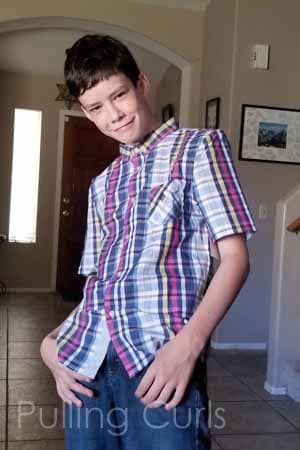 This is the exact same/price as the brand above.  HE didn't love it, especially the pink.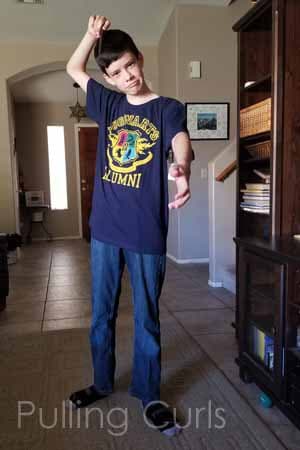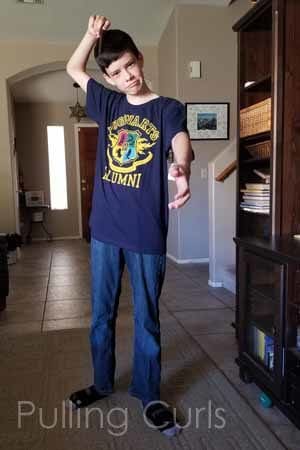 Hogwarts shirt $14 ($10.50)
He loves Harry Potter, this was a win.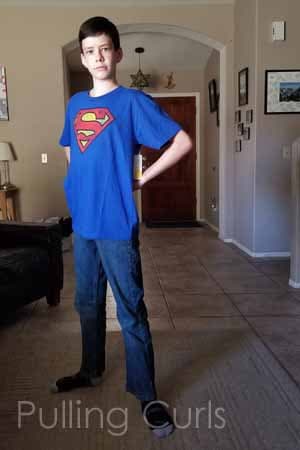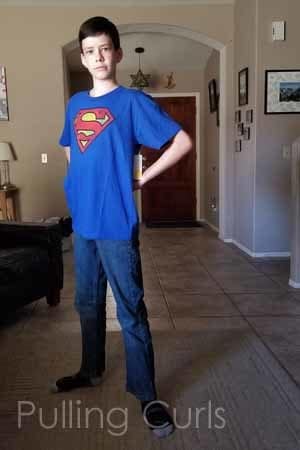 Superman Shirt $14 ($10.50)
He liked this one too.  Surprise!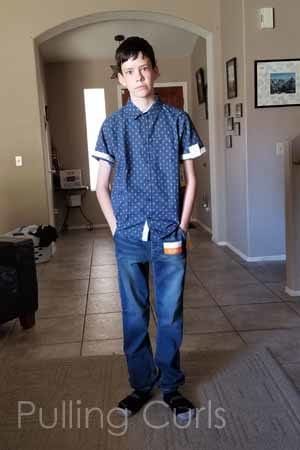 Anchor Shirt $18 ($13.50)
He liked this one OK.  He SAID he'd wear button down in the initial survey, but once he got them, he seemed reticent.  He did end up keeping this one though
Denim Jogger $20 ($15)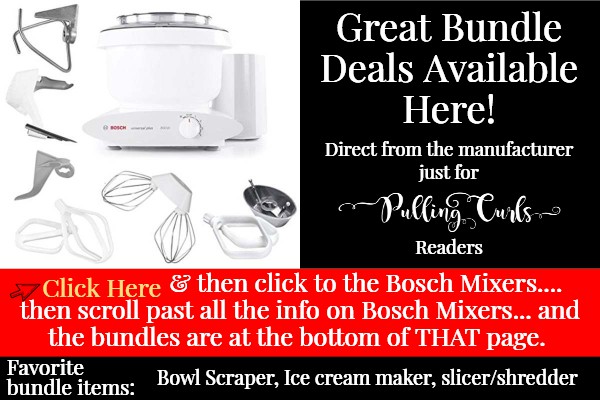 This one was horrible.  He couldn't stand the waistband (it was elasticized plus a drawstring and the ridges drove him insane).  The leggs were cuffed, and while I thought he might like it when he rides his bike to school, it was a no.  He much prefers skinny jeans.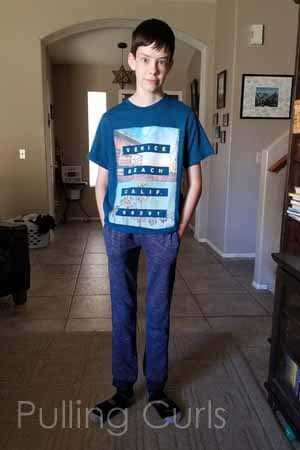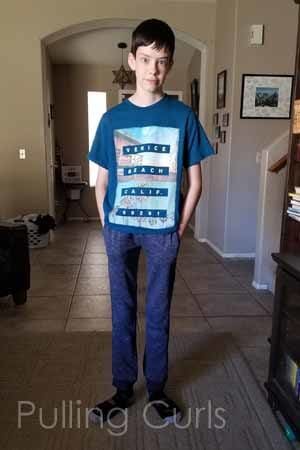 Graphic T
Just your basic graphic tee, he didn't love it — again, it really didn't fall in his realm….
Jogger Pants $20 ($15)
He liked these for sleeping pants, but I normally get those cheaper around Christmas.  So we opted out.  He would not have worn these as pants.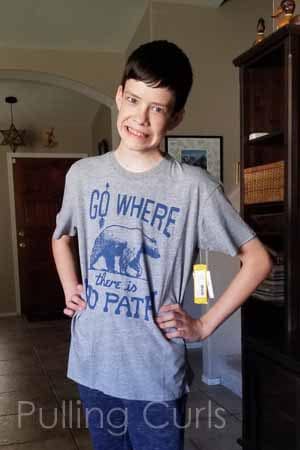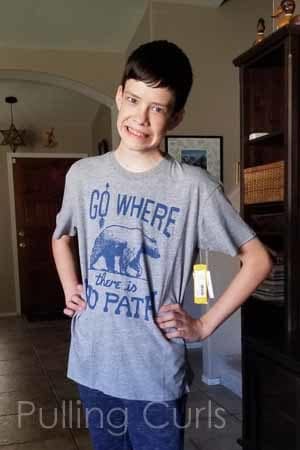 Mr Eagle scout felt uncomfortable about "leaving the path"– maybe we've been to Yellowstone too many times, but this one was a no.
In the end, he got the Harry Potter shirt, the Superman Shirt and the Anchor shirt.  He was sad that there wasn't more there that worked for him.  We plan to do another run in a few month as it gets closer to winter.
>> Try out Stitch Fix for Teen Boys <<
Full disclosure:  They did waive my styling fee,  but we did pay for the vast majority all on our own.
I found his sister's tween stitch fix to be a better fit.  I'm not sure if that's because she's younger, or a girl.  But either way — it wasn't a win for this teenager.  BUT, it was close enough, and things different enough that he'd like to try it again.
If you liked this post — be sure to check out my practical parenting series, and check out all my other teen posts below that: