Do you ever look at your kids at Christmas and just see them overwhelmed by all the bills that surrounds them? For small kids, especially (my teen doesn't have this problem because I can only afford one gift from his wishlist). The beauty of a subscription service is to spread that joy out ALL year long.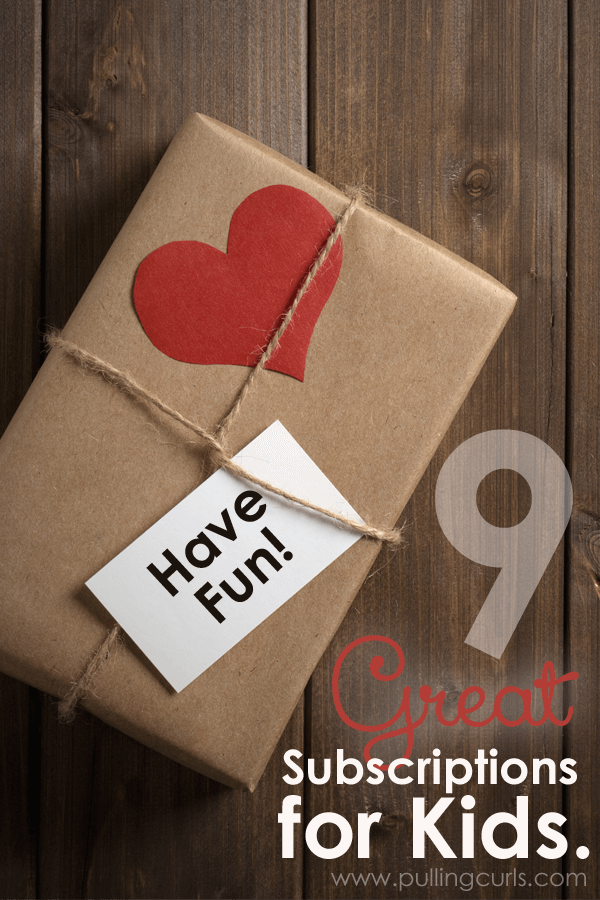 There are lots of time a subscription service can be great:
Birthdays and holidays
If the child is going through a rough patch and could use something to brighten them every few weeks.
A new sibling
Distance grandparents who want to be remembered extra all year long
If you'd like to spread the payments out a bit instead of one LARGE gift with one LARGE payment (see my Christmas on a budget post).
Here are some of my personal best subscriptions for kids. In full disclosure, a lot of these have been sent free for my review. And other full disclosure — I have more than 9 here, I've added a few more lately. 🙂
Highlights Magazine — if you're looking for a low-cost option that still comes monthly you can't BEAT Highlights. Great for kids of all ages — you can save a ton off the cover price.
My sister in law bought me a highlights subscription at some point along my parental journey. It is a GREAT magazine for quiet time, and as always — when kids get something in the mail it's exciting!
Green Kids Crafts — this one has a lot of nature-inspired crafts for your kids to enjoy. We've had kits about flowers, and our most recent one was all about rocks and minerals.
It got my seven year old totally excited about rocks and minerals. It was pretty cool!

Pipsticks — holy cow. This is SO fun. Princess P got her package after a total post-school melt down. It's all stickers and paper. Basically everything at little girl wants. Great price, great products, this is a winner.
Awesome for summer, or even spring break!
---
BitsBox If you have a kid interested in coding, this is the box for you. They have 2 options, you can have it shipped to you, or you can print out the coding on your own. My kid is SO excited to code, I might just print it out at home and let him do his thing. GREAT for the 9-12'ish year old that's interested in computers. They'll have a deal coming up soon that's $89.99 plus Free shipping for 3 boxes! Coding doesn't come cheap! 🙂
---
Kiwi Co — Oh man, I think this might be the one I got most excited about. REALLY high quality crafts, with great educational material as well! They come for varying age ranges. Koala Crate is for ages 3-4 (although Princess P was super excited about their crafts as well, I think this could easily extend up to 1st grade if you had ages that range that high and you're wanting them to share).
The Kiwi Crate is for ages 5-8 and HOLY COW she was excited about that. Our box was about how to make shadow puppets.
Then there's the Tinker Crate for kids who like STEM — recommended for ages 9-16 (I would agree, it looked like some of the things might be too hard for someone less than 9). I may be hiding these for Christmas presents, but I know my son will really like learning about this. I'm actually thinking of getting him, his own subscription.
And then there's the Doodle Crate which takes an art slant, also for kids 9-16. Our kit came with ways to make your own stamps. High quality materials and great ideas for creativity! I'm excited that they can come up with their own ways to make stamps (it even has its own exacto knife, which is pretty exciting).
They are high quality products which I would totally recommend. If you get a whole year they're under 20 bucks/kit. Great deal! I think you'll absoluetly love them!
Check out my other gift guides:
[pt_view id="8d8937f4da"]