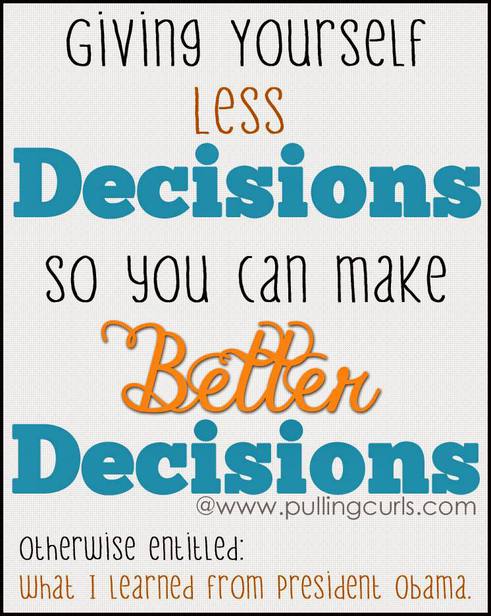 Have you ever asked yourself, how could I be better at making good decisions, or how can I make better decisions, or how can I make decisions more eassily?
I saw or read an interview from President Obama in which a real lightbulb happened in my life.
I am really poor at small decisions. I tend to make much larger ones easier, but President Obama said that he has someone make all the small decisions in his life, so he can make big ones more easily.
Someone picks out his suit and tie.
Someone picks his meals.
Someone drives for him.
Someone…. well, you get the point.
And it really rang true for me.

Have you ever stood in front of your dresser or closet, or whatever — and you just can't decide what to wear?
For me, it having some of those decisions pre-decided really helps me out.
For my clothing, I use a filing system, and the shirts that I haven't worn in a long time are scooted forward, and I just pick between the front 3-4. That way, I am not confronted by 15 shirts, I just have to decide what will work for that day.
For my money, I use a budget. It's easy to decide if you can afford something, when you have a budget already outlined.
For my cleaning, the list is pre-assigned so I can just get up and go!
For my dinner, I use the menu planner. I don't have to fret about the 400 options that COULD be for dinner, when I already have meals picked out and loosely assigned.
Of course this can go too far. We obviously need flexibility, but it has helped me realize what are important decisions, and what can be decided in advance and then carried through.
I think it's a good idea to sit kids down and think of the decisions they can make now. My kids have their own of theirs. No drugs, no premarital sex. If you've made that decision since you were 10, hopefully it will keep you making good decisions.
What do you think? Do you think less decisions makes you a better decision maker?