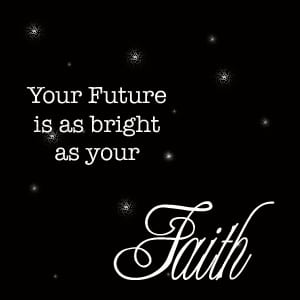 The blog is on a NEW HOME this weekend! I am so excited, and this is the first time I am writing a blog on Wordpress. I will write about the switch more later (probably whe I do my June income report, so as not to bore anyone who's not a blogger).
I've had so many feelings this weekend about having faith in ourselves.
We watched Prince Caspian yesterday, it just happened to be on TV. I started to wonder if those kids were kings just because they had been told they were — or if they were actual kings/queens. I do believe that if you're told you'll "be" something, you'll end up being it. right? We are still in the job issue. I've had a few hard days this week. It's hard to flex that faith muscle long term. I do believe there is something wonderful in store. But, yesterday I reviewed my budget check for how we could make it and I got nervous. Of course, being nervous is nothing new.
I read a great article last night in the Ensign. He talked about going outside and looking up at the stars — at first, all he saw was black, but as his eyes adjusted he saw millions of beautiful stars. I think that's a good analogy. I'm just waiting to adjust, right? Eyes on the prize, right – friends? So, what do you think about the new blog home? You like? Anything not working. Feel free to email me!