I've been perusing some Mormon Mommy Blogs (I know, some of my non-LDS friends just gagged — it is a pretty bad name… but they're good writers, some of them). Anyway, I need to start doing some more snippets of our life… because this particular life of mine is very fleeting.
That P. I coudl literally watch her eat for hours. Those pudgy little fingers grabbing a black bean or piece of bannana and her little arm that unfolds and twirls as if to say hello. I want to eat her up. I want to freeze her. I can't believe my life was almost without her. She is giving me life as of late.
I spend a lot of time looking at clothes on the internet. And by a lot of time, I mean a few minutes a couple of times a week. Today I was looking at Shabby Apple and wondering if I'd ever fit into anything from that site. Sure, I'm losing weight and thigns are going well but I always have a little perstering voice in the back of my mind saying I'm going to gain it all back and I'll always be fat.
Work. Seems like people are fighting and I didn't even know about it. I love that job though. I feel realy blessed to have it almost every day of my life. But, much like children sometimes I want to put a pillow over my head and let the chaos insue without me.
Spencer. That guy is sure getting a raw deal many days. This morning he came to me with the lost jacket face. I mean, he hasn't lost a jacket ever but I started my regular rage of motherhood. He didn't deserve it. Just look at the adorable mothers day card he made me: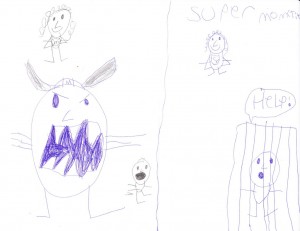 That's me. I'm super mom. Able to save kids from crazy monsters (like lost jackets or forgotten library books). Or save them from the jail of never-ending monotony. I love that little guy. I need to read a book with him this afternoon.
I need to do that more then clean.
It's true.