My Blog Income Reports are made possible by my Blog Income Spreadsheet -- you can find out how to buy it here!

Here's my latest income report. It's a little later than usual, I was hoping to get more income info, but unable to (as noted below). Here's income and what I'm doing to increase it.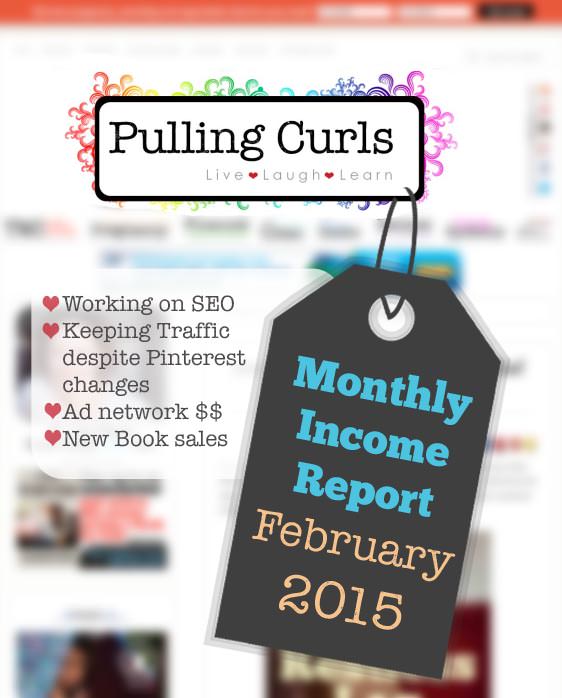 Visitors
Users: 89,980 (Down about 26% — keep in mind that February only has 28 days also, so it is likely to be lower)
Unique Views: 121,044 (Down 33%)
Sessions: 98,173 (Down 27%)
*I use Padsquad and it inflates my pageviews, I have found a way to find my "unique" pageviews which more directly compares them without the inflation of how they can mobile views ~ although, it seems lower than unique views before I went on Padsquad, it seems my best comparable. I tend to compare sessions most often. A session is each time someone comes to my blog. I have heard they are working to fix this problem.
The links included may include affiliate links and I may be paid a small portion of your income with those companies with no cost to you! You can read my full disclosure here. If you go with one of my ad networks, please mention that you heard about them from me! I'd love the referrals!
---
Ads
Padsquad
Income with Padsquad was up 81% at just under $550! I was really happy. The month wasn't all that great, until a few HUGE CPM days at the very end. Phewsh! Much better than last month. I'm starting to weigh my mobile options though. BUT, Padsqaud is still a great income earner. If you're considering it – –the link is here, and please let them know I told you about it!
The Blogger Network
The Blogger network was down to just below 200 (38% less). I had taken photo ads off due to a ker-fuffle and I think that lowered my CPM a bit. I dunno. Again, I'm mulling over some possible BIG ad changes… we shall see. I still really like The Blogger Network. They don't require you to be a HUGE blog. If you use them, let them know I sent you. My Agent is Skyler!
BlogHer
Blogher was down 13 percent at just under$60 dollars. However, they still haven't given me my full month total. I actually emailed them wondering how I get out of my contract. They asked that I have a conference call to discuss my concerns. I'm interested in what they have to say. I've been with Blogher for YEARS. I wonder where they are going, and if they actually have the blogger in mind, or perhaps a bigger picture. Hope to know more next month.
Media.net
Yipes, I need to get on the stick with these people. Just over 4 bucks last month, down %77 percent. They actually emailed me seeing if I was willing to put more ads up. I did put a couple more up. My friend Katie has a great post about them — it seems like they do best when it's a post people come to through a search. I need to be more conscious of that.
Total Ad Sales: $806.19 (a 12% increase)
I think much of that was due to the last minute GREAT CPM's from Padsquad. Horray for that!
---
Sales
Amazon Had a decent month, not as good as the ones before. I do think that consistantly linking to my book gives me more sales in general in Amazon, and that's not something I consdered when doing it. It was just over $45.
Spreadsheet did alright… making $8.00 — I know this is all kind of chump change, but it all adds up. FYI, my Spreadsheet calculates out all these increases, decreases and it also gives a comprehensive CPM for me. I love it. You can buy it fairly cheaply for use on your own blog!
The bulk of my initial E-book sales came in February at just under 79 dollars. That means I sold 25 (I also had 14 people get it through the lending program — not sure what that means, I hope to have a better idea once I get paid the first time). I'm thrilled about it. I think having a book helps not only increase my bottom line, but it gives me "authority", helps my Amazon sales in general and I just feel thrilled to be an "author" — lame, but true. 🙂
I didn't make any money with Ultimate bundles in January, but I did make close to 50 the month before. It's a good program if it's geared towards your audience. Check it out here. They have a "Homemaking" bundle coming out soon!
Sales total: 122.75 (Down 16%)
---
Sponsored Posts:
I only had one sponsored post in February. I'm consistantly asking myself if it fits my blog and my audience before I sign-up. I have a couple coming up, and I'm always open to new things. This month's post was for a really small company, and I thought they had a great idea. I lowered my usual rate because I thought it was great. FYI. 🙂
Sponsored post total: $50
---
Blog income total for January $978.94
(Down 6%) — my first month below 1k for a while. I think with Blogher totalling out it will come above 1000 and will be pretty close to last month.
I had less traffic due to Pinterest Algorithm changes. I'm trying to adjust… see below.
My entire blog CPM including all revenue streams is just under 10 bucks per 1000 sessions. If you just count ad revenue it's just under $9. In case you wondered (my spreadsheet calculates that all out for me!)
---
Blog costs:
RFE hosting (love them) 14 bucks
PO Box (you've gotta have one if you have a newsletter) 6 bucks
Vaultpress 5 bucks
Viral Tag 6 bucks
I registered my domain with GoDaddy 50.32
SEO fix by KanWebSpeed.com 90.00 — see below
Total costs: 171 bucks.
For a total income of just over 800 dollars.
---
5 Fixes:
1. KanWebSpeed fixed my site speed and did a pretty good job at it. I'd recommend them. Keep in mind that your ad networks tend to be what drags your site down. However, it's faster and he made the ad networks load on their own instead of waiting for the page to load. He approached me due to my low volume from SEO searches. I am paying him to fix up my site and change my links to make me more SEO friendly. He said it would take about 2-3 months to see the changes. I'm already seeing an uptick, not a huge one, but noticeable. I will keep you updated!
2. I'm switching from Viral Tag to Board Booster — it's more automated and I have more control over the day to day pins. It is a slow process, and won't be complete for me until April as I was scheduled out pretty far with Viral Tag. I have loved Dennis at Board Booster, he's working to make it an AMAZING program. So far, so good. I have increased my pinning a bit due to the Algorithm changes and it's helped a bit. I really want to focus on high quality pins that Pinterest loves, while introducing my new posts and seeing how they do. As well as updating some old pins with good content, but the pin isn't working. Visual is everything at Pinterest.
3. I'm working on my Instagram more. I don't think it's a great way to get click overs — but I do think it's a good way to talk to my community and build it. Just more eyeballs remembering who I am. I'm hopeful. I love Instagram. I have a personal account and a business one. I tend to not show my kids much on my business one. But, there's plenty else to show…
4. I'm only posting 2 times/week now. I'm burned out after the 31 days and I'm slowly recovering. It seems alright. Quality is much better than quantity.
5. I'm going to my first blog conference. The cost wasn't huge and I'm hoping to network with some bloggers in the valley. I'm excited. I'd like to do more cooking posts and they are having a big session on photographing your food. Horray! Is anyone else going? I want to hold hands. 🙂
Anyway, that's what's up behind the scenes at Pulling Curls. I'm NOT happy with 800 bucks for as many hours as I'm putting in right now, so I am hopeful that rises. Mamma needs a new pair of shoes (ok, I really don't — but I do need to be compensated for the HUGE time commitment this thing is). 🙂