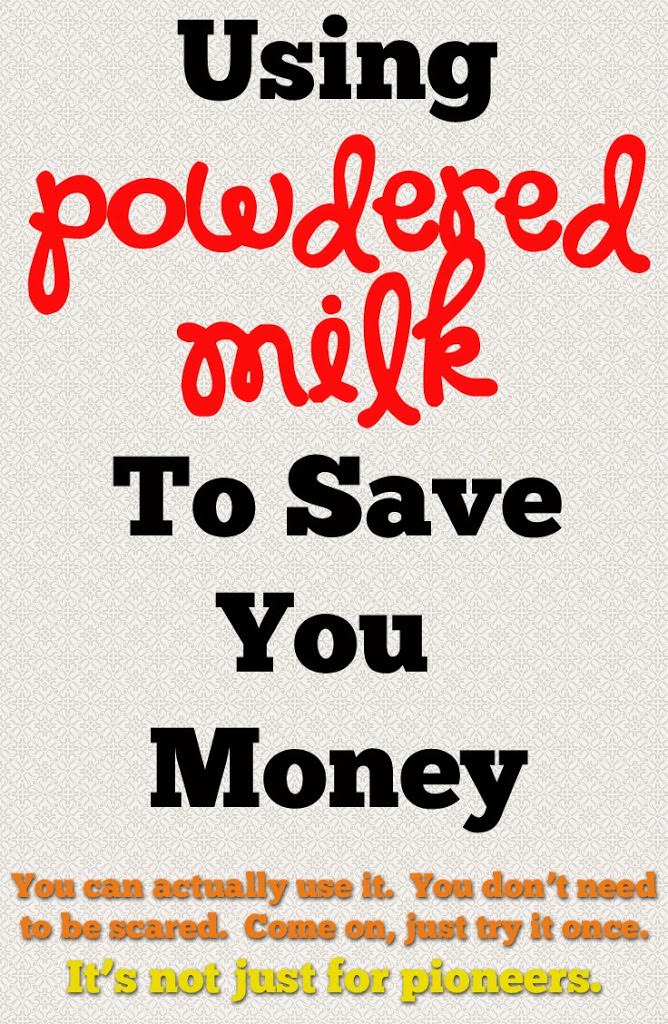 I love my food storage, and I know that when I'd hear other people talk about food storage, I immediately thought of cans of wheat, rice and beans that you bought and never touched. Mine's not that way at all. If I was buying the stuff, I wanted to be sure I'd use it and rotate through it. Also, I wanted
to be
sure I'd know how to use it if there was ever an emergency.
My favorite thing that I've come to love during my jump into food storage is dried milk. My mom used to actually mix it and we'd have it as milk in our fridge, but friends would come over and always wonder why our milk tasted so funny (although, I've heard you can add a teaspoon of sugar and some vanilla to make it more palatable, we don't actually use it for that). I use it in baking.
I learned that you can just add the dry milk when you're adding your dry ingredients, and then add the same amount as listed with just water. It all mixes-up and whamo, you've used your dried milk. This has come especially in handy lately as we're buying whole milk for Miss P now and I'd rather use low fat or skim milk when we cook. Also, I don't like having a large amount of skim milk in the fridge, not knowing when we're going to use it, or IF we're going to use it (my older kids aren't fans of milk, and if they ask for it, I just give them whole).


Now the nonfat dry milk that you get from the cannery can't just be added to a glass with water and stirred, you do need to use some sort of a blender (you could use a hand blender, which is what I do when I'm desperate, or when I try to turn it into buttermilk). You can buy a different kind that you just stir to create milk. But, again — I'm not using it to create milk, I'm using it to substitute for milk in cooking.
In cooking, you just add the powdered milk to the dry ingredients, and then add water to equal the amount of milk. 3Tablespoons of dried milk will make 1 cup. So, if a biscuit recipe called for 1 cup of milk, I'd add 3 tablespoons with my flour, and then when I'm adding wet — I'd just add water instead of milk. Easy peasy!
My main cheerleader in using my milk has been https://www.everydayfoodstorage.net/ — she is great at giving ideas on how to use the things you have on hand. I love all of the info that she gives, she's a great resource. She has helped me realize that having food storage just means I don't have to run to the grocery store daily, and I can make stuff work by using what I have in my home. But you don't have to take MY word for it. 😉