These unique and helpful gifts for car lovers will give you some accessories for your boyfriend, your car guy or just a car warming gift they'll totally love! Keep reading to see the best gifts for auto enthusiasts.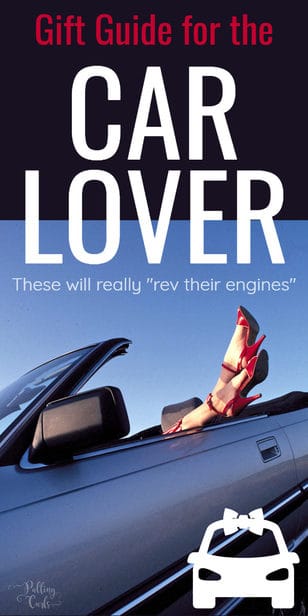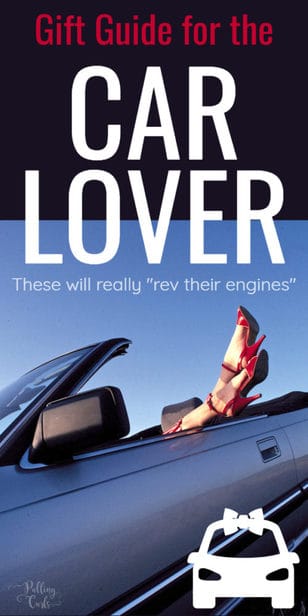 FYI, this is part of my Gift Ideas for Families Series << that post has TONS of gift ideas for everyone on your list!
Gifts for Car Lover Guys, Boyfriends & Enthusiasts
Car Guy's Safety & Maintenance Gifts
These five gifts are must haves for the driver who is always on the road. They are extremely handy in a pinch:

Car Warming Gifts
New Car Owner's Gifts for Cleaning and Detailing:
Keeping your vehicle clean is always on the to do list. These thoughtful gifts make the job much quicker and can be easily available. Practical gifts like these should be on your shopping list.
Carrand 93977 Flow-Thru Power Wash 10″ Quad Soap Mixing Brush with 55″ Extension Pole

This gift makes it easy to reach over the top of vans or trucks and does a great job of scrubbing off the bugs and grime from even the longest drive.
Carrand 93019 Final Touch Vent, Dash, and Crevice Detail Brush Set. This brush set is great for cleaning the dust out of the vents and getting into all the grooves and tight spaces of your dashboard. This detailing kit is the perfect gift a car fanatic.
AmazonBasics Deluxe Microfiber Car Wash Mitt – A mitt like this is great for getting good coverage on the panel you are working on. AND..when you are finished, throw the microfiber wash mitt in the washer and dryer to be ready for the next go-around.
Daiso Microfiber cleaning mitten – This handy mitten easily fits in a console cubby hole and is always handy for a quick dusting of the dashboard and console systems.
Armor All Glass Wipes (25 ct.) – 2 Pack – These are always handy to have around, especially with young children who love to make fingerprint artwork on the passenger windows. Also, they are great to refresh the headlamps, keeping them shining brightly in the night. This is the perfect present for practical people and their beloved cars.


Unique Gadgets for your car lover boyfriend:
These gifts are great for making your interior work for you.
Koomus Magnetic Phone Mount System – This phone mount can be purchased with a suction cup dashboard mount or, my personal favorite, the CD insert mount. With a magnetic mounting system, it holds your phone well without having to pry the jaws of life open to insert or remove your phone. LOVE IT!
Cigarette Lighter Splitter USB Car Charger 3 Socket Multi Car Power DC Outlet Adapter 12V/24V 6.8A 120W 4 USB Port with LED Voltmeter Switch for iPhone iPad Android Samsung GPS Dash Cam Black – This gadget is a must for the family trip when everyone wants to charge their devices during the 6th hour of the drive.
Knox Electric Cooler and Warmer for Car and Home with Automatic Locking Handle – 27 Quart (25 Liter) – A cooler is essential for long road trips to keep everyone's drink cold and even those roadside picnic items like ham, cheese and mayo. Being electric makes it so you don't have to stop regularly to refill the ice.
BlueDriver Bluetooth Professional OBDII Scan Tool for iPhone, iPad & Android – Ever have a dashboard warning light go on and have no idea what it means? This gadget can help clear up the confusion and help you get your car repaired quicker.
FORTEM Car Trunk Organizer For SUV Truck | Auto Durable Collapsible Cargo Storage | Non Slip Bottom Strips To Prevent Sliding | Bonus Foldable Thin Nylon Waterproof Cover – This will help keep groceries or gear from rolling all over the trunk. And if you need more space for a large item, it folds up easily to be out of the way.
Looking for more great gift ideas for the automotive experts in your life?
Here are some more creative gifts for a car lover's garage or car.
Some of the best car accessories can also make a great stocking stuffer like a steering wheel cover, car escape tools (like a window breaker), tire pressure gage, or a car keys lanyard.
Help them keep their car interior cleaner with a mini vacuum cleaner.
A gift card is a must-have item to buy their own gift like plate frames, car parts, or other practical items they might need for their car.
Keep the car enthusiast in your life updated with stuff that shows you know how their gears turn!
Be sure to check out all of my other gift guides to see if you can find the PERFECT things for the ones you love!
[pt_view id="8d8937f4da"]